2011 NFL Draft: 15 Prospects Whose Stocks Plummeted During Their Bowl Game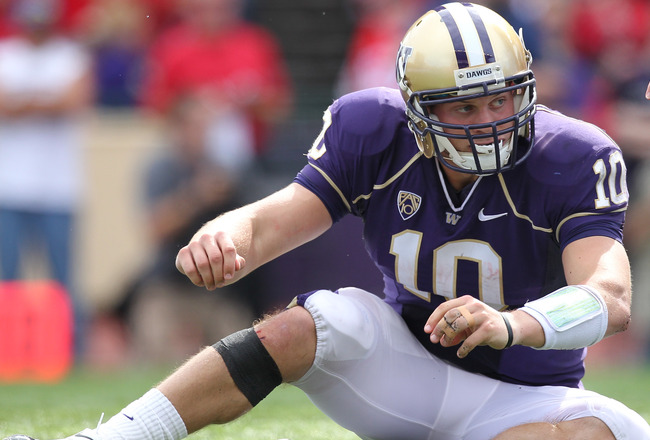 Otto Greule Jr/Getty Images
The 2011 NFL Draft is only a few weeks away, but players that are participating in college bowl games are being closely scrutinized.
A number of high-profile prospects have not done themselves any favors for the 2011 NFL Draft and they may have to seriously consider—as long as they're not seniors—if they should declare or not.
Who has seen their draft stock plummet after turning in a poor performance in their respective bowl game?
15. Deunta Williams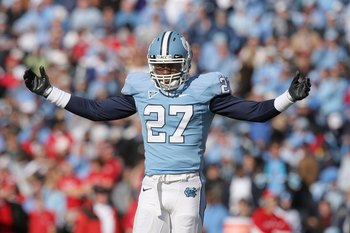 Streeter Lecka/Getty Images
Deunta Williams, the free safety out of North Carolina, saw his stock plummet not because of a poor performance, but a brutal injury.
Williams broke his right leg and it will take some time for it to heal. He won't be working out for anyone soon and he'll be hard pressed to make up for that by the time the NFL Draft rolls around.
14. Noel Devine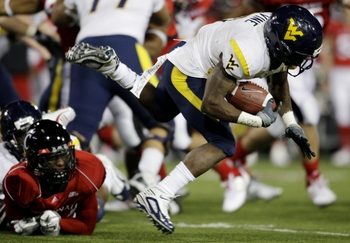 Andy Lyons/Getty Images
Noel Devine had a lot of hype coming into college and while he has had a great college career at West Virginia, his stock has been dipping in his senior year.
Facing off against North Carolina State in the Champ Sports Bowl, Devine wasn't much of a factor in the game.
He put up respectable numbers, rushing for 50 yards and adding another 21 through the air, but he didn't play a large role in the game.
NC State went on to dominate West Virginia 23-7.
13. Brandon Saine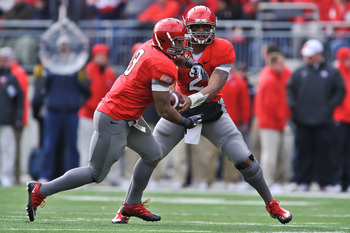 Jamie Sabau/Getty Images
Brandon Saine was considered to be a sufficient enough prospect to be drafted in at least the mid-rounds of the 2011 NFL Draft.
However, he turned in a poor senior season and his performance last night in the Sugar Bowl only made things worse.
He only got the ball four times and while he managed to get 25 yards out of those touches, he played little-to-no role in the game.
12. Chris Carter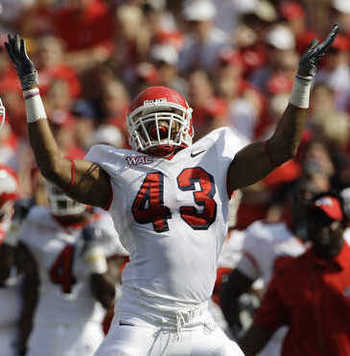 Out of Fresno State, Chris Carter was invisible in the Humanitarian Bowl against Northern Illinois.
Carter failed to record even a single tackle as Fresno State was routed 40-17 by Northern Illnois.
11. Jermaine Kearse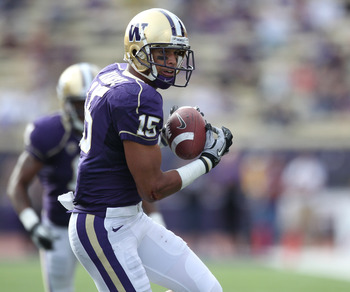 Otto Greule Jr/Getty Images
Jermaine Kearse, the junior wide receiver out of Washington, needed to have a big day in the Holiday Bowl to boost his stock.
However, his stock plummeted to rock bottom after disappearing in the game.
Nebraska cornerback Alfonzo Dennard blanketed Kearse and completely took him out of the game.
Kearse only had one reception for four yards.
10. Adrian Clayborn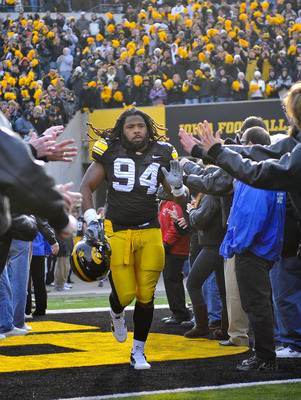 David Purdy/Getty Images
Adrian Clayborn was sitting near the top of many draft boards, but he has been less than stellar this season.
To compound his already falling draft stock, he had a poor game in the Insight Bowl.
Facing off against a Missouri freshman, he couldn't get any pressure and was ineffective throughout the game.
Clayborn could very well fall to the bottom of the first round if not the second round.
9. Allen Bailey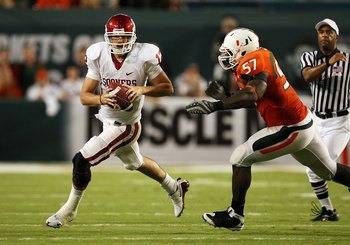 Doug Benc/Getty Images
Allen Bailey's draft stock has been slipping throughout the season and his performance in the Sun Bowl certainly didn't help.
Notre Dame's Tommy Rees didn't face a lot of pressure and he didn't have much trouble throwing from the pocket.
Bailey went from a potential top 10 pick to a fringe first-rounder.
8. Brandon Harris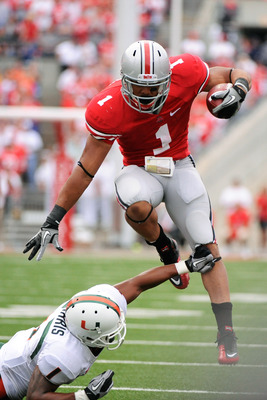 Jamie Sabau/Getty Images
Brandon Harris has already opted for the NFL Draft after a positive meeting with the NFL advisory board, but there's a chance he may no longer be a first-round lock.
Facing off against Notre Dame's Michael Floyd in the Sun Bowl, Harris was abused every time he was on him.
Floyd finished the day with six receptions for 109 yards and two touchdowns. Both touchdowns came in the first quarter and he just barely missed out on two more.
7. Ricky Stanzi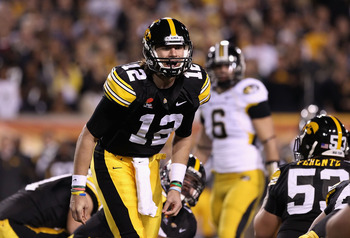 Christian Petersen/Getty Images
Iowa managed to beat Missouri in the Insight Bowl, but that was in spite of Ricky Stanzi.
If it wasn't for Marcus Coker's dominant 219 rushing yards, two touchdown performance, Iowa would have had no chance.
Stanzi completed 11 out of 21 passes for 200 yards with two of his passes being intercepted.
6. Roy Helu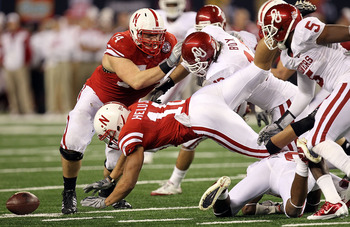 Ronald Martinez/Getty Images
Roy Helu of Nebraska turned in an impressive senior year. He ran for 1,245 yards and 11 touchdowns.
During the Holiday Bowl, Helu was a no show. He got the ball 11 times and only managed to run for 34 yards.
At least it was better than last year's Holiday Bowl performance, in which he only had three attempts go for eight yards.
5. Ryan Williams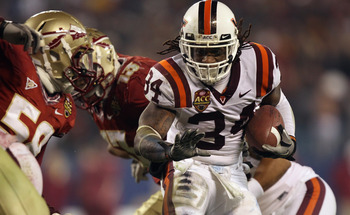 Streeter Lecka/Getty Images
Virginia Tech's running back Ryan Williams was considered one of the five best prospects at his position.
Williams was suspended for the first quarter against Stanford in the Orange Bowl and when he finally got some reps, he did absolutely nothing with them.
He had four rushes for a pitiful four yards.
At this point, Williams would be lucky to be taken in the third round.
4. Nick Foles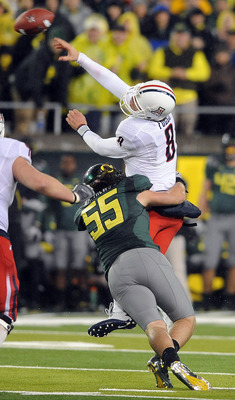 Steve Dykes/Getty Images
Nick Foles was a borderline first round pick with the second round considered the latest he would be selected.
He was seen as having the arm strength, leadership ability and intelligence to succeed at the next level.
However, his performance against Oklahoma State most assuredly took him out of consideration for the first round and maybe even the second.
Foles did manage to throw for 280 yards, but he only had one touchdown and three interceptions. He was bad under pressure and made a number of poor decisions.
He should seriously consider returning for his senior season.
3. Christian Ponder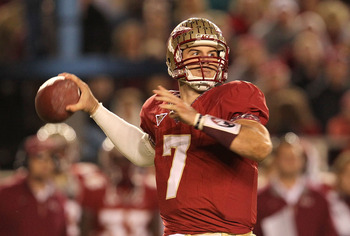 Mike Ehrmann/Getty Images
Christian Ponder was considered to be a solid prospect with a projected mid-round draft pick in his future.
However, he has had some durability issues this season. He missed the ACC Championship game with an elbow injury.
Also, in the Chick-fil-A Bowl game, he left in the second quarter with a concussion.
In the little time Ponder had, he did absolutely nothing. I probably could have been more effective in that span than he was. He only completed one out of six passes for six yards and he rushed the ball five times for three yards.
2. Kendall Hunter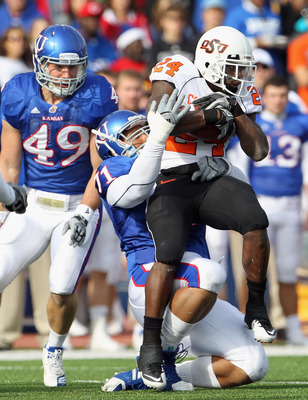 Jamie Squire/Getty Images
Kendall Hunter bounced back from an injury-riddled junior season.
Hunter was widely considered to go as high as the second round, but his performance in the Alamo Bowl may have hurt his stock.
With 10 carries, Hunter managed a measly 32 yards with nearly half of those coming on a 15-yard run. His only reception went for a five-yard loss.
Hunter took a backseat to Justin Blackmon for the night and will likely do the same on draft day.
1. Jake Locker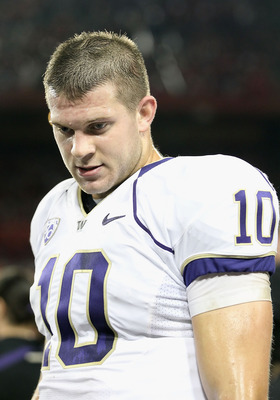 Christian Petersen/Getty Images
Jake Locker was once considered to be a first round lock and even the No. 1 overall pick in the NFL Draft.
Well, he decided to stay another year at school and it didn't do him any favors.
While some believe that he is still a first round pick, I have a hard time seeing it. Sure he has the size, arm and athleticism that makes him an enticing prospect, but he doesn't seem to be prepared to play quarterback at the next level.
Washington managed to upset Nebraska in the Holiday Bowl, but Locker couldn't throw the ball to save his life. He was relegated to being a Wildcat quarterback for most of the game.
Keep Reading