Big 10 Football: Legends & Leaders? More Like Pretenders & Losers Against SEC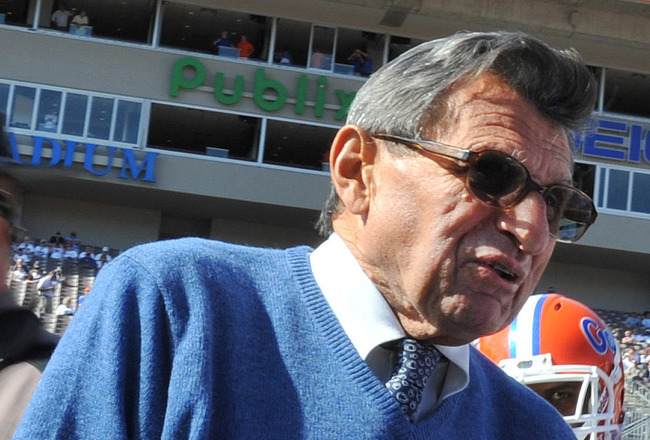 Al Messerschmidt/Getty Images
New Year's Day 2011 was another example of how irrelevant Big 10 football has become. The Big 10 continues to live in the past and their performance in bowl games time after time proves that the once powerhouse conference continues in a downward spiral.
When Penn State joined the conference back in 2000, the conference chose to keep their name Big-10. That must have went over well with Nittany Lions fans. The arrogant leaders of the Big 10 felt that the name was better than the addition of the 11th school.
Starting in 2011, the Nebraska Cornhuskers will become members and again the powers that be in the Big 10 refuse to change the conference's name. On top of that, they have come up with two conference names that highlight the arrogance of the conference: Legends and Leaders.
Legends and Leaders? Really?
What legends? What leaders? Have you looked at the results of your conference teams in bowl games lately? Perhaps you want to stay away from the SEC when you agree to play in bowl games.
Ohio State is set to play Arkansas in the Sugar Bowl on January 4, 2011. If the Buckeyes lose that game, it will put icing on a really bad tasting cake. If they win, then the Big 10 conference can continue to brag about their superiority amongst the other conferences in the FBS.
Let's take a look at the game to be played, as well as the ones that have been played. Please keep your laughter to yourself, or the comment board to this article.
James Walker is a National and Syndicated Writer for Bleacher Report. You can follow him on Twitter and Facebook,
Outback Bowl: Florida Gators 37, Penn State Nittany Lions 24
Both teams, Florida and Penn State, came in to the game with 7-5 overall and 4-4 conference records. Each team had struggles coming in with their quarterback play, Florida with John Brantley, Trey Burton and Jordan Reed, and Penn State with former walk-on and true freshman Matthew McGloin.
To say this game showed two offenses struggling throughout would be an understatement. Florida won the game with a blocked punt and four interceptions. Two of those interceptions were at the hands of Ahmad Black and one was returned for the final touchdown of the game.
It was an ugly game, but Penn State was simply uglier. Coach Joe Paterno has his work cut out for him in his upcoming 46th season. Are you sure you really want to come back, Joe Pa?
Gator Bowl: Mississippi State Bulldogs 52, Michigan Wolverines 14
It was nice knowing you, Rich Rodriguez. I hear Pitt is looking for another new head coach since they fired Mike Haywood. The Panthers are used to mediocrity, so you should fit in nicely.
Ohio State fans must be bummed. They were hoping you would show up against Mississippi State so they could have that guaranteed win every year against Michigan. Now the Buckeyes have to worry that Jim Harbaugh may actually come home to Ann Arbor and fix what Rich Rod has destroyed.
To give the Wolverines some credit, they showed up for the first quarter before the Bulldogs simply ran away with it.
Capital One Bowl: Alabama Crimson Tide 49, Michigan State Spartans 7
Mike Dantonio may need to have his heart checked once again after the beat down his Spartans suffered at the hands of the Alabama Crimson Tide. Mark Ingram alone ran roughshod over Michigan State.
If Alabama played all season long like they did against Michigan State, they would be in Glendale facing Oregon instead of the Auburn Tigers.
Yes, Alabama looked that good.
Another example of why the Big 10 needs to look in the mirror and realize they aren't God's gift to college football.
Sugar Bowl Preview: The Ohio State Buckeyes vs. The Arkansas Razorbacks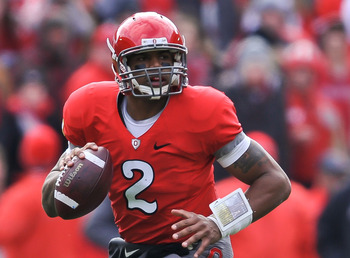 Jamie Sabau/Getty Images
Now that "Tattoo-Gate" has taken all the headlines from this year's Sugar Bowl, the Ohio State Buckeyes find themselves with a controversy that could easily detract from this game and cause another humiliating defeat at the hands of the SEC, this time the Arkansas Razorbacks.
In their infinite wisdom, the NCAA decided to allow Terrelle Pryor, Devier Posey, Mike Adams, Daniel Herron and Solomon Thomas to play in the Sugar Bowl, but they will have to sit out the first five games of the 2011 season and pay back anywhere from $1,000 to $2,500.
Why were they not suspended from the Sugar Bowl?
Perhaps the Ohio State University has some pull with the NCAA? Or did the NCAA know that without those five players, the Buckeyes would get annihilated in the Sugar Bowl?
Who says they're going to win anyway? Don't be surprised if Arkansas head coach Bobby Petrino doesn't have a few things planned for "the Vest" and his Buckeyes.
Ohio State is now the Big 10's only hope in saving face against the SEC. If Ohio State loses, don't be surprised if "Tattoo-Gate" isn't used as the excuse.
Keep Reading