Bowl Schedule 2010-11: 10 Things Bowl Season Has Taught Us So Far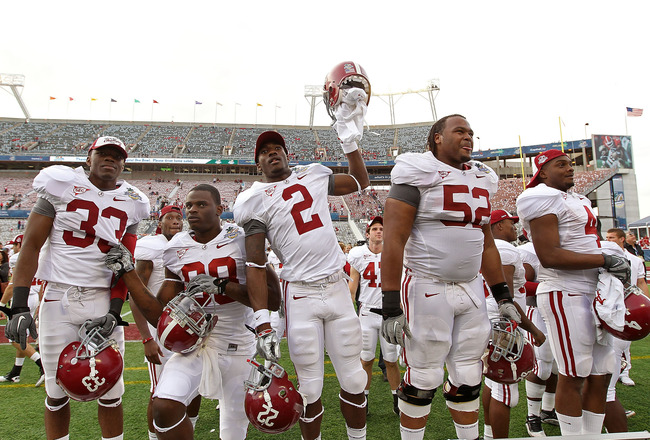 Mike Ehrmann/Getty Images
As the 2010-2011 season draws to a close, we've been treated to some fantastic bowl games.
Some have been complete shocks, leaving opposing fans stunned.
Others have provided milestone wins for a team's season.
Of course, a few have even been extremely controversial.
So just what have this season's bowl games taught us so far?
10: Mid-Majors Have a Place in the BCS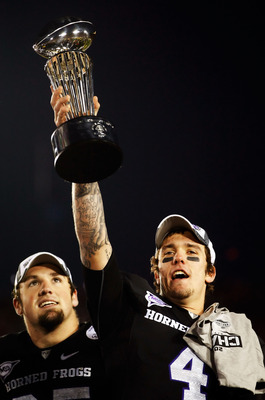 Jeff Gross/Getty Images
Whether or not you subscribe to the theory that a team like TCU should or shouldn't be in a BCS game, this past Saturday's Rose Bowl put a dent in the argument against the idea.
Taking down Big Ten co-champion Wisconsin in an unforgettable battle wasn't just a testament to TCU's excellent chemistry and talent.
Rather, it's a shame that teams like Boise State and TCU don't have the opportunity to showcase their abilities in stronger conferences.
TCU will be moving to the Big East after the 2011 season which, at this time, provides an automatic bid into a BCS bowl game.
If the Horned Frogs proved nothing else in beating Wisconsin, it's that with a proper resume, a team might find itself on the short list during conference expansion talks.
9: Don't Take Tommy Tuberville to Las Vegas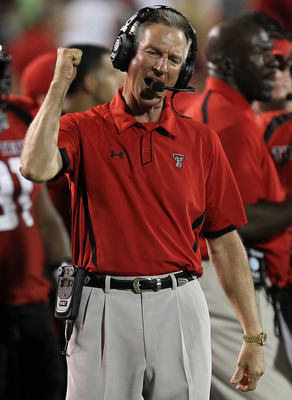 Ronald Martinez/Getty Images
Tommy Tuberville attempted two onside kicks this season before the TicketCity Bowl.
Both of them were returned for touchdowns. Despite a three-touchdown lead, Tuberville chose to roll the dice one more time. Once again, the attempt failed.
The Northwestern Wildcats nearly drove that fresh momentum to victory before a Texas Tech defender picked off a pass attempt, allowing the Red Raiders to run out the clock.
"We wanted to make our guys work a little harder," Tuberville said. "I'd blame it on somebody else, but I called it."
That's usually how the old "Blame Game" is played, coach.
8: The Excessive Celebration Penalty Is Horrifically Flawed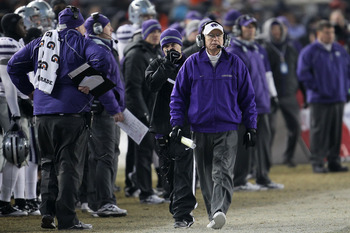 Chris McGrath/Getty Images
In the final minutes in the Pinstripe Bowl featuring Kansas State and Syracuse, KSU wide receiver Adrian Hilburn had the audacity to salute the crowd following a touchdown.
Keep in mind that this score allowed his team to come within two points of tying Syracuse and taking the game into overtime.
A flag was thrown and an excessive celebration penalty was called due to Hilburn's salute.
This 15-yard penalty moved the Wildcats back to the 17-yard line for their two-point conversion attempt. The eventual pass by Carson Coffman failed and the Orange ran out the clock for a victory.
"I didn't see it, I heard he just did a salute, which is kind of bogus," Carson Coffman told the press following the game.
That's putting it nicely.
The rule is so vague that referees can call it on essentially any sort of post-score celebration. A salute to the crowd is hardly worthy of a penalty.
Put it in writing that if a celebration exceeds five seconds, then it's a penalty. There, problem solved.
What happened to the Wildcats wasn't simply unjust, it was a clear indication that this rule needs to be properly defined immediately.
7: Derek Dooley Is Still Haunted by Clock Management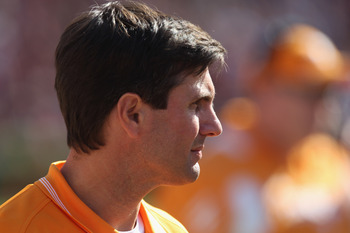 Streeter Lecka/Getty Images
After the fiasco at LSU, one wouldn't think that problems with the game clock would come back to haunt Derek Dooley and his Volunteers again.
Following a penalty for having too many men on the field, North Carolina managed to spike the ball, leaving the Tar Heels with one second left to kick a game-tying field goal.
Much to Tennessee's dismay, the 39-yard kick was good and the Music City Bowl went into overtime.
The Volunteers would eventually go on to lose the game in the second overtime period.
Dooley noted that in the NFL, such a penalty would have caused the clock to run out, effectively ending the game. "Our game isn't the NFL," said the former Dallas Cowboys assistant.
6: Joe Paterno Is Still a Classy Guy
Al Messerschmidt/Getty Images
When Urban Meyer and Joe Paterno met at midfield following Florida's win over Paterno's Nittany Lions, you could've sworn these two had been battling for decades.
"He said, 'I love you kid,'" Meyer said to the press about his quick postgame meeting on the field with Paterno.
"He's the only one who calls me kid. And I love him too."
Despite how you may feel about the Nittany Lions as a team, their head coach truly loves the game.
Any fan of the sport can at least appreciate and respect that about coach Paterno.
The 84-year-old college football icon has absolutely no plans on retiring any time soon.
When he does, it will truly be a sad day for the sport of college football.
5: Injuries Don't Equate to a Loss
Christian Petersen/Getty Images
Before the Insight Bowl, many fans thought that the turmoil faced by the Iowa Hawkeyes provided far too much distraction and would send Iowa home with a loss.
After all, Missouri was an eyelash away from representing the Big 12 North and defeated then-No. 1 Oklahoma in Columbia.
Freshman Michael Coker took a page out of the Nebraska Cornhuskers' book on how to defeat the Tigers.
Run right over them.
Iowa's fill-in had 33 carries for 219 yards and two touchdowns on the day, helping the depleted Hawkeyes bully their way to a 27-24 win over the Tigers.
"It's a credit to our players. They believe in themselves and prepared for this," Iowa head coach Kirk Ferentz said to the press following the contest.
4: Apathy Sure Does, Though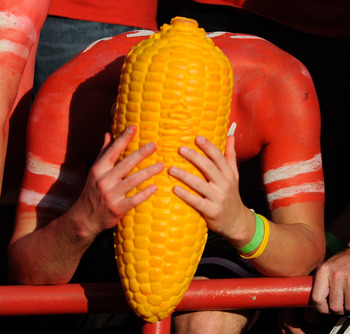 Eric Francis/Getty Images
It was a sure thing.
Eighty-eight percent of visitors to ESPN.com believed that Nebraska would steamroll the Washington Huskies.
Why wouldn't they?
Given, Taylor Martinez wasn't his old self due to injury, but Nebraska had shown the ability to move the ball all year thanks to Rex Burkhead and Roy Helu, Jr.
The Cornhuskers had one of the most dangerous weapons in the country in kicker/punter Alex Henery.
Their defense had been stout all season and caused Huskies' quarterback Jake Locker nothing but trouble in the teams' prior meeting.
One team looked like they wanted to be in San Diego. The other looked like they couldn't wait to get home.
Tailback Chris Polk, who ran for 177 yards and a touchdown, summed the game up best: "We whupped a team that didn't respect us," he told reporters.
3: Some Teams Shifted into Second Gear a Little Too Late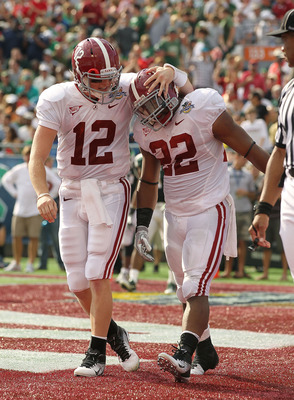 Mike Ehrmann/Getty Images
The Alabama Crimson Tide absolutely rolled Michigan State to the tune of 49-7. That sounds about right, doesn't it?
Think about if the team from Tuscaloosa that showed up on January 1, 2011 would've been present for every game this year.
The college football world would probably be talking about an Oregon-Alabama showdown for the national title.
Instead, three losses tainted Alabama's schedule and sent the Crimson Tide to the Capitol One Bowl where they made a clear statement.
"We don't belong here."
The team that showed up to defeat Sparty certainly did not.
The one that did versus South Carolina, LSU and Auburn made the bed that the Tide ended up sleeping in.
2: The Little Guy Still Gets to Smile
It's difficult to push Florida International's win over Toledo in the Little Caesar's Bowl to the side.
Call it a shamefully-named bowl, but the Golden Panthers' victory was about so much more than a postseason win.
Are there too many bowl games?
There are some that would make that argument.
There are others that contend that there is no such thing as "too much football."
There are even some that would make the case that other schools deserve the opportunity to have their priceless moments.
Head coach Mario Cristobal and his team got theirs when kicker Jack Griffin's kick sailed through the uprights, giving FIU its first bowl victory in school history.
"We got so excited we couldn't settle down in the first half," FIU wide receiver T.Y. Hilton told ESPN.
"We were better in the second half. We played FIU football."
1: The System Is Not Perfect, But The Bowls Are Still a Riot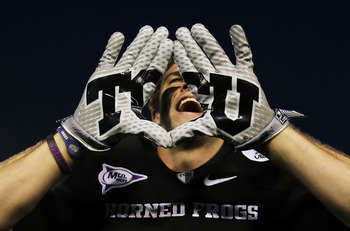 Jeff Gross/Getty Images
With any system, there's going to be controversy.
The BCS is certainly rife with it and the complaints are justified.
Why are "style points" still taken into account?
Should teams like Boise State truly have to hope that they don't get upset even once to have a shot at the national championship?
Is the regular season a true substitute for a playoff?
While all of these questions have plenty of discussion for and against, one thing is certain.
College football fans will make due with what's in place. They always have.
There will always be calls that could've gone either way and they will cause schisms among two fan bases that never thought they would despise each other.
Amazing games will blossom out of the oddest of matchups.
The little guys will always have their say once or twice.
What is in place now is certainly far from ideal, but if nothing else, it gives college football fans as much of a fix as they need.
It's a long time between now and next season.
Enjoy it while you can.
Football news, reviews and much more awaits! Follow Brandon on Twitter (@eightlaces) for the all the latest and other general football goodness.
Keep Reading