College Football: Should Preseason Rankings Be Allowed?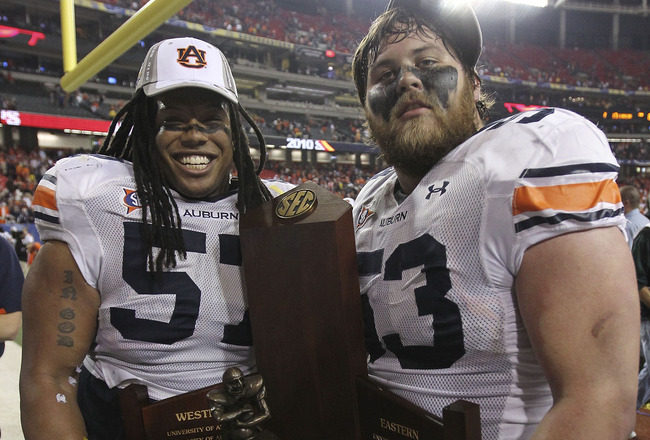 Mike Zarrilli/Getty Images
There is an argument going on in college football about whether or not there should be preseason rankings to start the season. One side argues that it's a starting ground and every team needs to be put somewhere, while the other side argues that rankings are pointless and they give some teams an unfair advantage.
I pulled some data to see how many times the USA Today Coaches Poll correctly guesses the top five teams at the end of the year in their preseason rankings. If we were to count Ohio State winning this year, and ended up being ranked in the top five, the USA Today Coaches Poll would have correctly guessed only 20 teams out of 45 that stayed in the top five. What's more astonishing is that this year it might be only one team, and two other teams (Florida and Texas) aren't even ranked anymore.
I decided to do a 'then and now' slide show to recap this year's preseason top 25. Note: I used the USA Today coaches poll, because the BCS doesn't use the AP top 25, and the BCS doesn't have any preseason rankings.
West Virginia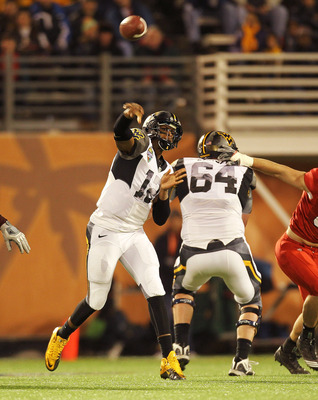 West Virginia lost two important Big East games that kept them out of a BCS game.
Mike Ehrmann/Getty Images
Preseason Ranking: 25
West Virginia was predicted to be the top contender to Pittsburgh in the Big East. They seemed to be doing pretty good their first six games, even though they lost at LSU. They lost two straight games to Syracuse and Connecticut in overtime. Those two games would be the deciding factor as West Virginia would not get to a BCS game.
Ranking now: 21 (expect to drop after bowl loss)
Utah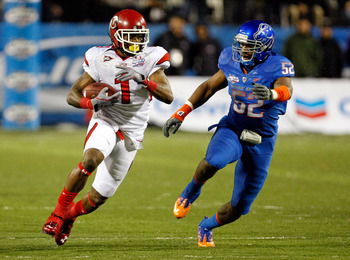 Utah started the season 8-0, but struggled at the end of the season.
Ethan Miller/Getty Images
Preseason Ranking: 24
Utah was expected to be a challenge for TCU in the Mountain West this year. They had a lot of returning skill players, including quarterback Jordan Wynn. They jumped in the rankings after upsetting Pittsburgh in the first game of the season and then rode to an 8-0 start on the hands of a pretty easy schedule. They vaulted all the way to No. 5 in the rankings when they played TCU, but were slaughtered at home 47-7. After the TCU game they never looked the same, due in part to their tough schedule. They were beat down the next week by Notre Dame and stumbled into their bowl game where they were pushed around by Boise State, losing 26-3.
Ranking now: 19 (expect to drop after bowl loss)
Auburn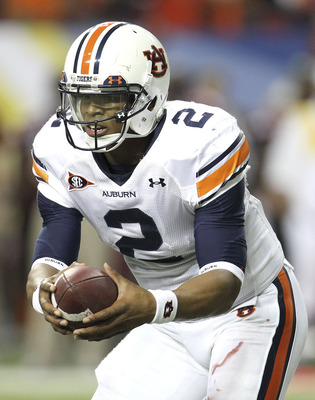 Auburn will play for the national title due to the emergence of Cam Newton
Mike Zarrilli/Getty Images
Preseason Ranking: 23
Auburn had an impressive season last year and was looking to be a little road block for Alabama in the SEC West. Nobody expected Cam Newton to emerge the way he did. Because of Cam Newton, and a little luck, Auburn has gone undefeated and will now be playing for a national championship. Whether or not they will get to keep it when it's all said and done is the question.
Ranking now: 2
Oregon State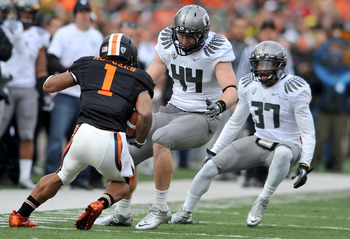 Oregon State dropped due to injuries and a tough non-conference schedule.
Steve Dykes/Getty Images
Preseason Ranking: 22
Oregon State started the season with a brutal non-conference schedule against the two top non-AQ teams in the nation. They lost to both of them, but what was worse was that they lost their star receiver, James Rodgers, to injury. They also lost his brother, Jacquizz Rodgers, after the Boise State game. The team was never really the same. They lost close games to Washington and UCLA, destroyed a Matt Barkley-less USC, but then lost to Washington State at home.
Ranking now: Unranked
Georgia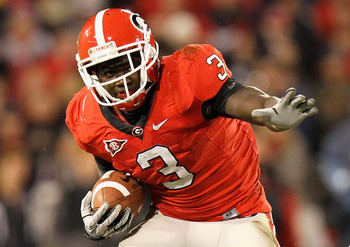 Georgia started the season 1-4 and never sniffed the top 25 again.
Kevin C. Cox/Getty Images
Preseason Ranking: 21
Georgia started out the season hyped up as a team that would challenge Florida for the SEC East. After an easy game against Louisiana-Lafayette, Georgia dropped four straight, including an embarrassing loss to Colorado. They were without their star receiver, A.J. Green, for a couple of games due to suspension. Besides Colorado, all of their losses came to ranked teams, but this is a perfect reason why this team should have never been ranked in the preseason.
Ranking now: Unranked
Florida State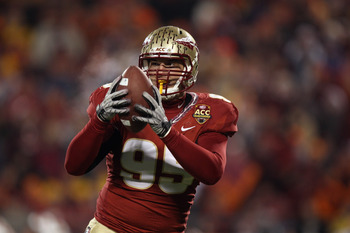 Florida State's inconsistency kept them out of the Orange Bowl
Streeter Lecka/Getty Images
Preseason Ranking: 20
Florida State was the favorite to win the ACC Atlantic this year and started off looking impressive in their win against Samford. Granted, it was Samford and they proved that they still had some work to do when they were blown out by Oklahoma. Florida State responded with five straight victories before losing two very close games against North Carolina State and North Carolina. They still had a good enough record to play in the ACC Championship, but lost to Virginia Tech.
Ranking now: 23
Arkansas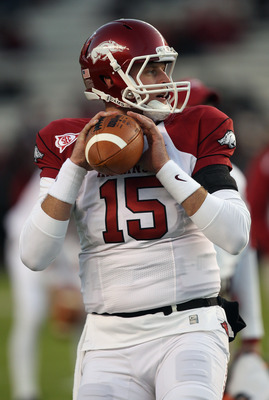 Arkansas ended the season a six game winning streak to end up in the Sugar Bowl.
Streeter Lecka/Getty Images
Preseason Ranking: 19
There was a lot of hype surrounding the University of Arkansas in the preseason, especially around the offense. With a top NFL quarterback prospect in Ryan Mallett and a loaded receiving corps, Arkansas started off with a couple of cupcakes and Georgia to start the season 3-0, but then lost against Alabama in a game that they could have easily won. Two weeks later they lost to Auburn in a shootout. They ended their season winning six in a row, including a win against No. 5 LSU which vaulted them into the Sugar Bowl.
Ranking now: 8
North Carolina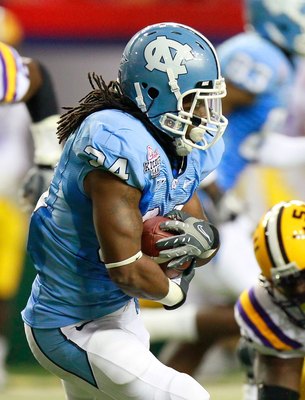 Suspensions destroyed North Carolina's hope of playing for a title.
Kevin C. Cox/Getty Images
Preseason Ranking: 18
North Carolina was labeled as an outsider that could play for a national championship, but North Carolina had a dramatic preseason resulting in many players suspended, including many key defensive players. Still, the Tarheels almost pulled out a victory against ranked LSU at the beginning of the season, but then a loss to Georgia Tech showed how much they missed their suspended players. They also lost games to Miami, Virginia Tech and North Carolina State.
Ranking now: Unranked
Georgia Tech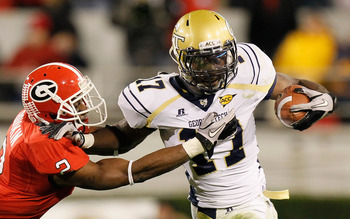 Georgia Tech may have been riding on the cottails of last year's impressive performance.
Kevin C. Cox/Getty Images
Preseason Ranking: 17
This team was ranked high because of it's ACC Championship and Orange Bowl berth last year. Georgia Tech lost their first real game of the season against a bad Kansas team. Georgia Tech fell out of the rankings after that week and never returned. They lost six regular season games, including a three game losing streak against Clemson, Virginia Tech and Miami.
Ranking now: Unranked
LSU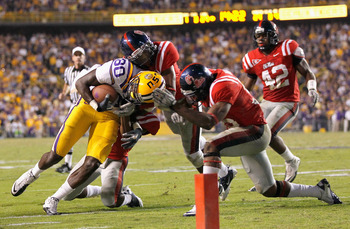 LSU just kept winning until the last game when they lost to Arkansas.
Kevin C. Cox/Getty Images
Preseason Ranking: 16
The offense was questioned the whole year for LSU, and for much of the year LSU relied on their defense to win games for them. With a little bit of luck over Tennessee and Florida in consecutive weeks, LSU vaulted in the rankings before losing to Auburn by seven points. They were still in the national title hunt, but all hope was lost after Auburn went undefeated. LSU also missed out on a BCS bowl after losing to Arkansas the last game of the season.
Ranking now: 12
Pittsburgh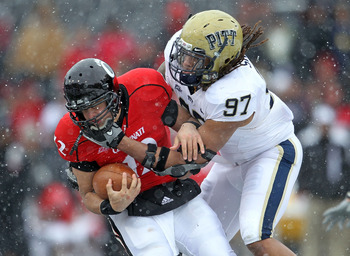 Pittsburgh had too high of expectations and couldn't win the down Big East.
Andy Lyons/Getty Images
Preseason Ranking: 15
Pittsburgh was poised to have a great season and win the Big East with the return of their star running back, Dion Lewis, but the Panthers showed quickly that they were not worthy of their ranking. Their opening loss to Utah in overtime was only made worse when they were demolished by Miami 31-3. Their sophomore quarterback showed little experience, and Pittsburgh slipped to a 7-5 record and could not even win the lowly Big East.
Ranking now: Unranked
Penn State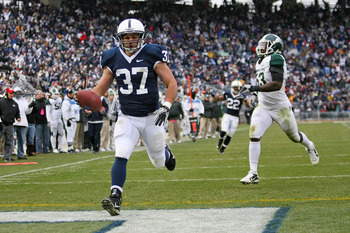 Inexperience at quarterback was a factor for Penn State.
Hunter Martin/Getty Images
Preseason Ranking: 14
Many of us didn't have high expectations for this team with a freshman quarterback. So why did we rank them No.14 to start the season? They showed quickly that they didn't belong there when they failed to even put up a fight against Alabama. They lost to Iowa by the same score three weeks later. A loss to Illinois a week later dropped them out of the top 25 where they would never return. The highlight of their year was Joe Paterno getting to 400 wins.
Ranking now: UR
Miami (FL)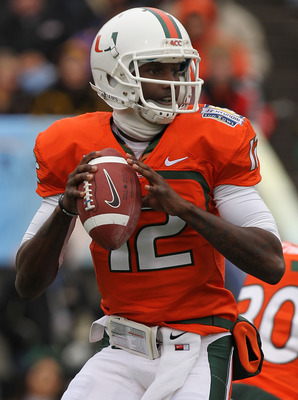 Miami may have also been riding on the coattails of an overachieving 2009-2010 season.
Ronald Martinez/Getty Images
Preseason Ranking: 13
Miami was probably one of the most over-rated teams to start the year. Their quarterback, Jacory Harris, was probably one of the most over-rated quarterbacks in the country as well. Their national championship fire was put out quickly in an ugly game at Ohio State. During the course of the season they would always manage to make their way back into the top 25 before losing their next game. Losses against Virginia and South Florida helps indicate that this team still has a ways to go before it can be considered a national title contender.
Ranking now: UR
Wisconsin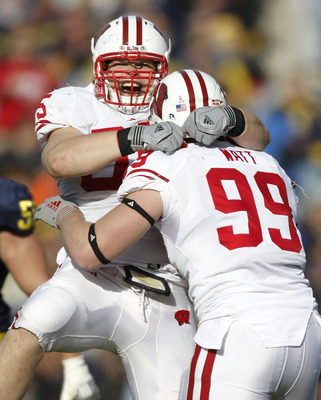 Wisconsin ran, literally, into the Rose Bowl
Gregory Shamus/Getty Images
Preseason Ranking: 12
Wisconsin has literally run over their opponents on their way to an 11-1 record. Their lone loss came at the hands of Michigan State. Wisconsin can thank the Big Ten schedulers for not making Michigan State and Ohio State play this year, because if Michigan State would have played and beat Ohio State, Wisconsin would be out of the Rose Bowl and fighting for an at-large bid. The offense is powerful and has scored 70+ points three times this year. Their match-up against TCU's powerful defense makes for an interesting match-up.
Ranking now: 4
Oregon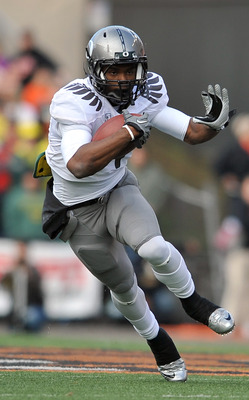 Oregon's high powered offense will be playing for the national title.
Steve Dykes/Getty Images
Preseason Ranking: 11
Oregon started out of the gates fast, beating New Mexico 72-0. After that win they never looked back, racking up more points than any other team in the country. They showed poise when coming back from an early 21-0 deficit to beat Stanford. They also were able to show some mettle in their only close game when they beat California 15-13. Oregon went undefeated on its way to a second straight Pac-10 title and will now play Auburn in the national championship.
Ranking now: 1
Iowa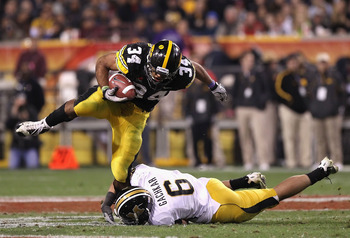 Iowa just couldn't win the close games.
Christian Petersen/Getty Images
Preseason Ranking: 10
Iowa fell early in the season to Arizona, but turned around and beat Penn State pretty handily when Penn State was ranked. A devastating loss to Wisconsin by one point doomed any national title hopes, but Iowa did not give up. They destroyed Michigan State the next week 37-6, but ended the year with three close and disappointing losses to Northwestern, Ohio State and Minnesota. Iowa would finally fall out of the top 25 after the last loss.
Ranking now: UR
Nebraska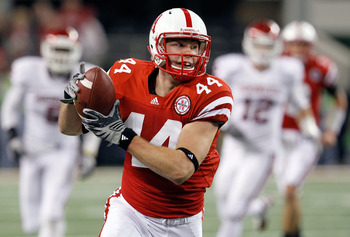 Nebraska had two disappointing losses to end the regular season.
Tom Pennington/Getty Images
Preseason Ranking: 9
Nebraska was considered as one of the dark horse candidates to compete for a national championship after their last second field goal loss to Texas in the Big 12 championship game last year. Nebraska started the season 5-0, but then lost to a terrible Texas team. They convinced some that it was just a slip up by winning their next four games, but then lost in ugly fashion to Texas A&M 9-6. They then fell off the map after losing to Oklahoma in the Big 12 championship game.
Ranking now: 16 (expect to drop after bowl loss)
Oklahoma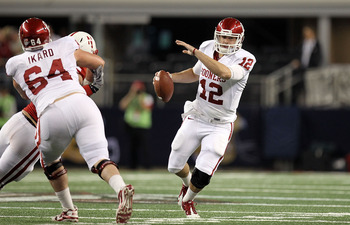 Oklahoma rebounded from its losses and is now playing in the Fiesta Bowl
Ronald Martinez/Getty Images
Preseason Ranking: 8
For Oklahoma there were many doubters that would ask not if they would lose, but when they would lose. They opened the season with only a seven point victory over lowly Utah State, then crushed ACC runner-up Florida State, only to barely beat Air Force by three points. Oklahoma was ranked No.1 when the first BCS rankings came out, but lost the following week to Missouri. Two weeks later, they lost to Texas A&M which shattered all national title hopes. The Sooners turned it around and won the rest of their games, including the Big 12 Championship, to earn a berth in the Fiesta Bowl.
Ranking now: 8
TCU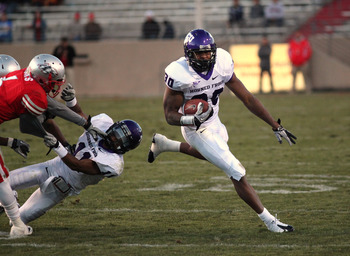 TCU is playing in its second straight BCS Bowl.
Eric Draper/Getty Images
Preseason Ranking: 7
TCU spent most of the season playing as Boise State's little brother, largely due to their 17-10 loss to Boise in the Fiesta Bowl last year. TCU had a couple of sloppy games to SMU and San Diego State. Plus the fact that after blowing out No.5 Utah, Utah went and lost to Notre Dame. Even though TCU was ranked higher than Boise State at the time, it was predicted that Boise State would jump TCU if Boise beat Nevada, and TCU would be on the outside looking in on a BCS berth. Boise lost and now TCU will get to represent the non-AQs in the Rose Bowl against Wisconsin, and will still not get to play for a national championship.
Ranking now: 3
Virginia Tech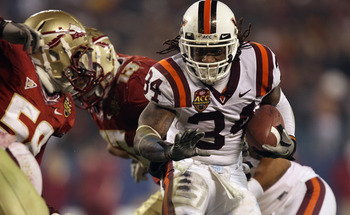 Virginia Tech has won 11 straight and playing in the Orange Bowl.
Streeter Lecka/Getty Images
Preseason Ranking: 6
Virginia Tech had national title aspirations coming into this season, but faced a very tough opening game against Boise State. Virginia Tech started the game down 17-0, but made a comeback and held the lead in the 4th quarter, but could not stop Kellen Moore and the Broncos in the closing minutes. After the disappointing loss, they lost again to Division 1-AA foe, James Madison, five days later. Virginia Tech fell all the way out of the top 25, but have won 11 straight games. They now find themselves in the Orange Bowl against Stanford.
Ranking now: 11
Boise State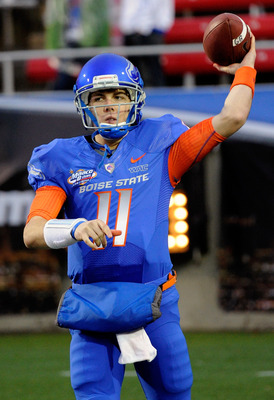 Boise State will always remember this year as "what could have been."
Ethan Miller/Getty Images
Preseason Ranking: 5
Boise State was one of the most storied teams in college football this year. If Boise State could go undefeated they would have an argument of why they deserved to be in the national championship. They won their first game against No. 6 Virginia Tech, on the road. They blew through the rest of their schedule until the day after Thanksgiving when they had to travel to Reno for their last test of the season. If they won this game they were at least guaranteed a Rose Bowl berth. Instead, Kyle Brotzman missed two chip shot field goals at the end of regulation and in overtime to destroy the Bronco dream. Even with one loss they were relegated to the Las Vegas Bowl where they easily took care of Utah.
Ranking now: 10
Texas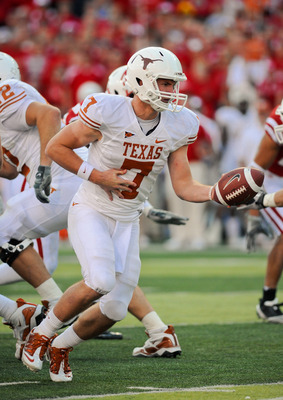 Texas was ranked high because of its national title appearance last year.
Eric Francis/Getty Images
Preseason Ranking: 4
It was a joke putting this Texas team in the top 15, let alone the top 5. We had a lot of questions about how good Texas would be this year especially with a young quarterback, Garrett Gilbert. It seemed like Texas would have a successful season after it started 3-0, but they lost seven of their last nine, and went from being in the national title game to not even going to a postseason game.
Ranking now: UR
Florida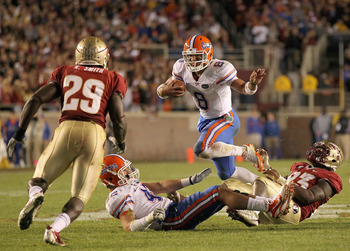 Florida really missed the departure of Tim Tebow.
Mike Ehrmann/Getty Images
Preseason Ranking: 3
Another prime example of being favored in the preseason rankings. Florida had a lot of question marks coming into this season with the departure of many seniors including Heisman Trophy winner, Tim Tebow. Florida has always been known as a "reload" team, but this year was definitely a rebuilding year. Florida still had a decent year. Their only losses came to ranked teams, but they were still not good enough to be ranked this high at the beginning of the year.
Ranking now: UR
Ohio State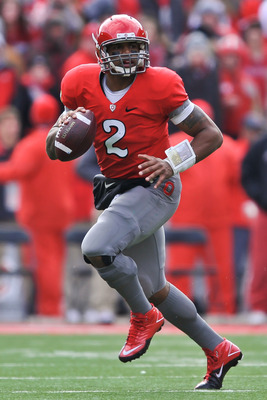 Ohio State has quietly looked solid since their loss to Wisconsin.
Jamie Sabau/Getty Images
Preseason Ranking: 2
Ohio State started the season with a very soft non-conference schedule save Miami at home. Miami looked awful, but still managed to only lose by 12. When Ohio State was faced with its first major test it faltered at the hands of Wisconsin. Since that loss, the defense has allowed just over nine points a game and has looked pretty solid.
Ranking now: 6
Alabama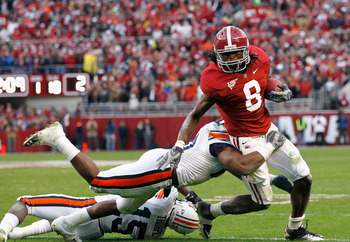 Alabama just couldn't get through their gauntlet of a schedule.
Kevin C. Cox/Getty Images
Preseason Ranking: 1
The Crimson Tide started the season as the overwhelming favorites to win the national title. After a close game against Arkansas, they showed the nation that they were beatable. After Arkansas they went through a gauntlet schedule, and just couldn't pull off the three week schedule of ranked teams and fell to South Carolina. They remained in the title hunt however, but lost to LSU 24-21. They threatened to take Auburn out of the national title game, but gave up a big lead in the second half to end the regular season at 9-3.
Ranking now: 18
Conclusion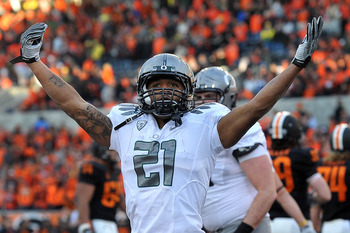 Steve Dykes/Getty Images
After completing this slide show I have decided to side with the experts who say that we should not do preseason rankings. It gives popular teams like Florida, Texas and the defending national champion an unfair advantage. Plus, what's the point of ranking Boise State and TCU high in the preseason rankings if they're just going to get passed by teams ranked lower than them later down the road? I propose that we do not have rankings until the official BCS rankings come out.
Keep Reading