A.J. Green Going Pro: 10 Bold Predictions for the 2011 Georgia Bulldogs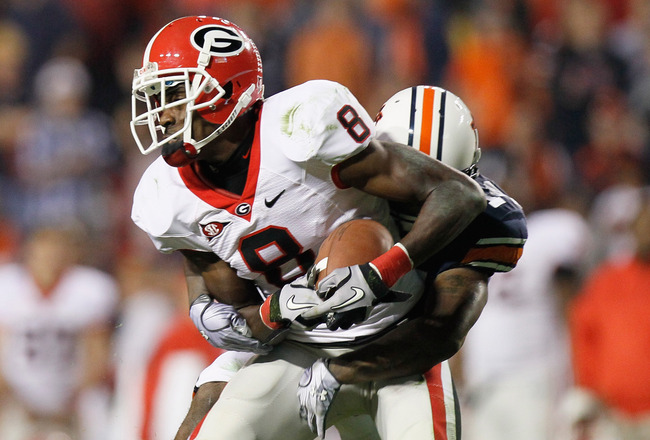 Kevin C. Cox/Getty Images
A.J. Green will never put on his silver britches and red jersey again for the Georgia Bulldogs.
He will enter the 2011 NFL Draft, a decision that we all knew would come the moment he stepped into the spotlight back in his freshman year.
But instead of looking back at what the Dawgs had with him—it's not like it was that much—let's look forward at what's ahead for the 2011 season.
I just have a gut feeling that it is going to be something special. The Georgia Bulldogs will do some amazing things next year—even with the departure of A.J. Green.
Todd Grantham's 3-4 defense will show massive improvements in the next season. It's not necessarily about the talent of the defense—they already have that—it's about the discipline of the players. And it's something that you will see a drastic improvement of in year two.
Even with Green's departure, the offense will be better in the second year of the Aaron Murray era. They will have a more consistent running game and a more balanced passing game.
Hopefully, and I do mean hopefully, Mike Bobo will show confidence in Aaron Murray and the offense through his play-calling. I have followed it very closely the last couple years and he just isn't one that takes many chances.
It was easy for him to take chances with a talent like A.J. Green, but he just really didn't show much faith in freshman QB Aaron Murray last year.
Here are 10 things that A.J. Green's departure to the NFL means to the 2011 Georgia Bulldogs.
And yes, remember that these are BOLD predictions.
10. Georgia Will Be Better in 2011
Sam Greenwood/Getty Images
The 2011 Georgia Bulldogs will be a better team than last year.
That really isn't saying much, considering their 3-5 SEC record and 6-7 overall record, but this team will show massive improvements.
Even without A.J. Green, the offense will show improvements in the second year of Aaron Murray's reign.
They will return playmakers Orson Charles, Washaun Ealey, Marlon Brown and Tavarres King.
There are no A.J. Green type players, no team has those, but look for Aaron Murray to lead this offense to bigger and brighter things in 2011.
In the second year of the 3-4 scheme, Todd Grantham and the defense will take massive strides forward in the coming year.
The problem in year one was that the players just weren't in the right position. I don't care how good the talent of any defense is, if they aren't in the right position, they won't be successful.
Georgia will be a better offensive and defensive team all together and because of that, they will have a better record.
9. Offense Will Be More Balanced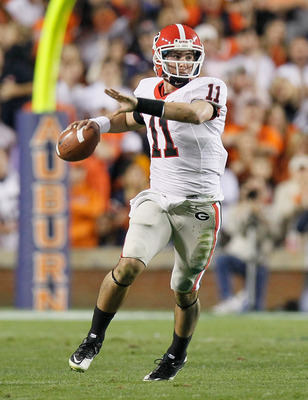 Kevin C. Cox/Getty Images
Aaron Murray is a stud.
And if you case you didn't notice. I really think he is going to be something special. He really does have the tools to lead this team to an SEC Championship during his time at Georgia.
Whether or not 2011 is the year or not has yet to be seen.
The offense will be more balanced next year and it will be lead by Aaron Murray.
He will still be able to hand off to the same three running backs. With Caleb King, Washuan Ealey, and Carlton Thomas all returning look for this running game to be very effective.
King and Ealey will lead the charge, but I don't see one back really outperforming the other.
Aaron Murray will lead the passing game but who will he throw to.
He has many options for next year. Let's start with someone who Georgia fans have been waiting to shine, but he just hasn't reached that point yet.
I am talking about 6-5, 200 pound Marlon Brown.
Say what you want to about his inability to produce in his first two years—I just think that he wasn't someone that was going to succeed alongside a talent like A.J. Green.
Watch for Brown to emerge much like Justin Blackmon from Oklahoma State did after Dez Bryant left. I don't think that he will reach that exact level, but he will show great improvements—something we've been waiting on for a long time.
People have talked about him as the next A.J. Green, but he just hasn't showed that ability yet. Maybe next year will be the year that he does that.
Bottom line, is that this offense will be a truly balanced offense led by a pretty even attack of rushing the ball and passing the ball.
If defenses don't know what's coming, it will be hard to stop. The problem Georgia has had in the past is that it has been too predictable and easy to stop.
Well, the playcalling had alot to do with it as well, so we will wait and see.
8. Defense Will Show Improvements
Kevin C. Cox/Getty Images
Todd Grantham—after a difficult 2010 campaign—will come back with a better coach, better disciplined defense in 2011.
You say defense is about talent, and yes that is important, but there is one thing that is alot more important to being a successful defense. What's the word you're looking for?
It's discipline.
It's the right people being in the right places to make plays. And yes, talent has alot to do with it, but it's not the most important thing.
The 2010 Georgia defense had talent, but it lacked discipline.
It lacked people truly knowing their responsibilities. And if you don't know, the front seven in the 3-4 defense and the front seven in the 4-3 defense have completely different responsibilities.
This isn't something that can be just solved in practice, it needs game-time experience. Something the 2010 Georgia defense got.
But they will be much improved in 2011. With a complete season of playing the 3-4, being able to have it on film for following spring practices, they will show great improvement in 2011.
If the defense shows the ability to tackle Marcus Lattimore in the second week of the season and they are able to beat the Gamecocks. They will be the favorites to win the SEC East in 2011.
7. Revenge Against Auburn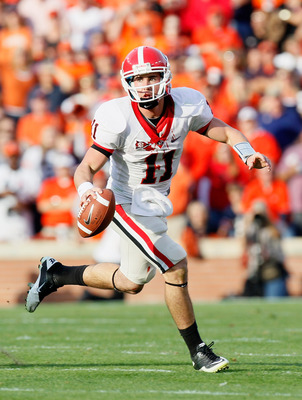 Kevin C. Cox/Getty Images
Remember that 21-7 lead against Auburn in the first quarter. Only to see it slip away to a 49-31 loss in Jordan-Hare Stadium.
Remember those loud chorus of "War Cam Eagle" chants. I know, I was at Jordan-Hare and that game turned this friendly rivalry into something more like Georgia-Florida.
Now nothing will quite reach that level, but this Georgia-Auburn rivalry is no longer friendly. Just look at what Nick Fairley did and what happened at the end of the game.
I would look for the Georgia Bulldogs to remember what exactly what happened last year—they already have the date circled on their calendar
Come November 12, 2011, the Georgia Bulldogs will have a chance to send Auburn back to the plains with a loss on their schedule.
The reason for this is simple. The offense and defense will both improve, after Auburn will have setbacks after their National Title run.
Look for Aaron Murray to lead the Georgia Bulldogs to a victory over the Tigers.
They will do this without a huge cloud from the NCAA hanging over their head, they will win the right way. (Yes, this was a shot against Auburn)
6. Better Playcalling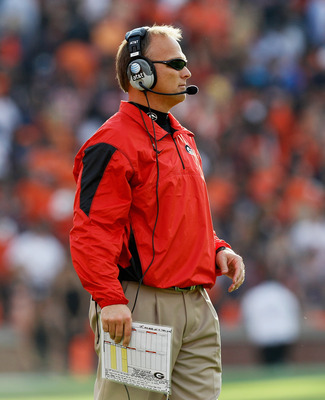 Kevin C. Cox/Getty Images
It will still be bad, but it will be better than last year. It won't be truly good until Mark Richt takes back the reigns on the offense.
Mike Bobo, you cannot run a screen on a third and long and especially when you're in the redzone, it just simply doesn't work.
People without football knowledge will say that this offense doesn't need to change much. Last year they scored 27, 41, 43, 44, 31, 55, 31, and 34 points in their last eight games of the regular season.
This proves the statement, "Stats are for losers," correct. Anyone that has watched this Georgia offense with any sort of football knowledge knows that the playcalling has been horrible.
I think that Bobo will have a more aggressive approach in the second year of Aaron Murray. He held him back in his freshman year because he really didn't have faith in him.
If Mike Bobo really gets behind his quarterback this offense will go places in 2011. But if not, well this offense will look a lot like it did last year, except for the fact that they won't have A.J. Green.
And we all know what the first four games of the season looked like last year.
If Mike Bobo doesn't adapt to the offense that he will have control of in 2011, then the offense will look a lot like what it did to start off last season.
I just hope that he realizes that he has something special in Aaron Murray, and he doesn't hold him back like he did at times last year. Because if Aaron Murray is able to shine, then he will be a great one for the Georgia Bulldogs.
5. Mark Richt Will Have Job Security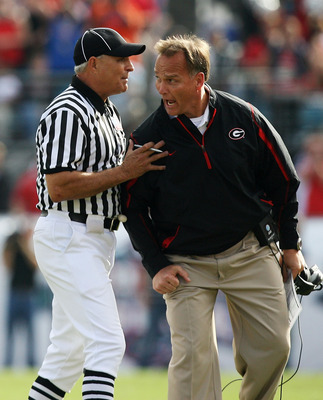 Doug Benc/Getty Images
Mark Richt will need a show a fire and passion for the Georgia Bulldog's football team next year.
But more importantly, he wil spend most of the 2011 season on the winning sideline as opposed to splitting it evenly in the 2010 regular season.
I am one of the very few that doesn't want to get rid of Mark Richt—or at least not right now.
The reason for this is because I don't see him as the problem. I see playcalling and discipline on defense being the two major issues.
Now I know he is in control of this, but if he can fix these two things in 2011 then the season will be a success.
The offense and defense will both improve causing the results to do better, which will excite the Georgia fanbase.
A 9-10 win year next year for Mark Richt means that he will remain the head coach of the Georgia Bulldogs for another year.
Say what you want to about Richt, but he is a great coach, and one that once he leaves will be someone that will be missed.
The 2010 Bulldogs had a constant theme of just being a play or two here and a play or two there from winning a couple games.
If the 2011 version of the Bulldogs is able to fix and capitalize on their mistakes then this will be a team to mess with in the following college football season.
I think the Bulldogs greatly improve their win total next year which will lead to the job security of Mark Richt.
4. They Will Beat Florida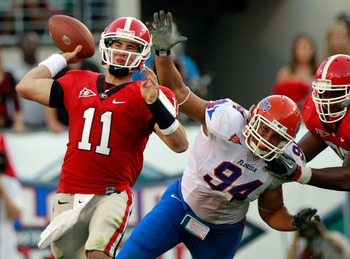 Sam Greenwood/Getty Images
And it's about time.
Georgia should have won the game last year, but this year's result will be celebrated in St. Simons following a Georgia Bulldogs win, instead of the swamps of Gainesville.
Florida will be coming into this game off of a three game losing streak. They truly do have a schedule of death in October.
They will have Alabama at home, road games against LSU and Auburn, a bye week and then the World's Largest Outdoor Cocktail Party.
If this isn't the toughest four game schedule in college football, tell me who has worse and show me.
Florida will be going in a new direction under new head coach, and traitor, Will Muschamp.
Where this team will go will yet to be seen, but this won't be a team that will beat the Georgia Bulldogs in 2011.
Aaron Murray will not make the same mistakes this year as he did last year. He threw three interceptions in that game. In the 11 other games that year, he only threw three interceptions.
If Aaron Murray doesn't play the worst game of his career, like he did last year against Florida, the Georgia Bulldogs will be celebrating a victory over the Gators.
3. Emergence of Aaron Murray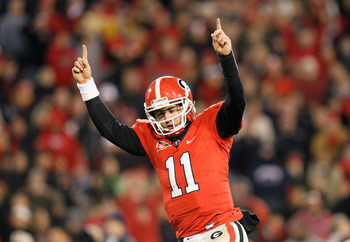 Kevin C. Cox/Getty Images
Nation, get to know your 2012 Heisman Trophy winner.
Well, it might be too early to put his name into the Heisman conversation, but there is no denying this future stud in college football.
If you didn't read the previous slides, I really like Aaron Murray and I think that he will do great things for the Georgia Bulldogs in the future.
But why do I think that?
He has the arm strength, accuracy and decision making to be one of the greatest quarterbacks that the Georgia Bulldogs have ever had.
There is also another aspect of his game that, for me, truly separates him and puts him above similar type quarterbacks. He is one that can use his legs to make plays.
There aren't that many quarterbacks that can do that. Those that can do that and throw the ball effectively are looked at as the great quarterbacks in college football.
Now, he's not going to run and overpower you like Cam Newton or Tim Tebow, but he has the ability to be elusive, escape from the pocket and pressure and create plays in a case where other quarterbacks wouldn't have.
Granted he will need to at least one SEC Championship to be recognized as one of the great Georgia quarterbacks. He definitely has the tools to accomplish this task.
But one thing is for sure, Aaron Murray will be a star in the SEC in the coming years and his tools showcase this ability.
2. 10-2 Record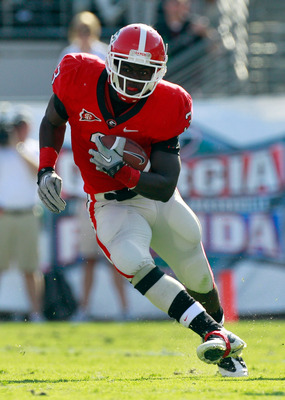 Sam Greenwood/Getty Images
I did state that these were bold predictions. So etch this bold statement in your mind. The 2011 Georgia Bulldogs will go 10-2—or at least I hope so.
Write that down—10-2. Get back to me on November 26th, after the Georgia Tech game.
So how will they get to that 10-2 record? The schedule breakdown is below.
2011 Schedule Breakdown in Tiers (Projected Wins in BOLD):

Tier One: Coastal Carolina, New Mexico, at Vanderbilt
Tier Two: at Ole Miss, Kentucky, at Georgia Tech
Tier Three: at Tennessee, Boise State, Miss State
Tier Four: Florida, Auburn, South Carolina
I have stated that I think the Georgia Bulldogs will beat both Florida and Auburn this next year. So, it was a difficult decision for who the Bulldogs would lose their other two games to.
In the end, it came down to Mississippi State, Tennessee and South Carolina. I ended up choosing the later two.
I think the Bulldogs will have a realistic shot at winning every game that they play next year. I don't care that they went 6-6 last year. They will have 10 wins next year—and that's something to write down.
1. Represent the SEC East in the SEC Championship Game
Mike Zarrilli/Getty Images
That's right, I said it. Another thing to write down.
The Georgia Bulldogs will play in Atlanta, Georgia on December 3rd, 2011.
Aaron Murray will lead the Georgia Bulldogs to the Georgia Dome to face the Alabama Crimson Tide.
Now, will they win that game? That has yet to be seen, but the Bulldogs will bring their fans to Atlanta in early December.
The schedule that Georgia has in front of them—in comparison to the other SEC East teams—is extremely favorable.
Florida has the schedule of death in October. After playing Alabama at home, they have road games against Auburn and LSU in back-to-back-to-back weeks. After a bye week, they will travel to Jacksonville for the Worlds Largest Outdoor Cocktail Party.
South Carolina has games against Mississippi State and Arkansas on the road, along with a home game against Auburn.
Georgia's three road games next year in conference? Enter Ole Miss, Tennessee and Vanderbilt. Yes, I will choose to accept that.
Other than the game against Florida in Jacksonville, the Dawgs will play South Carolina, Mississippi State, Auburn and Kentucky at home. That's another thing I will gladly accept.
I like Georgia's chances next year. They definitely have the talent to do something special, the question will be—do they have the coaching to win?
Mark Richt's seat is heating up, but he can dump a bucket of ice on it with a berth in the SEC Championship Game.
I think he and the Georgia Bulldogs survive the SEC East, what do you think?
Tennessee, Florida and South Carolina will all make a run at the East next year.
The race will be wide open and I think that Georgia will end up on top.
If not Georgia, then who?
I have my opinions, let me know yours.
Just don't call me crazy. Let's wait until the 2011 season starts. I just have a gut feeling that it will be something special.
Keep Reading

Georgia Bulldogs Football: Like this team?