Texas Football: 10 New Year's Resolutions for the Texas Longhorns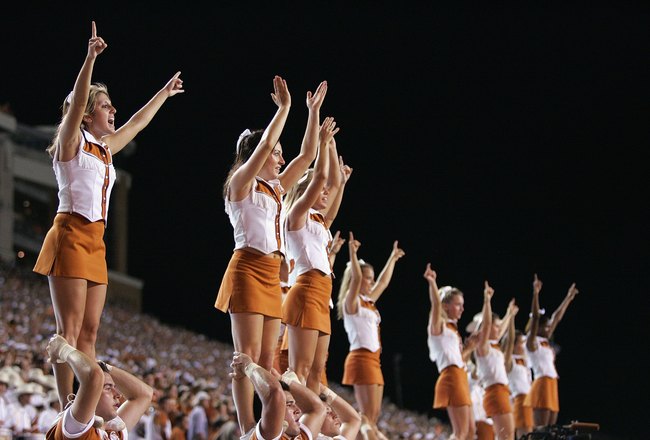 Brian Bahr/Getty Images
Should old acquaintances be forgotten, And never brought to mind? Should old acquaintances be forgotten, And days of long ago.
Yes, it is that time again boys and girls. The time where a lot of you say, "Thank God that year is over, next year I'll really make it right!" Well, football programs are no different as one in particular, the Texas Longhorns, are saying that phrase to themselves as 2010 comes to an end.
This time last year the Horns were gearing up for a National Title game against Alabama.
This year?
Well, the only way that the Longhorns are playing in the National Title game is on the video game NCAA College Football 11.
With a dreadful 2010 behind them, there are somethings that the Longhorns must do to make sure that they do not repeat this horrible season from last year in 2011. Just like you at home or at work reading this, as you are pondering getting that gym membership for your New Years Resolution; the Longhorns should use these resolutions for a better and brighter new year.
Happy New Years everybody!
Remember you can always follow me on Twitter at www.twitter.com/tjmcaloon
Resolution One: Get Malcolm Brown The Ball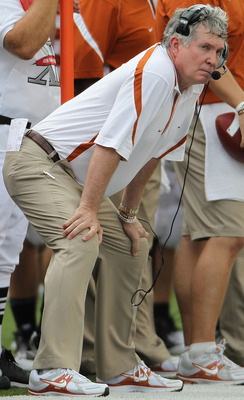 Ronald Martinez/Getty Images
Yes, this is a photo of Mack Brown, not Malcolm Brown; stop before sending off your snide comments below.
Last year the Longhorns ranked 66th in total rushing in college football. With that ranking in the bottom half of the NCAA they need any help that they can get.
Welcome five-star recruit Malcolm Brown. The verbal commit from Texas has yet to sign his papers; but all signs are pointing to him being in a burn orange uniform this time next year.
If and when Malcolm puts on the Texas hat on national signing day in 2011, the Horns should, and will hopefully not red-shirt the freshman. Instead, Malcolm gives them their best option at the running back position.
Fingers crossed that the 5-7 season does not sway Malcolm to Oklahoma, Texas A&M, or any other schools.
Resolution Two: Get Garret Gilbert Some More Time in The Pocket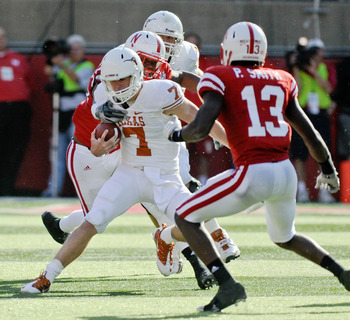 Eric Francis/Getty Images
If you look at the stats between Garrett and his predecessor, Colt McCoy, in their first full year of starting at quarterback you'll notice that Colt was sacked more.
A lot more that year and over the course of his career at Texas.
But, what Colt did not do was turn the ball over. That, and the reason why his sack numbers were so high, were because Colt was a running quarterback.
Garret was sacked 18 times last year. Not terrible numbers over a 12-game season, but what was glaring in him needing more time in the pocket, is that his touchdowns to interception were 10:18.
Colt's first year he was sacked 14 times while throwing 29 touchdowns to seven interceptions.
Resolution Three: Limit Garrett's Throws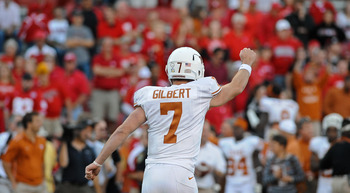 Eric Francis/Getty Images
Yes, Gilbert was featured in the previous slide, but the success of this Longhorn team lives and dies with the quarterback position.
In four of Texas's seven losses last year Gilbert threw the ball on over 40 plays . In their five wins Gilbert threw the ball no more than 35 times.
Let's compare their losses to wins in Gilbert's passing attempts.
Losses:
UCLA: 30-45 passing attempts final score 34-12
Oklahoma: 27-41 passing attempts final score 27-20
Iowa State: 34-57 passing attempts final score 28-21
Baylor: 22-39 passing attempts final score 30-22
Kansas State: 32-59 passing attempts final score 39-14
Oklahoma State: 19-32 passing attempts final score 33-16
Texas A&M: 20-37 passing attempts final score 24-17
Wins:
Rice: 14-23 passing attempts final score 34-17
Wyoming: 22-35 passing attempts final score 34-7
Texas Tech: 21-36 passing attempts final score 24-17
Nebraska: 4-16 passing attempts final score 20-13
Florida Atlantic: 15-21 passing attempts final score 51-17
Resolution Four: Get Mike Davis The Ball
Ronald Martinez/Getty Images
Garrett Gilbert needs to have a go-to receiver this year. James Kirkendoll is not that guy and Marquise Goodwin is not his number one either.
Mike Davis is the big receiver that Gilbert needs to rely on if he is going to have a bounce back Junior year.
Last year in limited action, Davis only had two touchdowns and 478 yards. But in four of his 10 games he played in or accumulated stats in; Davis had five or more catches and had two games of over 100 yards receiving. He also was second on the team in receiving.
Mike Davis needs to and will have a huge sophomore year in 2011.
Resolution Five: Start Grooming Major Applewhite As The Next Head Coach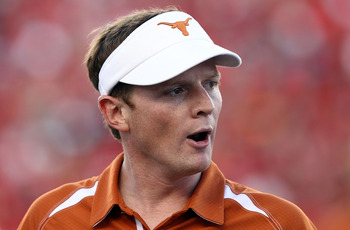 Ronald Martinez/Getty Images
Call this one the Dallas Cowboys idea, or the winner of the Greg Davis leaving. But, there needs to be a person in place to take over when Mack says enough is enough. If there is a year like 2010 again in 2011 does it spell the end for Mack?
It is highly unlikely that Texas would fire Mack. Two years of seven or less wins does not calculate to a dismissal for Mack. But Mack is getting up there in age and could go the route of a coach retiring only to pop up on ESPN.
The Longhorn nation needs to know who is going to lead them into the future. Major is a former player and has been on this staff the longest.
Seems right doesn't it?
Resolution Six: Take Advantage of The Weaker Conference Schedule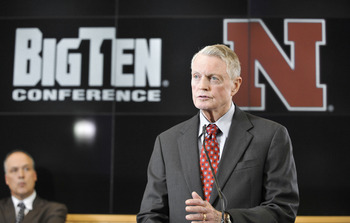 Eric Francis/Getty Images
Yes, putting Tom Osbourne in this slide show is like putting Satan in the church for you Big 12 fans.
However, with Nebraska and Colorado now gone from the Big 12; it eliminates the two divisions from the Big 12. Now instead of playing a tough Nebraska, Texas will get to play a weaker Kansas.
Last year the Longhorns failed in the Big 12 with losses against usual punching bags: Kansas State, Iowa State, Baylor, and Texas A&M.
A re-tooled Texas offense should feast once again on the weaker schools. With Nebraska gone, the only school that stands in the way of Texas and a Big 12 title is Oklahoma.
Resolution Seven: Fix The Defense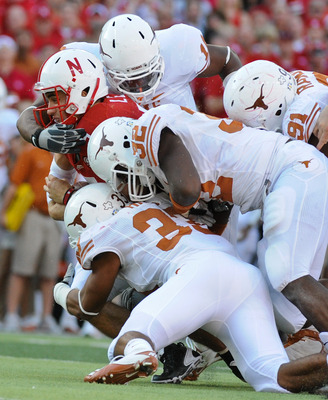 Eric Francis/Getty Images
Yes, it is easy to say that if the defense is fixed then Texas wins more games. However, with the loss of defensive coordinator Will Muschamp, the once dominate Texas defense is now a big question mark for 2011.
Last year the team ranked 50th in Points against averaging 23.7 points against a game.
Compare it to 2009's National Title team which that defense gave up only 15.5 points per game.
Resolution Eight: Keep Mack Away From ESPN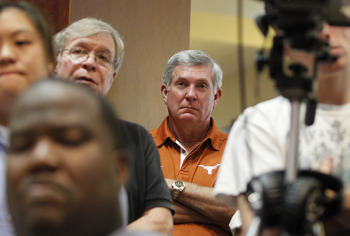 Erich Schlegel/Getty Images
Last year it was nice to see Mack pop up on various ESPN programs before the season. Seeing him on such programs as: Mike and Mike, ESPN First Take, and Sports Center was fun. He has a great personality, a great television presence, and would be an up-grade over Lou Holtz.
But, it seemed as if Mack got a little to comfortable with the television cameras. It could be that if another season of 5-7 football could mean that Mack options out of his contract for a position with ESPN.
Resolution Nine: Announce Plans to Launch The Texas Network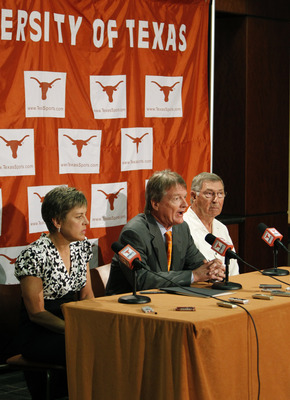 Erich Schlegel/Getty Images
This has been on the hush-hush rumor mill for what has seemed to be the last two years. Texas keeps on saying that they are going to launch their own television network apart from the Big 12.
Well, as they say, $#!+ or get off the pot, Texas. Let's see that announcement this year that in 2014 or whenever they are going to make their own television channel and rake in millions of dollars for themselves.
Greed isn't green; it's burnt orange.
Resolution Ten: Get Back to a BCS Bowl Game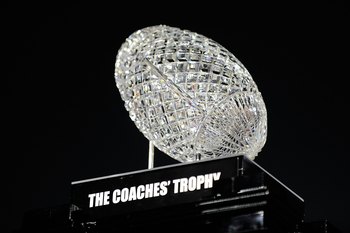 Kevork Djansezian/Getty Images
You Longhorns fans are not alone on wanting your program to get back to a BCS game. You, much like the fan base in Miami, Southern California, Oklahoma, Ohio State, and a good number of other programs feel that your school should always be in the contention for the National Title.
Last year was a rebuilding year. Texas was blessed with two phenomenal quarterbacks in Vince Young and Colt McCoy. But, for every VY and Colt, you get a Chance Mock and Chris Simms.
This is not saying that young Garrett is like Chance of Chris, as he has only had one year of playing. Although if Garrett does not get it done this year; it maybe his last as Colt's brother is behind Garrett, ready and willing to lead Texas back to glory.
Thanks for reading, you can always follow me on Twitter at www.twitter.com/tjmcaloon.
Keep Reading

Texas Longhorns Football: Like this team?