2011 Capital One Bowl: 5 Michigan State Over/Under Predictions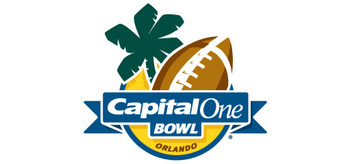 In addition to just a simple game prediction, over/under predictions allow for a bit more in-depth analysis.
As the new year approaches a fresh start means a clean slate.
As for Michigan State, a win on New Year's Day can only bode well for momentum heading into the 2011 offseason.
Thus, an edge in recruiting and even more confidence heading into next season
To start, five over/under predictions for the fans to look for come game time.
1. Over/Under 150 Rushing Yards for Michigan State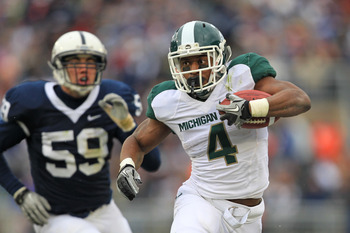 Hunter Martin/Getty Images
RB Edwin Baker currently averages just under 100 yards per game totaling 1,187 on the year through 12 games.
Brahman Bull companion Le'Veon Bell averages almost six yards per carry and is second on the team in rushing yards and TDs.
Together they have accounted for almost 90 percent of the Spartans' rushing yards.
Now pending on whether Coach D gives QB Kirk Cousins the green light to try and burn the scoreboard; I can see the ground game receiving more work due to B.J. Cunningham's injury.
PREDICTION: Over 150 Rushing Yards
2. Over/Under 4.5 Receptions for WR Mark Dell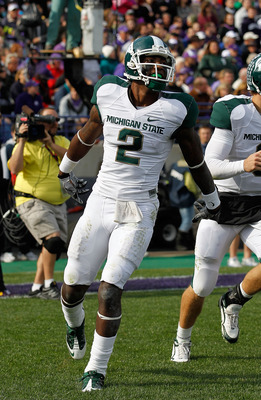 Jonathan Daniel/Getty Images
With Junior WR B.J. Cunningham out with a broken foot, look for senior Mark Dell to receive more targets from Kirk Cousins.
On the year, Cunningham has 50 nabs, while Dell has 49, but the next highest is only 29 from return man KeShawn Martin.
Therefore, without the dual-threat of experience in being as significant, anticipate Nick Saban to have Dell double-covered on most plays.
Whether its double-man, or man under with a zone safety over the top as help, Dell will be a target of the 'Bama D.
PREDICTION: Under 4.5 Receptions
3. Over/Under 200 Passing Yards for Kirk Cousins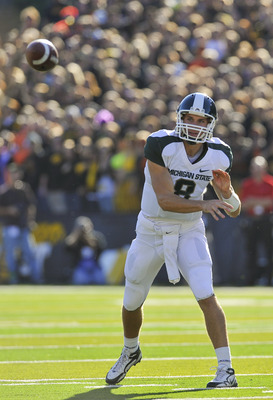 David Purdy/Getty Images
'Bama's pass D? Well, they rank 12th in the country in only allowing 172 pass yards per game.
As for Cousins, he averages 225 yards per game, but only ranks 41st in the NCAA.
And with B.J. Cunningham out, the pass game may not be as effective.
Therefore, look for Sparty to rely more the rushing game to keep the Tide honest.
However, if the run game opens up Alabama's D, Cousins could have a career day.
But if you know college football, you have to always expect a Nick Saban team to come prepared.
PREDICTION: Under 200 Passing Yards
4. Over/Under 16 Combined Tackles for LBs Greg Jones and Eric Gordon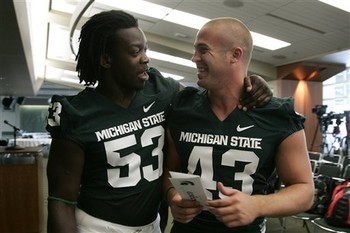 The heart and soul of the Michigan State Spartans and his trusty side kick.
Greg Jones: 98 tackles, 43 solo, and eight for a loss.
Eric Gordon: 88 tackles, 33 solo, and six and a half for a loss.
Together they average just over 15 tackles per game, and are the Spartans' top two tacklers.
In stopping the 'Bama ground game, Jones and Gordon must play with the synergy of Batman and Robin (or whichever Superhero duo you'd prefer).
Not to mention both were selected to the 2010 All-Big Ten team; Jones first-team, and Gordon second-team respectively.
PREDICTION: Over 16 Combined Tackles
5. Over/Under a 50 Percent Chance of a Spartans' Fake Field Goal/Punt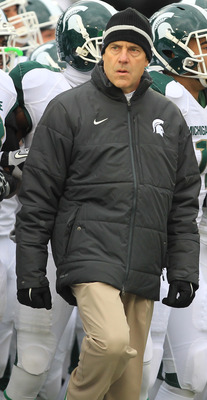 Hunter Martin/Getty Images
Check out these passing stats:
Punter Aaron Bates is 2/2 for 50 yards with one TD and no picks; that's a 475 QB rating!
Yeah I know its not technically legit, but the fact is Bates has made these successful and Coach D isn't afraid to pull the trigger.
He threw the fake field goal TD pass against Notre Dame, and then a fake punt pass momentum booster that converted a fourth-and-11 against Northwestern.
The way this season has gone, it wouldn't surprise me to see Bates drop back one more time, but we all know it depends on Coach D's situation analysis.
Against 'Bama, Saban does know Dantonio is capable of such manipulation.
PREDICTION: Under a 50 Percent Chance
Summary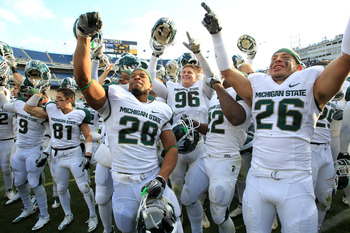 Hunter Martin/Getty Images
As little respect as the Big Ten has received in comparison to the SEC, they will only earn it by winning on the gridiron.
As for Michigan State; underdogs in arguably the school's biggest game since 1966.
Other than the BCS games, this may be the most watched bowl game this season.
As a Spartan columnist and college football fan I've been looking forward to this game since it was projected.
"Whoa, Nelly!" - Keith Jackson; my favorite sportscaster of all-time.
Keep Reading

Michigan State Football: Like this team?