BCS National Championship: Nightmare Scenarios For Auburn And Oregon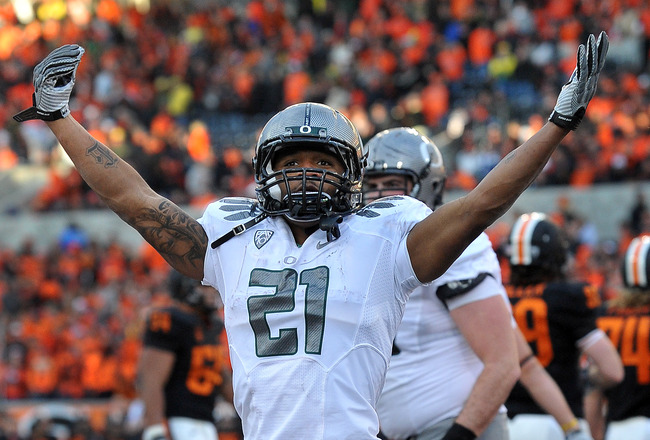 Steve Dykes/Getty Images
You have seen all the breakdowns and other analytical stuff. But this will try to keep it simple: the absolute nightmare scenarios for Oregon and Auburn. (I am not talking about injuries to star players or anything like that). This is the one thing that each team fears the most, and if this happens they will know that it will be a long night!
Nightmare Scenario For Auburn: 2008 Sugar Bowl!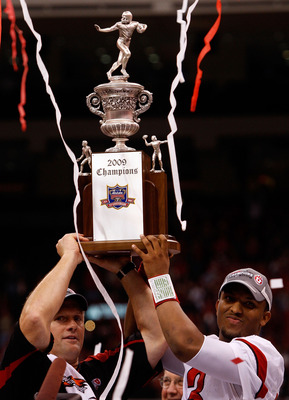 Chris Graythen/Getty Images
No, don't refer back to that Auburn-USC 2003 nonsense. That was just a match-up between the AP national champs and a talented but poorly coached 8-5 team. Auburn got ran off the field by UGA, LSU and Georgia Tech that year also. Further, USC had much more talent on their Offensive Line and defensive front seven than this Oregon team does, and was largely the equal to Auburn in that regards.
However, there is another nightmare scenario for the Tigers. One where the similarities are too great to ignore. A western team that runs the zone-read option offense with a very good and accurate zone-read QB and makes up for a lack of size advantage with speed and quickness. An SEC team from Alabama that relies on its great players up front but has a vulnerable secondary.
The western team has been rather good for awhile, but the Alabama team came out of nowhere to contend for a national title. And yes, the Alabama team marched into the game believing their own press clippings and wound up being ambushed by a western team that was lean, hungry, undefeated (albeit against a lesser schedule) for a reason and may have actually been the better team. It was Alabama-Utah folks, and this one was over before it started. 31-17, and it wasn't even that close!
How Alabama's Nightmare Could Be Auburn's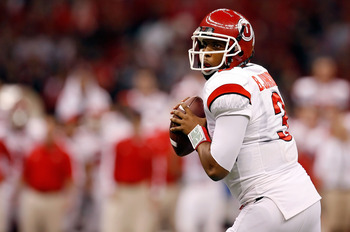 Kevin C. Cox/Getty Images
Utah came out firing short, quick, west coast offense-style passes where Brian Johnson, the Utah QB, was able to get rid of the ball to a group of veteran Wide Receivers before the Alabama pass rush could get there. Utah used a three WR formation that spread the Alabama defense out, and exposed the fact that their DBs and LBs didn't cover well. Utah's pace was so fast that they were down the field and had points on the board before Alabama could re-group and adjust on defense.
On defense, Utah didn't even try to test Alabama's OL head-to-head up front, as Alabama was used to in SEC play. Instead, Utah's undersized DL took angles and hit gaps, exploiting the fact that Alabama's big OL didn't really move well laterally. That allowed them to stop Alabama's running game. This forced QB John Parker Wilson to win the game through the air, which he couldn't do especially with Utah's blitzes and coverages being far more complicated than Alabama expected.
Utah's offensive gameplan would work even better against Auburn, as Auburn's secondary is actually worse in coverage than Alabama's was in 2008. Also, Utah did not have tailback threats the caliber of LaMichael James and Kenjon Barner. Oregon's WRs are better than Utah's, and Oregon also has a bigger, better OL to allow Oregon to do more things without having to worry as much about the DL living in their backfield. Where Johnson was on his heels getting rid of the ball as quickly as he could, Darron Thomas should have the protection to both drop back and go through some progressions, as well as run some option.
By contrast, Utah's defensive gameplan may not work as well. Even if Oregon exposes Auburn's OL as being unable to move well laterally and is able to disrupt Auburn by blitzing, Cameron Newton offers the dimension of being able to run the ball that John Parker Wilson lacked. Wilson was a better, more polished and accomplished passer in theory, but in practice all he was able to do was throw it deep to true freshman Julio Jones, which Utah was able to defend with a mixture of coverages and blitzes. Then again, Auburn's RBs this year aren't nearly as effective as were Alabama's in 2008, so Oregon won't have to focus on taking away Dyer, McCalebb and Fannin first the way that Utah did.
Still, Oregon is a much better offensive team than was the defensive-oriented Utes of 2008 (who actually had to grind out a couple of 13-10 victories in conference play that season), and Auburn has a much worse defense than Saban's Alabama did in 2008. So, even if they do give up a couple more TDs to Auburn than Utah did to Alabama, if they are able to replicate and implement Utah's general strategy, they will score A LOT more points than Utah's 31 while being able to contain the Auburn Tigers.
So, Auburn's nightmare scenario is being the second team from Alabama to fall to a speedy, well coached western team with a great scheme in 3 years. Fear the west, Auburn, fear the west! If I am Oregon, I am studying that 2008 Sugar Bowl for pointers. Then again, if I am Auburn, I am doing the same to see what Oregon might do!
Nightmare Scenario For Oregon: Nebraska Versus Georgia Tech In 1991!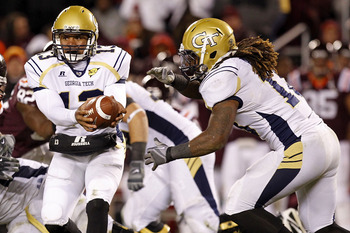 Geoff Burke/Getty Images
No, Oregon's nightmare scenario isn't the Rose Bowl last season against Ohio State. First off, Auburn doesn't have anything resembling the Ohio State defense. Second, Ohio State and Auburn really aren't that similar beyond both teams starting dual threat QBs. Third, Oregon is much better than they were last year anyway . This year's Oregon, who is more experienced and is much better at QB, would beat last year's Ohio State.
Instead, Oregon's worst nightmare is similar to what Nebraska faced in the 1991 Gator Bowl where the Georgia Tech Yellow Jackets claimed a national title: a team capable of beating it at its own game!
How Nebraska's Nightmare May Be Oregon's!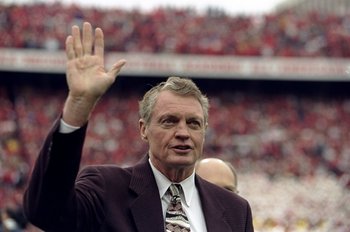 Brian Bahr/Getty Images
When Tom Osborne took his Nebraska Cornhuskers team to play the Georgia Tech Yellow Jackets in 1991, he had every reason to be confident.
Sure, Georgia Tech was higher ranked, but they were a johnny-come lately, two years removed from a losing season (similar to Auburn, who went 5-7 in 2008). And while Georgia Tech had a flashy new option offense that had just been installed (similar to Auburn this year), Nebraska had been running their version of the option for years (similar to Oregon). And Nebraska was, on paper, the more talented, deeper team, just like Oregon this year. Further, with the exception of a couple of key standouts, Georgia Tech's defense was rather undistinguished, and they had to win a lot of their games in shootouts.
What happened? Nebraska was taken apart in a 45-21 rout. Where Georgia Tech's defense struggled in many games during the regular season, especially against the pass, against a Nebraska offense that did a lot of the very same things that Georgia Tech's defense practiced against every day, the GT defense was able to contain and slow down a potent Nebraska attack that had only been held below 30 points three times all season long, each by defenses much more talented than Georgia Tech's.
Why couldn't Nebraska do the same to Georgia Tech's offense? Because in Shawn Jones, Georgia Tech had a better QB than his counterpart at Nebraska, just as Auburn does in the comparison between Cam Newton and Darron Thomas. After chasing Shawn Jones all year in practice, stopping the opposing QB was easy. By contrast, the Nebraska defense was unprepared for a QB that could do more things than their own from a scheme that was so similar, and furthermore do them better. So, Nebraska saw their defense torched by 318 yards and 3 TDs of total offense from Jones.
Interestingly, Jones also was able to make RB William Bell a much more effective player against Nebraska than he had been during the season, as Bell rushed for 127 yards and 2 TDs and also had 53 yards and a TD receiving. Thanks to Jones' elevating his game and making him more effective, Bell outplayed Nebraska's star RB, future New Orleans Saint Derek Brown. If Cameron Newton is able to do the same for Michael Dyer and helps him put up better numbers than LaMichael James by drawing the attention of Oregon's speedy LBs, then it will be over as quickly for the Ducks as it was for the Cornhuskers.
Of course, this analogy isn't perfect. Nebraska was a power team where Oregon, similar to Georgia Tech in 1991, relies on speed. Also, Oregon's option attack is more diverse than Nebraska's was. And yes, 12-0 Oregon is much better than 9-3 Nebraska was. Still, if Oregon is faced with an Auburn offense that is rather similar yet does things better thanks to having a superior signal caller, in other words, a better version of itself, they will share Nebraska's fate, which is a loss in a game that isn't close!
Conclusion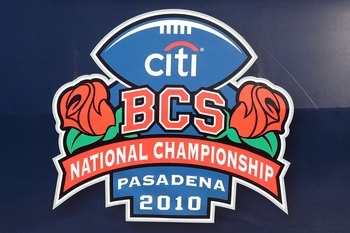 Stephen Dunn/Getty Images
Granted, neither scenario is likely to happen. Oregon is more likely to win by using LaMichael James and Jeff Maehl to victimize Auburn's weakest points on defense (the outside edges, and James would be particularly dangerous as a receiver out of the backfield), big plays on special teams and forcing turnovers on defense ... overloading Auburn with all their weapons the way that they did to Stanford. And Auburn is more likely to win by simply running Cam Newton up the middle over and over again (see the LSU game, Newton had 28 carries for 217 yards) and getting timely stops and disruptions from Nick Fairley. Nightmare scenarios for one team - and ideal ones for the other - rarely happen on such a big stage.
However, Auburn is the more likely of the two to see their BCS national title game experience turn into a fright night because similar to other teams who suffered dominating losses in BCS title games (FSU, Nebraska, Oklahoma, Ohio State) the Tigers have an obvious, easily exploitable flaw: their pass defense. But if Auburn is able to minimize their weakness by finding some way to keep Oregon off the field, they may just yet become the first team in a BCS title game to overcome a glaring weakness and thereby turn Oregon's dreams into nightmares.
Keep Reading

Oregon Ducks Football: Like this team?