BCS NATIONAL CHAMPIONSHIP: Auburn's Cam Newton & Previous Heisman Winners Stats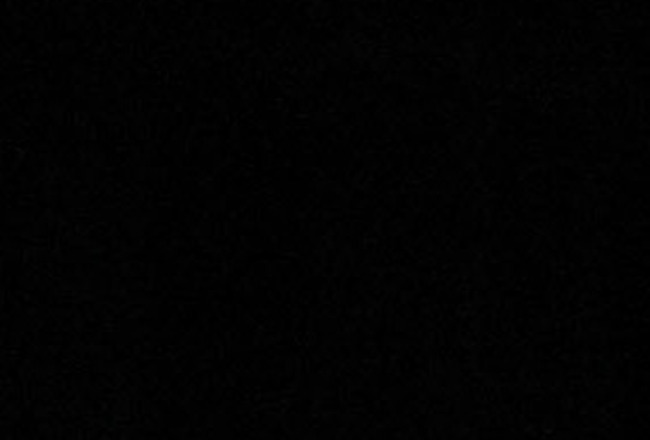 Jeff Zelevansky/Getty Images
College football's most storied and prestigious trophy, awarded to "the most outstanding player in college football", has gone virtually hand in hand with the BCS National Championship game since its inception.
There have been a total of nine Heisman Trophy winners to play in the BCS National Championship Game (titled BCS Championship Game from 1998-2006) since the Bowl Championship Series began in 1998.
Only two of those player's teams (USC's Matt Leinart and Alabama's Mark Ingram) have gone on to win the National Championship.
Mark Ingram is the SEC's only Heisman winner since the BCS began that had the opportunity to play for a National Championship and his team won.
If that is any indication of how Cam Newton will do against Oregon then I guess he should have a monster game and Auburn should win right?
We shall see.
Until then, here is a list of the previous Heisman Trophy winners and how they fared playing for a national title during the BCS era.
Chris Weinke
Andy Lyons/Getty Images
Year Won Heisman Trophy: 2000
2001 Orange Bowl Stats: 25-51…274 Passing Yards…2 INT'S…1 Lost Fumble
Outcome: Oklahoma 13…Florida State 2
The 2001 Orange Bowl featured an ACC-Big 12 matchup.
Florida State's selection to face undefeated, and number one ranked, Oklahoma was a mysterious decision given the fact that the second ranked Miami Hurricanes beat them in the regular season and was ranked ahead of the third place Seminoles in the polls.
Nevertheless, Florida State played Oklahoma in the Orange Bowl and were eleven point favorites over the Sooners.
This was a game that featured two of the nation's most prolific offenses that season.
The end result was quite different than expected. Not only did Oklahoma manage to beat the Seminoles, but they also held them to two points due to a safety near the end of the game.
Weinke proved to be a nonfactor in this game, completing only 49 percent of his passes, throwing two interceptions, zero touchdown passes and fumbled the ball, which resulted in the only touchdown Oklahoma would score.
Eric Crouch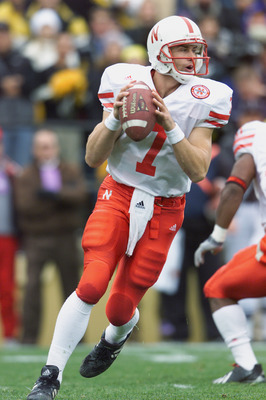 Brian Bahr/Getty Images
Year Won Heisman Trophy: 2001
2002 Rose Bowl Stats: 5-15…62 Passing Yards…1 INT …22 Carries…114 Yards
Outcome: Miami 37…Nebraska 14
Before the game even took place, Eric Crouch won the Heisman Trophy by a close margin over Florida quarterback Rex Grossman.
The 2002 National Championship game also featured an interesting selection from the BCS.
This time it selected the No.4 ranked Nebraska Cornhuskers, who did not even play in their own conference championship, to take on the undefeated Big East Champion Miami Hurricanes.
Miami was the obvious number one team in the nation and they showed it in their dismantling of the Cornhuskers.
They jumped out to a 34-0 lead in only the second quarter.
Along with the rest of the Cornhuskers, Heisman winner and Nebraska quarterback Eric Crouch was a nonfactor in defeat.
Jason White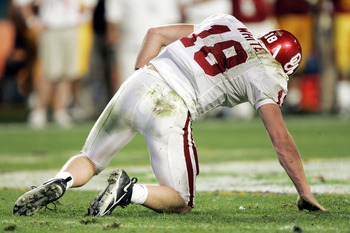 Brian Bahr/Getty Images
Year Won Heisman Trophy: 2003
2004 Sugar Bowl Stats: 13-37…102 Passing Yards…2 INT's
Outcome: LSU 21…Oklahoma 14
Heisman Trophy winner Jason White lead the nation's number offense against LSU's number one defense.
The end result was a dominating performance for the Tigers whose defense took care of business.
Oklahoma's high powered offense was only able to score one touchdown and relied on an interception return to keep it a one score game.
Jason White had his worst game of the season and his offense was man handled by the Tigers' D.
Matt Leinart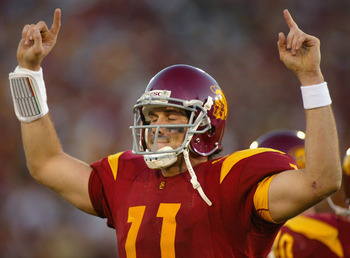 Christian Petersen/Getty Images
Year Won Heisman Trophy: 2004
2005 Orange Bowl Stats: 18-35…332 Passing Yards…5 TD's
Outcome: USC 55…Oklahoma 19
There was controversy yet again with the selection of USC and Oklahoma playing for the 2005 National Championship.
Although USC and Oklahoma were ranked No.1 and No.2 respectively, the third ranked team, Auburn, was also undefeated.
Through the craziness of the BCS, USC and Oklahoma were selected.
Both teams plowed through their regular season schedules and seemed destined for a matchup for the ages.
The final score says otherwise.
USC declared itself the clear number one team in the nation claiming the championship in convincing fashion.
The trophy has since been taken away.
Matt Leinart was flawless against the Sooners and showed voters exactly why he was chosen as that year's Heisman Trophy winner.
Reggie Bush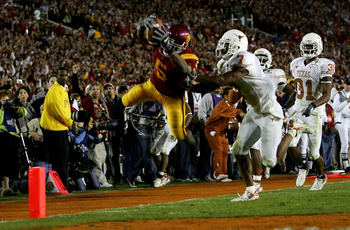 Lisa Blumenfeld/Getty Images
Year Won Heisman Trophy: 2005
2006 Rose Bowl Stats: 13 Carries…82 Rushing Yards…1 TD
Outcome: Texas 41…USC 38
The 2006 Rose Bowl was the second straight year that two undefeated teams, that showed no signs of stopping, faced off in the BCS National Championship.
In what is considered to be one of the best games in recent memory, Texas quarterback Vince Young lead his second ranked Longhorns to victory over the USC Trojans and Heisman Trophy winner Reggie Bush.
Although Bush didn't turn in his best performance of the season, he still ran for almost 100 yards and one touchdown.
His trophy has since been taken from him due to being ruled ineligible.
Troy Smith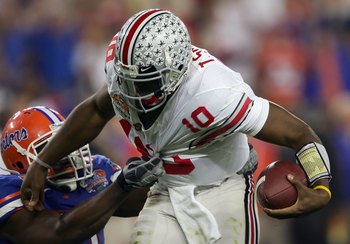 Jed Jacobsohn/Getty Images
Year Won Heisman Trophy: 2006
2007 BCS National Championship Game Stats: 4-14…35 Passing Yards…1 INT
Outcome: Florida 41…Ohio State 14
Troy Smith was the runaway winner for the Heisman Trophy in 2006, producing the largest margin of victory since O.J. Simpson won the award in 1968.
Too bad he was on the wrong end of a large margin of victory in the 2007 National Championship game against Florida.
Ted Ginn Jr. got things started for the Buckeyes by returning the opening kickoff for a touchdown.
Ohio State never lead again.
Florida dominated all facets of the game, including Troy Smith, coasting to a 41-14 victory.
Smith looked like anything but a Heisman Trophy winner in this game. He had the worst game of his career and was unable to do anything against the Gator's defense.
Sam Bradford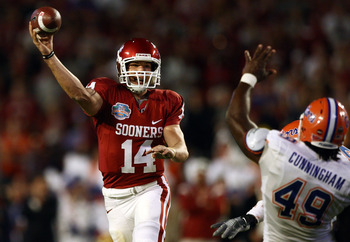 Donald Miralle/Getty Images
Year Won Heisman Trophy: 2008
2009 BCS National Championship Game Stats: 26-41…256 Passing Yards…2 TD's…2 INT's
Outcome: Florida 24…Oklahoma 14
This year's National Championship once again featured a top ranked offense from Oklahoma, but this one was different.
Heisman Trophy winner Sam Bradford helped the Sooners become the highest scoring team in NCAA history and lead an offense that scored 60 points or more in five straight games.
Bradford edged the quarterback that beat him in the regular season, Colt McCoy, en route to becoming only the second sophomore to win the award. (Tim Tebow was the first sophomore winner in 2007)
Bradford looked okay in this game, but it was definitely not his best game and his team lost.
Mark Ingram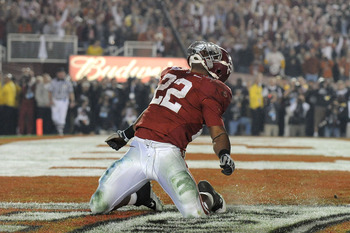 Harry How/Getty Images
Year Won Heisman Trophy: 2009
2010 BCS National Championship Game Stats: 22 Carries…116 Rushing Yards…2 TD's
Outcome: Alabama 37…Texas 21
The second of only two Heisman Trophy winners to win the National Championship during the BCS era was a workhorse for the Alabama Crimson Tide at the Rose Bowl.
The Alabama defense knocked Texas quarterback Colt McCoy out early in the game and Alabama never let them recover.
Ingram provided 116 of Alabama's 205 rushing yards, leading his team to victory over the Texas Longhorns.
Cam Newton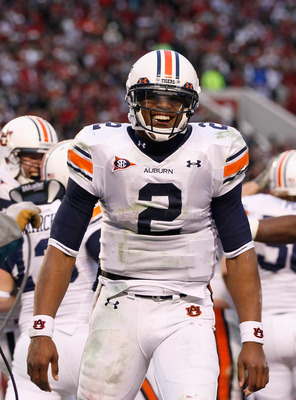 Kevin C. Cox/Getty Images
Year Won Heisman Trophy: 2010
2011 BCS National Championship Game Stats: ?
Outcome: ?
Cam Newton was unstoppable throughout the 2010 college football season.
Will Oregon be the first team to stop him and hand the Auburn Tigers a loss?
Will Newton continue the trend of the Heisman Trophy winners disappointing in losing the National Championship?
Or will he follow in the footsteps of fellow Heisman winner Mark Ingram and have a big game in bringing home another National Championship for the SEC?
Tune in January 10th to find out.
Keep Reading