Tennessee Football: The Top 10 Items on the Vols' Christmas Wish List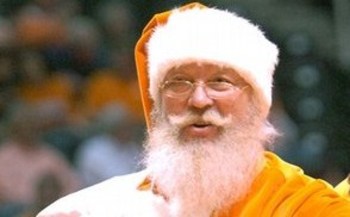 Lately, it seems all the Vols football program has received for Christmas is lump of coal after lump of coal.
In 2008, the lump of coal was a 5-7 season and the firing of a longtime head coach. In '09, it was the armed robbery incident and Lane Kiffin's mouth. In early 2010, it was Lane Kiffin abruptly leaving for USC two weeks before signing day.
In late 2010, it was a disastrous October that saw a gut-wrenching loss at LSU, a blowout at Georgia and at home versus 'Bama, and a near-comeback win-turned eventual loss at South Carolina.
When November began, however, it appeared the Vols luck just might have begun to change.
After a four game winning streak to finish the season with bowl eligibility, Vols fans are hoping and believing again.
In this season of giving, the Vol faithful are ready as ever to receive some good stuff under that big orange Christmas tree this time around. Here's just a few of the items on most Vols fans wish lists.
A Bowl Win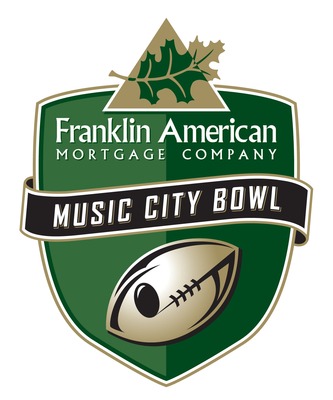 Since the Vols defeated Florida State for the first BCS national championship in the '99 Fiesta Bowl after the 1998 season, Tennessee is just 3-6 in bowl games.
Considering Tennessee seemed unlikely to even make a bowl game at the end of October, that loss total could very well increase by one after December 30.
The Vols opponent in Nashville's Music City Bowl, North Carolina, is nowhere near the caliber of Tennessee's last bowl opponent, Virginia Tech. But the 'Heels should not be considered a pushover.
UNC is favored by one point in this game and it should certainly be one of the better games of the bowl season.
There's no denying, however, that finishing Derek Dooley's tumultuous first season with a bowl win and a winning record would be a big step in the right direction for the Tennessee program.
A Defensive Coordinator
Former Miami coach Randy Shannon could be a highly sought-after defensive coordinator in 2011
Doug Benc/Getty Images
One of the hot rumors in college football lately has centered around Tennessee defensive coordinator Justin Wilcox's supposedly imminent move to Austin to serve in the same capacity for the Texas Longhorns.
Wilcox says he is focused on Tennessee's bowl game. Derek Dooley says there will be no shortage of interest should a spot on the staff become available. Fans are just tired of all the speculation.
If the growing speculation and rumor is correct, Wilcox will not be in Knoxville next season.
And of course, speculation surrounding his eventual replacement has already begun in earnest.
One name that has been openly coveted by Vols fans is former Miami head coach Randy Shannon. The obvious reason behind the support for Shannon is his ties to the fertile recruiting soil of south Florida.
Other scenarios range from hiring Clemson defensive coordinator Kevin Steele, who reportedly agreed to take the position with Tennessee last year before signing an extension with Clemson, to promoting linebackers coach Lance Thompson which would allow Dooley to then hire former Vol great Al Wilson as linebackers coach.
Dooley is probably right. There will be no shortage of applicants for the position when/if Wilcox leaves.
The Same Head Coach Next Season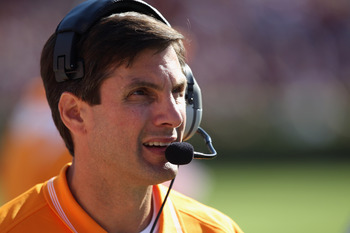 Streeter Lecka/Getty Images
During halftime of the Tennessee/Kentucky game on November 27, the Pride of the Southland marching band did its rendition of the "12 Days of Christmas." One of the wishes was for the Vols to have the same coach next season.
It's amazing what losing a big mouth, mercenary head coach to his "dream job" after just one season on his stepping stone job can do to a fan-base's psyche.
On this particular wish-list item, Vols fans have nothing to worry about. Derek Dooley is not Lane Kiffin. Not even close. Dooley has respect for this program. He will finish what he has started.
Dooley will be back in 2011, ready to build on his relatively successful first season in Knoxville.
No Off-the-Field Issues for a While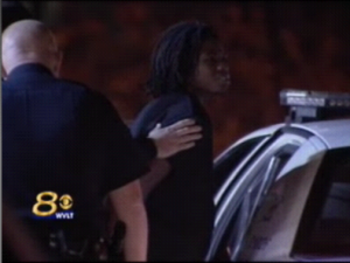 Former Vols WR Nu'Keese Richardson arrested for his role in an early morning armed robbery in 2009
Whether it's three players robbing a couple guys at pellet-gun-point or 36 Volunteers involved in a scary bar brawl, the Tennessee football program has had its fair share of off-the-field issues in each of the past two seasons.
The issues were so bad under former coach Phillip Fulmer that the fictitious award bestowed upon the program with the most arrests is often referred to as the Fulmer Cup.
Vols fans are hopeful that they've heard the last of the breaking news reports involving Tennessee football players--for a while at least.
A Fair Ruling from NCAA in The Spring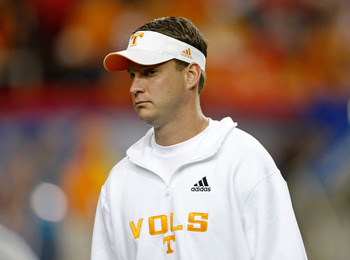 Former Tennessee head coach Lane Kiffin
Mike Zarrilli/Getty Images
One thing that former head coach Lane Kiffin left in his disastrous wake was an NCAA investigation into the program's recruiting practices.
Granted, the issues are a thing of the past since Kiffin took his sideshow out west, but as the NCAA has shown more than once, it doesn't care who did it, the program usually still pays even if the coach that did the dirty deed is long gone.
Fans are hoping for leniency since the Vols have had just two secondary violations since Kiffin left. The former coach had six secondary violations reported in less than a year on the job.
The final report from the NCAA is expected sometime in the spring of 2011.
A Top-15 Recruiting Class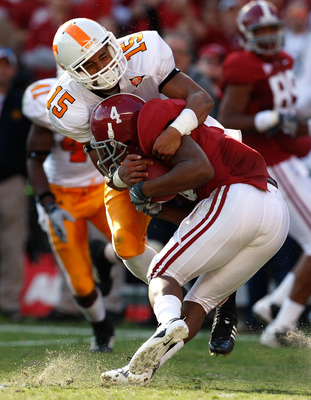 Vols safety Janzen Jackson was one of the top recruits in the Vols '09 class
Kevin C. Cox/Getty Images
In the interest of fairness, I must admit that most of the young talent that helped Tennessee win six games this season was brought in by Lane Kiffin. Derek Dooley did a tremendous job of keeping the signing class together after Kiffin left for USC three weeks before signing day, but Kiffin deserves much of the credit for the influx of talent last February.
According to rivals.com, Tennessee is currently ranked No. 22 in the nation in recruiting. The Vols finished at No. 9 last season and No. 10 in 2009.
Obviously, these rankings are arbitrary numbers, but there's no denying the correlation between high recruiting rankings and BCS bowl appearances.
Finishing strong and gaining a few more spots would be a huge step forward for Dooley and the program.
A Win Outside the State of TN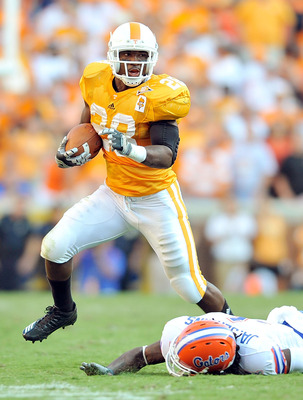 Grant Halverson/Getty Images
Tennessee actually won two games on the road all season--at Memphis and at Vanderbilt. Their other four wins came at Neyland Stadium.
If the Vols win their bowl game, all seven wins will have taken place inside the state of Tennessee. While it's certainly nice that Vols own the Tennessee state championship, that is a trend that must change in 2011.
The Vols will have a few chances to right the ship next season. Tennessee must travel to Florida, Alabama, Arkansas, and Kentucky.
Considering the Vols past success against Kentucky, Tennessee should have at least one win outside of the Volunteer State next season.
Tyler Bray As The Next Peyton Manning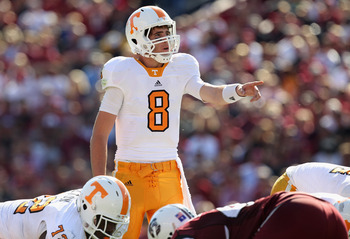 Streeter Lecka/Getty Images
Tyler Bray finally took the reins as the starting quarterback after the South Carolina game at the end of October. In relief of Matt Simms, against the Gamecocks, Bray nearly led the Vols to a comeback win in Columbia.
The true freshman quarterback then proceeded to put up huge numbers against lesser competition in the season's final four games--each game a Vols win.
Bray, a native Californian, drew over-zealous comparisons to Peyton Manning more than once during the season. Given Bray's youth and incredible talent, it's hardly a surprise that these comparisons would surface so soon.
Depending on whom you ask, Bray could have some competition for that coveted next-Peyton-Manning-hopeful prize this spring.
Recently crowned Gatorade Player of the Year, Justin Worley from Rock Hill, South Carolina will enroll at Tennessee in January in hopes of getting a head-start on his big orange career and maybe even a shot at Bray's starting job in the spring--lending truth to the notion that having two potential star quarterbacks is better than having just one.
Another Crack at LSU

Disaster in Baton Rouge

You probably wanted to forget about this one. Chances are you are cursing me right now for even mentioning the deepest, darkest moment of Tennessee's 2010 season. But I just can't get this one out of my system.
It was a game that Tennessee should have won. It was a game that the Vols did win before losing on an un-timed down with 0:00 showing on the scoreboard.
Yes, the Vols had too many men on the field on the final play of regulation. Yes, it was an inexcusable mistake. But it was a gut-wrenching way to lose a game after celebrating the upset victory over a top ten team on the road.
If Santa could grant a do-over I don't know any orange-clad Volniac that would turn it down.
A Shot to Win the Lackluster SEC East in 2011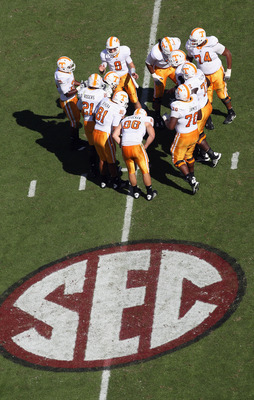 Streeter Lecka/Getty Images
Is it ludicrous to think Tennessee could win the east after all the turmoil the program has faced over the last 36 months? Maybe.
But considering how lackluster the division has become, the Vols could end up as the last team standing with a break here and there.
With all the breaks going against the Vols in recent years, they have to be due to receive some beneficial bounces sometime soon, right?
Truth is, Georgia is struggling mightily despite a roster that is one of the best in the conference on paper. South Carolina has tremendous talent that never lives up to expectations. Florida just hired a new coach. Kentucky and Vandy are still Kentucky and Vandy.
Given the recent trends and the near-future outlook of the division is it such a stretch that Tennessee could end up as the best of the worst in the SEC? Not at all.
Keep Reading

Tennessee Volunteers Football: Like this team?