Nebraska Bowl Game 2010: Breaking Down the Cornhuskers in the Holiday Bowl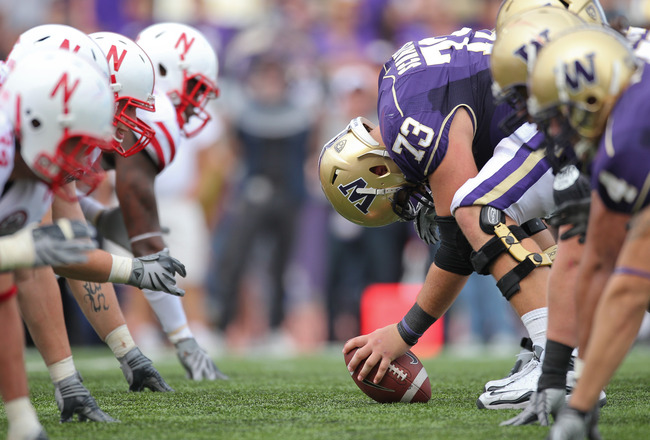 Otto Greule Jr/Getty Images
It's Nebraska-Washington II: Electric Boogaloo—not exactly the most exciting bowl game in the wide, wide world of sports.
If you're picking bowl games, this one likely has nearly the highest number of confidence points next to it and with good reason.
Nebraska walked into Seattle and pummeled the Huskies into submission to the tune of a 56-21 beat down.
Jake Locker was clamped down on and rendered ineffective.
The Huskies couldn't stop Taylor Martinez and Roy Helu, Jr.
Will it happen again?
Let's review.
The Battle In Seattle
It's déjà vu all over again.
Nebraska was 2-0 and a young hotshot quarterback named Taylor Martinez was taking Husker Nation by storm.
He'd performed well within the friendly confines of Memorial Stadium, but how would he handle a fairly intimidating venue such as Husky Stadium in Seattle?
It turns out that the opposing fan base didn't faze "T-Magic" much.
Nine carries, 139 yards and three touchdowns later, Martinez made it very clear that it didn't matter where he was playing.
These Huskies couldn't touch him.
During one play, that statement was all too obvious as Martinez scampered down the field for an 80-yard touchdown run pulled straight out of a video game.
He was one of three Cornhuskers that would break the 100-yard rushing mark (in addition to Helu, Jr. and Burkhead).
Martinez also had a better day through the air than the vaunted Jake Locker. Locker went four-of-20 for 71 yards, one TD and two INT while Martinez went seven-of-11 for 150 yards and a TD.
The Blackshirts were in rare form, holding Washington to a scant 246 yards in total while the Nebraska offense churned out 533 yards.
To say that Locker's draft status dropped that day would be putting it mildly.
Who Will It Be At QB?
Otto Greule Jr/Getty Images
Taylor Martinez took every snap during the Big 12 Championship Game.
While his competitive spirit is understandable, some fans are asking why Cody Green didn't get an opportunity or two.
Green had proven very effective in Nebraska's final regular season game versus Colorado.
It was assumed by fans that both would likely see time, especially as Martinez seemed to be less effective as the game went on.
Green has progressed well this season, going from a quarterback that seemed to have issues with several live-game situations to at least a serviceable signal-caller.
It's hard to think that Cody wouldn't have forced the Sooners to take a second look, perhaps even opening some possibilities for Martinez as the game went into its final moments.
In regards to the Holiday Bowl, Martinez will likely get the start.
He'll have been able to rest his injuries for several weeks and regain some composure following another hard-fought Big 12 Championship Game.
One would expect Cody to see playing time in San Diego, but his presence was expected in Arlington, too.
The Dynamic Duo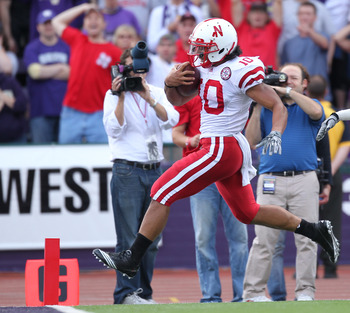 Otto Greule Jr/Getty Images
Nebraska has one of the finest running back tandems in the land.
They prove it game in and game out.
Roy Helu, Jr. rips off an average of 6.8 yards per carry (1211 yards this season) and has 11 TDs to his credit.
The speedster from Danville, California constantly leaves defenders in the dust after breaking the second line of a defense.
Rex Burkhead is the Swiss army knife of the Nebraska backfield.
Operating as a quarterback out of the wildcat formation, he runs the zone-read with Helu, Jr. and even passes the ball.
He's three of four with three TDs and zero INTs on the season.
Burkhead is definitely the "power" back to complement the speed of Helu, Jr.
He has 912 yards (5.8 YPC) on the season and seven TDs.
Burkhead also provides an excellent safety valve for his quarterback with 136 yards receiving on 13 receptions.
As has been proven repeatedly this year, you can't stop these two.
You can only hope to contain them.
Will Anyone Lend a Hand?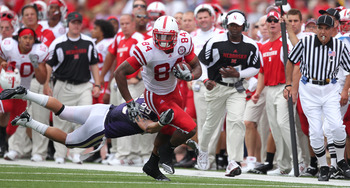 Otto Greule Jr/Getty Images
Nebraska fans had big expectations for the passing game this season.
A little more consistency would've been ideal, at least.
Unfortunately, the passing game has been a bit of a crap shoot.
For a long while this season, Nebraska didn't need to pass thanks to the feet of Taylor Martinez.
Now, when forced to, competing a pass is like pulling teeth.
Brandon Kinnie had a solid year with 473 yards and five touchdowns showing marked improvement, and Kyler Reed truly exploded onto the scene.
The sophomore tight end has 20 receptions for 364 yards and seven TDs.
Reed has shown true play-making ability this year and will likely see plenty of action going forward.
What does all of this mean for the Holiday Bowl?
Expect mid-to-deep routes to Kinnie with the occasional long bomb to Reed.
Should Niles Paul be able to play, you can expect some easy routes as not to aggravate his foot injury, but which will still pick up first downs.
The Big Men Up Front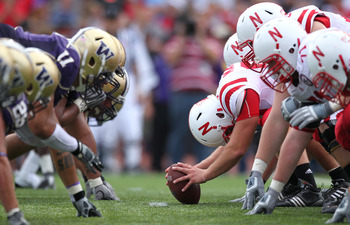 Otto Greule Jr/Getty Images
Nebraska's offensive line has truly opened up holes for some fantastic things to happen this year.
Three Cornhuskers have rushed for over 900 yards including Helu, Jr.'s 1211.
In total, Nebraska has plowed the way for 3375 yards rushing and helped 32 touchdowns be scored.
Nebraska has had issues in regards to pass protection.
Ranked No. 60 (out of 120), the Cornhuskers have allowed 24 sacks (approximately two per game).
The Cornhuskers' bread and butter is obviously the running game.
Expect to see plenty of it versus the Huskies.
The Blackshirts' Front Four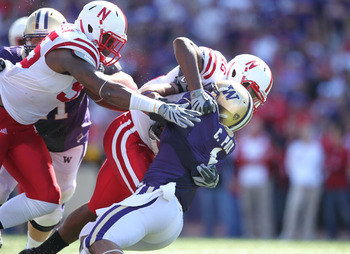 Otto Greule Jr/Getty Images
Life after Ndamukong Suh has had its difficulties, but there has been light at the end of the tunnel.
Jared Crick hasn't exactly been Suh's second coming, but he's had a standout season.
The linemen also worked well as a cohesive unit.
Crick had 63 TKL (29 Solo), 16 TFL, 9.5 SCK, two PBU, 10 QBH and a FF.
Defensive end Cameron Meredith checked in with 60 TKL (32 Solo), eight TFL, 1.5 SCK, one PBU and 10 QBH.
Nebraska ranked No. 32 in sacks nationally with 31 in total (Approx. 2.5 per game).
The Cornhuskers are ranked No. 3 in third down defense and No. 18 in fourth down defense.
A One-Man Linebacker Corps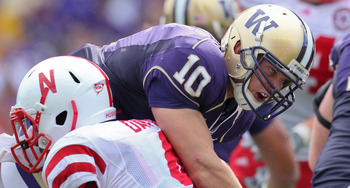 Otto Greule Jr/Getty Images
Starters Sean Fisher and Will Compton both went down in fall practice leaving a void at linebacker.
That's what everyone thought, at least.
It's hard to think that even LaVonte David thought that his first season as a Nebraska Cornhusker would go so well.
David has 145 TKL (77 Solo), 14 TFL, six SCK, 10 PBU and seven QBH.
Five more tackles in the Holiday Bowl will cement his name in the Nebraska record books.
He would pass current Tampa Bay Buccaneer Barrett Ruud as the Cornhuskers' all-time single-season tackler.
Teams have tried to account for David, but seemingly the only way to stop David is to hope that he stops himself.
Earlier this year, it seemed that any lack of production from David was due to a missed assignment or over pursuit.
That doesn't seem to happen quite as often now with the season winding down.
David and Compton do work well as a team, but it's easy to see why teams truly fear No. 4.
The Washington Huskies did the first time. This Holiday Bowl rematch should prove no different.
Second(ary) to None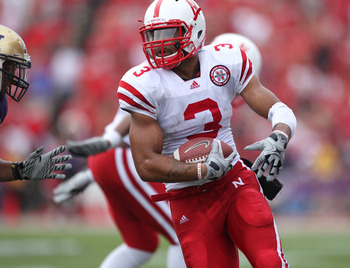 Otto Greule Jr/Getty Images
Going into the 2010 season, all of the pundits claimed that Nebraska's secondary would take the place of their defensive line in terms of the defense's strength.
It's safe to say that they were right on the money.
Nebraska ranks No. 7 in passing defense (159.92 w/ 19 INTs) and No. 5 in pass efficiency defense.
Cornerback Prince Amukamara was rarely thrown against except when some of the best wide receivers in the country had a chance to beat him.
Even they weren't always successful.
Alfonzo Dennard provided perhaps the most physicality amongst the backs.
DeJon Gomes and newcomer Courtney Osborne may have something to say about that.
One thing that Nebraska fans haven't had to worry about much this year is opponents picking up yards through the air.
Jake Locker had as much difficulty as anyone going 4-20 against the Blackshirts' secondary.
In all likelihood, a repeat performance awaits him.
What Has 2010 Taught Bo?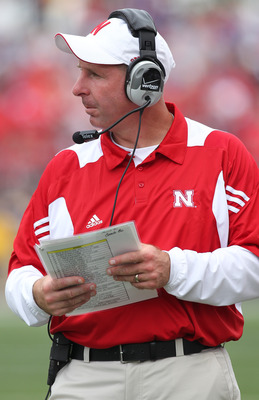 Otto Greule Jr/Getty Images
This season has been a litmus test for Bo Pelini.
His infamous temper was pushed to the brink and finally the top blew off in his team's controversial 9-6 loss versus Texas A&M.
The next week, you'd think a completely different person roamed the Nebraska sideline joking with referees.
Then again, it's hard to think that a coach wouldn't be on his best behavior after having the school's chancellor call him out publicly.
2010 has been a year of learning how to deal with true adversity for Bo Pelini.
There were a few times where he stepped over the line and truly learned what absolutely cannot be accepted.
This can only be positive for a coach looking to improve himself and his coaching skills moving forward. Pelini is a passionate man.
That much is obvious.
There's no reason that he cannot coach the way he wants to and not gain the respect of his charges.
He's already got that.
There is a line though and now Pelini knows how far he can take things without breaking through unnecessary barriers.
Nebraska Will Win If…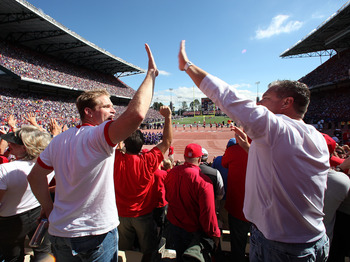 Otto Greule Jr/Getty Images
On paper, if Nebraska shows up and executes their game plan, they should win running away.
The Cornhuskers need to arrive in San Diego with the same mindset that they did in Seattle.
Is this rematch the best that could've been cooked up for the bowl season?
Probably not, but this is where the foundation for 2011 is laid.
Should Martinez be able to revert back to his old self for just a sliver of the game, it should be enough.
Burkhead and Helu, Jr.'s wildcat formation shenanigans should prove fruitful against the Husky defense—a defense that has been decimated by injury, by the way.
Several members of the Washington defensive line are either questionable for the Holiday Bowl or will not be playing.
It's a cliché, but it will bring home another Holiday Bowl trophy and an 11-win season:
Run the ball, stop the run, win the game.
Can't get enough football news, reviews and overall sports merriment? Follow Brandon on Twitter (@eightlaces) for the latest article updates and other general college football goodness.
Keep Reading

Nebraska Huskers Football: Like this team?