Great Moments at 2010 Army-Navy Game in Philadelphia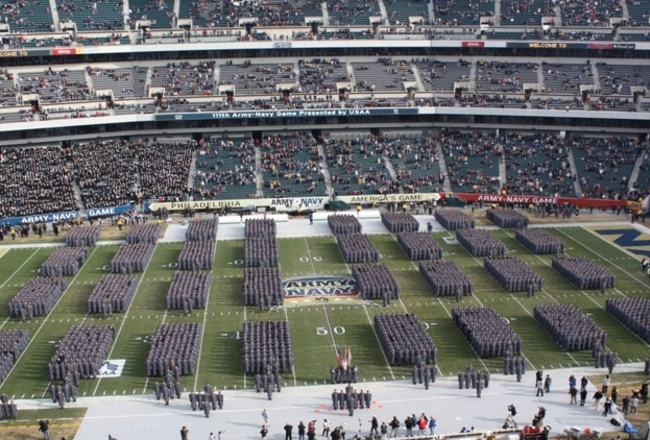 The Corps of Cadets conduct the "March On" at Lincoln Financial Field

In what other rivalry do the two competing student bodies give each other a cheer every single day during the year to "Beat" their arch rival. In what other rivalry are the schools and alumni so unified in the common purpose of defending our country.
The common theme of the rivalry between Army and Navy is consistently decribed as intensity, respect and friendship.
This year we had the honor and privalege of conducting a radio show covering West Point football which gave us the opportunity to meet the players, coaches, instructors, officials, and alumni of the US Military Academy. We just kept meeting dedicated, well trained, purposeful, and polite individuals, one after another from the Superintentendent on down to the youngest freshman, they call plebes, just out of "Beast Barracks".
Army Captain Stephen Anderson spoke to the media after every game win or lose demonstrating leadership even in moments of disappointment. He described how much it meant to have a medal of honor receipient, USMA grad Paul Bucha, speak to the team before the game and to leave with them the actual medal which the team touched at halftime before going back on to the field.
At the pre Army Navy Game press conference we met the two Navy Captains Ricky Dobbs and Wyatt Middleton, they both described their plans to become surface warfare officers on Navy ships after graduation. Impossible not to be fans of these two outstanding young guys and their teammates.
The outcome was a 31-17 win for Navy, but the members of both treams know that their real competition is still ahead of them when together they fight for victories that keep our our country free.
Bonfire Excites Cadets at West Point Pep Rally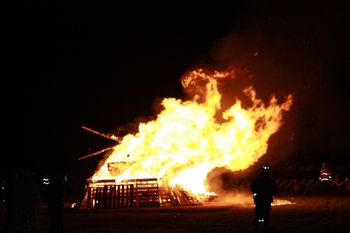 The Cadets leave the Field
A tradition at West Point is the Thursday night bonfire and pep rally which sees the team off to the Army-Navy game.
Cadets Watch Bonfire at USMA Pep Rally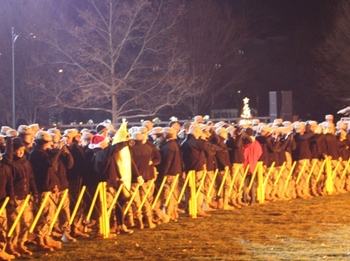 Army Cheerleader at USMA Pep Rally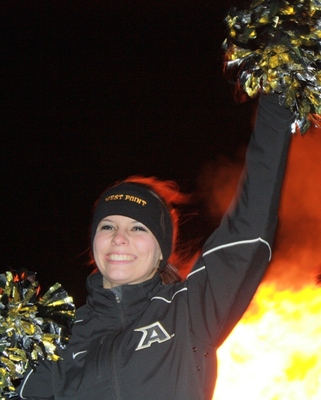 The Cadets leave the Field
Army Captain Stephen Anderson and Navy Captain Ricky Dobbs at Press Conference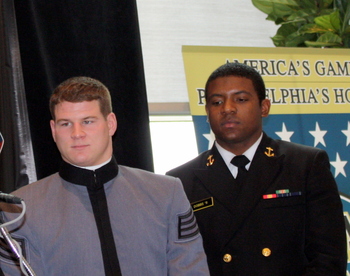 West Point Company
Pregame Comments Of Army Interim AD Col. Sam Johnson (Audio)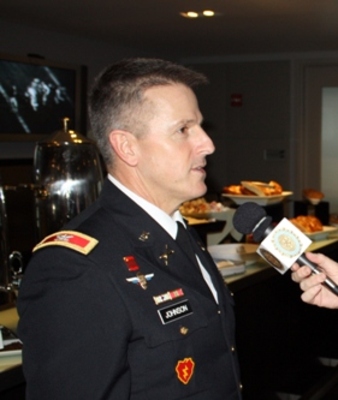 Army Interium Director of Athletics Col. Sam Johnson
Col. Sam Johnson offered comments about the history of the Army Navy rivalry, improvements in the West Point foorball program, the upcoming Armed Forces Bowl Game, and his nearly 30 year career in the US Army at the pregame press conference.
You can listen to his comments on:
http://www.legionpost50ny.com/Radio_SAL_101201_Col_Sam_Johnson.html
Coach Rish Ellerson Offers Pregame Comments (Audio)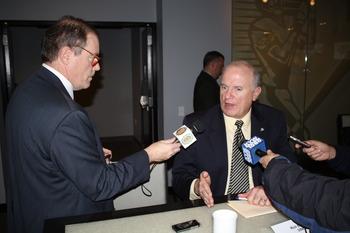 Head Coach Rich Ellerson at Pregame Press Conference
A Welcome To Game Day From Philadelphia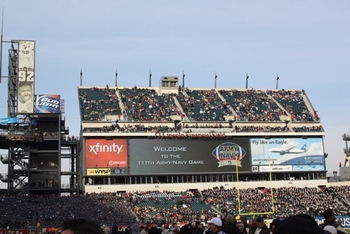 Welcome to the 2010 Army - Navy Game
Cadets Arrive In Philadelphia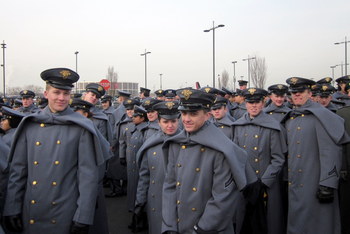 The Cadets travel down the morning of the game in a caraven of buses and then wait outside stadium for the moement they will line up in their formation of companies to enter Lincoln Financial Field. I asked several if there is a name for the distinctive cape they wear this day of the year only over their formal "Long Coats".
Cadets Line Up For "March On" To Field Before Army Navy Game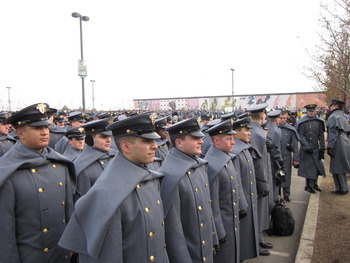 Army Corps Of Cadets Performs Traditional "March On" Before Game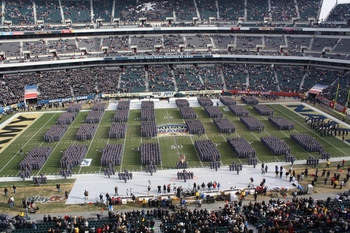 West Point Corps of Cadets "March On"at 2010 Atmy Navy game
Company Of West Point Cadets
West Point Company
Cadet Sophmore McKnight Led Over 3.000 Cadets In "The Rocket"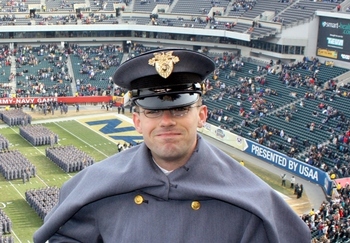 Sophmore Cadet led over 3,000 Cades in the West Point Cheer, "the Rocket"
A longstanding tradition at West Point games is the performance of a cheer called "the Rocket". Often a visiting senior officer will lead the entire gathering of Cadets in this. This year Cadet Mitchell McKnight, Class of 2013, from Fort Leavenworth, Kansas led the over 3,000 USMA Cadets on the field in the cheer from the upper deck. He mentioned they practiced the "March On" that week on two nights at West Point.
Rocket Yell
(Whistle) – BOOM! – Ahhh
U.S.M.A. Rah! Rah!
U.S.M.A. Rah! Rah!
Hoo-Rah! Hoo-Rah!
AR-MAY! Rah!
Team! Team! Team!
From:
http://www.goarmysports.com/ViewArticle.dbml?DB_OEM_ID=11100&ATCLID=576489
Cadet Leading Corps In Pregame Cheer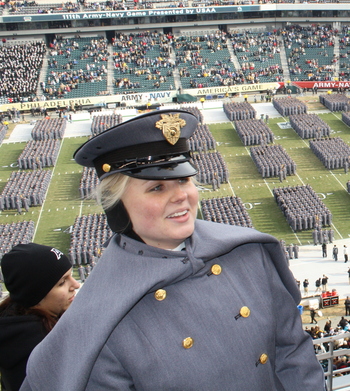 West Point Band Performs During the March on Of Cadets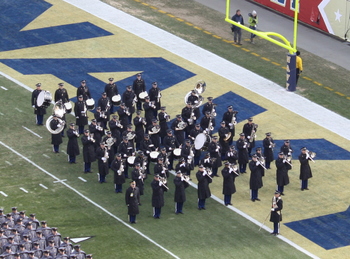 The West Point Band
The West Point Band is a professional marching band which is composed of active US Army soldiers. They perform concerts at Eisenhower Hall on the USMA post and at locations around the region. They are a favorite of the New York Yankees to play on opening day or post season games.
West Point Band Marchs Across Field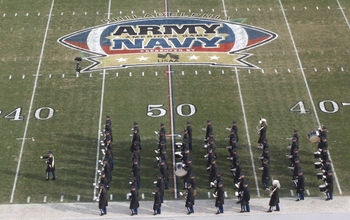 The West Point Band on the 50 Yard Line leavers the Field
Army Cadet iN Stands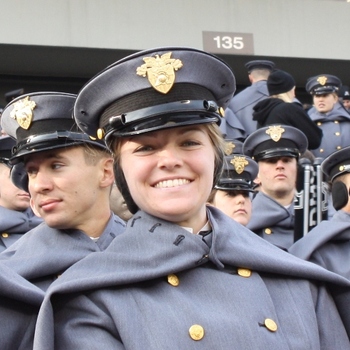 Cadet at the 2010 Army-Navy Game
Army Cadets and Friends Put Their Game Faces On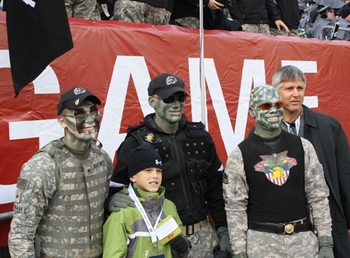 How the West Point Cadet prepares for the game
Adding face paint is a regular preparation for going out on combat patrol for soldiers.
Army Co Captain Carson Homme Before Game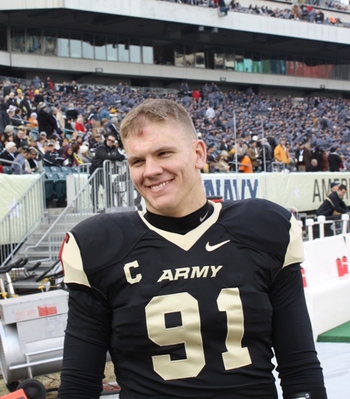 West point CoCaptain Carson Homme
Sr Captain Carson Homme was one of two Black Knights players on the ESPN Academic All-America Team as chosen by the College Sports Information Directors of America. Senior DB Jordan Trimble was a first-team selection, while senior DL/LS Carson Homme was chosen to the Academic All-America Second Team.

Homme earned second-team accolades after posting a 3.92 GPA as a mathematical sciences and American history major. In addition to his work in the classroom, Homme serves as one of four regimental commanders and is responsible for leading approximately 1,000 members of the U.S. Corps of Cadets.

On the field, Homme is the Black Knights' snapper on both punts and field goals for the past two seasons. Also serving as a reserve defensive end, Homme has one tackle this season and has three career stops.

To be nominated for the Academic All-America team, a student-athlete must be at least a sophomore starter or significant reserve on his team with a 3.3 cumulative grade point average.
Carson has also been named a semifinalist for the 2010 William V. Campbell Trophy by the National Football Foundation. The award honors the nation's top football-playing scholar-athlete.

Nominated by their schools, which are limited to one nominee each, the 121 semifinalists must be a seior or graduate student in their final year of eligibility, have a GPA of at least 3.2 on a 4.0 scale, have outstanding football ability as a first team player or significant contributor, and have demonstrated strong leadership and citizenship.

The NFF Awards Committee will select up to 15 finalists. Each finalist will be recognized as part of the 2010 NFF National Scholar-Athlete Class, receiving an $18,000 post-graduate scholarship. The Campbell Trophy winner will have his scholarship increased to $25,000 and receive a 25-pound bronze trophy.

Past winners of the award include Tim Tebow (Florida), Brian Leonard (Rutgers), Kyle Vanden Bosch (Nebraska), Chad Pennington (Marshall) and Danny Wuerffel (Florida).
from: Goarmysports.com
The Army Team Takes The Field For Warm Ups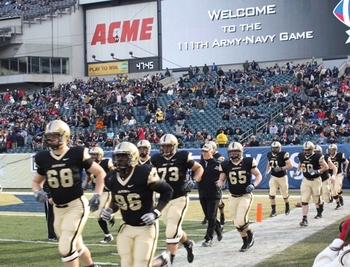 Army Team Runs out for Warm-Ups
79 Frank Allen, 67 Jason Johnson, 53 Zach Watts, and 54 Seth Reed Get Set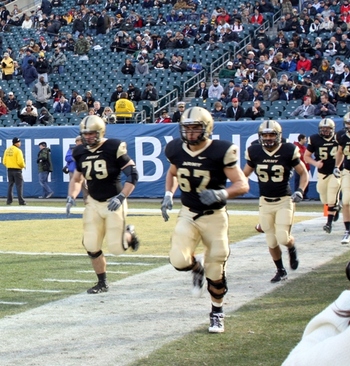 Army Takes the Field
Army CoCaptain Josh McNary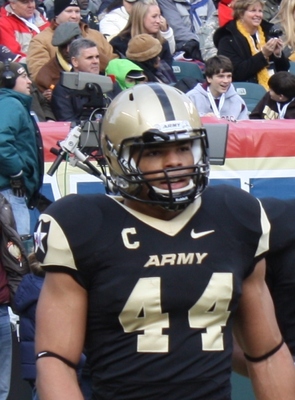 Army CoCaptain Josh McNary
Josh McNary is the Black Knight on the defense that opponents have to plan for, in many cases that means setting up double teams to stop his pass rushing abilities.
A native of Houston, Texas, he holds the West Point records for most quarterback sacks in a game with 4 against Temple in 2009, and in a season 12.5 also last year. Over his West Point career he has a record of 27.5 QB sacks. Josh had a total of 12 tackles versus Air Force in 2008.
Josh was a walk on at Army after playing only one year of high school football. He can bench presses 350 pounds and runs the 40 in 4.6 seconds. Josh was nominated for several preseason award "watch lists" including those for the Bronko Nagurski Trophy, Lott Trophy and Lombardi Award.
McNary's family has a long military tradition. His father George McNary is a retired captain who served in the Marines and his grandfathers each saw action during wartime, one in World War II, the other in Korea.
Touching The "Give Me a West Point Player For a Dangerous Mission" Plaque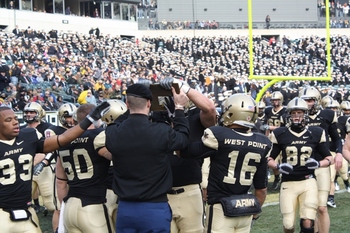 Army Touches the Plaque that Recalls the need for a West Point football player for a dangerous mission.
Before each game, the West Point players touch a plaque with a time honored request from WWII:
"I want an officer for a secret and dangerous mission. I want a West Point football player."
Gen. George C. Marshall, Army Chief of Staff, 1944
Army Pregame Huddle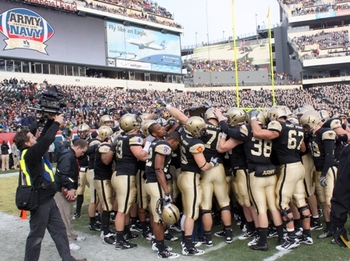 Army Huddles Up
Army Captain Stephen Anderson Before Game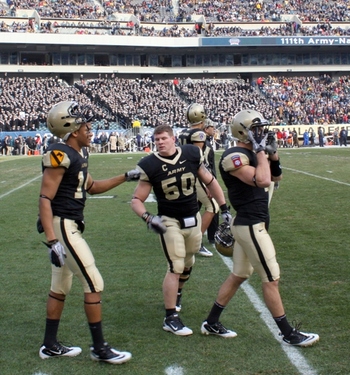 Army capatin Stephen Anderson
Navy Marathon Team Presents a Game Ball They Ran From Annapolis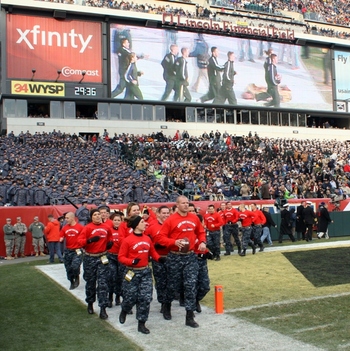 Navy marathon Team ran gme balls from Annapolis
Cadets Ready For Action
Cadets Ready For Action
Exchange Cadets Returned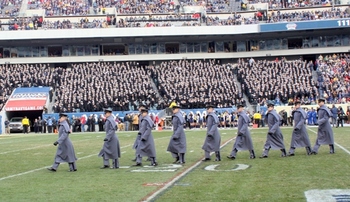 Exchange Cadets Returned
This is a tradition at the Army-Navy Game that is very unique. Each semester ten or so Cadets study at Annapolis and a similar number of Midshipmen study at West Point. It is considered a high honor that they are selected to represent their Academies at the other. At the game the exchange students are formally marched to the center of the field and exchanged back to their home Academies. They receive a big ovation from their fellow students and friends in the stands when they are "returned".
Cadets March in To Perform National Anthem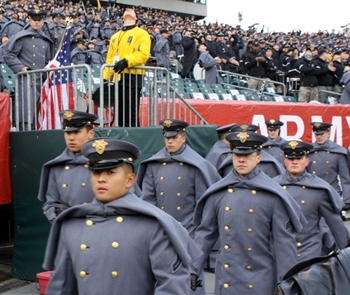 Cadets March In to Perform
Navy Parrachute Team Member Sails Toward Stadium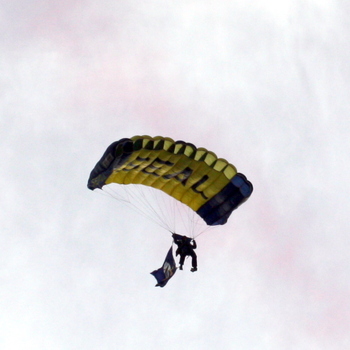 Navy Jumper Heads In
Formation Of Parachute Team Members Above Stadium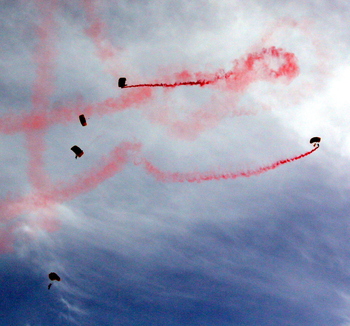 Parachute Flight Plan into Stadium
Army Parachute Team Member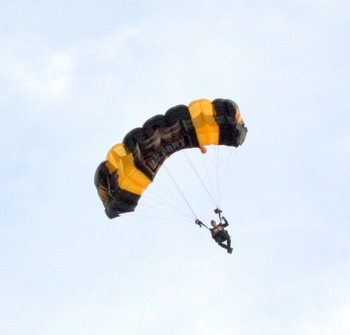 Army Parachute Team Member
US Army Parachute Team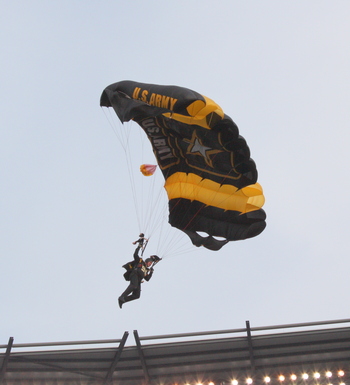 Army Parachute Team Member Flys Into the Fillling Stadium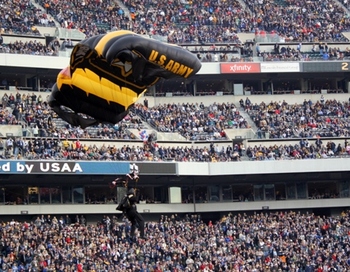 Army Parachute Team on the Ground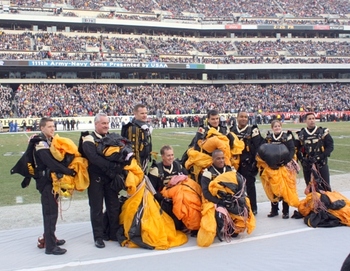 Army Parachute Team on the Ground
Joint Army Navy Color Guard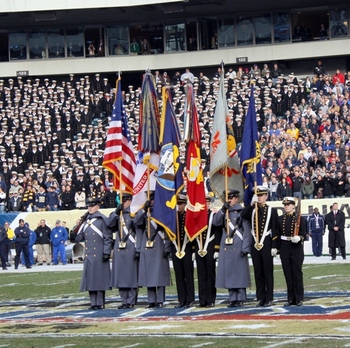 Color Guard
Chairman Of The Joint Chiefs, Admiral Mike Mullen, Attends The Game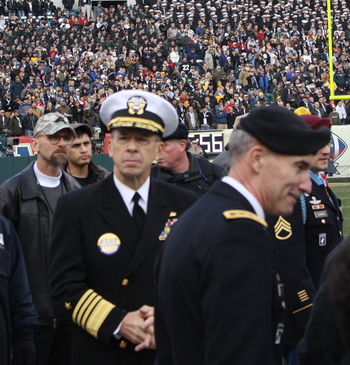 Admiral Mullen
Admiral Mike Mullen is the Chairman of the Joint Chiefs of Staff, the highest-ranking officer in the U.S. Armed Forces and the President's principal military advisor. As such, he presides over all meetings and coordinates the efforts of the Joint Chiefs of Staff (JCS), advising the Secretary of Defense, the National Security Council and the Homeland Security Council.
Prior to this duty, Adm. Mullen served as the 28th Chief of Naval Operations (CNO), the Navy's top uniformed leader and representative to the JCS. His rise in the Navy started at sea. Three months after graduating from the U.S. Naval Academy in 1968, then-Ensign Mullen reported aboard the destroyer USS COLLETT (DD 730) for duty as Anti-Submarine Officer where he deployed to the Western Pacific and participated in combat operations off the coast of Vietnam. Over the course of his career at sea, he served aboard six other warships, three as the commanding officer; and as an admiral, he commanded the USS GEORGE WASHINGTON Carrier Strike Group and the U.S. Second Fleet.
His tours ashore have been focused in the areas of resourcing and personnel and included duty with the Bureau of Personnel, the Navy staff, and the staff of the Secretary of Defense. Adm. Mullen obtained a Master of Science degree in Operations Research from the Naval Postgraduate School in Monterey, CA and also graduated from the Advanced Management Program at the Harvard Business School. From August 2003 to October 2004, Adm. Mullen served as the Navy's 32nd Vice Chief of Naval Operations. During the first half of 2005, he served as Commander of NATO's Joint Force Command Naples and Commander, U.S. Naval Forces Europe, leading the Alliance's peacekeeping operations in the Balkans and its training mission in Iraq.
Since taking office as Chairman in October of 2007, Adm. Mullen has focused his efforts on three main priorities: 1) defending vital national interests in the Middle East; 2) resetting, revitalizing and reconstituting the Armed Forces; and 3) properly balancing global risk. He has placed significant emphasis on the expansion of counter-insurgency warfare training and resources and was an early advocate for a greater focus on operations in Afghanistan. He now considers that war the U.S. military's "main effort."
Medal Of Honor Recipient Paul Bucha Walks With Army Captains To Coin Toss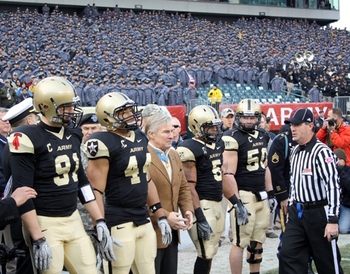 Army Captains with Capt. Paul Bucha
Medal of Honor Receipient Paul Bucha, a USMA graduate, with Army Captains 91 Carson Homme, 44 Josh McNary, 5 Patrick Mealy, and 50 Stephen Anderson to Coin Toss.
From www.newstimes.com/:
Bucha was a 25-year-old captain and commanding officer of Company D, 3rd Battalion, 187th Infantry, 3rd Brigade, 101st Airborne Division, on March 16 to 19, 1968, when his actions near Phuoc Vinh, in the Binh Duong province of Vietnam, earned him the Medal of Honor, which he was presented in 1970 by President Richard Nixon.
Bucha, a West Point graduate, defended his 89 men against an enemy force of about 1,500 over that three-day period, in the course of which he received a painful shrapnel wound.
The official transcript of the citation includes: "When one friendly element retrieving casualties was ambushed and cut off from the perimeter, Capt. Bucha ordered them to feign death and he directed artillery fire around them.
During the night, Capt. Bucha moved throughout the position, distributing ammunition, providing encouragement and insuring the integrity of the defense. He directed artillery, helicopter gunship and Air Force gunship fire on the enemy strong points and attacking forces, marking the positions with smoke grenades.
"Using flashlights in complete view of enemy snipers, he directed the medical evacuation of three air-ambulance loads of seriously wounded personnel and the helicopter supply of his company. ..."
Distinguished Visitors Meet The Players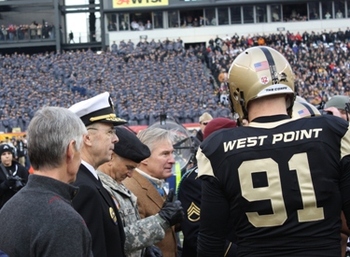 Admiral Mullen Greets Army's Carson Homme
USMA Superintendent Lt. Gen. David Huntoon Jr. and Adm. Mullen Greet Josh McNary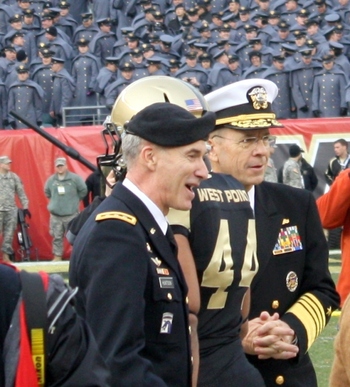 Lt. Gen. Huntoon with Admiral Mullen
Admiral Mullen and Army Superintendent Lt, General David Huntoon Greet Players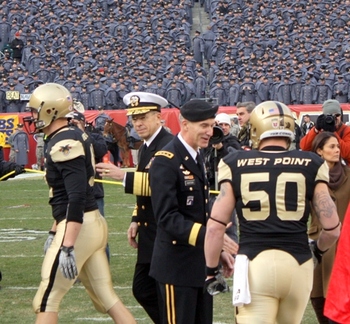 Adm Mullen Greets Players
Army Flags Enter the Field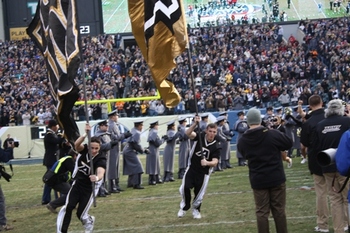 West point Flags Enter the Field
Army Cheerleaders Enter the Field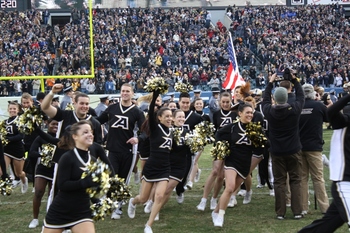 Army Cheer leaders Enter the Field
Army QB No. 8 Trent Steelman Enters the Field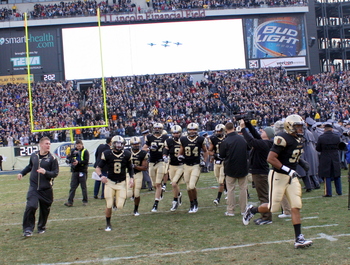 Army Players Enter the Field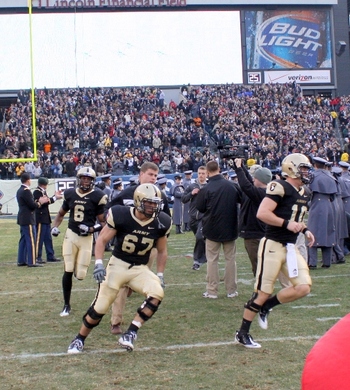 Coach Rich Ellerson Escorted Onto Field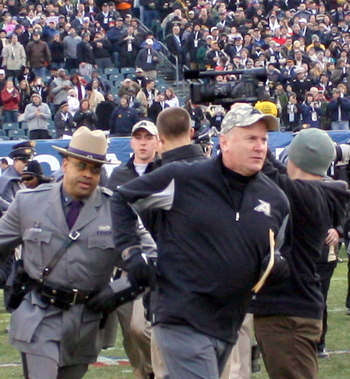 Army Helos Fly Over Stadium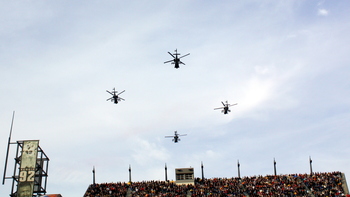 A Way To Help Those Out Serving Our Nation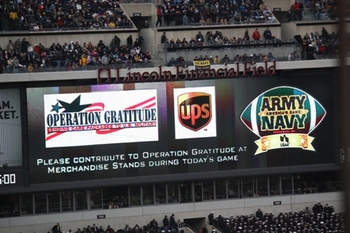 About To Start the Game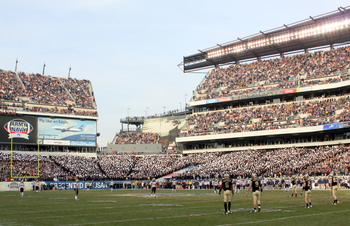 Ricky Dobbs Set to Throw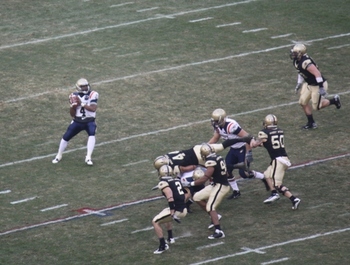 Army Runs Option To the Left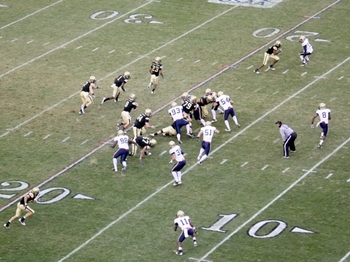 14 Josh Jackson Of Army Returns Punt
West Point Band And Glee Club Perform at Half Time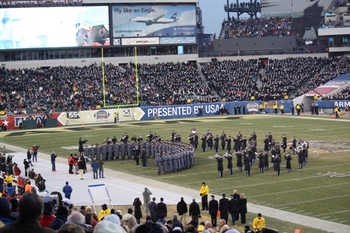 Army Kicks Field Goal in Third Quarter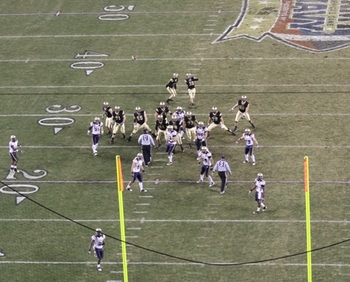 Army Offense Gets Set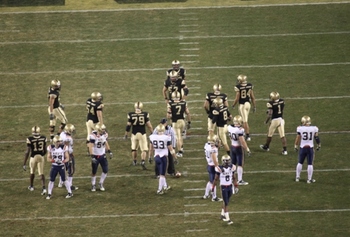 Cadets Stand For USMA Alma Mater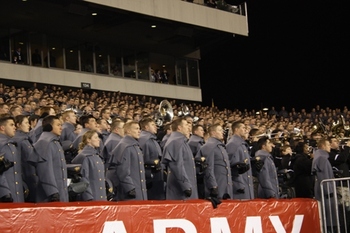 West Point Alma Mater
Hail, Alma Mater dear,
To us be ever near.
Help us thy motto bear
Through all the years.
Let Duty be well performed.
Honor be e'er untarned
Country be ever armed.
West Point, by thee.
Guide us, thine own, aright
Teach us by day, by night,
To keep thine honor bright,
For thee to fight.
When we depart from thee,
Serving on land or sea,
May we stand loyal be,
West Point, to thee
And when our work is done,
Our course on earth is run,
May it be said, "Well done"
Be thou at peace."
E'er may that line of gray
Increase from day to day
Live, serve, and die, we pray,
West Point, for thee.
P.S. Reinecke, 1911
Army Players During Their Alma Mater (Audio Of Both Alma Maters)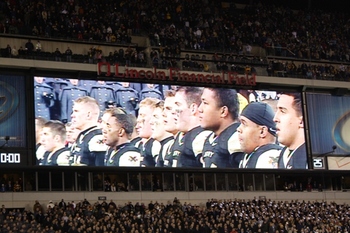 Listen to the recording of the actual playing of the Alma Maters at the 2010 Game:
Navy Alma Mater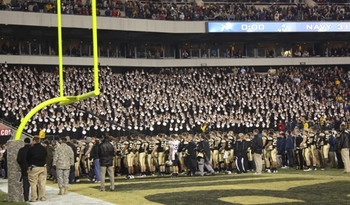 Army Coach Rich Ellerson After Game (Audio)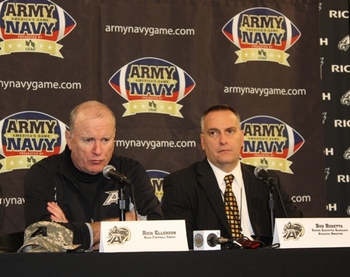 Army Player Comments After Game (Audio)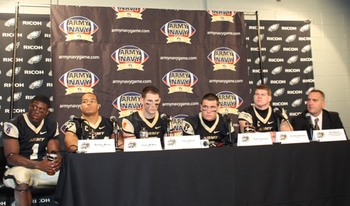 Navy Players After the Game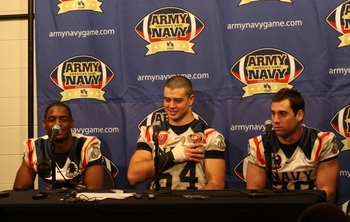 Navy Players After the Game
Arny Captain Stephen Anderson Comments After The Game (Audio)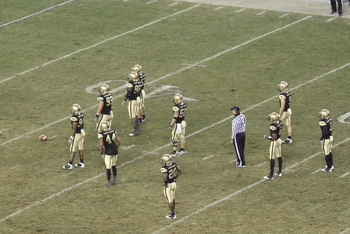 Stephen Anderson #50 patrols the middle of the Army defense
Acknowlegements: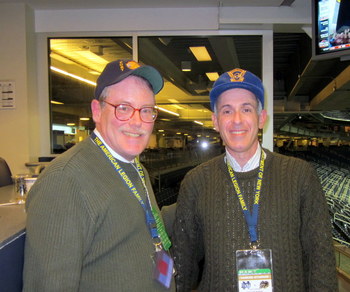 Ken Kraetzer and John Chuhran cover Army football for the American Legion Press Association and Sons of the American Legion Radio which is a production of Sons of the American Legion Squadron, 50 Pelham, NY.
Both are the sons of WWII era US Army officers. SAL Radio produces the SAL Radio Report broadcast from New Rochelle, NY on 1460 AM WVOX and nationally on WVOX.com every Monday at 2:30 EST discussing topics related to veterans and the active military. On slect holidays, calls from deployed and recently returned troops are aired on the WVOX "Good Morning Westchester" program with host Bob Marrone. On Tuesday evenings at 5:30 PM EST the West Point Football Report is aired on WVOX.com. Contact Ken on kgk914@aol.com
Many past programs are available on www.legionpost50ny.com
Keep Reading