2011 NFL Draft: Senior Prospects to Watch As Bowl Season Kicks Off Saturday
University Stadium in Albequerque
New Mexico, the Land of Enchantment, is best known for desert landscapes, Native American culture and, of course, UFO sightings, beginning with the infamous 1947 Roswell crash.
This coming Saturday, the scenic city of Albuquerque will host the New Mexico Bowl in the first of 35 bowl games on this year's schedule.
Aside from the ridiculous Beneath Common Sense, uh, BCS, system (which is used to manufacture a symbolic national championship), most of the other bowl games are actually worth watching.
For the NFL draft enthusiasts among us, the bowl games give us another chance to scout players who are potential draft or rookie free agent prospects. Three bowl games will be played on Saturday's bowl season kickoff day. Following the New Mexico Bowl, there will be the Humanitarian Bowl and New Orleans Bowl.
For a list of potential draft prospects to watch during those games, please read further. If you see a UFO during the New Mexico Bowl telecast, do not fear...they might be here just to give the poor New Mexico Lobos football program some much-needed supernatural support these days.
New Mexico Bowl: UTEP vs. Brigham Young
UTEP WR Kris Adams
Location: Albuquerque, New Mexico
Televised: Saturday December 18, 2:00 PM Eastern, ESPN
UTEP Top Draft Prospects to Watch
Despite having to compete with the likes of Texas, Texas A&M and TCU in its home state, UTEP usually manages to cultivate some NFL-caliber talent every year.
This season, the best prospect coming out of Lubbock appears to be WR Kris Adams. He has very good height and is a talented deep threat, having a 20.8 yard-per-catch average on 44 receptions in 2010.
QB Trevor Vittatoe set UTEP career record for total offense and touchdown passes. However, his accuracy needs improvement to compete at the NFL level.
HB Donald Buckram is a good athlete who struggled with injuries in his senior season. In 2009, Buckram rushed for 1,594 yards and 18 touchdowns.
Kris Adams: WR No. 2 (6'3", 195)
Trevor Vittatoe: QB No. 10 (6'2", 220)
Donald Buckram: HB No. 3 (5'10", 195)
Other UTEP prospects:
Rod Huntley: OG No. 74 (6'3", 320)
Alex Solot: OT No. 70 (6'8", 310)
Jonny Moore: TE No. 36 (6'5", 250)
Robert Soleyjacks: DE No. 13 (6'2", 260)
Anthony Morrow: OLB No. 11 (6'0", 228)
Wiston Jeune: SS No. 29 (6'3", 210)
Brigham Young Top Draft Prospects to Watch
The Cougars will become a football independent program in 2011, but they are leaving the Mountain West Conference without much to speak for in regards to senior NFL talent.
There is no player comparable to the likes of Austin Collie, Max Hall, Ty Detmer or Jim McMahon in the 2010 senior class. Perhaps the players with the best chance to be drafted are SS Andrew Rich and OT Nick Alletto.
Rich is a big safety who compiled 106 tackles and three forced fumbles in 2010, in addition to eight career interceptions. He is not very fast but is a good run defender who can play in the box. Alletto is a two-year starter with good size to play OG or RT.
Andrew Rich: SS No. 22 (6'3", 218)
Nick Alletto: OT No. 72 (6'6", 329)
Other Brigham Young prospects:
Luke Ashworth: WR No. 29 (6'2", 201)
Vic So'oto: DE No. 37 (6'3", 260)
Brandon Bradley: CB No. 5 (6'0", 193)
Mitch Payne: K No. 38 (6'2", 213)
Humanitarian Bowl: Fresno State vs. Northern Illinois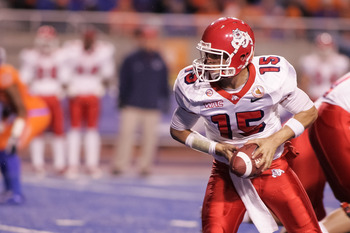 Fresno State QB Ryan Colburn
Otto Kitsinger III/Getty Images
Location: Boise, Idaho
Televised: Saturday December 18, 5:30 PM Eastern, ESPN
Fresno State Top Draft Prospects to Watch
Coach Pat Hill has done a wonderful job over the past 14 years of maintaining a steady program at Fresno State. Two of the recent high-profile draft picks from the school are QB David Carr and Pro Bowl OG Logan Mankins.
There are several Bulldogs players who will be drafted in April and a few others who will be invited to training camps. Topping that list is DE Chris Carter, who will likely be converted to OLB. Carter had a great 2010 with 10 sacks, 16.5 tackles for loss and four forced fumbles.
OG Andrew Jackson lacks some size but is tenacious with good technique. QB Ryan Colburn is not flashy but has good accuracy and is a capable runner. MLB Ben Jacobs is a tough run defender with 380 career tackles.
Chris Carter: DE No. 43 (6'2", 240)
Andrew Jackson: OG No. 69 (6'5", 295)
Ryan Colburn: QB No. 15 (6'3", 220)
Ben Jacobs: MLB No. 54 (6'4", 240)
Other Fresno State prospects:
Joe Bernardi: C No. 74 (6'2", 285)
Kenny Wiggins: OT No. 60 (6'7", 315)
Cornell Banks: DT No. 50 (6'2", 310)
Desia Dunn: CB No. 24 (5'9", 195)
Lorne Bell: SS No. 20 (5'10", 210)
Northern Illinois Top Draft Prospects to Watch
Following a 10-3 season, coach Jerry Kill has been hired to take over at Minnesota. Wisconsin defensive coordinator Dave Doeren will be the new Northern Illinois coach in 2011, but assistant Tom Matukewicz will coach in the bowl game.
HB Chad Spann has garnered the most attention from scouts due to his quickness and stats of 2,324 yards and 39 touchdowns the last two years. However, DE Jake Coffman could be a draft riser in the coming months. He could be a potential 3-4 OLB with pass rush potential. Coffman has career total of 16.5 sacks and 110 tackles. OLB Alex Kube is on the small side but is productive with 308 career tackles.
Chad Spann: HB No. 28 (5'9", 198)
Jake Coffman: DE No. 54 (6'5", 255)
Alex Kube: OLB No. 37 (6'0", 228)
Other Northern Illinois prospects:
Landon Cox: WR No. 80 (6'3", 220)
Ed Jackson: OG No. 60 (6'3", 314)
Chris Smith: CB No. 5 (5'10", 186)
Patrick George: CB No. 33 (5'11", 196)
Mike Sobol: SS No. 38 (6'0", 203)
New Orleans Bowl: Ohio vs. Troy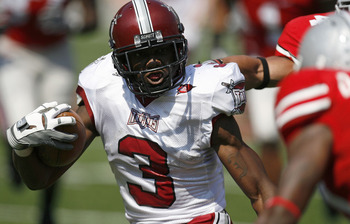 Troy WR Jerrel Jernigan
Gregory Shamus/Getty Images
Location: New Orleans, Louisiana
Televised: Saturday December 18, 9:00 PM Eastern, ESPN
Ohio Top Draft Prospects to Watch
Many people laughed at the Oakland Raiders when they drafted Ohio safety Mike Mitchell in the second round of the 2009 draft. They aren't laughing anymore since Mitchell has proved his doubters wrong by performing quite well in a reserve role in 2010. Coach Frank Solich has done a fine recruiting job at Ohio in recent years.
While the Bobcats may not have a second-round choice on campus this year, there are a few decent prospects available. Two that will not be playing in the bowl game due to injury are ILB Noah Keller and WR LaVon Brazill.
CB Julian Posey had 12 pass breakups in 2010 and doubles as a kick returner. FS Steven Jackson had three INTs and 65 tackles this year, while SS Donovan Fletcher had five INTs with 68 tackles. WR Terrence McCrae has 19 career touchdown receptions and has nice outside speed. DE Stafford Gatling, who posted 6.5 sacks this year, has some potential as a 3-4 OLB.
Terrence McCrae: WR No. 11 (6'4", 198)
Julian Posey: CB No. 9 (5'11", 187)
Steven Jackson: FS No. 19 (6'2", 201)
Donovan Fletcher: SS No. 48 (6'0", 196)
Stafford Gatling: DE No. 36 (6'4", 249)
Noah Keller: ILB No. 47 (6'1", 225) injured
Other Ohio prospects:
LaVon Brazill: WR No. 7 (5'11", 191) injured
Ernie Hodge: DT No. 95 (6'2", 290) may not play, academics
Marcellis Williamson: DT No. 62 (6'1", 327)
Troy Top Draft Prospects to Watch
For a small Alabama school, Troy has become quite a football factory lately. Players such as DeMarcus Ware, Leodis McKelvin, Osi Umenyiora, Lawrence Tynes and Levi Brown have helped put Troy on the draft day map.
At least one Troy prospect is making waves among NFL scouts this season. WR Jerrel Jernigan is an all-purpose threat who can score from anywhere on the field. His versatility and sub-4.4 speed remind scouts of 2010 Kansas City Chiefs draft pick Dexter McCluster. Including receiving, rushing and kick and punt returns, Jernigan has amassed 5,873 total yards and 23 touchdowns in his career.
Jerrel Jernigan: WR No. 3 (5'9", 190)
Other Troy prospects:
DaJuan Harris: HB No. 32 (5'7", 202)
Tebiarus Gill: WR No. 10 (6'1", 204)
Mario Addison: DE No. 7 (6'3", 254)
Keep Reading