Orange Bowl 2011: Andrew Luck, Tyrod Taylor and 10 Players To Watch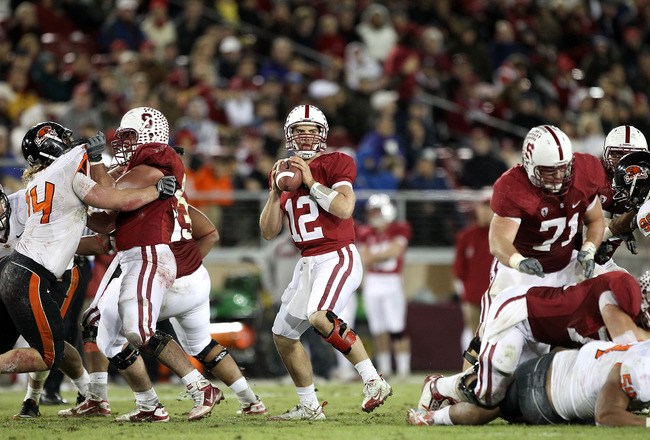 Ezra Shaw/Getty Images
Since the college football bowl games were announced, there has been a lot of talk about matchups.
How do Oregon and Auburn stack up?
How could Oklahoma get placed in the Fiesta Bowl with an unranked team?
Will the Rose Bowl be the best BCS bowl game?
The one thing that seems to be lacking is talk about the Orange Bowl, which could turn out to be one of the year's most exciting games.
The January 3rd showdown features the NCAA's best quarterback, Andrew Luck, and a hot Stanford Cardinal team looking to score prestige points for both Stanford and the Pac-10, as it matches up against Tyrod Taylor and ACC powerhouse Virginia Tech, a team that is threatening on both sides of the ball and is riding an 11-game winning streak.
In my continued efforts to get the world psyched up for one of the best games of the college football postseason, here are 10 players that you should watch (including Andrew Luck and Tyrod Taylor) when January 3rd rolls around.
10. Owen Marecic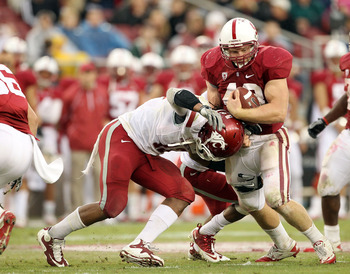 Ezra Shaw/Getty Images
I think I can speak for fans and students of Stanford football, as well as practically anyone who has watched a game or read an article about the Cardinal, when I say that Owen Marecic is the man.
Marecic is the last remaining representative of a dying breed—the two-way player.
Marecic plays fullback in addition to inside linebacker—two of the most punishing positions on the field—and plays them well.
Well enough, in fact, that he managed to score an offensive and a defensive touchdown in the same game against Notre Dame—within 13 seconds of each other.
He may not run or catch the ball a lot, but look for Marecic to be laying down some heavy hits.
9. Darren Evans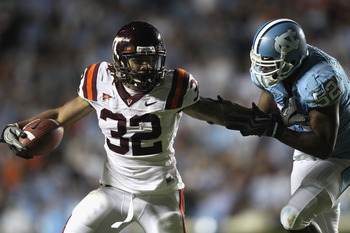 Streeter Lecka/Getty Images
While the crowds have been enthralled with players like Tyrod Taylor and Jayron Hosley, Darren Evans has been having quite the season for himself.
With 817 yards and 11 touchdowns on the season, Evans is the team's leading rusher and, surprisingly, has nine more carries than quarterback Tyrod Taylor. He is averaging a freakish 5.9 yards per carry (although that should come as little surprise in an option system) and uses his balance, strength and non-stop motor to break through defenses.
Going against a sometimes suspect rushing defense in Stanford could mean good things for Evans.
8. Sione Fua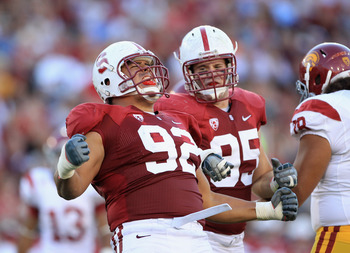 Ezra Shaw/Getty Images
Last year, Sione Fua was practically just another name as one of the defensive tackles in the old 4-3 scheme.
This year, though, under first-year defensive coordinator Vic Fangio, Fua has quickly risen to prominence as a good nose tackle, despite his lack of prototypical size.
Fua manages to draw double teams and stuff running lanes like 3-4 nose tackles should, but he also has a surprising amount of agility and speed that allow him to get past single blocks and into the backfield.
Virginia Tech would be wise to pay attention to Fua, as the running game could depend on it.
7. Rashad Carmichael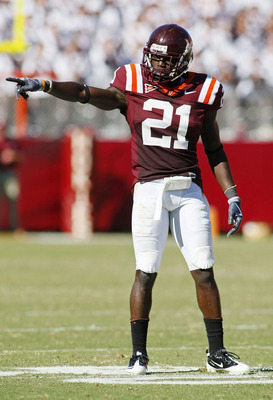 Geoff Burke/Getty Images
A lot of people are wrapped up in Jayron Hosley right now, on account of his NCAA-leading eight interceptions on the season, but few seem to remember there is a force to be reckoned with on the other side of the field as well.
His name is Rashad Carmichael and he is another major part of the ball-hawking nature of the Virginia Tech defense.
He has been very consistent throughout his career and, despite being a bit undersized, has had a penchant for getting his hands on the ball, which resulted in four interceptions this year following a six-interception season last year.
Teams are wise not to throw to him often, but when they do, they often pay dearly for it.
6. Shayne Skov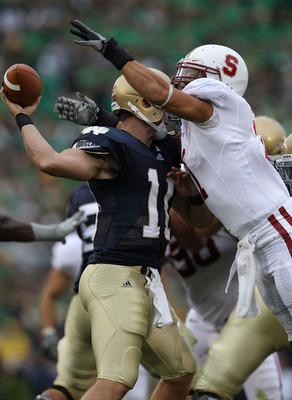 Jonathan Daniel/Getty Images
As long as young, future high-round draft prospects go for Stanford, no one promises more for the Cardinal than sophomore linebacker Shayne Skov.
He has proven to be a very well-rounded player, covering well against the run and the pass, but his biggest strength might be his pass-rush ability.
He recognizes holes in the offensive line very well, which makes him dangerous on delayed rushes, but he is also strong and physical enough to make his presence felt on a bull-rush up the middle.
Skov has really been a key to the success of the Cardinal defense this year and their performance as a unit could hinge on his individual performance.
5. Ryan Williams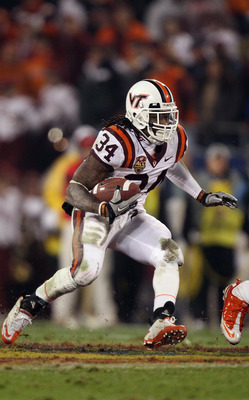 Streeter Lecka/Getty Images
He may not get the most snaps of all the guys running the ball, but Ryan Williams is Virginia Tech's not-so-secret weapon.
Considered to be one of the best draft-eligible running backs this year, Ryan Williams is just plain fun to watch. He is shifty and has a good burst, but he effectively uses his size to break tackles on his way to the end zone.
The combination of Williams, Evans and Taylor create a true nightmare in the backfield that will keep Vic Fangio (Stanford's defensive coordinator) up late at night until game day.
4. Chase Beeler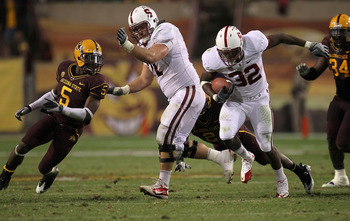 Stephen Dunn/Getty Images
When Toby Gerhart decided to declare for the draft last year, a lot of people wondered whether or not Stanford could continue to run the ball effectively.
I was one of those people, until I started to really look into how the Cardinal running game worked and realized that the key was just as much about the offensive line as it was about Gerhart.
As the quarterback of the offensive line, Chase Beeler can take a lot of credit for the fact that Stanford has given up only five sacks over this season, which is close to the top of the list of lowest number of sacks.
Chase Beeler can be considered a key to the Cardinal offense almost as much as any other player on the team. His ability to block, call blocks and keep the offensive line going will determine how well Andrew Luck is protected and how well the Cardinal will be able to run the ball, which are arguably two of the biggest keys to a Cardinal win.
3. Jayron Hosley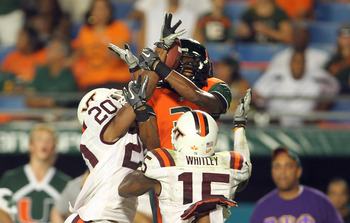 Mike Ehrmann/Getty Images
I know you all know who he is, but I have to bring him up anyway. He does lead the FBS in interceptions this year (eight).
Throwing towards Hosley is always a risk. He uses speed, physicality and intelligence to make good plays on the ball and can really make teams pay if they are not paying close enough attention.
Being the biggest superstar on the Virginia Tech defense, he will likely get a lot of attention as the Cardinal start game planning, so look for Virginia Tech to use him in different ways, perhaps even in a blitzing scenario or two.
2. Andrew Luck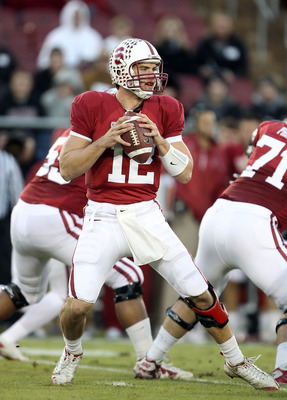 Ezra Shaw/Getty Images
Despite losing the Heisman race to Cam Newton, Andrew Luck is still clearly the best quarterback in the NCAA and is the consensus No. 1 prospect for the 2011 NFL Draft.
The Stanford Cardinal are by no means a pass-first offense, choosing balance over playing to their strengths, but Andrew Luck has the ability to throw the deep ball at any time and will always be in a position to put the ball in the end zone.
For those of you who love watching a prototypical traditional quarterback and the occasional run or hard hit, you'll want to keep your eyes glued to Stanford quarterback Andrew Luck.
1. Tyrod Taylor
Streeter Lecka/Getty Images
I hate to put all of the pressure on him, but all the pressure is on Tyrod Taylor.
Whether Virginia Tech wins or loses is almost entirely on his shoulders.
Tyrod Taylor could be poised to have a field day, as Stanford has shown against Oregon that they lack the team speed on defense to keep up with a fast-paced, option-oriented offense through four quarters.
Taylor can run it, Taylor can fake it and Taylor can throw it. The question is, when the heat is on, can he make the plays that his team needs to make for Virginia Tech to come out with the win?
You'll have to watch the Discover Orange Bowl on January 3rd at 8:30 pm EST to find out.
Keep Reading

Stanford Football: Like this team?