Pitt Rumors: Chancellor Disapproves Holgorsen's Lifestyle, AD Not Looking Good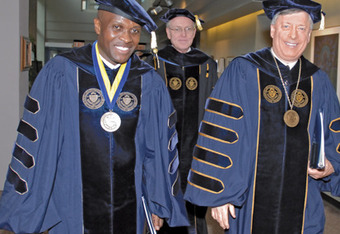 Update: The West Virginia Mountaineers have upstaged Pitt by hiring Dana Holgorsen to be their offensive coordinator next season and head coach the following, claims rivals.com. Maryland offensive coordinator James Franklin (Who's he??) is now the leading candidate for the Pitt job, again according to rivals.com.

We can thank the Pitt athletic department for the high chatter volume now as Pitt enters Week 2 of the head coaching search.
Buttoning down the hatches and staying completely off the record provides cover, so thinks Pitt Chancellor Mark Nordenberg and athletic director Steve Pederson, to conduct the search for Pitt's head coach with impunity safely away from the press and critics.
They are wrong, of course, because there are too many people, some very unfriendly, involved just enough in the process to leak tidbits of information.
Swirling in the blogs since last Saturday were the beginnings of questions about Dana Holgorsen's character. Holgorsen is the offensive coordinator at Oklahoma State who was reported to be Pederson's man for the job.
Apparently, and I say this with trepidation based on a non-vetted story, he wasn't offered the job because chancellor Nordenberg had issues with his lifestyle.
Apparently, Holgorsen is man who enjoys life, the type of guy who works hard and plays hard. It was the playing part that set Nordenberg off.
Funny, Holgorsen coached the offense for the Houston Cougars and here in the Houston Chronicle and in the Cougar blogs not one word was said about his "lifestyle."
I saw one comment in the Oklahoma State blog which essentially said Holgorsen likes to party. Who knows if the writer is sane or just another lunatic.
Furthermore, unless there were issues in his background check, which I highly doubt as he has moved freely through the college coaching ranks, he has been judged by Nordenberg, who certainly should know better, on rumors and innuendo.
Pittsburgh is a conservative city, much more so than the Bible belt cities of Atlanta, Dallas and Houston. Regardless, Nordenberg is a fool if he thinks he can impose his morality test on all the candidates.
The quality of a football coach should never be judged solely by whether he's a family man or goes to church on Sunday.
If Nordenberg wanted to be high and mighty in the process, he should have already found the funds to pay the kind of big name coach Pitt says it wants. Of course, he is BMOC and spends too much time pontificating and almost no time communicating with his alums and fans, or he would know Holgorsen is a popular choice, as is his former boss, Mike Leach.
Steve Pederson is up to his old tricks again. So far in the process he looks as bad as he did at Nebraska. The rumblings have now begun linking him to all the problems Pitt has in winning Big East titles and competing in BCS bowls.
Here's a list of Pederson's potential screwups as he fumbles around trying to hire a coach:
*He obviously did have a plan ready to go when he told Wannstedt to hit the road;
*He obviously hadn't done any preliminary work in the football season to prepare Wannstedt for a possible termination based on performance;
*He didn't secure the funding needed to hire a big name coach;
*He didn't vet candidates adequately which would have helped him and his boss avoid recriminations for acting like a Puritan jury;
*He hasn't bothered to communicate with alums and fans all season long about the football program;
*He is engaging in horrible public relations for the Big East, the BBVA Compass Bowl, and ESPN by being a total wimp on the question of whose coaching Pitt in the bowl game.
Some fans disparage the upcoming bowl game, but they shouldn't. Obviously, they have never looked at the Pitt Media Guide to see that bowl game records do count, performance in a bowl game has a lot to do with preseason rankings the following season, and the game provides another opportunity for the Pitt team to improve.
Week 1 of the coaching search is just about over and Steve Pederson has nothing to show for it.
Nebraska fans are just happy the deja vu is happening to Pitt, not them.
This article is
What is the duplicate article?
Why is this article offensive?
Where is this article plagiarized from?
Why is this article poorly edited?

Pitt Football: Like this team?