College Football Coaching Carousel: 15 Worst Coaching Candidates on the Market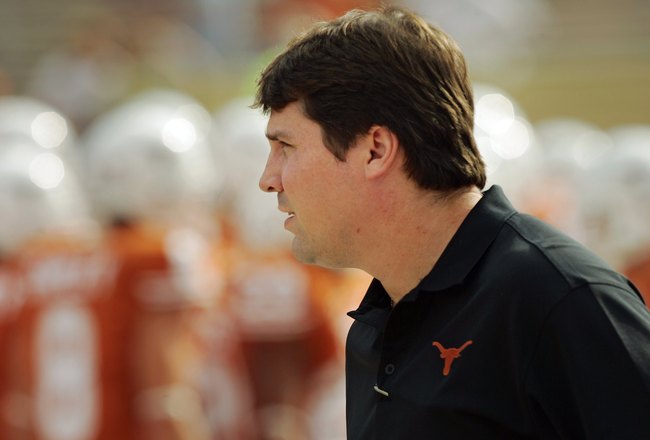 Will Muschamp walks into a tough gig at Florida.
Brian Bahr/Getty Images
The college football world is currently abuzz with the news that Texas defensive coordinator Will Muschamp will leave Austin to become the head football coach at the University of Florida.
Muschamp replaces Urban Meyer, who resigned from his post with the Gators after six years in Gainesville, during which time he brought home two national titles.
Clearly, Muschamp has some big shoes to fill at Florida, and the wisdom of his hiring won't be reliably determined until at least a few years down the line.
Similarly, it's impossible to say right now whether Muschamp is, or will be, a good head coach.
With that in mind, here are 15 of the worst available candidates to fill head coaching positions.
Greg Robinson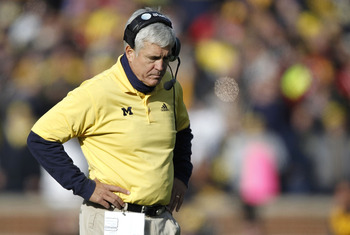 Greg Robinson will likely find himself out of a job once again in the near future.
Gregory Shamus/Getty Images
Will Muschamp's move brings to mind the curious case of Greg Robinson.
An alumnus of the University of the Pacific, Robinson sojourned across the football landscape, both college and pro, for almost three decades through various assistant coaching and coordinating gigs before landing the head coaching job at Syracuse in 2005.
Robinson was coming off a string of particularly successful defensive coordinating jobs, including winning back-to-back Super Bowl titles with the Denver Broncos and guiding the Texas Longhorns defense to a win in the 2005 Rose Bowl.
Unfortunately, that wealth of success as a coordinator didn't exactly translate in upstate New York, as Robinson accrued a miserable 10-37 record as the head coach at Syracuse.
Hence, Robinson was relieved of his duties following the 2008 season.
Since then, he has served as the defensive coordinator at Michigan under Rich Rodriguez, putting Robinson in charge of a unit that ranked 108th in the nation in total defense in 2010.
Rich Rodriguez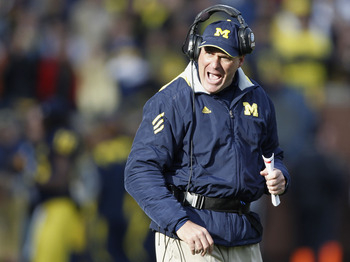 The tenure of Rich Rodriguez at Michigan has been bumpy, to say the least.
Gregory Shamus/Getty Images
Speaking of RichRod, he just might be the one leading Robinson out the door at Michigan.
Rodriguez was hired to be the head man at Michigan in 2008 following the "retirement" of Lloyd Carr.
The move was a rather controversial one, with Wolverines fans pining instead for Les Miles, a former player and assistant coach under the legendary Bo Schembechler who had just led the LSU Tigers to the national title.
Despite the opening, Miles didn't budge, leading the administration in Ann Arbor to bring in Rodriguez.
To be fair, Rodriguez came into Michigan with a formidable resume, including four Big East championships in seven seasons at West Virginia, his alma mater.
However, it didn't take long for things to sour.
First came the contentious contract termination talks between Rodriguez and West Virginia, which led to a lawsuit that was eventually settled out of court.
Then, of course, came RichRod's spread offense, which (predictably) struggled to win games and support at a school with a long history of success with more traditional offenses.
Add to that a rash of transfers, minor recruiting violations and a 3-9 record in his first season—the worst such mark in Michigan's long football history—and things haven't exactly taken off for RichRod at Michigan, to say the least.
With a 15-21 mark to date, don't expect Rodriguez to stick at Michigan for much longer, or to get snapped up too quickly after he's let go.
Bill Callahan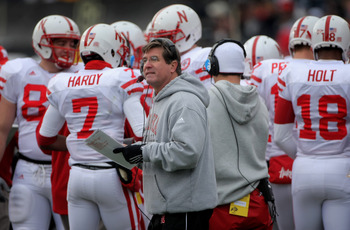 Bill Callahan was only mildly successful in his short tenure at Nebraska.
Doug Pensinger/Getty Images
Rich Rodriguez is far from the first coach to try and fail to radically change the style of play at a well-known football powerhouse.
For another good example, one need look no further than Nebraska, the latest school to join the Big Ten.
After pushing out Frank Solich, the man chosen to be legendary coach Tom Osbourne's successor, Nebraska athletic director Steve Pederson selected former Oakland Raiders head coach Bill Callahan to lead the Cornhuskers back to their former glory.
Callahan came in with a reputation as an NFL offensive guru with the know-how to revive the Huskers' struggling attack.
Unfortunately, Callahan's solution was to install the West Coast offense—a pass-first attack—at a school so renowned for a smash-mouth running attack.
The folks in Lincoln bristled at the proposition of such a change, particularly coming from someone like Callahan, who had no pre-existing ties to the university.
Callahan's Huskers had some moderate success, including a 9-5 record and a Big 12 North title in 2006, but he was ultimately canned in 2007 after leading Nebraska to a 5-7 mark—the school's worst record in 45 years.
However, a 27-22 collegiate record, to go along with a 15-17 record in the NFL, is far from enough to land Callahan head coaching job at the college level.
Walt Harris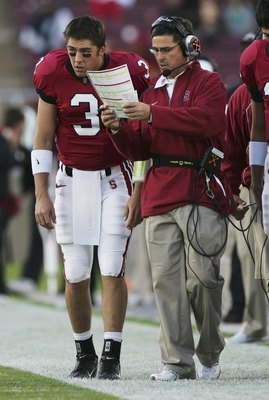 Walt Harris did not exactly set the world on fire at Stanford.
Jed Jacobsohn/Getty Images
Interestingly enough, Steve Pederson, the former athletic director at Nebraska, is connected to a number of the worst coaching prospects on the market today.
Among those distinguished individuals is Walt Harris, the former head coach at Pittsburgh and Stanford.
Harris, a native of the San Francisco Bay Area, did the usual hopping around at different assistant jobs before a short and largely unsuccessful stint at the University of the Pacific, his alma mater, in the late 1980s.
Harris hopped around as a quarterbacks coach with the New York Jets and the Ohio State Buckeyes before landing at Pitt, where he enjoyed a measure of success, including a Big East championship and a berth in the Fiesta Bowl in 2004.
Harris parlayed that success into the head job at Stanford, where he promptly went 5-6 in 2005 and 1-11 in 2006.
And, predictably, he was fired.
Now that he's running the offense at California University of Pennsylvania, Harris is unlikely to find many takers, particularly with a coaching record of 69-83.
Buddy Teevens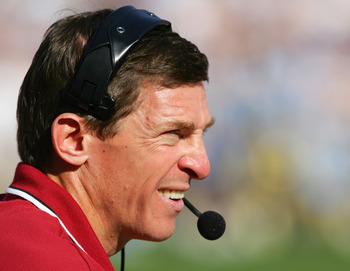 Buddy Teevens is about as underwhelming as they come in the coaching ranks.
Lisa Blumenfeld/Getty Images
That being said, Harris' failures at Stanford pale in comparison to those endured by Buddy Teevens.
As Walt Harris' predecessor, Teevens spent three years at the helm in Palo Alto, where he compiled a sparkling 10-23 record, without a single win against a bowl-bound team.
Unlike Harris, however, Teevens came into the Stanford job with a putrid resume.
Before plunging the Cardinal into mediocrity, Teevens won 11 games and lost 45 in at Tulane from 1992 to 1996.
Nowadays, Teevens is back to running things at Dartmouth, where he played quarterback and served as the head coach in the late 1980s and early 1990s.
Not that he's had much success in with the Big Green, as indicated by his record of 41-67-2 in New Hampshire.
Tyrone Willingham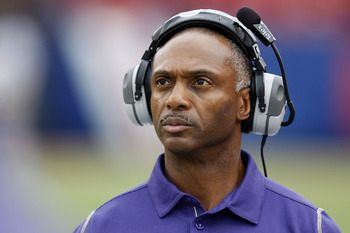 Tyrone Willingham was never quite able to replicate elsewhere the modicum of success he had at Stanford.
Gregory Shamus/Getty Images
Wind back the clock at little further at Stanford—the program that Pop Warner built—and you'll find Tyrone Willingham, yet another of the less-than-appealing coaching options out there today.
To be fair, Willingham had a pretty successful tenure at Stanford, leading the Cardinal to the 1999 Pac-10 championship and the berth in the 2000 Rose Bowl that came with it.
Ty left Palo Alto in 2002 for the supposedly greener and more prestigious pastures of South Bend, Indiana, where he became the head coach at Notre Dame.
His overall record with the Irish (21-15) wasn't bad, though the program didn't exactly take off after a promising first year in which he led Notre Dame to a 10-3 record.
Willingham was fired following the 2004 season, but promptly landed on his feet in Seattle, where he took control of a struggling Washington Huskies squad.
Not that his time there alleviated the program's struggles. Willingham went 11-37 as the head man at U-Dub, failing to reach a bowl in a four-season tenure that was "highlighted" by a winless 0-12 campaign in 2008.
As such, it's not exactly a surprise that Willingham is now retired from coaching, given the sharp downward slope of his career.
Karl Dorrell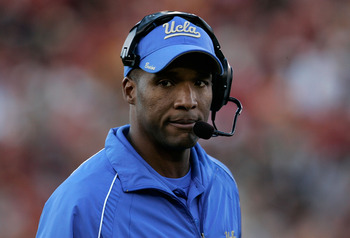 For all the flack that Karl Dorrell gets, he could have done a lot worse at UCLA.
Jeff Gross/Getty Images
Willingham's canning came just a year after Karl Dorrell's tenure at UCLA came to a close.
Dorrell, who played in three Rose Bowls as a Bruin, was picked by UCLA athletic director Dan Guerrero to succeed Bob Toledo as the head coach in Westwood, without any prior experience in that position.
As such, Dorrell's arrival wasn't exactly met with much fanfare in 2003.
To his credit, Dorrell did lead the Bruins to a bowl game in each of his five seasons at his alma mater, including a 10-2 record and a win in the Sun Bowl against Northwestern in 2006.
However, Dorrell's Bruins never quite took off as fans had hoped, even after beating USC in 2006, leading to his firing following the 2007 season. Rick Neuheisel, a former teammate of his at UCLA, replaced him.
Dorrell has since returned to coaching wide receivers in the NFL, this time for the Miami Dolphins, and seems unlikely to garner much consideration for another head gig in college for the foreseeable future.
Norm Chow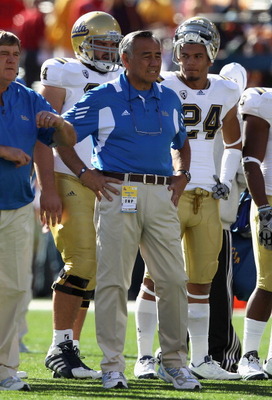 Norm Chow has struggled to turn the UCLA offense into a juggernaut.
Christian Petersen/Getty Images
That being said, Rick Neuheisel hasn't exactly brought the fight back to Westwood as many thought he would, especially after making a big splash when he brought Norm Chow with him.
Chow had originally garnered consideration for the head job at UCLA before turning it down and making his way back to LA as an offensive coordinator instead.
He arrived with much fanfare, having tutored the likes of Steve Young and Ty Detmer at BYU, Philip Rivers at North Carolina State and, most memorably for Bruins fans, Heisman winners Carson Palmer and Matt Leinart at USC.
Judging by the performance of UCLA's offense under Chow's guidance, it seems unlikely that he'll add another Heisman Trophy winner to his honor roll while in Westwood.
The Bruins offense has sputtered with Chow at the helm, with an attack that ranked 99th in the NCAA in total yardage this season, including the 116th-best passing offense (out of 120 teams).
For that, Chow earned another two-year extension.
Combine his recent failings with a lack of head coaching experience, and it seems highly unlikely that Norm Chow, sparkling reputation and all, will find a place for himself among the head coaching ranks any time soon.
Dan Hawkins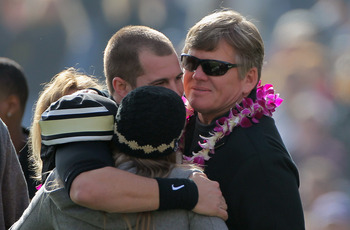 Senior Day at Colorado was a rather awkward affair for Dan Hawkins and his son Cody.
Doug Pensinger/Getty Images
Perhaps Chow's offense will finally take next year in the newly-minted Pac-12, which will include former Big 12 member Colorado.
The Buffaloes recently hired Jon Embree, who had previously served as an assistant coach in Boulder before taking similar positions at UCLA and with the Denver Broncos.
Embree replaces Dan Hawkins, who, after being fired midseason, became the latest coach from Boise State to struggle at a BCS school.
Hawkins had a rather successful tenure in Boise, leading the Broncos to a 53-11 record and four Western Athletic Conference titles in five seasons at the helm.
Like Dirk Koetter, the man who preceded Hawkins as the head coach at Boise State, Hawkins spun his success in Idaho into the head gig at Colorado.
His time in Boulder proved to be as forgettable as his tenure in Boise was memorable, as the Buffs posted only 19 wins against 39 losses in just under five seasons.
Sadly enough, Hawkins was let go in November, with his son Cody starting under center.
Hawkins' failures, along with those of Koetter at Arizona State, have likely planted some seeds of trepidation among those interested in hiring current Boise State head coach Chris Petersen, rightfully or not.
Tim Brewster
The tenure of Tim Brewster at Minnesota left many people exasperated.
Harry How/Getty Images
To Hawkins' credit, at least he was able to lure his own son to play for him.
Tim Brewster couldn't even pull that off at Minnesota.
Brewster's son, Clint, originally committed to Illinois before changing his mind after his father took over the Golden Gophers' program, but transferred to Tennessee Tech after a redshirt year.
Either way, the elder Brewster tanked after taking over for Glen Mason at Minnesota, compiling a dismal 15-30 record in less than four seasons in Minneapolis and St. Paul.
Not much of a resume, to say the least.
Ron Zook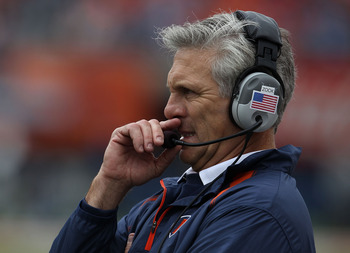 The Zooker's time at Illinois hasn't exactly smelled like roses.
Jonathan Daniel/Getty Images
Brewster's boy originally committed to Ron Zook, who is something of a lame duck head coach at the University of Illinois.
Zook, who spent three years as the head man at Florida following Steve Spurrier's departure to the NFL, is currently buoyed in Champaign by his Illini's appearance in the 2008 Rose Bowl, where they lost to USC, 49-17.
As middling as Zook's tenure was in the Swamp, his time at Illinois has been mediocre, at best. The Illini are bowl-bound for only the second time in his six seasons, which have yielded only 27 wins against 45 losses.
With a salary of $1.5 million per year, it's tough to say that Zook is anywhere close to earning his money.
Al Groh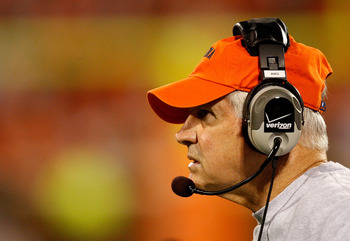 Al Groh has proven to be a middle-of-the-pack head coach, at best.
Streeter Lecka/Getty Images
Like Zook, Al Groh didn't exactly engineer his eminence as a defensive coordinator into fruitful head coaching career.
Groh's first top gig came at Wake Forest in the early-to-mid 1980s, where he conducted the Demon Deacons to 26 wins and 40 losses in six seasons without a bowl appearance.
Groh spent the next 15 years hopping around as an assistant in the NFL before finding his way back to the college game via the University of Virginia.
His tenure in Charlottesville was marginally successful, with a 59-53 record in nine seasons, including a 3-2 tally in bowl games.
Nonetheless, Groh was let go after the Cavaliers went 3-9 in 2009.
This precipitated Groh's move to the job of defensive coordinator Georgia Tech, where his stewardship yielded the 68th-best defense in college football this season.
Ted Roof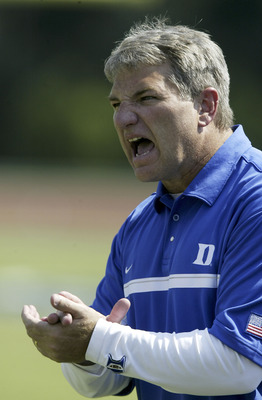 Excuse Ted Roof is he's upset; he only won six games at Duke.
Craig Jones/Getty Images
At least Al Groh can take comfort in the fact that he was far from the worst head coach in the ACC in the last 10 years.
That distinction belongs to Ted Roof, who won a whopping six games in five seasons as the head coach at Duke.
Sure, football has never been big in Durham, what with Mike Krzyzewski's Blue Devils basketball team being the biggest draw on campus.
Nonetheless, to describe a 6-45 record as abysmal is still something of an understatement.
Even compared to his successor David Cutcliffe, who has won 12 games in three years in Durham, Roof still comes out looking like a loser.
Hence, Roof won't find himself at the top of anyone's coaching wish list any time soon, though he has managed to continue his coaching career as Gene Chizik's defensive coordinator at Auburn.
Gus Malzahn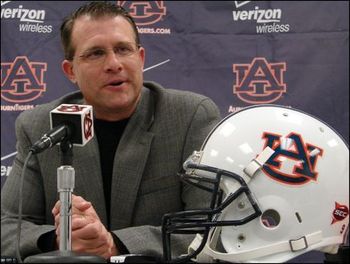 Gus Malzahn has made a career out of riding the coat tails of his players.
While Ted Roof is in charge of Auburn's defense, the much-ballyhooed Gus Malzahn is the "mastermind" behind Cam Newton and the Tigers' offense.
Malzahn first broke into the college coaching ranks in 2006, when then-Arkansas head coach Houston Nutt brought him on board as a means of luring Arkansas high school stars Mitch Mustain and Damien Williams to Fayetteville.
Regardless of the questionable nature of the hire, the Razorbacks did quite well with Malzahn around, winning eight games in a row and claiming the SEC West title in 2006.
In January 2007, less than a year after starting his college coaching career, Malzahn left Arkansas to be the assistant head coach with Todd Graham at Tulsa, where he spent two years before moving on to Auburn.
Like head coach Gene Chizik, Malzahn has benefited tremendously from the phenomenal efforts of Cam Newton, as pundits and college football aficionados everywhere have given Malzahn a good deal of credit for Newton's success.
Despite being the winner of the 2010 Frank Broyles Award, which goes to the nation's top assistant, Malzahn's efficacy as a head coach is questionable, considering his unusual luck with coaching highly talented quarterbacks thus far.
Steve Kragthorpe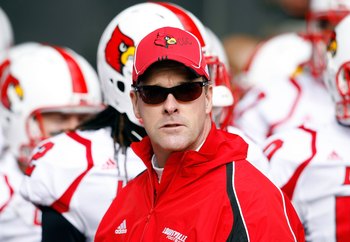 No pair of rose-colored glasses could make Steve Kragthorpe look like a good hire these days.
Andy Lyons/Getty Images
Before Gus Malzahn ever joined Todd Graham at Tulsa, Steve Kragthorpe was running the show.
Kragthorpe enjoyed some relatively prosperous years with the Golden Hurricane football team, playing in three bowl games in four years while the school switched over from the Western Athletic Conference to Conference USA.
With a record of 29-22, Coach Krag wasn't exactly standout material, but somehow, his resume caught the eye of the folks at Louisville.
So much so that Cardinals athletic director Tom Jurich brought him on for $1.1 million per year just 48 hours after Bobby Petrino departed for the Atlanta Falcons' top job.
Coincidentally, Kragthorpe's clasp in Kentucky lasted about as long as Louisville's coaching search did, with the Cardinals chucking him after accruing a 15-21 record in three seasons.
What's worse, Kragthorpe came in with a Louisville team that won the 2007 Orange Bowl and returned Heisman Trophy candidate Brian Brohm at quarterback, and promptly led them to a mediocre 6-6 season.
These days, Krag is scouring the sidelines in College Station as the wide receivers coach for Texas A&M.
Keep Reading