Dave Wannstedt Resigns: Pitt Football's Lunatic Fringe Gets Its Wish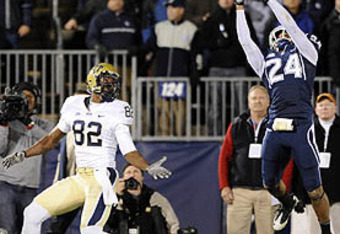 Update: The Pittsburgh Post-Gazette is now reporting Dave Wannstedt has resigned as head football coach at Pitt.
The story I just reported below broke at noon today. Just a couple hours later, Steve Pederson felt urgency to move quickly to find the best coach possible to lead a team stocked with talent at many positions. So Wannstedt is out. Celebrations are breaking out all over the Pitt blogosphere.
With Pitt's high profile basketball game against Tennessee this Saturday at the new Consol Center, Pederson and Pitt fans did not want the Wannstedt story to distract from the Big East/SEC Invitational game involving the #3-ranked Pitt men's basketball team.
A news story by Paul Zeise, the Pitt football beat reporter for the Pittsburgh Post-Gazette, has Pitt athletic director Steve Pederson meeting with head football coach Dave Wannstedt later this week to discuss the future of the program.
Wannstedt was hired in 2004 before former coach Walt Harris departed for Stanford. Then athletic director Jeff Long announced Dave Wannstedt as the next Pitt head football coach while Harris was preparing the Panther team for the Fiesta Bowl.
That kind of clumsiness has surrounded Wannstedt's entire tenure at Pitt.
Just as the Chicago Bears and Miami Dolphin fans did, Pitt fans grew increasingly angry to the point of madness watching Wannstedt's teams make the same mistakes over and over again.
Wannstedt's apologists, a solid majority until the loss to Connecticut this season, continued to praise the Pitt alum's love for the university, solid values and Pittsburgh accent, believing his proclaimed recruiting genius would lead the Panthers to the promised land.
The apologists lost that argument when a little-better-than-average Miami Hurricane squad blew into Heinz Field and won every talent matchup, pounding out a 31-3 win played before influential alumni and the past greats from Panther football honored at the game.
Steve Pederson and Chancellor Nordenburg have taken their fair share of heat for this year's third-place finish. Only the Big East would create a co-championship when the results in head-to-head competition showed that Connecticut was first and West Virginia second ahead of Pitt.
The athletic director has said nothing about the future of the Panther program under Wannstedt. He has yet to address fan frustration, but according to Zeise's report, he will do so soon.
The Pitt trustees met a few days ago to award salary increases to Nordenburg and several other administrative officers. We can only assume the issue of Pitt football was raised there, and Nordenburg, as a result, gave permission for Pederson to broach the subject of change with Wannstedt.
Nordenburg is a good friend of Wannstedt's, but the chancellor must have felt pressure from the disgruntled trustees who saw revenue declines in the future. An informal boycott of Pitt's eight-game home season for 2011 has been in the works.
Wannstedt's inept coaching was never more on display than at the Backyard Brawl this season.
Although he wasn't faulted for his game plan, the Panthers played loose and unfocused, turning the ball over numerous times and forfeiting the chance for Pitt to claim an undisputed Big East title and the BCS bowl bid.
Loud discussions among fans exiting Heinz Field were all about canceling season tickets and stopping donations. Although loosely organized on the blogs, this campaign hit home.
During his six-year tenure, Wannstedt created high expectations and recruited some excellent talent although he never filled all the holes. Watching his teams come so close only to fail antagonized Pitt fans, who have many other entertainment options in Pittsburgh.
Probably the final straw was the announcement that Pitt would play in Birmingham at the BBVA Compass Bowl. Fans have been vocal in refusing to attend this poor substitute for the Fiesta Bowl.
This article is
What is the duplicate article?
Why is this article offensive?
Where is this article plagiarized from?
Why is this article poorly edited?

Pitt Football: Like this team?