LSU vs. Texas A&M In Cotton Bowl: 5 Early Reasons To Pick The Tigers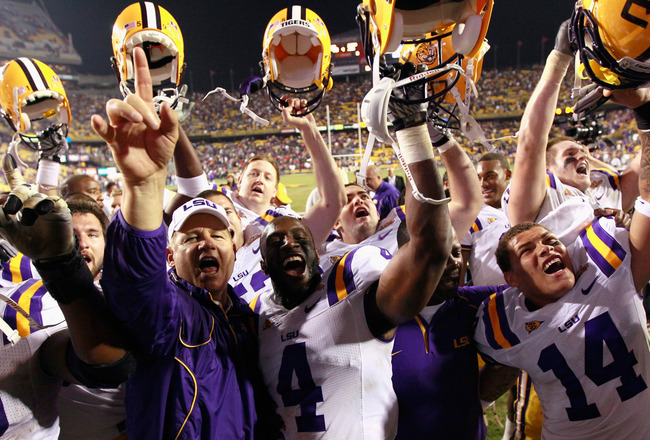 Kevin C. Cox/Getty Images
LSU makes its 10th consecutive bowl appearance when they face the Texas A&M Aggies on Jan. 7 in the AT&T Cotton Bowl.
The 11th-ranked Tigers (10-2) finished tied for second in the SEC West division. While the offense struggled mightily, the defense shined. LSU ended the season eighth in the country, although they wore down in the last two games.
The 17th-ranked Aggies (9-3) finished tied for first in the Big 12 South division. After a three-game losing skid at mid-season, Texas A&M won their final six games with Ryan Tennehill replacing Jerrold Johnson at quarterback and Cyrus Gray rushing for over 100 yards each game.
While the Aggies have the momentum heading into the Cotton Bowl, here are five reasons LSU can beat Texas A&M.
No. 5: The Aggies Pass Defense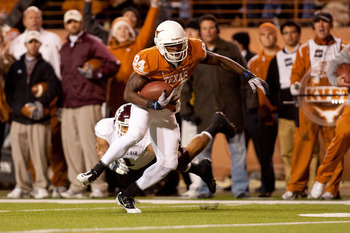 Darren Carroll/Getty Images
Texas A&M has one of the worst pass defenses in college football. Ranked 94th nationally, the unit allows over 240 yards and 11 first downs by pass a game.
The problem is LSU has one of the worst pass offenses in college football. The Tigers ranked 107th, only throwing 155 yards a game. LSU has tossed seven TDs (one was by RB Spencer Ware) and 10 INTs.
If LSU gets the good Jordan Jefferson and Jarrett Lee that played against Florida, Alabama and Ole Miss, the Tigers can win. If they played like they did most of the season, maybe not.
No. 4: SEC Edge Over The Big XII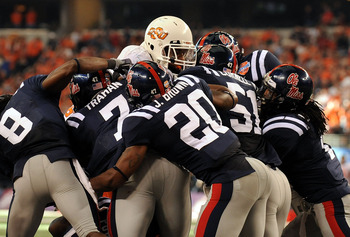 Ronald Martinez/Getty Images
Since the Cotton Bowl tie-ins became the Big 12 vs. SEC in 1999, the Southeastern Conference holds a 7-5 lead, including winning six of the last seven contests.
Las Vegas has installed LSU as a one-point favorite.
No. 3: Les Miles Is a Better Coach Then Mike Sherman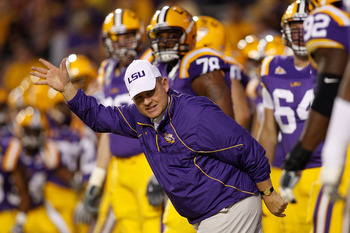 Chris Graythen/Getty Images
Les Miles is 4-1 in bowl games during his six years as LSU's head coach, including the 2007 National Championship Game. His only lost came in last year's Capital One Bowl to Penn State, 19-17.
Texas A&M's third-year head coach Mike Sherman is 0-1, losing last year's Independence Bowl to Georgia 44-20.
You know the "Mad Hatter" will have a few tricks up sleeve for this matchup.
No. 2: LSU Has Better Special Teams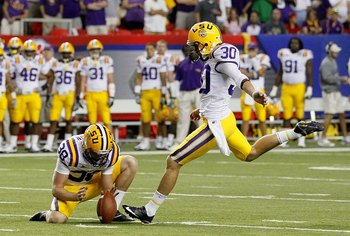 Kevin C. Cox/Getty Images
Between Josh Jasper kicking and Patrick Peterson returning punts and kicks, LSU has one of the best special teams units in the country.
Peterson is fifth in kick returns (29.3 yards) and fourth in punt returns (11.3 yards) with two touchdowns. He will give the Tigers offense a shorter field to work with all game long.
Jasper leads the nation (along with Danny Hrapmann of Southern Miss) in field goals made, connecting on 26 of 31 attempts (83.9 percent). He is 17-of-18 on FGs under 40 yards and 9-of-13 on FGs over 40 yards. Expect him make some clutch kicks against the Aggies.
No. 1: LSU's Pass Rush Vs Aggies Offensive Line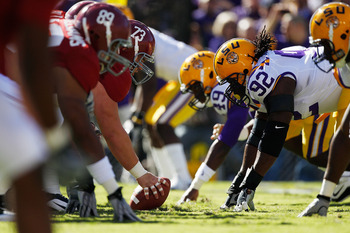 Chris Graythen/Getty Images
The Aggies offense has taken off since Tannehill replaced Johnson at quarterback. But the offensive line has allowed 35 sacks, pushing them back 256 yards this season.
LSU has the 10th best pass defense in college football. They only allowed 169 yards a game and have gotten 32 sacks and 16 INTs on the season.
If the Tigers can get to Tannehill early and make the Aggies one-dimensional on offense, LSU will win.
Keep Reading

LSU Football: Like this team?