BCS Bowl Schedule: Power Ranking the Top 25 Players in BCS Games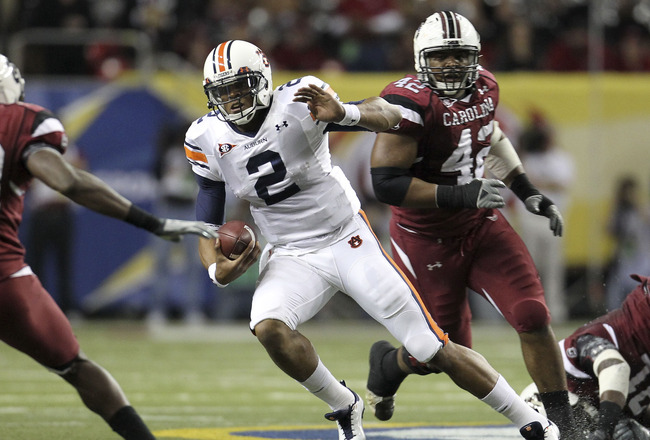 Mike Zarrilli/Getty Images
The BCS bowl schedule has been set and the plane plans are being made. The tickets are being bought, and the hype machine is starting to roll as we count down towards a new champion and the best teams in the country facing each other.
What will play out beginning in Pasadena on New Year's Day will be a symphony of sorts, as the best players in the country use the national spotlight as a stage to showcase their talents and their teammates.
Here then, are the 25 best players that you'll be watching in the five BCS games.
25. Travis Lewis, OLB, Oklahoma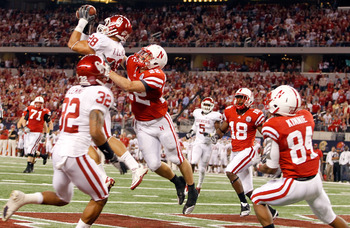 Tom Pennington/Getty Images
Playing In: Fiesta Bowl
There's a reason Lewis is picked by some to be a first-round pick in next year's NFL Draft. He's got a big frame and he seems to find the ball. He reads the plays extremely well, as proven by his interception and two fumble recoveries in last week's Big 12 championship game. He just might be the next NFL star to come from Bob Stoops' defense.
24. Kenny Rowe, DE/OLB, Oregon
Playing In: BCS National Championship
He's the most dangerous player in a somewhat unheralded Oregon defense that will have to step up against the Auburn offense. He led the Oregon defense with 11 sacks last season and leads it again this season. He has explosive speed off the edge and had a big game against Terrelle Pryor in the Rose Bowl last season. He's projected to be a late draft pick, but he might be a good rusher in a 3-4 scheme.
23. Tank Carder, OLB, TCU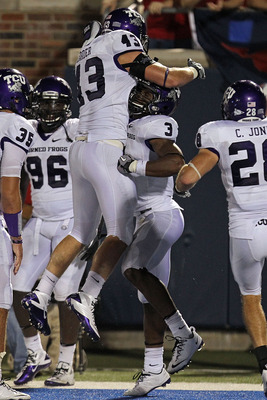 Ronald Martinez/Getty Images
Playing In: Rose Bowl
There was a great profile about Carder in the New York Times last year, and it mentioned him at the Texas Bowl tackling a 400-pound calf. That kind of power is why some websites are saying he's a top-five linebacker in the 2012 Draft. He has an amazing backstory (he suffered horrific injuries in a car accident when he was young), and he's fought his way to be the backbone of the Horned Frogs' defense.
22. Jerry Franklin, ILB, Arkansas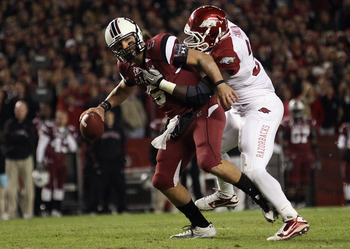 Streeter Lecka/Getty Images
Playing In: Sugar Bowl
Franklin was recruited as a safety out of high school, but was moved to linebacker once he got to Fayetteville. Since then, he's led the Razorbacks in tackles every year and also led the team in sacks this year. He has a great motor and finds the ball well, like all great linebackers seem to do, and one draft site has him ranked as the No. 4 inside linebacker in the 2012 Draft.
21. Brian Rolle, OLB, Ohio State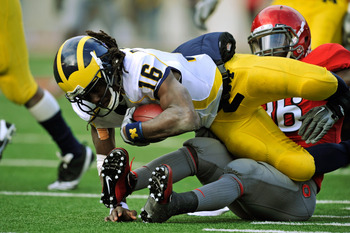 Jamie Sabau/Getty Images
Playing In: Sugar Bowl
Rolle is the quarterback of the Buckeyes' hard-hitting defense. He's a fast and versatile player who has contributed immensely to the Ohio State defense, despite only starting two years. He attacks the ball and has a Ray Lewis-type flair to his hits and could be a great fit in the late rounds for a team looking to take a flyer on him.
20. Andy Dalton, QB, TCU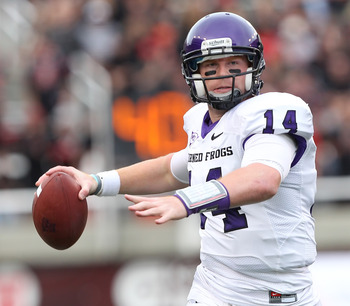 George Frey/Getty Images
Playing In: Rose Bowl
Like many of his teammates, he's hidden on TCU. People just know the team or the defense. They don't know Dalton has thrown for more than 2,000 yards each of his four years on campus. He doesn't throw a lot of interceptions, at least since his freshman year. He's just a gutsy player who more often than not makes the smart play and makes the smart throw. And most importantly, he wins.
19. Ryan Broyles, WR, Oklahoma
Playing In: Fiesta Bowl
The punt return above from last year is a perfect crystallization of Broyles: he's dangerous any time he touches the ball. He has pretty soft hands and catches most things that are thrown his way. He's not extremely big, but he's got pretty good speed for college. It might be a problem in the NFL, but he's hard for anyone on Connecticut to match up with.
18. Landry Jones, QB, Oklahoma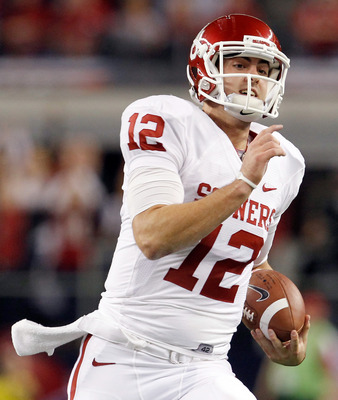 Tom Pennington/Getty Images
Playing in: Fiesta Bowl
Another big (6'4", 219 lbs), somewhat mobile quarterback out of Oklahoma. After being pressed into action last year as a freshman, Jones stepped in and somewhat quietly had an outstanding season with 35 touchdown passes and more than 4,000 yards. The Bob Stoops quarterback hasn't translated well to the NFL with the exception of Sam Bradford, but Jones' ability to throw the ball might be one of the exceptions.
17. Tyrod Taylor, QB, Virginia Tech
Playing in: Orange Bowl
Taylor's been more of a runner than a thrower for most of his career in Blacksburg. But his passing numbers have improved with every season, and this season was by far his best. It doesn't hurt that he has two pretty good running backs as well. But he has the ability to break runs or look down the field to one of his receivers. You can bet Stanford will try to prepare for him the same way they prepared for Darron Thomas of Oregon.
16. Boom Herron, RB, Ohio State
Playing in: Sugar Bowl
He might not be big enough to be a full-time NFL back (5'10", 202), but he's definitely quick off the line in getting to the second level and then has the moves and the shifting ability that makes him hard to tackle. He benefits from playing in front of the Ohio State offensive line, but he's definitely one of those gamebreakers. Defenses now will be trying to stop him, and anyone who wonders how he can go off, just watch the highlights of the Ohio State-Penn State back in November.
15. Darvin Adams, WR, Auburn
Mike Zarrilli/Getty Images
Playing in: BCS National Championship Game
Looking for a big receiver target? It's hard not to miss Adams, the junior wide receiver who's become the No. 1 target for Auburn's Cameron Newton. He's not as fast as much as he uses that long stride to get open and get down the field. He's still shifty enough to find himself wide open on go-routes and can play havoc on smaller defensive backs. Just ask South Carolina.
14. Jordan Todman, RB, Connecticut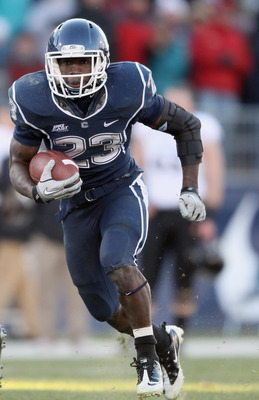 Elsa/Getty Images
Playing in: Fiesta Bowl
The definition of a workhorse runner. He's been held under 100 yards only twice this season, and that included the 37 carries for 222 yards in the upset win against Pittsburgh. He's not big, but he runs hard, and the Connecticut offense definitely runs through him (no pun intended). With a young quarterback, he's the focal point of the offense, and it's a safe bet the Oklahoma defense will be keying in on how to stop him.
13. Nick Fairley, DT, Auburn
Playing in: BCS National Championship Game
Like Rowe, Fairley might be the best player on an unknown Auburn defense that will need to play well to stop the Oregon offense. The defensive tackle is a finalist for the Bronco Nagurski Award, given to the top defensive player in college football. He's a nice combination of size and speed, plus a dominating player in the trenches. He's one of the players who's been climbing up draft boards and might be attractive to NFL scouts.
12. Montee Ball, RB, Wisconsin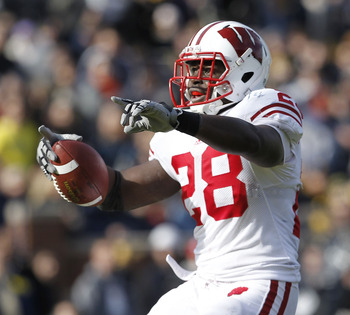 Gregory Shamus/Getty Images
Playing in: Rose Bowl
One of the three backs Bret Bielema and the Badgers use this year, and they all, in some way, are the same. Ball is a threat to run the ball and also catch the ball out of the backfield for the suddenly potent Wisconsin offense. He's 5'11", 236 pounds, hard to bring down and has the ability to bowl over people like he did on a touchdown at Indiana last year where he carried a Hoosier into the end zone with him.
11. John Clay, RB, Wisconsin
Playing in: Rose Bowl
The most known player of the Wisconsin backfield triplets, he's incredibly agile for someone of his size. He can unleash a decent, not blazing, amount of speed and the ability to bounce to the outside that makes him unique compared to some of the other mainly north-south runners in Wisconsin's history (see Dayne, Ron). He's built very compact and a bowling ball with momentum at 255 pounds. He'll get a look from a good amount of NFL scouts.
10. James White, RB, Wisconsin
Gregory Shamus/Getty Images
Playing in: Rose Bowl
The last member of the threesome. He's by far the fastest, and if Clay and Ball are the thunder, then White is the lightning. He's smallish, especially by Wisconsin standards. But he's also been the team's leading rusher and perhaps the most dangerous weapon. He's one of the three backs that the Badgers can throw out on the field, and all three have shown they can produce. He might be small for the NFL, but Wisconsin backs have a strong pedigree.
9. DeMarco Murray, RB, Oklahoma
Playing in: Fiesta Bowl
Phenomenal speed, amazing moves, shifty feet and great vision to elude tacklers and follow his blockers. Like Broyles, he has the ability to score every time he touches the ball and can be extremely dangerous in the open field. He has had trouble staying healthy, which can be a problem given his small frame. It's hard to tell whether he would be able to be a running back in the NFL. But scouts drool when they see that type of explosiveness.
8. Kenjon Barner, RB, Oregon
Playing in: BCS National Championship Game
Amazing speed for a guy who doesn't get on the field that much. He might be one of the faster guys on a team stacked to the gills with fast guys. He's small and shifty, and any time he gets into the open field, he can either make defenders miss or just run right by them. He showed how good he can be earlier in the season when he torched New Mexico. He can be a difference maker or possibly even the next Reggie Bush.
7. Darron Thomas, QB, Oregon
Playing in: BCS National Championship Game
It's interesting to think about where the Ducks would be if Jeremiah Masoli was still the quarterback, like he was in this play. But he's not. Instead it's Darron Thomas, the man who threw the pass. And obviously the coaching staff at Oregon knew something we all didn't because Thomas stepped right in and had a phenomenal season. He's been fantastic as a starter, and now Oregon's heading to the national championship.
He's throwing to Jeff Maehl there. The Ducks obviously knew something about that connection too.
6. Terrelle Pryor, QB, Ohio State
Playing in: Sugar Bowl
The criticisms are all there. He puts too much air underneath his throws. He throws too many bad balls. He's not a good passer. He looks to run too much. There's also another thing he seems to do a lot: win. He's been a winner, and this year, he's improved his passing. Yes, he's not Marino or Moon, but on Ohio State, he really doesn't have to be. He can just be dynamic and make plays to win. But we'll have to wait and see how he translates in the NFL.
5. Ryan Mallett, QB, Arkansas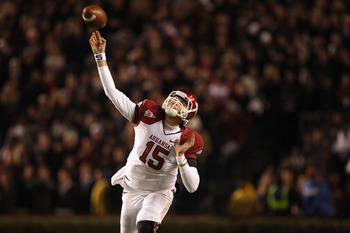 Streeter Lecka/Getty Images
Playing in: Sugar Bowl
A big kid with a strong arm and relatively accurate to boot. There's a reason why pro scouts can't say enough good things about Mallett. He makes strong throws, is poised in the pocket most times and can go downfield. There's questions about how he does under pressure and against a good defense. Mallett will have a chance to prove the doubters wrong against a very good Ohio State team.
4. Cameron Heyward, DE, Ohio State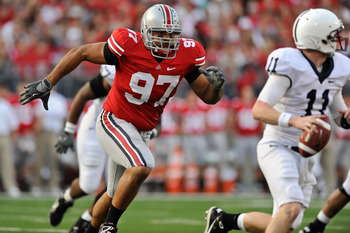 Jamie Sabau/Getty Images
Playing in: Sugar Bowl
He's big, he's fast, he can create havoc at the line of scrimmage or in the backfield and he can get after the quarterback. The sack totals might not show it, but Heyward is worth watching in the Sugar Bowl to see if he can bring down Ryan Mallett. The scouts will definitely be watching as well. CBSSports.com is projecting him to go 10th overall in next year's draft. It all means that someone will be very lucky to land the son of "Iron Head" Heyward.
3. Andrew Luck, QB, Stanford
Playing in: Orange Bowl
He's the prototypical NFL quarterback. He's solid in the pocket, he stays poised enough to stand in and deliver on-the-money throws and he can sense when to take off downfield, not to mention he's extremely dangerous once he gets to the open field. There were those that maybe thought his hype and Stanford's run last season was because of Toby Gerhart. But Luck is proving he is the real deal. Reminds you of another Stanford quarterback. Think his name was Elway...
2. LaMichael James, RB, Oregon
Playing in: BCS National Championship Game
Perhaps one of the greatest runs you will ever see. The balance, the vision, the speed and the cutbacks. He has all the tools to be a fantastic, dynamic player at the next level. Now he won't be able to do that at the NFL, and there are questions about his character. But it's hard not to respect the outright, raw talent of who will be the second-best player on the field in Arizona...
1. Cameron Newton, QB, Auburn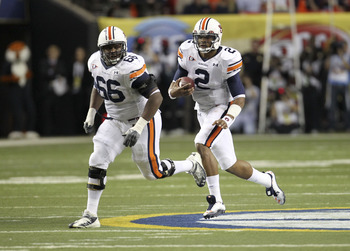 Mike Zarrilli/Getty Images
Playing in: BCS National Championship Game
...that's because Newton is No. 1.
He is a great build of size and speed. His body build is almost equal to Ben Roethlisberger and his game is almost like Tim Tebow. Although in his career and at this stage, Newton is more willing to throw and is a better thrower than Tebow. Forget all the accusations. He's a big-time player and he's a winner. He should be a high draft pick for a team looking for a quarterback of the future. If Tebow was a first-round pick, than Newton is one too.
Keep Reading