Alamo Bowl 2010: 10 Things To Know About Oklahoma St. vs. Arizona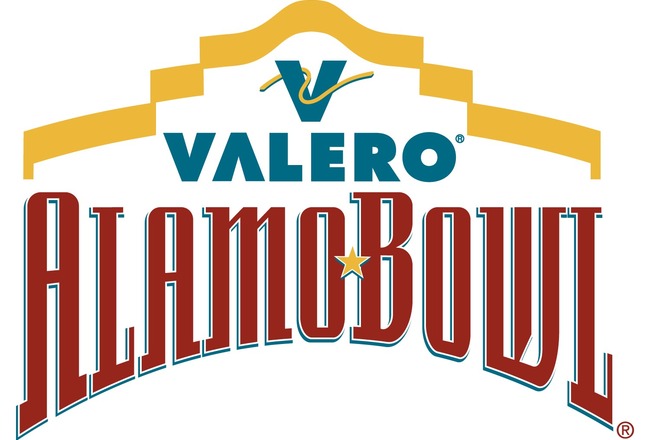 The final college football games of the 2010-11 regular season were completed this past Saturday, with the 35 BCS Bowl games being announced Sunday night.
Every game isn't as meaningful as the BCS National Championship, but each bowl game has it's history.
The Alamo Bowl has been played at the Alamodome in San Antonio, Texas since 1993. This year the game will be played on Dec. 29 and it will be between the Oklahoma State Cowboys and the Arizona Wildcats.
Since these two teams are not all that popular, there is a ton of interesting facts that you may not know about this exciting matchup.
The following slides exhibit 10 things you should know about the 2011 Alamo Bowl.
*Stat's compiled from ESPN
Overall Performance in 2010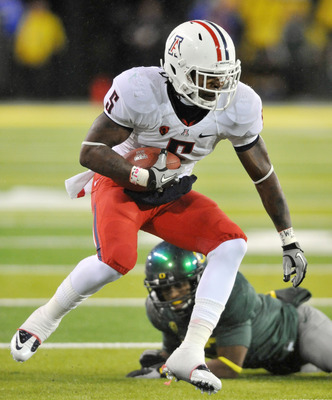 Steve Dykes/Getty Images
Arizona Wildcats
2010 Record: 7-5 (4-5 in Pac10)
Key Wins: 29-21 @ UCLA and 34-27 vs. #9 Iowa
Arizona had one of its best starts in school history, going 7-1 through the first eight games of the season, but then suffered four consecutive losses for the remainder of the year against some of the nations toughest teams.
Oklahoma State Cowboys
2010 Record: 10-2 (6-2 in Big12)
Key Wins: 38-35 vs. Texas A&M, 24-14 @ Kansas State, and 55-28 vs. #21 Baylor
Oklahoma State has had one of the best offenses in the entire nation this season, being ranked second overall in passing yards, 354.7 per game, and third overall in average points per game with 44.9. The Junior Quarterback Brandon Weeden has been outstanding for Oklahoma State this season throwing for over 4,000 yards and 30 touchdowns.
If Weeden can continue to play at such a high level than the Oklahoma State Cowboys should run away with this game early on.
The Quarterback Matchup
Tom Pennington/Getty Images
#8 Nick Foles - Arizona Wildcats
Season Stat's: 254-376, 2911, 19 TD's, 7 INT's, 67.6 CMP, and a 145.54 QB Rating
Despite losing the last four games, Nick Foles has performed very well throwing for a combined ten touchdowns and two interceptions. After a heartbreaking 30-29 loss to the rival Arizona State Sun Devils, Nick Foles and the Wildcats should put up a battle against Brandon Weeden and the Oklahoma State Cowboys.
# 3 Brandon Weeden - Oklahoma State Cowboys
Season Stat's: 317-470, 4037 yards, 32 TD's, 13 INT's, 67.4 CMP and a 156.53 QB Rating
Brandon Weeden has been one of the most effective quarterbacks in college football this season, ranking third overall in passing yards. But, Weeden and the Cowboys are also coming off of a disappointing rival loss. About a week ago against the Oklahoma Sooners, the 6'4'' Oklahoma-native had his worst performance of the season. In what is expected to be a quarterback duel, Brandon Weeden should be lighting up the scoreboard.
Explosive Rushing Attack's Of Both Teams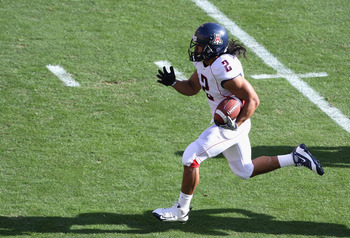 Christian Petersen/Getty Images
Arizona's Keola Antolin
2010 Stat's: 142 Rushing Attempts for 667 Yards, and Seven Touchdowns; 28 Receptions for 204 Yards and Two Touchdowns
Arizona's Nic Grigsby
2010 Stat's: 102 Attempts for 474 Yards and Eight Touchdowns; 21 Receptions for 163 Yards and One Touchdown
As a team, Arizona ranks 85th overall in rushing yards, averaging 135.2 per game. Antolin and Grigsby are both highly effective backs who alternate carries.
Oklahoma State's Kendall Hunter
2010 Stat's: 261 Rushing Attempts for 1516 Yards and 16 Touchdowns; 19 Receptions for 106 Yards
Oklahoma State's Joseph Randle
2010 Stat's: 80 Carries for 450 Yards and Two Touchdowns; 35 Receptions for 399 Yards and One Touchdown
Oklahoma State has the 29th most productive rushing offense in college football, putting up an average of 182.9 rushing yards per game. Senior Kendall Hunter has led Oklahoma State's rushing attack this season, showing a ton of NFL potential.
History Of Alamo Bowl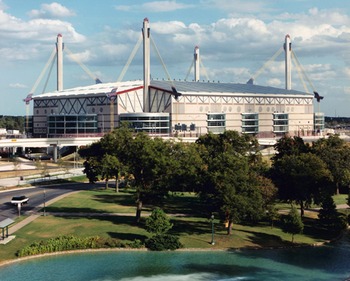 Beginning in 1993, the Valero Alamo Bowl features two of the premier teams from the Big 12 and Pac-10 conferences. The Alamo Bowl has sold out three out of the last four years, and been responsible for three of the six most-watched bowl games in the history of ESPN.
This game, which has become a tradition in San Antonio, was developed with a mission statement which reads: "To stage a premier college football game as the showcase of an annual festival of events that will bring enjoyment to South Texans, San Antonians and visitors alike while driving positive national attention to San Antonio and supporting higher education and other worthy causes in our community."
The Valero Alamo Bowl was previously known as the Builders Square Alamo Bowl(from 1993-1998), the Sylvania Alamo Bowl(from 1999-2001), and the MasterCard Alamo Bowl(from 2002-2005). The Valero Energy Corporation and the Alamo Bowl announced their partnership on May 24, 2007, forming the Valero Alamo Bowl.
The 18th Annual Valero Alamo Bowl will be held on December 29th, 2010, when the Oklahoma State Cowboys take on the Arizona Wildcats.
* Information courtesy of alamobowl.com
Performance Against Ranked Teams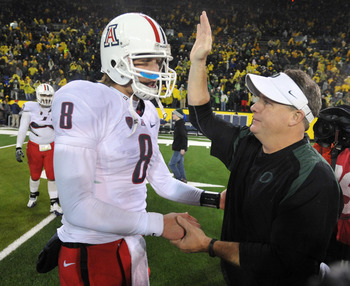 Steve Dykes/Getty Images
Neither Arizona or Oklahoma State has been spectacular against ranked opponents this season, both going 1-2 against BCS ranked teams.
Arizona got beaten pretty badly by 13th ranked Stanford on November 6th, by a score of 42-17, and on Nov. 26 by the number one ranked Oregon Ducks, 48-29. But, early on in the season Arizona took down the Iowa Hawkeyes when they were ranked ninth overall in the nation.
Oklahoma State, on the other hand, has been extremely competitive against every ranked team they've faced. They beat the number 21 ranked Baylor Bears by a score of 55-28, blowing them away from the very start, going into halftime with a 24-0 lead. The Cowboys lost to 16th ranked Nebraska, 51-41, and 13th ranked Oklahoma, 47-41, with both games being a battle all four quarters.
Record In Texas This Season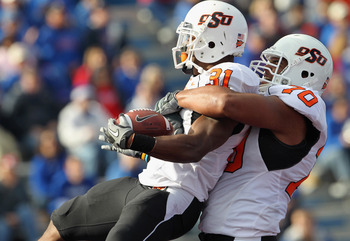 Jamie Squire/Getty Images
Since the Valero Alamo Bowl is played in San Antonio, it is interesting to know how each team plays in the state of Texas.
Oklahoma State is 2-0 in the state of Texas this season, beating the Texas Tech Red Raiders, 34-17, and the Texas Longhorns, 33-16. This could wind up being an advantage for the Cowboys since Arizona hasn't played a game anywhere in Texas this year.
The Playmakers at Wide Receiver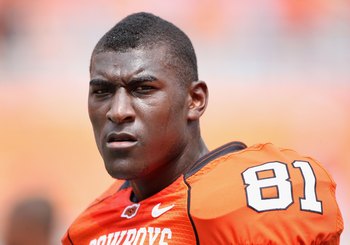 Christian Petersen/Getty Images
Arizona's Key Receivers
#81 David Roberts-
2010 Stats: 42 Receptions for 468 Yards and Two Touchdowns; One Rushing Attempt for Nine Yards
#82 Juron Criner-
2010 Stats: 73 Receptions for 1186 Yards and 10 Touchdowns; Seven Rushing Attempts for 65 Yards
Oklahoma State's Key Receivers
#81 Justin Blackmon-
2010 Stat's: 102 Receptions for 1665 Yards and 18 Touchdowns; Four Rushing Attempts for 77 Yards and One Touchdown
#25 Josh Cooper-
2010 Stat's: 61 Receptions for 683 Yards and Five Touchdowns; Two Receptions for 24 Yards
Out of any of the receivers that will step out onto the Alamodome field on Dec. 29, Justin Blackmon is the most NFL ready in only his second season at Oklahoma State.
Accuracy Of Kickers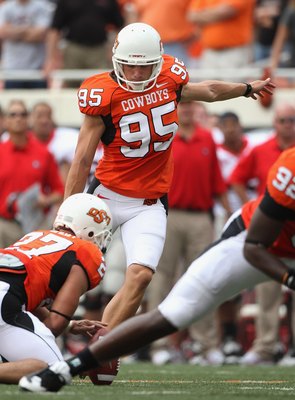 Christian Petersen/Getty Images
When a football game is on the line, in the final seconds, it is heartbreaking when the team your rooting for loses the contest because of a missed field goal or extra point.
Take a look at the kicking accuracy of Oklahoma State's Dan Bailey and Arizona's Alex Zendejas.
Oklahoma State Kicker Dan Bailey
2010 Stat's: 24-28 FGM-FGA (85.7 PCT); 65-66 XPM-XPA; 137 Total Points
Arizona Kicker Alex Zendejas
2010 Stat's: 13-16 FGM-FGA (81.3 PCT); 40-45 XPM-XPA; 79 Total Points
Effectiveness Of Each Defense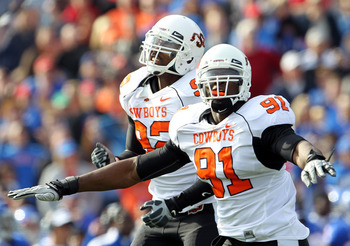 Jamie Squire/Getty Images
Oklahoma State Defense
Oklahoma State's defense has gone up against some of college football's toughest offenses this season. They ranked 68th overall in points allowed this season, giving up 27.8 PPG, but have held their opponents to 17 points or less in four of the last seven games.
Some of Oklahoma State's premiere defenders are: LB Orie Lemon, LB Justin Gent, CB Brodrick Brown, and CB Andrew McGee. Lemon has 119 total tackles with 2.5 sacks, Gent has 71 total tackles with 2.0 sacks, Brown has 70 total tackles with two interceptions, and McGee has recorded 45 total tackles and five interceptions.
Arizona Defense
Arizona's has one of the top 50 defenses in college football, giving up an average of 21.6 PPG. The Wildcats have held four opponents to under 10 points in a game.
Linebacker Paul Vassallo is the centerpiece of this Arizona defense this season, recording 94 total tackles and two sacks. Some other key players on this defense are DE Ricky Elmore and S Joseph Perkins. Elmore has recorded 48 total tackles and 11.0 Sacks, while Perkins has made 64 total tackles and two interceptions.
Coach Resume's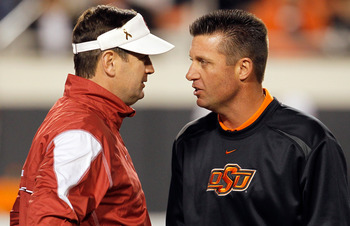 Tom Pennington/Getty Images
Oklahoma State Head Coach Mike Gundy
Overall Head Coaching Record (Six Seasons with Oklahoma State): 46-29
Bowl Record: 2-2; Independence Bowl (Win) (2006), Insight Bowl (Win) (2007), Holiday Bowl (Loss) (2008), Cotton Bowl (Loss) (2009)
Highest AP Ranking While Head Coach: 5th
Arizona Head Coach Mike Stoops
Overall Head Coaching Record (Seven Seasons with Arizona):40-40
Bowl Record: 1-1; Las Vegas Bowl (Win) (2008) and Holiday Bowl (Loss) (2009)
Highest AP Ranking While Head Coach: Ninth
**Stat's compiled from sports-reference.com
Keep Reading

Oklahoma State Football: Like this team?