Bowl Schedule 2010: The 10 Most Likely Bowl Upsets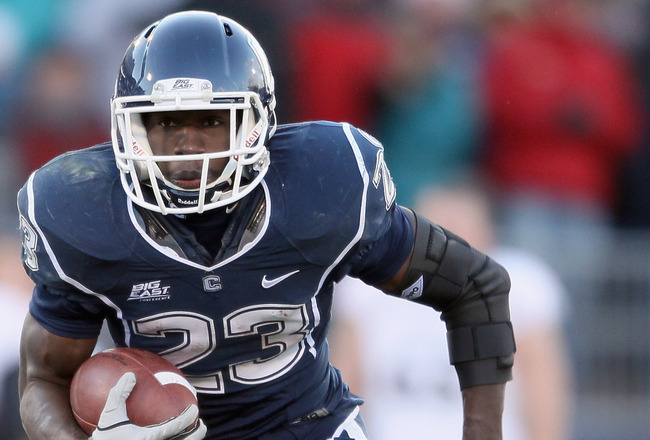 Are Jordan Todman's UConn Huskies one of the teams likely to pull off an upset? Find out inside.
Elsa/Getty Images
Now that the bowl schedule is out, which games will likely see an upset? Which powerhouses will go down? Which minor bowls are likely to see upsets?
Some bowls have no clear-cut favorites. In this case, you can't consider it an upset either way. But most bowls do, and many of those favorites have a good chance of being shocked.
So who will fall? Let's see !
Insight Bowl: Iowa Over Missouri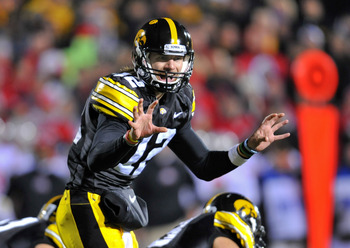 Ricky Stanzi may be able to lead Iowa to an upset in the Insight Bowl.
David Purdy/Getty Images
While Missouri at 10-2 should be a clear-cut favorite over 7-5 Iowa, let us not forget that until a few weeks ago Iowa had a chance to go to the Rose Bowl.
The Hawkeyes have fallen on hard times, losing three straight games, but don't forget this is the team that handed Michigan State its first loss of the season, knocking the Spartans out of the national championship picture.
Ricky Stanzi is a great quarterback and could lead the Hawkeyes to a victory over the Tigers.
Fiesta Bowl: Connecticut Over Oklahoma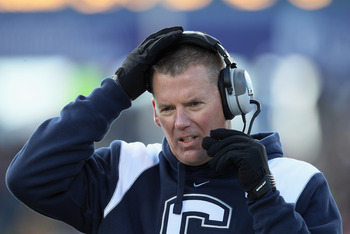 Coach Randy Edsall can lead the Huskies to an upset victory over the Sooners
Elsa/Getty Images
Let's see...Oklahoma wins the Big 12 championship and winds up in the Fiesta Bowl against an upstart team that upgraded to FBS a decade ago and doesn't have much to lose. Sound familiar? It should.
In the 2007 Fiesta Bowl, heavily favored Oklahoma faced an upstart Boise State team who almost nobody gave a chance to win. But the Broncos won.
Now the Huskies come in, having just upgraded to FBS 10 years ago—and they've been red-hot, winning five straight.
They had injury issues early in the year with running back Jordan Todman and linebacker Scott Lutrus. Plus, there were the quarterback issues with Zach Frazer being benched for Cody Endres before Endres was kicked off the team, leading to the Michael Box debacle against Louisville. But now Frazer is back and better than ever, having won all five games since winning the job back.
Todman is the second-leading rusher in the NCAA, so look for him to lead the Huskies to victory.
Alamo Bowl: Arizona Over Oklahoma State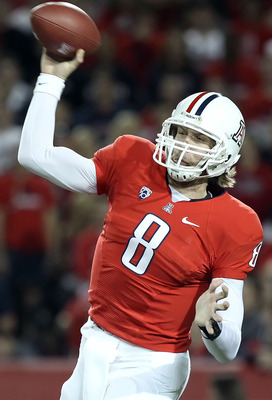 Nick Foles can pull off the upset in the Alamo Bowl.
Christian Petersen/Getty Images
Once again, we deal with a team that started red-hot before cooling off.
Arizona started out 7-1, with its only loss coming by two points to Oregon State. But then a blowout loss at Stanford, a narrow loss at home to USC, another blowout at Oregon and a heartbreaking loss to Arizona State after two missed extra points doomed the Wildcats to finish 7-5.
However, the best team Oklahoma State beat all year is Baylor—and that was a home game. Although the Cowboys appear to be better based on record, give the Wildcats a good chance to pull this one off.
Little Caesars Pizza Bowl: Florida International Over Toledo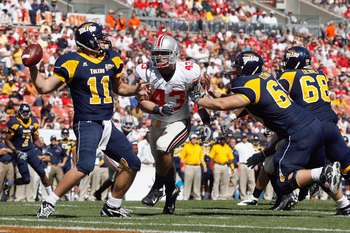 In this photo from 2009, Toledo takes on Ohio State. Although they are 8-4, they aren't good enough to deserve that record and could fall victim to FIU.
Gregory Shamus/Getty Images
This one isn't as much about FIU being good as about Toledo being bad. Yes, the Rockets went 7-1 in conference play, but the MAC is arguably the worst conference in FBS.
Toledo has just one win against a bowl-bound team this year. Even that came against a mediocre Ohio Bobcats team better known for its tackling mascot.
While the Rockets are 8-4 and the Golden Panthers are 6-6, look for the Sun Belt co-champion to pull this one off.
BBVA Compass Bowl: Kentucky Over Pittsburgh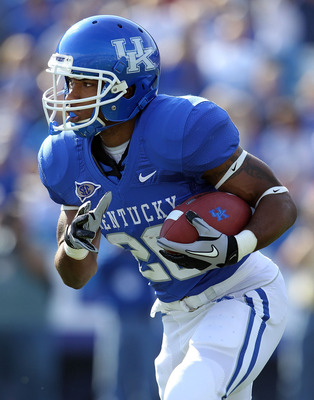 Look for Derrick Locke to lead the Wildcats to victory
Andy Lyons/Getty Images
At the beginning of this year, many of us thought Kentucky was the worst team in the SEC and Pittsburgh was the best team in the Big East. But we were wrong.
The Wildcats upset South Carolina the week after the Gamecocks shocked No. 1 Alabama. One week earlier, they came within three points of upsetting eventual No. 1 Auburn.
Pitt, meanwhile, has struggled, getting hammered by West Virginia in the Backyard Brawl and winning just two non-conference games, against New Hampshire and Florida International, hardly formidable foes.
Look for the Wildcats to pull this one off.
Capital One Bowl: Alabama Over Michigan State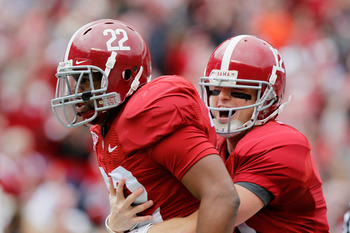 Greg McElroy and Mark ingram will lead the Crimson Tide to victory
Kevin C. Cox/Getty Images
The Crimson Tide may be 9-3, but their losses came to South Carolina, LSU and Auburn, all of which are top teams. Michigan State, meanwhile, has not looked good in the last few games.
It's quarterback Greg McElroy's final game, so look for Alabama to pull this one off in a minor upset.
Military Bowl: East Carolina Over Maryland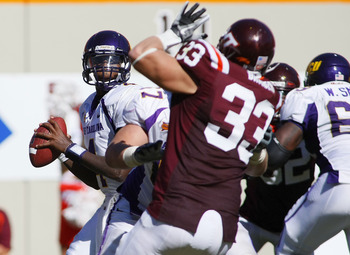 Look for ECU quarterback Dominique Davis to lead the Pirates to an upset win.
Geoff Burke/Getty Images
This is a good East Carolina team. They beat a North Carolina State team that almost made it to the ACC Championship Game. They've played some poor games this year, but when they're on, they're difficult to beat.
Quarterback Dominique Davis has 3,699 yards and 36 touchdowns through the air this year. Look for the Pirates to take full advantage of the passing game in this game against the Terrapins.
TicketCity Bowl: Northwestern Over Texas Tech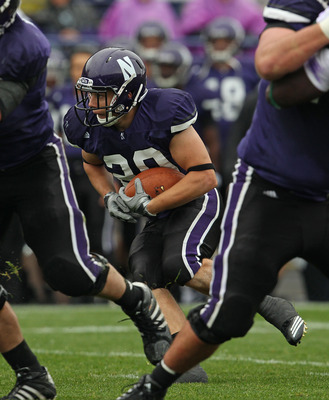 Wildcats running back Mike Trumpy can lead the Wildcats to victory here
Jonathan Daniel/Getty Images
If Northwestern quarterback Dan Persa weren't injured, this wouldn't really constitute an upset. But with Evan Watkins in at quarterback for the Wildcats, they still figure to give the Red Raiders a run for their money.
Mike Trumpy is a great running back and figures to get even more carries with the scrambling Persa out.
The Wildcats are a good sleeper pick in this game, which is supposed to be the successor to the Cotton Bowl now that the latter game has moved from its titular stadium to Cowboys Stadium in Arlington.
Liberty Bowl: Georgia Over UCF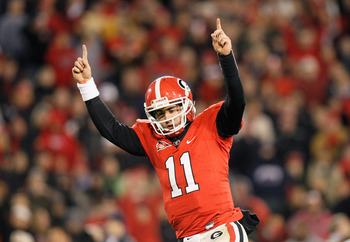 Bulldog quarterback Aaron Murray can lead his team to victory in the Liberty Bowl
Kevin C. Cox/Getty Images
While the Knights are a good team, they really haven't been tested all season. Although at 10-3 they are the Conference USA champions, that really doesn't mean much in such a weak conference.
Meanwhile, though Georgia is 6-6, they came within a touchdown of beating Arkansas and took Florida to overtime. The Bulldogs are led by quarterback Aaron Murray and could pull off the victory over the overrated Knights.
Independence Bowl: Georgia Tech Over Air Force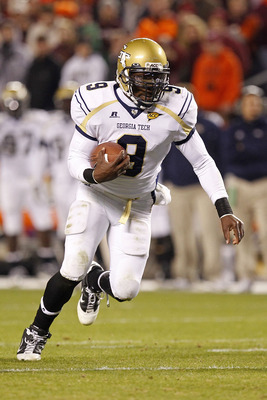 Georgia Tech quarterback Joshua Nesbitt can beat Air Force in the Independence Bowl
Geoff Burke/Getty Images
The Falcons are 8-4, while the Yellow Jackets are only 6-6. But this won't stop the Ramblin' Wreck.
While Georgia Tech has lost four of its last five, quarterback Joshua Nesbitt can get yardage through the air or on the ground. Combine that with running back Anthony Allen averaging 5.6 yards a carry, and you've got a pretty powerful offense.
Air Force has no quality wins this year, so look for Georgia Tech to push the Falcons to the limit.
Keep Reading