2010 Bowl Schedule: 25 Bold Predictions and Surprises to Watch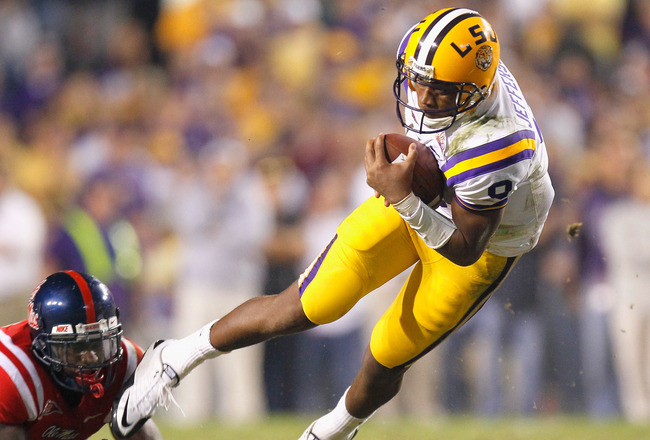 Kevin C. Cox/Getty Images
The 2010 bowl schedule is really close to being finalized. I am here to not only make sense of the jumble, but I will also let you know exactly how things will shake out in these exciting matchups.
The bowl season is a time of great revelry. We celebrate college football and the best thing it can think of as a postseason. Many of us shout for a playoff system to be put in place. You know, like the ones every other sport has.
But alas, we are stuck with bowl season, which isn't bad at all. Pitting two random teams against each other has its entertainment value attached to it. Here are 25 bold events that are sure to keep your butts planted on the sofa all winter long.
25. Sheraton Hawaii Bowl: Hawaii Will Net Over 50 Points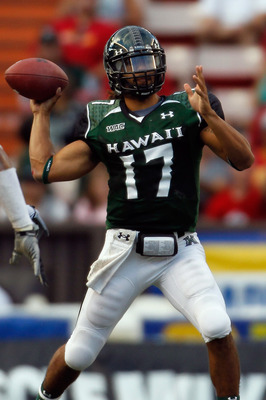 Kent Nishimura/Getty Images
Teams: Tulsa vs. Hawaii
Date: Dec. 24
Place: Honolulu
There are many factors at play here. Tulsa has a dismal defense with no one to cover the Warriors air attack. Bryant Moniz will have a field day at home on the 24th.
But you also have to take into account that this is a home game for Hawaii. Imagine kids from Tulsa that have to spend a week in paradise. I doubt their minds will be on the game.
24. Independence Bowl: Air Force Wins Ground Game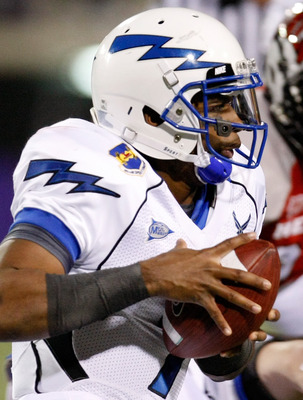 Ethan Miller/Getty Images
Teams: Air Force vs. Georgia Tech
Date: Dec. 27
Place: Shreveport, La.
Air Force and Georgia Tech are two prolific running teams. That is essentially all they have going for them. Air Force does have a slight edge in defensive measures, but, rest assured, this will come down to the ground game.
Air Force has more experience going against tough defenses like TCU. It will edge out the Yellow Jackets. You will want to tune into this game, as both teams threaten to place 300-plus rushing yards on the board.
23. New Mexico Bowl: BYU Downs UTEP Handily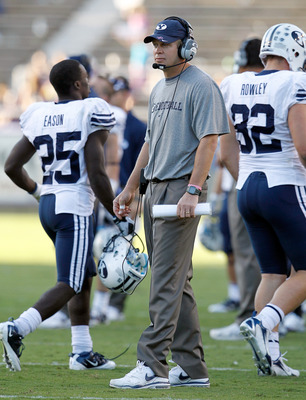 Tom Pennington/Getty Images
Teams: BYU vs. UTEP
Date: Dec. 18
Place: Albuquerque, N.M.
This is a game of two teams going two completely different directions. BYU has heated up as of late and is playing its best football of the season.
On the flip side, UTEP has fallen off the tracks in a big way. While both are similar in style, the game will come down to momentum. BYU has it in droves on its side of things.
22. Poinsettia Bowl: Navy Outlasts San Diego State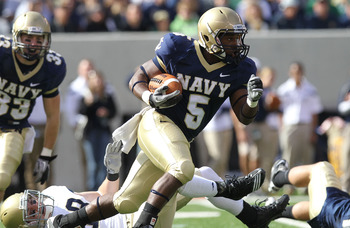 Nick Laham/Getty Images
Teams: Navy vs. San Diego State
Date: Dec. 23
Place: San Diego
Navy has a great running game. It has shown that it can be quieted by a fairly benign defense, as Air Force did to it earlier in the season.
But Navy will be crisper and more adept going into this game. It will play Army on Dec. 11, whereas San Diego State will be sitting at home for close to a month.
San Diego State is a hot team that has almost knocked off two nationally-ranked teams. But the long layoff will be detrimental to its momentum.
21. Military Bowl: East Carolina Upsets Maryland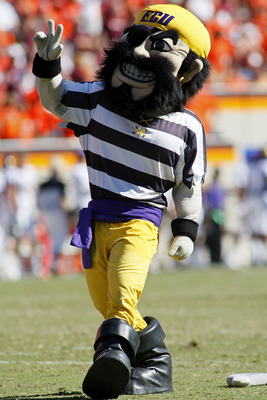 Geoff Burke/Getty Images
Teams: East Carolina vs. Maryland
Date: Dec. 29
Place: Washington, D.C.
East Carolina already beat a team similar to Maryland in North Carolina State. But that's not why I am picking an upset. It is because this bowl is a huge let-down for the players and staff at Maryland.
Coach Ralph Friedgen said: "It is what it is. We have to make the best of it. The toughest thing is that it's in our own backyard."
The Maryland players will be out of focus. Being home for the holidays will do that. The Carolina players will have to travel as a unit. More than that, the bowl will be something for them to play up to.
20. Texas Bowl: Baylor Beats Illinois, Zook Gets Canned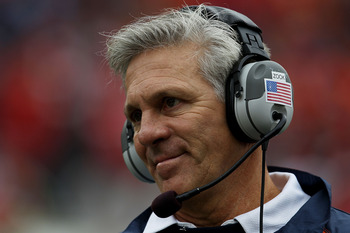 Jonathan Daniel/Getty Images
Teams: Illinois vs. Baylor
Date: Dec. 29
Place: Houston
This should be a great game. But as we just saw a week ago in Fresno, Illinois does not travel well. The Illini lose focus and motivation.
This is a bowl game they will be up for, to be sure. But Baylor will be playing what is essentially a home game. Baylor has been a tough opponent all year and will get this one in the end.
Sometime following the latest Illinois disaster, head coach Ron Zook will be fired. Last year, fans and boosters were asking for Zook's head amidst their fourth losing season in five years.
This will be the last stand for Zook. With a loss here, it is all but over.
19. Meineke Car Care Bowl: Clemson Downs South Florida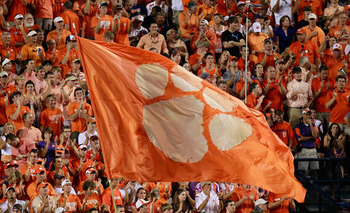 Kevin C. Cox/Getty Images
Teams: South Florida vs. Clemson
Date: Dec. 31
Place: Charlotte, N.C.
Clemson and South Florida could not be any more evenly matched. This will be a close game to the bitter end. They are both tested teams.
Clemson narrowly lost to Auburn at the early part of the season. South Florida beat Miami in overtime.
But in the end, Clemson touts a much more balanced attack. The Tigers will flourish on the ground on New Year's Eve to take the Car Care Bowl.
18. Music City Bowl: North Carolina Shocks Tennessee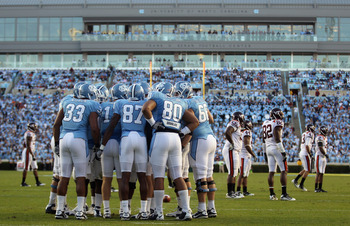 Streeter Lecka/Getty Images
Teams: North Carolina vs. Tennessee
Date: Dec. 30
Place: Nashville, TN
Tennessee tried its best to duck North Carolina from a home-and-home series. But the bowl selection committee thought this matchup was too good to pass up.
North Carolina should be one of the top-tier teams in the nation. But an agent tampering scandal at the beginning of the season derailed all of that.
But it seems the trials and tribulations have brought this team together. The Tar Heels will be motivated to show what they have on a national stage.
17. Compass Bowl: Pittsburgh Wins the Battle of Running Games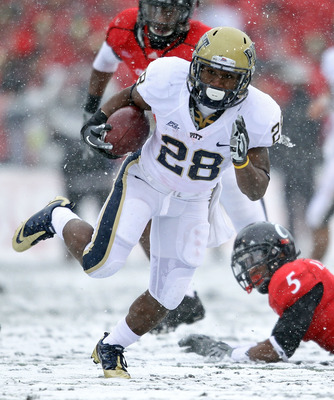 Andy Lyons/Getty Images
Teams: Pittsburgh vs. Kentucky
Date: Jan. 7
Place: Birmingham, Ala.
This is not the best-looking college game on paper. In fact, it will look pretty bad on television as well.
But Dion Lewis and Ray Graham are really good running backs who I predict will combine for 200-plus yards on the day.
That kind of production will be more than enough to take care of Kentucky.
16. MAACO Las Vegas Bowl: Boise State Humiliates Utah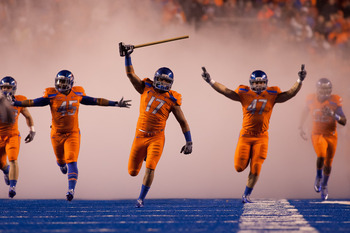 Otto Kitsinger III/Getty Images
Teams: Utah vs. Boise State
Date: Dec. 22
Place: Las Vegas
This will not even be close. We already saw what Utah could do against a similar team in TCU. Then the Utes almost lost to a borderline team in San Diego State. All season, Utah was pretenders in the top 10.
You also have to bet that the Broncos will have their best game of the season. After losing to Nevada, Boise State's hope of a BCS game were nixed. Now the Broncos will be playing for pride.
15. Alamo Bowl: Nick Foles Passes for 250 Yards in Loss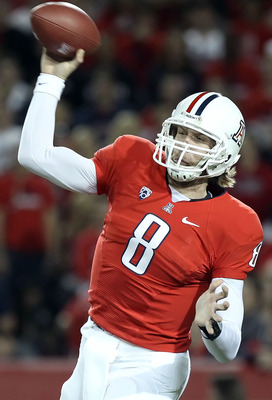 Christian Petersen/Getty Images
Teams: Oklahoma State vs. Arizona
Date: Dec. 29
Place: San Antonio
This will be a shootout. Both teams are highly prolific when they want to be. But the star of the game will be Nick Foles.
Arizona's star quarterback has been lost in the shuffle of the plethora of young arms in the Pac-10. On the 29th, he will be superb.
But in the end, the Wildcats will not be able to match wits on defense. The Cowboys will have their day in the sun.
14. Insight Bowl: Ricky Stanzi Will Mystify Missouri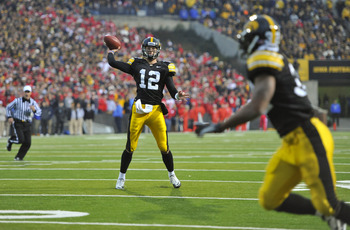 David Purdy/Getty Images
Teams: Missouri vs. Iowa
Date: Dec. 28
Place: Tempe, Ariz.
Iowa was on the hot track to make some noise this year. Then the Hawkeyes ran into some sort of malaise and dropped their last three games.
Stanzi seemed to be just as tired. The layoff between now and the 28th will prove vital to Stanzi.
I see him having a game similar to the one in which he took down Michigan State. He will go for 190-to-200 yards and a couple of touchdowns to boot.
13. Holiday Bowl: The Cornhuskers Win in a Rout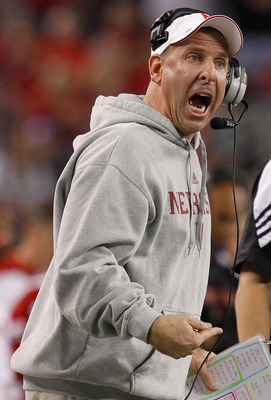 Tom Pennington/Getty Images
Teams: Nebraska vs. Washington
Date: Dec. 30
Place: San Diego
Nebraska versus Washington II will go the same way as at the beginning of the season. This is the problem with the bowl process. These two teams have no business on the same field this season. And this is a Pac-10 fan writing.
Jake Locker was absolutely dismal in the first outing. The Cornhuskers defense is just too taxing on the Huskies receivers.
12. Sun Bowl: Notre Dame Ends Season on a Winning Note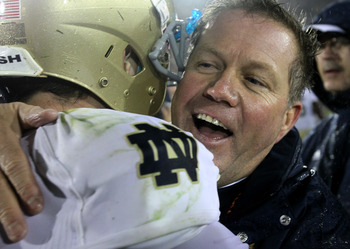 Stephen Dunn/Getty Images
Teams: Notre Dame vs. Miami (Fla.)
Date: Dec. 31
Place: El Paso, Texas
At the beginning of the season, I would not have given the Irish any chance against Miami. But I have no idea how this young group of Miami players will react after losing their head coach.
Miami head coach Randy Shannon was fired last week and duties were given to Jeff Stoutland on an interim basis. The Hurricanes are coming off a two-game skid while Notre Dame just ran off three consecutive wins.
I like Notre Dame on New Year's Eve. It is the only time I have picked Notre Dame and felt comfortable in a number of years.
11. Chick-Fil-A Bowl: South Carolina Sacks Ponder and Seminoles for Win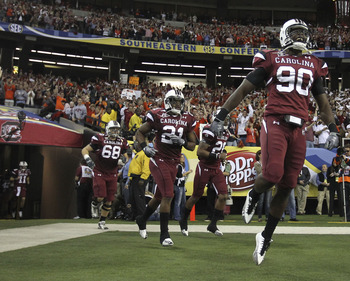 Mike Zarrilli/Getty Images
Teams: South Carolina vs. Florida State
Date: Dec. 31
Place: Atlanta
I really can't wait to see this one. Two very efficient teams will be able to do battle. It also is a bowl game that happened to make sense.
It will pit the ACC and SEC runners-up against each other, maybe like a playoff would have done—excellent.
But for this one, the Seminoles will not be able to contain the Gamecocks defense. South Carolina has one of the better pass rushes in the game and will have Christian Ponder running all day.
10. Outback Bowl: John Brantley and Florida Win a Sloppy One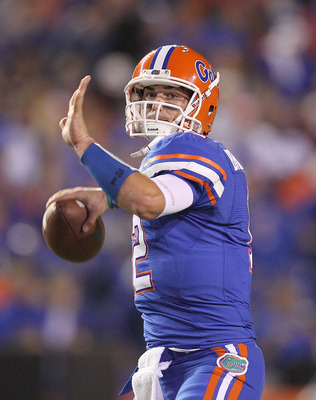 Mike Ehrmann/Getty Images
Teams: Florida vs. Penn State
Date: Jan. 1
Place: Tampa, Fla.
This is a game that will pit two teams that cannot win the big game. Both programs are 0-4 this season against ranked opponents. Well, try as they might, one team has to win this one.
John Brantley was atrocious against Florida State. But the Penn State defense is a lot thinner.
This may not be the best football you have ever seen, but it will be interesting.
9. Capital One Bowl: Alabama Gets Best of the Spartans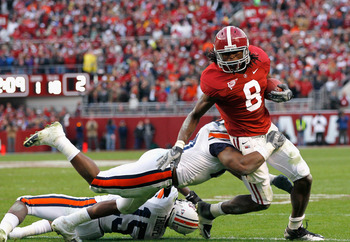 Kevin C. Cox/Getty Images
Teams: Alabama vs. Michigan State
Date: Jan. 1
Place: Orlando, Fla.
Michigan State and Alabama were hoping to be playing for much more this time of year. For the Spartans, it was one crucial loss that had them stumble out of the top 10. For Alabama, it was three.
That is not to say that this Alabama team is not better that the Spartans, because I believe it is.
It is just taxing when you have to play six ranked opponents during the year and one of them was a do-or-die rivalry game against Auburn.
The Crimson Tide are too seasoned to let a big game like this get away from them. Big games on a big stage: that's what 'Bama does.
8. Rose Bowl: TCU Shows What BCS Is Missing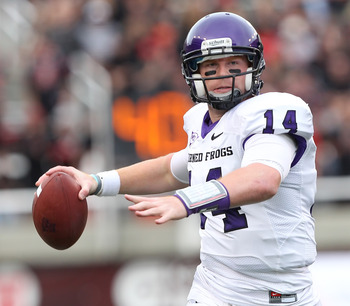 George Frey/Getty Images
Teams: Wisconsin vs. TCU
Date: Jan. 1
Place: Pasadena, Calif.
For another year, TCU is on the outside looking in. It was bested by teams facing stronger opponents. That may all change next year in the Big East, but, for now, the Rose Bowl is all the Horned Frogs have.
They will use it as a stepping stone for next season. TCU has the defense to stop Wisconsin. The only caveat is TCU really has not faced a team like the Badgers.
I am going on pure gut feeling here. But even if Wisconsin gets off some points, TCU has the more formidable weapon at hand, Andy Dalton.
7. Fiesta Bowl: Connecticut Will Struggle to Score in Oklahoma Rout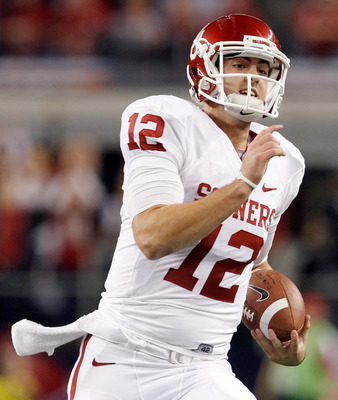 Tom Pennington/Getty Images
Teams: Connecticut vs. Oklahoma
Date: Jan. 1
Place: Glendale, Ariz.
This is another game that should never be played. The Huskies won the Big East. That is no great accomplishment. For their efforts, they get to face a behemoth program with a plethora of weapons in Oklahoma.
I don't see a team that lost to Temple this season getting much on the board in the Fiesta Bowl. I hope the field goal kicker is taking a lot of practice shots from 50 yards or farther.
6. Orange Bowl: Andrew Luck Throws for 300 Yards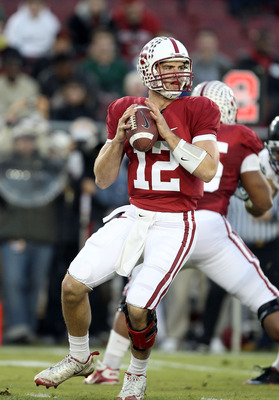 Ezra Shaw/Getty Images
Teams: Stanford vs. Virginia Tech
Date: Jan. 3
Place: Miami, Fla.
That seems like a pretty tall order against the Virginia Tech Hokies. But remember that Luck is that good. He also happened to put up more than 300 yards against the Oregon Ducks this year.
Luck is one of the more poised and looming figures in college football. He has the size to break tackles and the comfort to unleash fury. Stanford will win this one.
5. Sugar Bowl: Terrelle Pryor Will Get Back on the Scene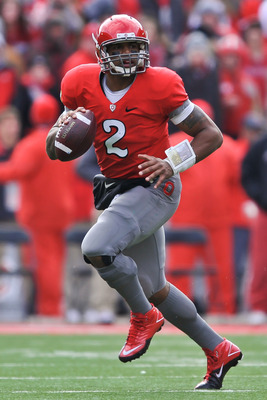 Jamie Sabau/Getty Images
Teams: Ohio State vs. Arkansas
Date: Jan. 4
Place: New Orleans
Ohio State really wishes it could have that Wisconsin game back. Now it has to face a very tough team boasting a premier quarterback in Ryan Mallett.
But the star of this game will be Terrelle Pryor. It will be a a commanding performance to get him back in the spotlight.
At the start of the season, Pryor was a favorite to make noise in the Heisman race. He recently has suffered from consistency and interception issues.
If he can remain calm under pressure, he could have one of the best games of his season.
4. Cotton Bowl: Texas A&M Will Shock LSU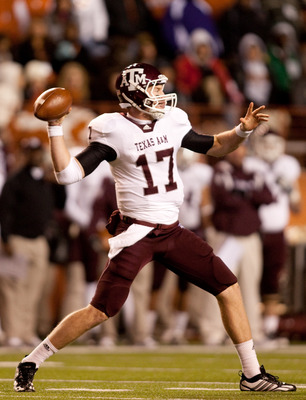 Darren Carroll/Getty Images
Teams: LSU vs. Texas A&M
Date: Jan. 7
Place: Arlington, Texas
LSU is a great program that could easily be one the best in the nation. But Texas A&M has beaten those types of teams this season.
The Aggies muddied up the game against Nebraska and won the battle of field goals. They also beat Oklahoma in a shootout.
The Aggies just find a way to win. They have been the best team in the nation for the second half of the season.
3. Kraft Fight Hunger Bowl: Kaepernick Will Run for 150 and Pass for 150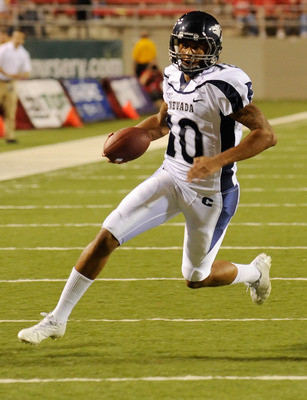 Ethan Miller/Getty Images
Teams: Nevada vs. Boston College
Date: Jan. 9
Place: San Francisco
This does not look like a great game to watch. But it will be. Colin Kaepernick is an unheralded stud in college football. This will be his day to shine.
I actually am being a bit modest in predictions here. He routinely runs for 150 yards in the pistol offense. The quarterback will be too much for Boston College to handle. The Eagles won't even know what hit them.
2. National Title Game: Highest-Scoring Title Game Ever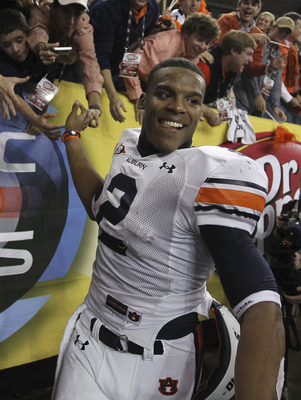 Mike Zarrilli/Getty Images
Teams: Auburn vs. Oregon
Date: Jan. 9
Place: Glendale, Ariz.
With Cam Newton running his tail off and Oregon taking quick snaps, the ball will constantly be moving in this one. There will be no reason to take your eyes off the television.
Newton will be superb against a good defense. The over/under for this game is at 70. The all-time record of 79 is well within reach.
1. National Title Game: Oregon Will Win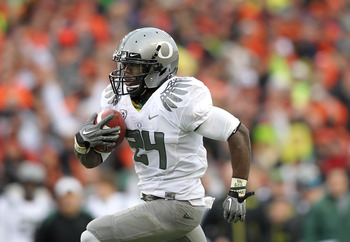 Jonathan Ferrey/Getty Images
Teams: Auburn vs. Oregon
Date: Jan. 9
Place: Glendale, Ariz.
I saved the boldest for the last. While Auburn has the best player in the nation, Oregon has the best system. The Ducks have a quick no-huddle offense that constantly has opponents on their toes.
They are relentless, they exhaust defenses and they will eventually take over in the second half.
I have seen some pretty good teams just die in the third quarter against Oregon. Auburn will not be ready for this, no matter how much tape it sees.
Keep Reading