SEC Championship 2010: Predicting a Game That Has Everything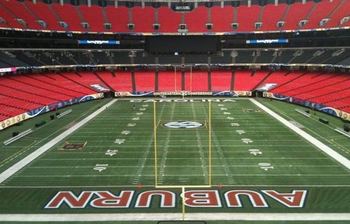 The Georgia Dome turf is prepared for the SEC Championship. This picture was taken Thursday
The last two seasons, the SEC became the Alabama and Florida show. And why not?
The teams were ranked No. 1 and No. 2 both years in the game ('Bama No. 1 in 2008, Florida No. 1 in 2009).
This season, however, that trend came to a screeching halt when Bama finished fourth in the SEC West and Florida finished second in the East, which is deceiving, considering the gap between the Gamecocks and Gators was as wide as JaMarcus Russell.
Auburn went 12-0 and won the SEC West. South Carolina went 9-3 and won the SEC East.
Here is a slideshow analyzing why this is a great game and who I think will win.
Auburn: The Powerhouse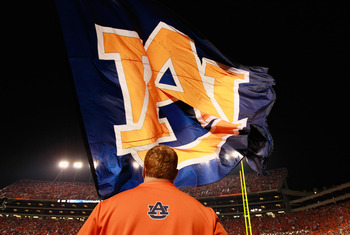 Kevin C. Cox/Getty Images
One team participating is one of the country's premier football programs, Auburn University.
Auburn has more wins than any other SEC West team since the league split into divisions in 1992. This is their fourth SEC Title Game appearance (others in 1997, 2001 and 2004), and they also have won a share of the SEC West on two other occasions (2002 and 2006).
They have 62 consensus All-Americans, two Heisman Trophies, 10 conference championships, and a national title in 1957. They're 13th all-time in wins with 708, 13th in bowl wins with 20 and 16th in bowl appearances with 34, not including the BCS Title Game or Orange Bowl Auburn will play in after this game.
Auburn has established itself as an elite program. They regularly are one of the best teams in the SEC and often is in the hunt for the national champion.
They are favored in the SEC Championship Game.
South Carolina: The Upstart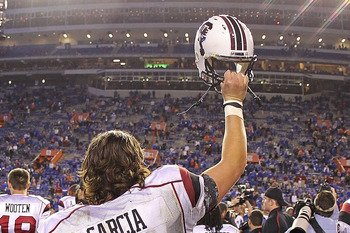 Mike Ehrmann/Getty Images
USC's history has been a little rocky to say the least.
They have an all-time record of 543-539-44. They are just four games above .500 and did not reach that until this season.
They have been to 15 bowls and won four of them. They have a Heisman winner to their credit and won the ACC in 1969, their only conference title to this day. They have had 18 consensus All-Americans, which is pretty good, but not nearly as good as some SEC counterparts. They have had the talent but just haven't been able to win championships.
They have a very passionate fanbase, as does Auburn. USC's fans have stayed loyal throughout all the rough seasons, and now they are being repaid by their team.
Columbia's Cocks have been starving for success. They are getting it. And don't expect this to be the last time the Gamecocks are in Atlanta.
A Top-Ranked Team On Upset Alert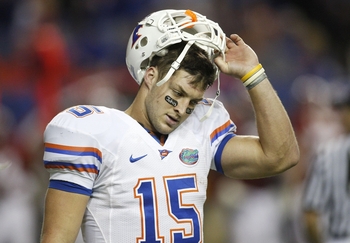 Chris Graythen/Getty Images
An alarming stat if you're an Auburn fan is that this is the third straight year the BCS No. 1 has played in the SEC Title Game.
What is the No. 1 team's record the previous two years? 0-2. Both losses by double-digits.
South Carolina has become a giant-killer, beating No. 1 Kentucky in basketball, No. 1 Arizona State in baseball and No. 1 Alabama in football.
Good news for Auburn, however, is that they're playing the No. 19 team in the country. The past two seasons, the No. 1 team lost to the No. 2 team.
Cam Newton, Nick Fairley, Marcus Lattimore and Alshon Jeffrey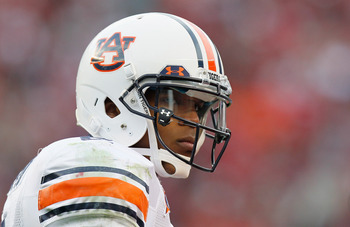 Kevin C. Cox/Getty Images
These players are the best on their respective teams.
Cam Newton is having the best season in SEC History, accounting for 43 TDs and trucking allegations like they're linebackers. Like in that matchup, Cam always wins. He won 12 times on gameday and on Wednesday afternoon.
Nick Fairley is basically Ndamukong Suh in an Auburn jersey. He is an absolute beast and projected to go in the top 10 in the NFL Draft.
Marcus Lattimore, who South Carolina narrowly edged Auburn for, has been a force for the Gamecocks. He is the best RB at USC since George Rogers, and he's a FRESHMAN. He's scary good.
Alshon Jeffrey is unstoppable, pure and simple. Nobody has stopped him this year, including Auburn.
These players will look to put on a show Saturday.
Prediction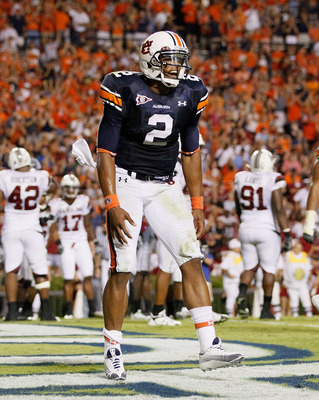 Kevin C. Cox/Getty Images
It will be a very tight game. I expect a back-and-forth affair in the first half with Auburn leading 20-17 at the break.
Auburn turns it on defensively in the second half, holding USC out of the end zone, while the offense moves the ball.
Prediction: Auburn 37, South Carolina 23
I think Cam Newton is just too good and USC's running game, like the first time they played, will be rendered ineffective.
Garcia and Jeffrey will get their yards, barring an unfortunate injury, but Auburn's offense is even better than it was when they played in September.
Predicted Stats: Auburn 473 yards, South Carolina 341 yards. Auburn 303 rushing yards, South Carolina 64 rushing yards. Auburn 170 passing yards, South Carolina 277 passing yards. Auburn 24 first downs, South Carolina 19 first downs. Auburn four sacks, South Carolina one sack.
I know I will be wrong on most of those stats, but when it's all said and done, I predict Auburn to be partying in confetti with their 11th conference title and a trip to the National Championship.
Keep Reading

Auburn Football: Like this team?