Randy Shannon Leaves a Strong Structure for Miami Hurricanes Successor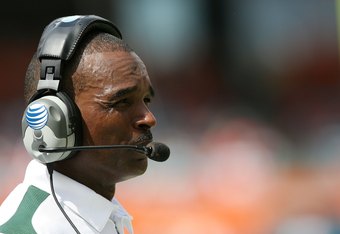 Shannon did what "The U" asked of him: rebuild a crumbling program.
Doug Benc/Getty Images
Randy Shannon, 28-22 as the University of Miami head football coach, fired after four seasons
As an alumnus of the University of Miami, this is a topic I feared having to write about.
Going into the season, Shannon got a vote of confidence from the Miami administration, signing a four-year contract extension in the offseason, given Shannon continued his excellent recruiting and program building.
Before the season began, Shannon had improved the team's record in his prior three seasons, flushed out Larry Coker's poor recruiting classes and brought in very strong ones of his own.
Shannon's no-nonsense attitude and demand for excellence in the classroom has led to the 'Canes staying off police reports and recording the third-highest graduation rate in the NCAA. Behind who, you may ask? Only the Army and Naval academies had a higher graduation rate during Shannon's tenure.
What caused the perilous end of Shannon's tenure as head coach of the 'Canes was the inability to win big games. This 2010 season is exhibit A, though I don't place all the blame on him.
Jacory Harris threw four interceptions in a winnable game against Ohio State, no one on the team showed up against Florida State as the 'Noles marched right in and out of Sun Life Stadium (and consequently on to the ACC Championship Game) and when team leader Harris got leveled by a Virginia defender, the 'Canes had to burn a redshirt and start Stephen Morris, who valiantly came back but lost against the (at the time) winless in the ACC Virginia Cavs.
Even with this, Miami had a chance to get back into the ACC race if they beat rival Virginia Tech. Again, they did not, nor did they play a complete game against a downtrodden South Florida team.
As frustrating as the year was for the Canes, the base is strong. The talent and speed on their roster is nearly unmatched in the ACC (let alone in college football), and they are disciplined in the classroom and avoiding trouble on the streets.
Randy Shannon did as he was asked: He cleaned up the program, brought in high-class recruits and restored a positive image (albeit not the thug attitude from the '80s) to a top-tier program. Players like Brandon Harris, Sean Spence, Seantrel Henderson and Lamar Miller have the potential to be superstars on the college level and into the NFL.
Shannon did not back up these successes with winning a conference championship, bowl game or garnering BCS talk, but he certainly built the framework of an empire for another coach to take the team and program to the next level.
Butch Davis, about 10 years ago, left a roster full of future Pro Bowlers, including Andre Johnson, Ed Reed, Jon Vilma, Willis McGahee, etc., for Larry Coker to compete for two national championships—I would not be surprised to see that happen again.
Randy Shannon will get another job soon, and he deserves one. He is the prime example of a person who made it through a tough upbringing, losing his father at the age of two and two brothers and a sister to AIDS, with a brother who attempted to steal his identity.
His strength as a coach is his strength as a person: He's a man of great character and integrity, the quintessential role model for anyone with inherent athletic ability who needs guidance to avoid the wrong crowd. It is not easy to coach at "The U," so I give him credit for what he has built learning on the job.
Was firing him the right thing to do? I'm not sure the answer is written in stone. If the 'Canes hire Jon Gruden or someone of equal stature, I would say the decision to fire Shannon was not irrational or impulsive.
Firing OC Mark Whipple, who many praised, was fair (if you saw the overtime drive against South Florida, that was the last straw). But Shannon means a lot to the kids in this program, and his presence as a role model left many players emotionally distraught after his dismissal.
At the end of the day, if you don't win at a premier program, you get the axe. Shannon knew that as well as anyone, and it certainly was not for a lack of effort.
This article is
What is the duplicate article?
Why is this article offensive?
Where is this article plagiarized from?
Why is this article poorly edited?

Miami Hurricanes Football: Like this team?