College Bowl Projections: Which Bowl Game Will LSU Play In?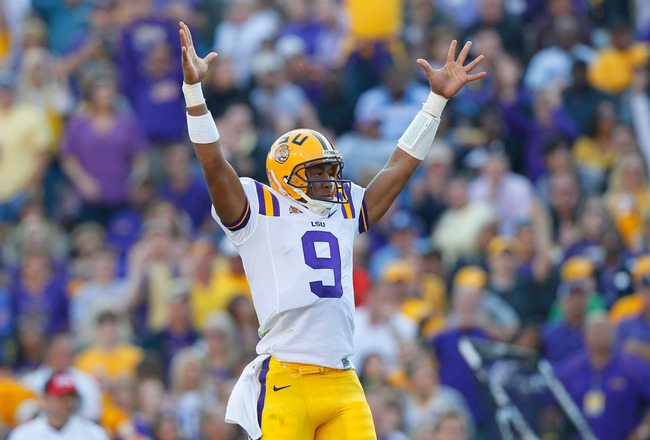 Kevin C. Cox/Getty Images
College Bowl projections are messy up top and LSU's future isn't entirely clear.
After an Andru Stewart sack and forced fumble on Jordan Jefferson in the final minute of the Arkansas-LSU game sealed the Tigers' fate, LSU will be carefully monitoring the outcome of this week's games.
This loss has caused quite a shakeup in the Bowl projections as it knocked them out of an at-large bid for a BCS Bowl game.
LSU is currently ranked 10th in the BCS standings and this is certainly not the outcome Les Miles and the LSU faithful were hoping for.
Sugar Bowl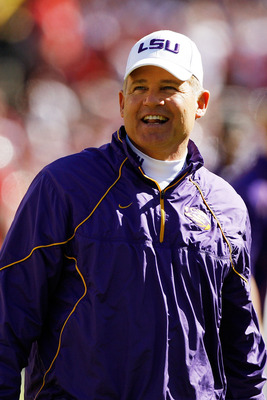 Chris Graythen/Getty Images
Potential opponent: Ohio State
Last week's Arkansas-LSU game was considered to be a play-in game for the Sugar Bowl.
However, nothing is set in stone at this point, and a trip for Les Miles to New Orleans isn't entirely out of the equation.
It would be a travesty if LSU was invited to the Sugar Bowl over Arkansas, but this is College Football. Politics and shady backdoor dealings are nothing new.
Chances are slim—to none—of this actually happening, but the Bowl system has had more than its fair share of problems.
Outback Bowl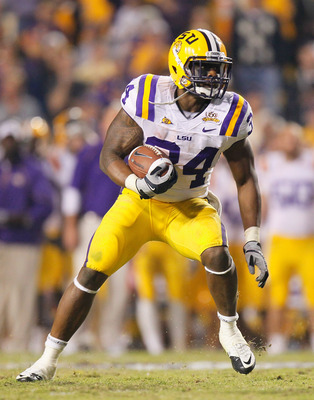 Kevin C. Cox/Getty Images
Potential opponent: Iowa
Originally called the Hall of Fame Bowl, the last time LSU made a trip to Tampa Bay was over 20 years ago.
If Auburn is upset by South Carolina, the Outback Bowl could very well be in LSU's future.
Under that scenario, the Big 10 opponent would likely be the Iowa Hawkeyes, while LSU could be the SEC representative.
Capital One Bowl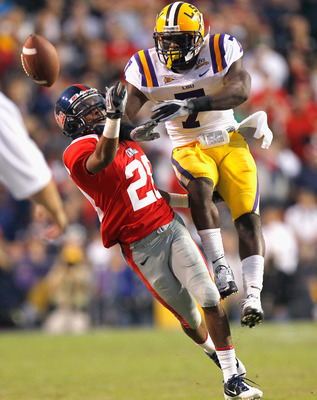 Kevin C. Cox/Getty Images
Potential opponent: Michigan State
After the BCS Bowls, the Capital One Bowl gets first crack at Big 10 and SEC teams.
This is certainly not the outcome Louisiana natives were expecting when they were a top five team less than a week ago, but it's not that bad of a consolation.
If LSU ultimately makes the trip down to Orlando, this would be their third time playing at the Capital One Bowl since 2005.
In the Tigers' last two visits, they've come up short.
LSU still probably has a bad taste in their mouths after last year's 17-19 loss to Penn State.
Cotton Bowl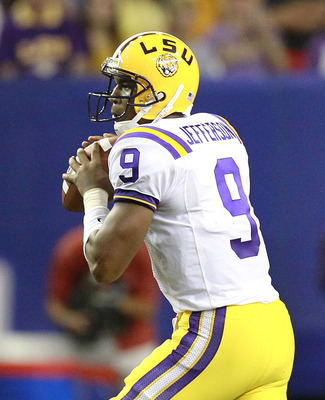 Kevin C. Cox/Getty Images
Opponent: Texas A&M
As long as Auburn isn't upset, it looks like LSU is fated to make a trip to the Cotton Bowl on the seventh of January.
This will be LSU's fourth trip to Arlington.
Their last game in the Cotton Bowl was in 2003 where they lost to Texas.
Texas A&M just recently accepted an invite to the Cotton Bowl, so their Big 12 opponent is already set.
Jordan Jefferson will have his work cut out for him as he'll be seeing a whole lot of Von Miller in his face.
Keep Reading

LSU Football: Like this team?