BCS Bowl Projections: Power Ranking the QBs
Jonathan Ferrey/Getty Images
Bowl Projections:
BCS National Championship Game: Oregon vs. Auburn
Rose Bowl: Wisconsin vs. TCU
Orange Bowl: UConn vs. Virginia Tech
Fiesta Bowl: Nebraska vs. Stanford
Sugar Bowl: Arkansas vs. Ohio State
It takes a very good quarterback for a team to reach a BCS bowl.
To win a national championship, it takes a great one.
Ten signal-callers will get the opportunity to cement their legacies in the record books of college football's most prestigious bowls.
How are they most effective?
How are they most vulnerable?
Can the best BCS quarterback actually be defended?
10: Zach Frazer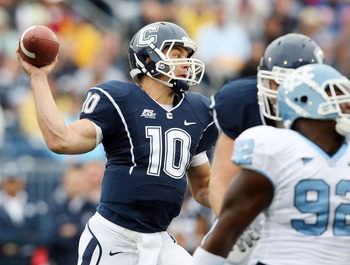 Elsa/Getty Images
Season Stats: 104-193 for 1,090 yards, five TDs and three INTS
Frazer has had an up-and-down year under center for the Huskies.
He provided no touchdowns in the Huskies' first two road games, losses to Michigan and Temple.
UConn has won and lost on the legs of star running back Jordan Todman.
As the season has matured, so has Frazer.
He helped the Huskies control their fate in the Big East by leading UConn to back-to-back wins over West Virginia and Pitt.
While not extraordinarily impressive statistically, Frazer is doing just enough to win.
Unfortunately for UConn, he simply isn't the key element to the offense.
As goes Todman, so goes the Huskies' season.
9: Scott Tolzien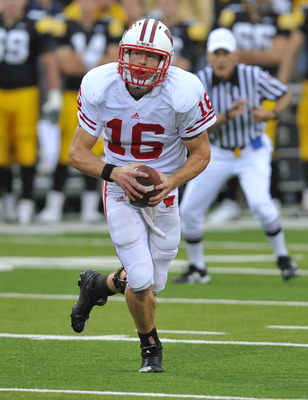 David Purdy/Getty Images
Season Stats: 182-245 for 2,300 yards, 16 TDs and 6 INTs
Tolzein has provided the perfect aerial compliment to Wisky's powerful run game this season.
Running backs James White and John Clay have a combined 1,965 yards and 27 touchdowns, making life extremely easy for the Badger signal-caller.
While no one will mistake him for one of these speedy read-option quarterbacks that are all the rage, Tolzein is very efficient.
He has completed 74.3 percent of his passes, providing 9.4 yards per attempt.
He shares the spotlight with the running backs, but without Tolzein, opponents would be respecting the passing threat far less.
8: Taylor Martinez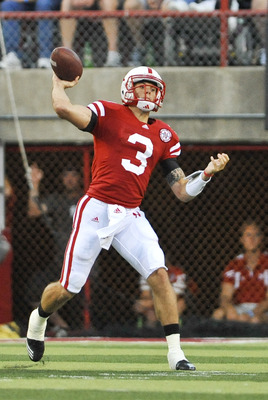 Eric Francis/Getty Images
Season Stats: 97-163 for 1,435 yards, 9 TDs and 5 INTs; 134 carries for 974 yards and 12 TDs (7.3 YPR)


Unless you've been living in a cave this season, you know about Taylor "T-Magic" Martinez.
The Corona, California, native has dashed his way into the Nebraska fanbase's heart, but things have been a bit more difficult for Martinez as of late.
Amidst rumors of transfer, the Cornhusker quarterback has also been suffering with ankle injuries, making him far less of a running threat.
The injuries have also affected his throwing, as he cannot properly plant his feet to follow through.
Third-string quarterback Cody Green, and occasionally last year's starter, Zac Lee, have filled his absence.
The Cornhuskers are hopeful that Martinez can return to action in the Big 12 Championship Game in some capacity.
If not, T-Magic may not have an opportunity to show off his skills under some of the brightest lights he'll ever see.
7: Tyrod Taylor
Scott Halleran/Getty Images
Season Stats: 154-256 for 2,258 yards, 20 TDs and 4 INTs1; 119 carries for 613 yards and 4 TDs (5.2 YPC)
Taylor has spent much of his career under intense scrutiny.
Then again, so has every Virginia Tech quarterback since Michael Vick.
While Taylor performed well overall, his Hokies dropped the season-opening tilt with Boise State.
Looking to bounce back, he was largely ineffective versus James Madison.
The Hokies would go to 0-2, falling to the Dukes at home, and national ridicule followed.
Virginia Tech could have easily called it quits early in the season. But behind the coaching of Frank Beamer and the veteran leadership of Taylor, the Hokies find themselves in yet another ACC Championship Game.
The Florida State Seminoles provide Virginia Tech with another strong test.
Thanks to Taylor's dual-threat abilities and the "never say die" spirit of his team, the Hokies will be BCS-bound yet again.
6: Andy Dalton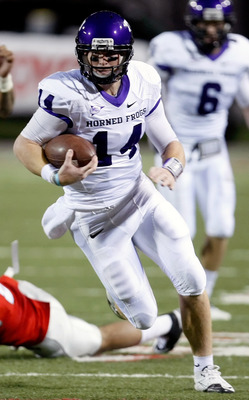 Ethan Miller/Getty Images
Season Stats: 194- 293 for 2,638 yards, 26 TDs and 6 INTs; 77 carries for 407 yards and 5 TDs (5.3 YPC)
Dalton isn't TCU's only weapon, but he may be their most important one.
The senior has provided excellent support through the air and on the ground, guiding TCU to their second straight undefeated regular season.
While the Horned Frogs don't line up against the most dominating schedule, they've reflected the attitude of head coach Gary Patterson.
TCU simply shows up, shells the opposition behind the arm and feet of Dalton, and leaves with a win.
No trash talk, just take care of business and head home.
Dalton went down in TCU's meeting with New Mexico with an arm injury.
"He got hit on the elbow. His arm went numb a little bit, but he was fine at the end of the game," Patterson told ESPN.
Should Dalton return for TCU's second BCS game in two years, the Horned Frogs have a chance at redemption for falling to Boise State last season.
They'll likely need all of the firepower they can get.
5: Ryan Mallett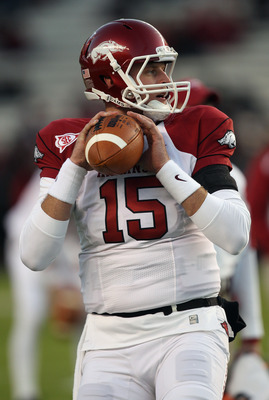 Streeter Lecka/Getty Images
Season Stats: 242-364 for 3,592 yards, 30 TDs and 11 INTs


Arkansas has put up spectacular numbers in 2010.
The Razorbacks were close to going undefeated but for close losses to then-No. 1 Alabama and a Cam Newton fueled-Auburn.
Despite the two losses, Arkansas has the No. 3 passing attack in the nation thanks in large part to quarterback Ryan Mallett.
The Michigan transfer has been lethal during his days as a Razorback. Mallet finds himself in position to break his 2009 passing mark of 3,624 yards and already boasts a far more accurate arm.
He has a 66.5 percent completion rate this season versus last year's 55.8 percent.
Big numbers have equaled big wins for Mallet's Hogs as Arkansas has defeated three Top-25 teams, including No. 5 LSU. The final regular-season win over the Tigers will give the Razorbacks a BCS berth.
Their quarterback should provide them ample reason to take home a trophy and a very sizable bowl paycheck.
4: Terrelle Pryor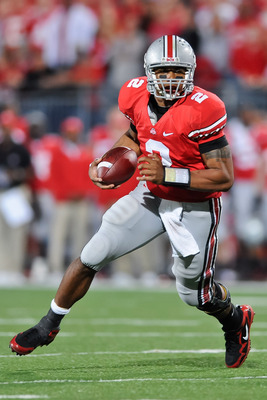 Jamie Sabau/Getty Images
Season Stats: 196-298 for 2,551 yards, 25 TDs and 11 INTs; 120 carries for 639 yards and 4 TDs (5.3 YPC); 2 receptions for 19 yards and 1 TD
Terrelle Pryor can do it all.
That's been apparent ever since his freshman year.
But the preseason Heisman Trophy favorite seems to have difficulty making the jump from "very good" to "great" for some reason.
Still, Pryor must be accounted for by opposing defenses and has passed very efficiently (65.8 percent completion rate).
He takes advantage when defenses are lulled to sleep by the Buckeye rushing attack and slinks through tackles for large chunks of yardage.
Pryor isn't going to be mistaken for Nebraska's Taylor Martinez or Oregon's Darren Thomas any time soon, but the numbers don't lie.
The Buckeye quarterback has passed for 200-plus yards eight times this season.
While he could bolt for the NFL following after this season, it would do Pryor quite a bit of good to fine tune his skills with another year at OSU.
3: Darren Thomas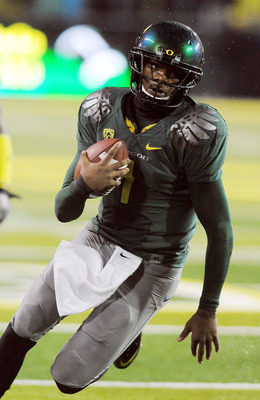 Steve Dykes/Getty Images
Season Stats: 181-297 for 2,373 yards, 26 TDs and 7 INTs; 84 carries for 496 yards and 5 TDs (5.9 YPC)
It takes a savvy quarterback to run the Quack Attack offense.
Darren Thomas is that man.
After seeing no action in 2009, Thomas has stepped into the role of starter famously.
With the help of the best running back in the nation, LaMichael James, Thomas has run the zone-read with deadly efficiency.
No defense has been able to prevent him from scoring through the air.
The loss of Jeremiah Masoli necessitated Thomas' leadership. It's hard to say that even Oregon fans thought that he would do this well.
Only a sophomore, Thomas has the ability to keep the Ducks at the top of the college football world for the foreseeable future.
There's far too much talent around him to do anything less.
2: Andrew Luck
Ezra Shaw/Getty Images
Season Stats: 245-349 for 3,051 yards, 28 TDs and 7 INTs; 51 carries for 438 yards and three TDs (8.6 YPC)
The nation's best pure passing quarterback is in a bright BCS spotlight.
It's a shame that his running back from last year, current Minnesota Viking Toby Gerhart, couldn't join him.

Luck will still take the opportunity to show the nation that Stanford has arrived as a consistent power under head coach Jim Harbaugh.
There is every reason to think that he will continue to succeed at the college level before making the inevitable leap into an NFL franchise's backfield.

Luck has thrown for at least 200-plus yards on all but two occasions this season.

He still managed 190 and 192 yards in those games versus Washington State and Washington, respectively.
The sensational sophomore looks to only increase his stock come January, and he'll have the opportunity to do so against some of the nation's elite defenses.
1: Cam Newton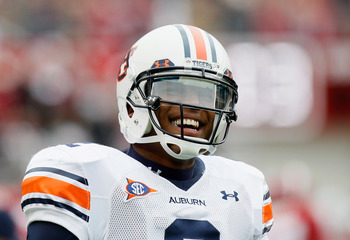 Kevin C. Cox/Getty Images
Season Stats: 148-218 for 2,254 yards, 24 TDs and 6 INTs; 228 carries for 1,336 yards and 18 TDs (5.9 YPC); 2 receptions for 42 yards and 1 TD
Yeah, you saw this one coming like a freight train.
Cam Newton is not only the nation's best overall quarterback, but the best overall athlete as well.
A Heisman Trophy and national championship opportunity are in Newton's sights, but controversy has tainted the journey to an extent.
While more and more comes out regarding the drama surrounding a potential pay-for-play situation, Cam can only make fans cheer and smile for the camera.
The big man has amazing athletic potential, second perhaps only to Darren Thomas in terms of sensing where to run.
His passing statistics speak for themselves. With a 185.6 rating, Newton is clearly an NFL target and it's hard to think that he won't make the leap to the pros after this season.
First thing's first, though.
Auburn is looking to claim its first national championship since 1957.
A storybook ending awaits the Tigers.
Whether or not Auburn will actually be able to hold onto any championship or Heisman Trophy is yet to be determined.
Can't get enough football news, reviews and overall sports merriment? Follow Brandon on Twitter (@eightlaces) for the latest article updates and other general college football goodness.
Keep Reading