College Football: Predictions For the Top 10 Thanksgiving Week Matchups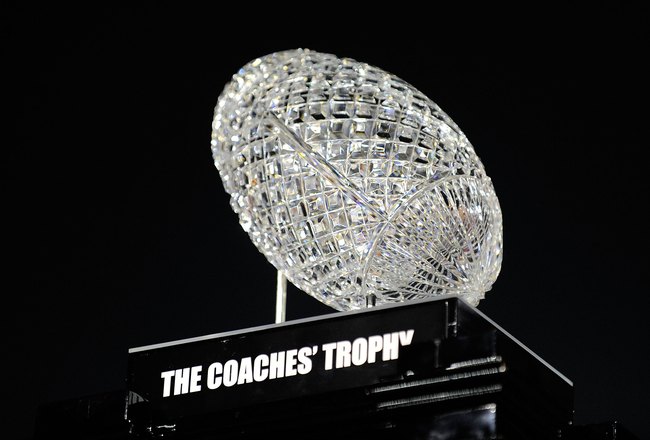 Kevork Djansezian/Getty Images
Well, it's that time of year. Yes, it's Thanksgiving week. Tomorrow, families across America will get together and feast on turkey, pie and other delicious dishes. After packing away the leftovers and taking a collective nap, America will awaken and hunker down for one of the greatest traditions in all of sports:
Thanksgiving weekend rivalry games.
The family bonding of Thanksgiving stops once the table is cleared. It's here that the only thing that matters is the jersey you wear. Families and friends argue day in and day out for months as to who is the better. It's this weekend that their team can prove it with a win over their long-time rival.
As always, there are plenty of great games, but some are especially crucial, as they will help us determine BCS bowl matchups, as well as the two teams that will play for the BCS National Championship. Here, I will outline my top 10 matchups and make predictions. Feel free to comment. Just try and keep it civil, please!
Note: I based this list on the implications it holds, not necessarily the quality of the teams, although that certainly played an important factor. This is the best I could come up with, but some of these games could be moved around, and others could be argued.
Honorable Mention: (5) LSU at (12) Arkansas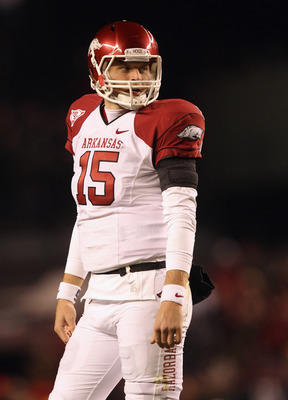 Streeter Lecka/Getty Images
I realize many fans will not be pleased with this game not being in the top 10, with both teams in the top 15 and this being a hotly anticipated game between SEC teams. However, this game earns honorable mention because this game does not necessarily have large implications. Neither of these teams will be eligible for the SEC Championship Game (Auburn already clinched the SEC West), and Arkansas will probably not earn a BCS bowl berth regardless. LSU may earn a berth to a major bowl, but it remains to be seen how the BCS committee feels.
However, this will be a fantastic game. In this edition of the Battle for the Golden Boot, the 10-1 Tigers, led by quarterback Jordan Jefferson and cornerback/punt returner/kick returner Patrick Peterson, travel to Little Rock to take on the 9-2 Razorbacks, led by NFL-potential quarterback Ryan Mallett.
This is big test for the Arkansas offense, which is averaging 37.9 points per game (second best out of 12 in the SEC), and the LSU defense, giving up an average of only 16.5 points per game (also second best in the SEC). Mallett will have to go up against Peterson and a stingy LSU defense, presenting a true challenge for the Hogs. In addition, LSU's mediocre offense (averaging 29.3 points per game, ninth in the SEC), takes on an Arkansas defense giving up an average of 22.7 points per game (seventh in the SEC).
This makes for an interesting game, as the Hogs will have to find a way around the Tigers defense, while LSU's young offense will take on an Arkansas defense that failed to stop Alabama (giving up 24 to the Tide) and gave up a whopping 65 against the Cam Newton-led Auburn Tigers.
This will definitely be a struggle for four quarters, but I think the Hogs' offense, combined with home-field advantage, gives Arkansas the edge over the Tigers.
Arkansas 28, LSU 21
10. Kansas at (14) Missouri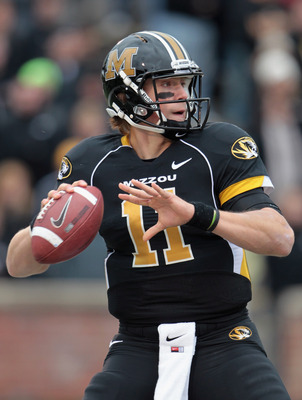 Jamie Squire/Getty Images
I know, I know: I put a lopsided Big 12 game ahead of a tight SEC game. But as I said at the outset, the top 10 games have bigger implications. In this year's Border War, the Tigers look to stay in contention for the Big 12 North title. They sit at 5-2 in conference play, tied with 15th-ranked Nebraska. Missouri needs to not only win this weekend against the Jayhawks, but will need Nebraska to lose to Colorado due to the Huskers beating Missouri earlier this year. A berth to the Big 12 Championship Game is on the line, and Mizzou's Tigers are ready to pounce.
Led by Blaine Gabbert (2,573 passing yards), the 9-2 Tigers are averaging 29.9 points per game (eighth in the Big 12), while 3-8 Kansas has the conference's worst offense, averaging 18.0 points per game.
In addition, Missouri boasts the Big 12's best defense, giving up an average of 15.9 points per game, while the Jayhawks bring the conference's worst defense, giving up 34.4 points per game.
This one looks like a pretty easy call, with the Tigers easily trouncing the Jayhawks in Kansas City.
Missouri 42, Kansas 14
9. (3) TCU at New Mexico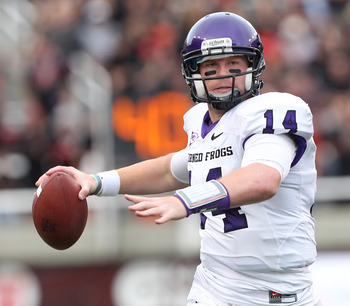 George Frey/Getty Images
This one's another easy one, so easy that it doesn't even warrant statistics. The Horned Frogs are the best team in the Mountain West Conference on both offense and defense (and in the BCS standings, the best non-AQ team in the country), and the lowly Lobos are the absolute worst in the MWC on both offense and defense (and probably one of the worst FBS teams in the country).
TCU quarterback Andy Dalton will look to lead the Horned Frogs to its second straight undefeated regular season, while the Lobos will look to simply to get through this season as quickly as possible.
This will be an easy win for the Horned Frogs, who can then await the result of the Boise State-Nevada game.
TCU 49, New Mexico 10
8. Colorado at (15) Nebraska
Eric Francis/Getty Images
Coming off a controversial loss to 17th-ranked Texas A&M, Nebraska looks to rebound with a win over Colorado in its final regular season Big 12 game before their move to the Big Ten in 2011.
After Nebraska head coach Bo Pelini's angry expletive-laden locker-room tirade and controversial comments about Big 12 officials, the Huskers are probably happy that their time in the Big 12 is coming to an end. They have a good chance of heading out on a good note and clinching the Big 12 North, bringing its famous Blackshirt Defense into Memorial Stadium (16.7 points allowed per game, second best in the Big 12) to face the Buffaloes just one last time and punching its ticket to Arlington for the Big 12 Championship Game.
Colorado has had a tumultuous 2010 campaign, having fired head coach Dan Hawkins after a 3-6 start to the season. Under new head coach Brian Cabral, the Buffs have reeled off two straight wins against Iowa State (34-14) and Kansas State (44-36). They'll look to upset the Huskers in Lincoln and spoil Nebraska's hopes of a Big 12 championship.
Nebraska is the better team on both offense and defense, and they'll have a tremendous home-field advantage (I'm of the opinion that their loss to Texas was a bad fluke). Nebraska will take this one, but not by a huge margin.
Nebraska 31, Colorado 21
7. Michigan at (8) Ohio State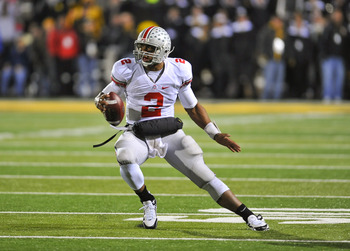 David Purdy/Getty Images
The Game...one of the greatest rivalries in the history of college football, probably even all of sports. It was a game that could decide national championships and trips to the Rose Bowl. It was full of great moments and strong personalities.
Who could forget the Ten-Year War, or Desmond Howard's Hello Heisman? And certainly Ohio State fans will tell you that Script Ohio is a little more special when it's performed at the Michigan game. But wait, has this storied rivalry become BORING?
To some, yes. Michigan hasn't beaten Ohio State since 2003, Michigan hasn't gone to the Rose Bowl since 2006, and hasn't gone to ANY bowl since 2007 (although at 7-4, they will this year). After the retirement of Lloyd Carr after the 2007 season, Michigan hired Rich Rodriguez to bring the revolutionary spread offense to Ann Arbor. However, in almost three seasons, Michigan has missed postseason play twice, and Rodriguez has struggled against the tough Big Ten defenses of Ohio State, Wisconsin, Michigan State (who Rodriguez has yet to beat) and Iowa.
After a quick 5-0 start to 2010 on the back of quarterback Denard Robinson, Michigan now sits at 7-4. The Buckeyes (10-1) are in a three-way tie for the Big Ten championship with Wisconsin and Michigan State, and need to win on Saturday to stay in contention. They'll likely need a little help in order to head back to Pasadena, however, since they likely can't jump Wisconsin if they also win out.
With the Big Ten's second- and third-best offenses (39.6 ppg for the Buckeyes, 36.8 for the Wolverines), both teams will look to their quarterbacks to make scores happen. Terrelle Pryor is almost unstoppable, especially in Columbus, while Robinson, though his numbers are impressive, doesn't always have what it takes, struggling against Purdue, Penn State and Iowa. In addition, Ohio State boasts the Big Ten's best defense (giving up an average of 13.9 points per game), while Michigan's defense is notoriously bad and has an inability to play a full four quarters.
Michigan will give Ohio State more of a run this time around, but the Buckeyes will once again get the last laugh.
Ohio State 49, Michigan 35
6. (10) Michigan State at Penn State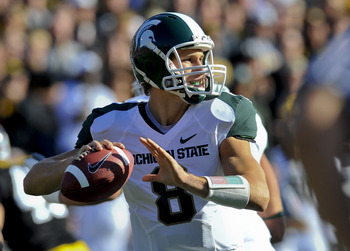 David Purdy/Getty Images
The Spartans are part two of the three-way tie at the top of the Big Ten with Ohio State and Wisconsin. Led by quarterback Kirk Cousins, Michigan State travels to University Park to take on the resurgent Nittany Lions in this year's fight for the Land Grant Trophy.
Matt McGloin, a former walk-on, became the starting quarterback after true freshman Rob Bolden suffered a concussion against Minnesota and took another hard hit against Northwestern. McGloin led the Nittany Lions to a surprise win over Michigan, followed by victories over Northwestern and Indiana, and then a 38-14 loss to Ohio State in Columbus after leading early on. Penn State will be helped by star running back Evan Royster, who has rushed for 831 yards this year.
Like the Buckeyes, the Spartans will not only need to win, but will need help to take reach the top of the Big Ten. All they need to win and for Ohio State to lose; with their victory over Wisconsin earlier in the year, they would head to the Rose Bowl. However, a loss by Ohio State at home is very unlikely, and a loss by Wisconsin alone wouldn't be enough to push the Spartans ahead of the Buckeyes since Ohio State would head to Pasadena. The Spartans are in a hole, but they're still hoping for a shot at the Rose Bowl.
The game will be close, as Penn State will be helped by home-field advantage at Beaver Stadium. However, Cousins' ability to make plays happen and the Spartans' overall better defense will give the game to Michigan State.
Michigan State 24, Penn State 21
5. (13) Oklahoma at (9) Oklahoma State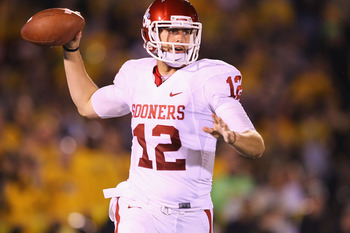 Dilip Vishwanat/Getty Images
This edition of the Bedlam series will be all-the-more exciting due to both teams needing a win to reach the Big 12 Championship. The winning team goes to Arlington to face off against either Nebraska or Missouri to play for a trip to the Fiesta Bowl.
These two teams bring the two best offenses in the Big 12 to the game (45.3 points per game for Oklahoma State, and 36.6 points for Oklahoma). Both teams feature a dynamic duo at quarterback and wide receiver, with the visiting Sooners counting on quarterback Landry Jones, whose 3,479 passing yards are good enough for third-best in the country. The Cowboys, this year playing host to Oklahoma in Stillwater, one-up the Sooners this year with quarterback Brandon Weeden, whose 3,780 passing yards put him at second-best in the country.
On the receiving end, the Sooners boast wide receiver Ryan Broyles, with his 1,309 receiving yards putting him at third-best in the country. Once again, the Cowboys come out on top, with phenom Justin Blackmon grabbing 1,560 receiving yards for the nation's best total. The Cowboys also have running back Kendall Hunter whose 1,461 rushing yards is the second-most among all running backs.
Forget about defense: this a classic offensive shootout. Watch out for this Jones vs. Weeden, Broyles vs. Blackmon, with a little bit of Kendall Hunter (who, I think, despite my prediction, will be limited by Oklahoma's slightly better defense) making for real Bedlam this Thanksgiving.
Despite Oklahoma's losses to Missouri and Texas Tech, the Sooners will step up their game against Oklahoma State, and will give it all they have as the underdogs trying to get back to the Big 12 Championship. This game is a toss-up, but I'll give the slight edge to Oklahoma. Ryan Broyles and Landry Jones will find a way to will win it the in the clutch for Oklahoma. Look for a Sooner upset over the Cowboys.
Oklahoma 42, Oklahoma State 39
4. Northwestern at (7) Wisconsin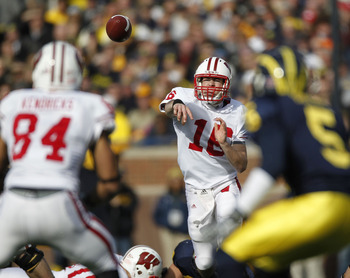 Gregory Shamus/Getty Images
Here we are, at the last leg of the Big Ten logjam. The Wisconsin Badgers will look to clinch a trip to the Rose Bowl at home against Northwestern. Even if Ohio State and Michigan State also win out, it appears likely that Wisconsin will retain the highest BCS ranking of the three tied teams, barring any unforeseen circumstances.
The Badgers, led by quarterback Scott Tolzien, return to Madison after a 48-28 thrashing of Michigan in Ann Arbor. Despite the absence of running back John Clay, who rushed for 929 yards in nine games, Wisconsin has the best offense in the Big Ten (averaging 40.9 points per game). In addition, Northwestern will be without quarterback Dan Persa, who ruptured his Achilles tendon and will be out for the remainder of the season.
With an overall better team, Wisconsin will finish the regular season with a big win over the Wildcats, and will also a clinch a share of the Big Ten championship and a trip to the Rose Bowl.
Wisconsin 49, Northwestern 17
3. (4) Boise State at (19) Nevada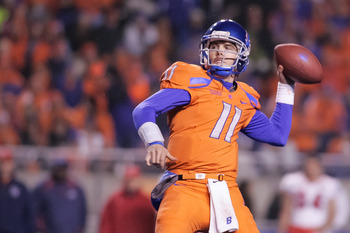 Otto Kitsinger III/Getty Images
What more can be said about Boise State? The debate has raged for years over their status in college football. Many will contend that Boise State has beaten enough BCS opponents that they now deserve a spot in the BCS National Championship Game if they beat Nevada this weekend.
Others are of the opinion that Boise State's schedule is far too weak, and that until they enter a legitimate conference, they cannot bid for the national championship. Whatever your opinion is, no one can deny that the Broncos are a very good team. It's likely that quarterback Kellen Moore will likely contend for the Heisman this year with 2,921 passing yards (although the anti-Boise crowd will point to the atrociously weak schedule the Broncos get to play).
The Nevada Wolfpack are having quite possibly their best season in history. They too play in the Western Athletic Conference and will certainly not be going to a BCS bowl this year. However, it would mean a lot for this program if they could beat the mighty Broncos when they come to visit Reno. With the drive that Nevada has and the implications of beating Boise State, this will likely be the Broncos' toughest game all year.
In the end, after a far-tougher battle than they were expecting, Kellen Moore will Boise State past Nevada. It will then be up to the BCS committee to decide the Broncos' fate.
Boise State 42, Nevada 35
2. (21) Arizona at (1) Oregon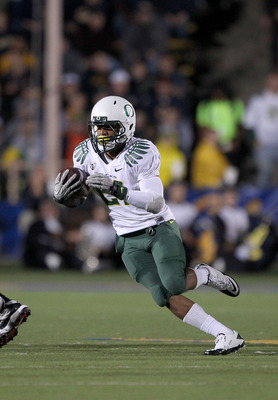 Ezra Shaw/Getty Images
No team has been more exciting to watch this season than the mighty Oregon Ducks. On the back of quarterback Darron Thomas and running back LaMichael James (whose 1,422 rushing yards make him the fourth-best rusher in the country), the Ducks run a fast-paced, quirky offense, which relies more on finesse and agility on the ground rather than the power running seen in the Big Ten.
Oregon is the undisputed leader of the Pac-10 in wins, offense and defense, and will look to move 11-0 before their rivalry game in Corvallis against Oregon State next week. (I realize this week isn't a true rivalry game, but this game is extremely important in determining bowl matchups.)
The Arizona Wildcats enter Eugene as underdogs this weekend and, with a far weaker offense, they have a tough game ahead of them. However, with the second-best defense in the Pac-10 (allowing 18.1 points per game), the Wildcats can slow down the Oregon offense—by how much is unclear. Arizona looks to derail Oregon's dreams of a BCS National Championship and cement its place as a potential Pac-10 contender in the absence of USC as a dominating force.
Arizona will give Oregon a good game this week, but it won't be good enough to stop Oregon's loaded offense. Thomas and James will keep this dream season going, and Ducky will definitely be doing quite a few push-ups this weekend.
Oregon 56, Arizona 21
1. (2) Auburn at (11) Alabama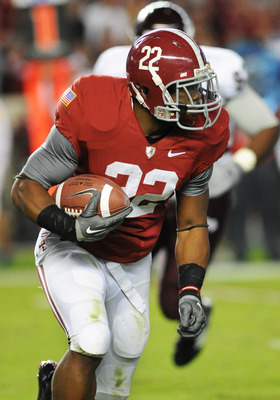 Al Messerschmidt/Getty Images
Amid all of the hoopla surrounding Auburn's drive for a national championship amid allegations of impropriety on the part of Auburn quarterback Cam Newton and his dad, Cecil, this is the one game that almost everyone (besides Auburn fans) thought that Auburn could actually lose. The Tigers travel to Bryant-Denny Stadium in Tuscaloosa to take on the Alabama Crimson Tide in the 2010 edition of the Iron Bowl.
The Tigers, led by Heisman front-runner Cam Newton, will look to complete an undefeated regular season and head into the SEC Championship Game against South Carolina. With the SEC's best offense (42.8 points per game), Auburn would easily go to the BCS National Championship Game if they beat both the Tide and the Gamecocks. Newton, whose dual-threat ability has earned him 1,297 rushing yards, has gotten Auburn past South Carolina, LSU and Arkansas—three extremely good teams.
However, all three of these wins were at home. On the road against Mississippi State, they snuck out of Starkville with a 17-14 victory. At Kentucky, it was another three-point victory, this time 37-34. At Ole Miss, the Tigers won 51-31 against a far weaker Rebels squad. Auburn will now have a play a much stronger Crimson Tide on the road in one of the most hostile environments in college football.
Alabama entered the season with dreams of another BCS National Championship, but it was not to be. With losses to South Carolina and LSU (both on the road), the Tide have been forced out of the national championship as well as the SEC championship. How Alabama would love to spoil the undefeated party for Auburn and make a mess for the BCS committee. This game has been circled on both teams' calendars all season long. Both teams will be ready for a fight.
The Tide will be led by quarterback Greg McElroy, who finds ways to make the offense work. Aided by breakout wide receiver Julio Jones (885 receiving yards) and powerful running backs Trent Richardson and 2009 Heisman winner Mark Ingram, Alabama continues to hold its own with the SEC's third-best offense (35.3 points per game). In addition, Alabama maintain the SEC's best defense, allowing only 12.8 points per game. This should give Auburn fits as Newton struggles to combat the Tide's tough defense.
This is by far the game of the week. A spot in the BCS National Championship Game is on the line for Auburn, as a loss to Alabama, especially a bad loss, could put their chances in serious jeopardy. I realize that one-loss SEC team would probably get the bid over an undefeated TCU or Boise State, but one never knows in such a strange college football season.
Alabama wants badly to beat Auburn, maintain bragging rights for another year and humiliate Auburn and crush their undefeated season. It'll be defense this year; whoever wins the battle wins the game. And with that, the Tide will roll.
Alabama 21, Auburn 17
*On a side note, by hometown Millbury Woolies defeated their hated rival, the Grafton Indians, 36-7 winning the Thanksgiving game for the 11th straight year. Just a little shoutout for my Sheep.
Keep Reading