Auburn Vs. Alabama Football: The 20 Best Iron Bowl Performances Ever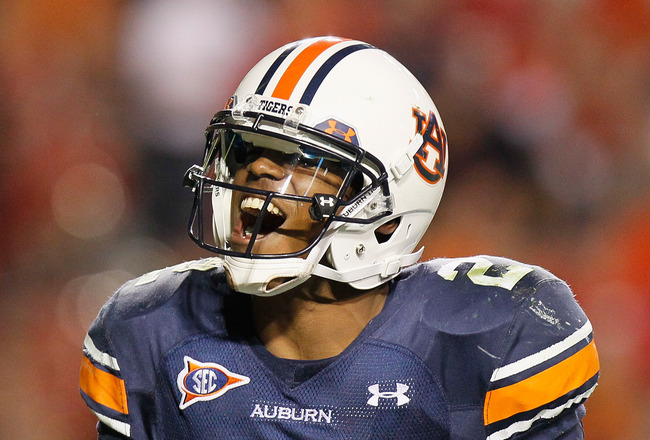 Kevin C. Cox/Getty Images
The 20 Best Iron Bowl Performances Ever will most likely have a new entry come Friday evening.
With Cam Newton on the field, and hoping to seal up more Heisman votes, he could rack up 500 yards of total offense or five touchdowns. If he does that against defending national champion Alabama and a fantastic defense, it might earn Newton "the greatest Iron Bowl performance of all time."
Then again, if the eleventh-ranked Crimson Tide upset the undefeated, second-ranked, and SEC East winning Tigers, then Greg McElroy, or Trent Richardson, or last year's Heisman Trophy winner Mark Ingram could earn that spot.
The Tigers and Tide started this series in 1893 (Alabama leads the series 40-33 with one tie) so there have been plenty of heroes on both sides.
Here's a look at the 20 greatest performances in the annual Iron Bowl between Auburn and Alabama.
No. 20: Joe Namath, Alabama, 1964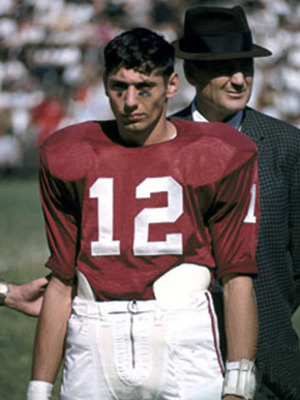 Crimson Tide 21, Tigers 14
In his final Iron Bowl (he would be drafted by the New York Jets the next spring), senior quarterback Joe Namath and the 9-0 Crimson Tide faced 6-3 Auburn at Legion Field in Birmingham.
A win for Bear Bryant's second-ranked team would secure their first SEC Championship in three seasons and a spot in the Orange Bowl.
Ahead 14-7 in the fourth quarter, Namath's 23-yard play-action pass to Ray Perkins (Bryant's eventual successor at Alabama) sealed the victory and the Tide completed their undefeated regular season. Namath completed 10 of 14 passes for 114 yard.
Unfortunately, in the Orange Bowl, Namath was out with an injury, until Steve Sloan was injured and Namath came off the bench. He won MVP honors, but the Tide still fell to Darrell K. Royal's Texas Longhorns, 21-17.
No. 19: Bobby Marlow, Alabama, 1950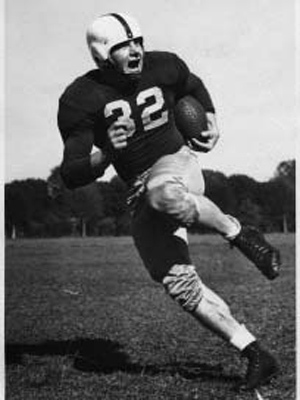 Crimson Tide 34, Tigers 0

Eight years before Bear Bryant would come to Tuscaloosa, the Tide trailed Auburn 8-6-1 in the Iron Bowl, having been upset 14-13 a year earlier, in 1949.
But in 1950, the winless Tigers were no match for the 8-2 Tide.
Troy, Alabama native, 195-pound sophomore Bobby Marlow ran for two touchdowns and caught another to lead the Tide to a crushing 34-0 win in front of 39,000 at Legion Field.
Still, Alabama didn't cover the spread.
No. 18: Tre Smith, Auburn, 2002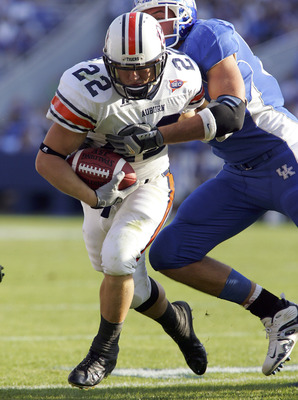 Andy Lyons/Getty Images
Tigers 17, Crimson Tide 7

9-2 Alabama already had a spot in the SEC title game locked up by the time of the Iron Bowl, but that didn't make the game any less important for them: it was the Iron Bowl.
At 7-4, Auburn was fighting for a spot in a bowl: and, it was still the Iron Bowl.
The Tide had one of the best defenses in the nation, allowing just 277 yards per game. That would have bothered head coach Tommy Tuberville less had his two star running backs, future first round draft picks Cadillac Williams and Ronnie Brown, not been forced out of the game because of injury.
Tuberville turned to freshman Tre Smith, who rushed for 126 yards on 25 carries. Two touchdown passes from Jason Campbell gave the Tigers a 17-7 win, their 28th Iron Bowl victory, and a spot in the Capitol One Bowl, where they defeated Joe Paterno's Nittany Lions.
No. 17: Glen Coffee, Alabama, 2008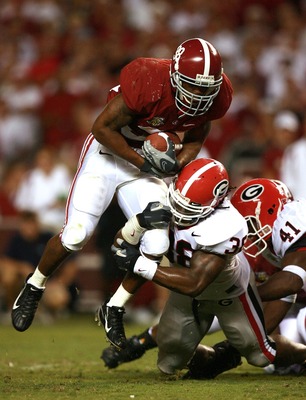 Doug Benc/Getty Images
Crimson Tide 36, Tigers 0

In the worst loss in the Iron Bowl in 46 years, Alabama clobbered Auburn 36-0.
Glen Coffee scored the games first touchdown racing 41 yards in the second quarter to give Alabama a 10-0 lead.
The backups started to take over in the second half, including a freshman running back named Mark Ingram Jr, and padded the lead. But Coffee was the best player on the field that afternoon.
The junior ran for 144 yards on just 20 carries as the Crimson Tide finished a perfect 12-0, heading into the SEC Title game against Tim Tebow's Florida Gators.
No. 16: Pat Sullivan, Auburn, 1970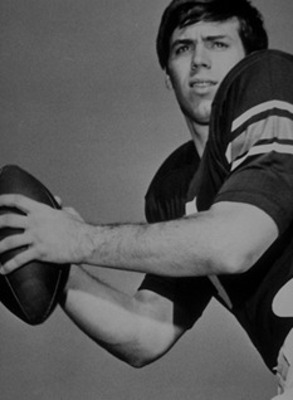 Tigers 33, Crimson Tide 28

After snapping a six-game losing streak in the Iron Bowl, the Tigers looked to make it two in a row in 1970.
And a year before he would win the Heisman Trophy, junior quarterback Pat Sullivan and the Tigers fell behind 17-0 in the first quarter.
But a field goal and a two Sullivan touchdown tied the game at 17.
In the fourth quarter, with the game even at 20-20, Sullivan connected with Robby Robinett for a 17-yard touchdown that gave Auburn their first lead.
After the Tide scored on a 54-yard touchdown pass from Scott Hunter to George Ranger took the lead with a two point conversion.
But Sullivan promptly hit Mickey Zofko for a 36 yard gain and two plays later Wallace Clark scored from three yards out to give the Tigers the win.
Sullivan finished the game with 317 yards passing.
No. 15: Bo Jackson, Auburn, 1982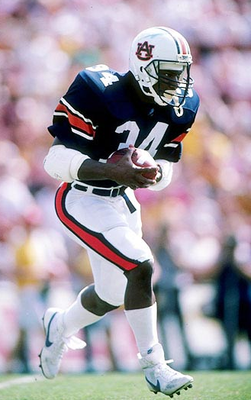 Tigers 23, Crimson Tide 22

Fittingly, Bear Bryant's final Iron Bowl was a classic and the closest contest in the game's history.
Less than two months before he died, Bryant led his 7-3 Tide into Legion Field to play the Tigers. After starting out 5-0, Alabama had lost a midseason game to Tennessee and then two straight, to LSU and Southern Miss, coming into the Iron Bowl.
Although they were now unranked, Alabama had won the previous nine meetings against their bitter in-state rival, who was also 7-3 and coached by Pat Dye, a former Bear Bryant assistant. Bryant had won 30 straight games against former assistants.
The Tide led 22-15 with just a few minutes remaining when Auburn got the ball back. But thanks to a freshman running back named Vincent Edward Jackson (also known as Bo), the Tigers drove 66 yards to the Alabama one.
On fourth and goal, Jackson plunged into the endzone to give the Tigers a 23-22 lead with just over two minutes remaining. The future Heisman Trophy winner finished the day with 114 yards.
Auburn hung on to win, earned a trip to the Tangerine Bowl, and dealt the Tide their worst regular season record since 1969.
No. 14: Ken Stabler, Alabama, 1967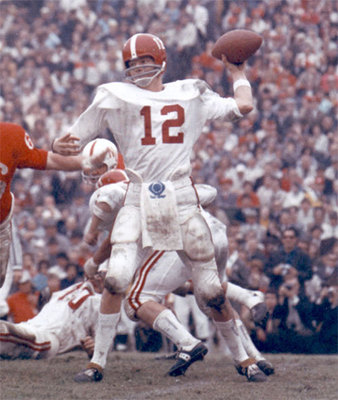 Crimson Tide 7, Tigers 3

A week after Thanksgiving, senior lefty quarterback Ken Stabler and the 7-1-1 Tide met the Tigers in Birmingham.
The Tide defense had been outstanding coming into the Iron Bowl, allowing just 16 points in their previous four games, wins over LSU, Mississippi State, South Carolina, and Clemson.
And against the Tigers, it continued. Alabama allowed just five first downs and field goal on a windy, rainy day at Legion Field. The only problem was that Auburn completely shut out the Tide.
Trailing 3-0 in the fourth quarter, Stabler and the Tide abandoned the passing game: the senior had completed just three passes for 12 yards with an interception.
With 11 minutes remaining, Stabler faked a toss to the outside and raced 47-yards for the go-ahead touchdown.
The Tide prevailed, 7-3, earning a spot in the Cotton Bowl, where they lost 20-16 to Texas A & M.
No. 13: Ed Salem, Alabama, 1948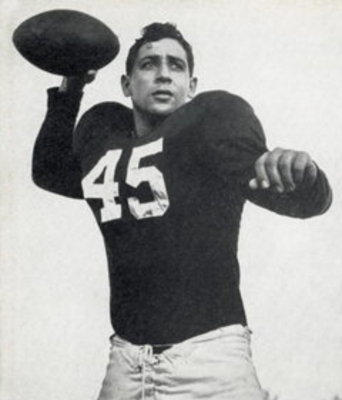 Crimson Tide 55, Auburn 0

Following a 6-6 tie in 1907, Alabama and Auburn didn't play each other for the next 40 years.
The Iron Bowl finally returned in early December 1948, when coach Harold Drew's tide met Earl Brown's Tigers before 46,000 at Legion Field in Birmingham.
The game was a route as the 5-4-1 Tide thumped Auburn 55-0.
Ed Salem, a 187-pound sophomore "halfback" completed eight of 10 passes for 159 yards and three touchdowns. He also rushed for another score.....and made seven extra points, until the eighth was blocked.
No. 12: Patrick Nix, Auburn, 1993
Tigers 22, Crimson Tide 14

Although the program was on probation, the Tigers earned one of their greatest Iron Bowl victories in November 1993.
First year head coach Terry Bowden led Auburn to a 10-0 record in 1993 and a six-spot in the AP polls, although they were not allowed to play in a bowl game.
That season's Iron Bowl was still special however: when Alabama came to play at Auburn, for just the second time ever, they were the defending national champion. (At 8-2, they would eventually forfeit all their wins because of violations.)
A 63-yard touchdown run by Kevin Lee, helped the Tide take a 14-5 halftime lead. And things got worse for the Tigers in the third quarter when starter Stan White was injured.
Sophomore quarterback Patrick Nix, who had only thrown 12 passes all season, entered the game and immediately threw a 35-yard touchdown pass to Frank Sanders, cutting the Bama's lead to 14-12.
A fourth quarter field goal gave the Tigers a one point lead. Then an interception and a 70-yard touchdown run by James Bostic sealed the Tigers 22-14 win and an 11-0 season.
No. 11: Steadman Shealy, Alabama, 1979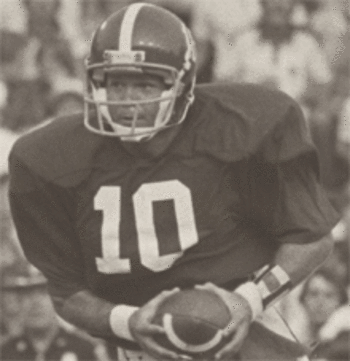 Crimson Tide 25, Tigers 18

The Tide were already defending national champions when they met 8-2 Auburn in the 1979 Iron Bowl.
More importantly, Alabama was 10-0, had won 19 straight games, and was in line for a second national championship.
The Tigers stunned everyone when two quick touchdown passes by Charlie Trottman, less than four minutes apart, gave Auburn an 18-17 lead in the final period.
With roughly 11 minutes remaining, junior quarterback Steadman Shealy and the Tide offense took the field. Steadman, who had watched Jeff Rutledge lead the Tide to the national title a year earlier, had already ran for a touchdown and thrown for another.
And with the season on the line, Steadman's runs and passes drove the Tide to the Auburn eight-yard line.
With eight minutes remaining he raced the rest of the way to score the go-ahead touchdown. He then scored an enormous two-point conversion, that pushed the Alabama lead to a full touchdown, 25-18.
Alabama's defense closed out Auburn in the final minutes, but without Shealy three touchdowns, the Tide might not have won a second straight national championship (Bear Bryant's last) on New Year's Day 1980.
No. 10: Cadillac Williams, Auburn, 2003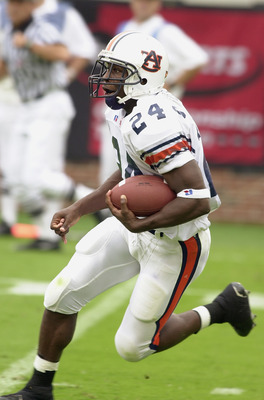 Erik S. Lesser/Getty Images
Tigers 28, Crimson Tide 23

Neither team was contending for much in 2003: under former Tide quarterback Alabama was a miserable 4-7 coming into the Iron Bowl. Under Tommy Tuberville, the Tigers were only 6-5.
Still the two teams put on a decent show, thanks mostly to junior Carnell Williams.
On the first play of the game, Cadillac ran 80 yards for a touchdown. And after Alabama had narrowed the Tigers lead to just five points, 21-16, Williams scored another touchdown midway through the third period to put the game away.
Williams finished with two touchdowns and 204 yards on 26 carries.
No. 9: Van Tiffin, Alabama, 1985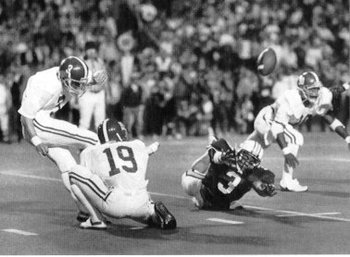 Crimson Tide 25, Tigers 23

An incredible day from senior running back Bo Jackson gave the seventh-ranked Auburn Tigers a chance to win the 50th edition of the Iron Bowl.
But three field goals from junior kick Van Tiffin kept the game close.
Auburn's Reggie Ware gave the Tigers a 23-22 late fourth quarter lead. But with less than a minure remaining, Alabama quarterback Mike Shula, son of Dolphins head coach Don Shula and future Tide head coach, drove the Tide to the Alabama 35 yard line.
With a few seconds remaining, former Bear Bryant player Ray Perkins called on Tiffin to attempt the game winner.
Into the win, Tiffin nailed the 52-yarder earning the 8-2-1 Tide a great comeback win and a spot in the Aloha Bowl against USC.
No. 8: Reggie Slack, Auburn, 1989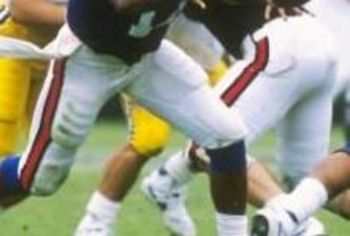 Tigers 30, Crimson Tide 20

In the middle of the 1980s, Auburn began to put a dent into Alabama's longstanding lead in the Iron Bowl series.
They defeated the Tide 21-17 in 1986, then won two more in 1987 and 1988 and, coincidentally, won consecutive SEC title those two seasons.
And in 1989, for the first time ever, in 54 games, Auburn would host Alabama. And if the 8-2 Tigers won, it would give them a third straight SEC Title.
But Bill Curry's Alabama team was 10-0 and a shoo-in for the Sugar Bowl.
Before 85,319 at Jordan-Hare Stadium, the Tide took a 10-7 halftime lead, but Auburn quarterback Reggie Slack completed passes of 58, and 60 yards to lead the Tigers to consecutive touchdown drives that pushed the Tigers ahead 24-10 in the fourth quarter.
Auburn won the game 30-20; Slack finished the game 14-for-26 for 276 yards passing and Auburn won (a share of) their third straight SEC, earning a trip to the Hall of Fame Bowl.
No. 7: Jason Campbell, Auburn, 2004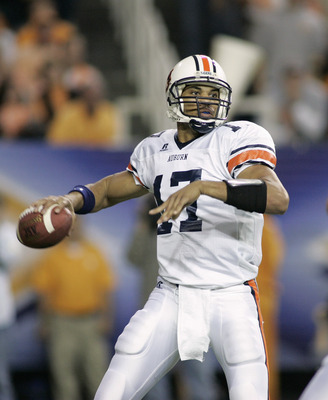 Grant Halverson/Getty Images
Tigers 21, Crimson Tide 13

A year after Cadillac Williams had a great individual game in a pretty meaningless game for both teams, his teammate Jason Campbell turned in another masterful performance, and one that meant something......sort of.
6-4 Alabama took a surprising 6-0 lead into halftime at Bryant-Denny Stadium. Surprising because the Tigers were 10-0 and the second ranked team in the nation.
But in the second half, senior quarterback Jason Campbell, who was largely overshadowed by his great running backs Williams and Ronnie Brown, was outstanding. He led the Tigers on three lengthy, second-half touchdown drives, and Auburn won 21-13.
Campbell, was 18-for-24 for 224 yards and a touchdown.
The undefeated Tigers then defeated Tennessee in the SEC title game but still got cheated out of a shot at the National Championship.
No. 6: Steve Sloan, Alabama, 1965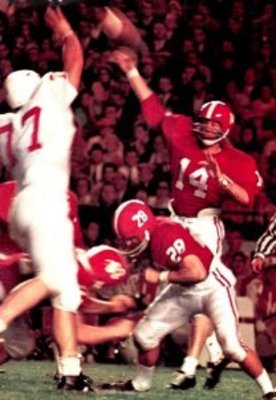 Crimson Tide 30, Tigers 3

In the first eight decades of the Auburn-Alabama rivalry, the Tide held the overall series edge for just one year: they defeated the Tigers in 1952 to lead the series take a 9-8-1.
Auburn quickly regained control, winning the next five games. Slowly, Bear Bryant started to even the series and by 1964, the series was once again tied.
And in 1965, a year after Joe Namath had left, the Tide walloped Auburn 30-3 in the Iron Bowl to take a lead in the series that they still have not relinquished.
The star of that 30-3 victory in Birmingham was quarterback Steve Sloan. The senior threw three touchdown passes, including one to Ray Perkins, and passed for 226 yards, completing 13 of 18 attempts.
The 8-1-1 Tide went on to defeat third-ranked Nebraska in the Orange Bowl and earn the AP National Championship.
No. 5: Bo Jackson, Auburn, 1985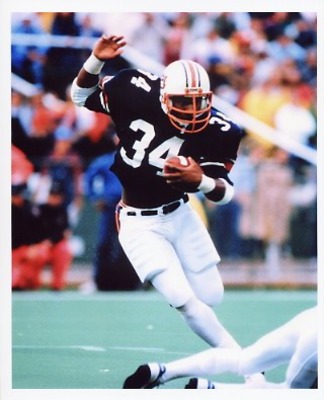 Crimson Tide 25, Tigers 23

Auburn had the greatest college football player in the world, perhaps of all time, heading into the 1985 edition of the Iron Bowl.
And senior Bo Jackson did not disappoint when the Tigers and Tide met on November 30, Jackson's 23rd birthday.
Jackson rushed for 142 yards yards on 33 carries with two touchdowns. And two broken ribs.
Still, thanks to Van Tiffin (number 9 on this list), the Tigers lost the game.
A minor consolation for Bo: a week later, in the closest vote ever, Jackson edged out Iowa's Chuck Long to win the Heisman Trophy.
No. 4: Johnny Musso, Alabama, 1971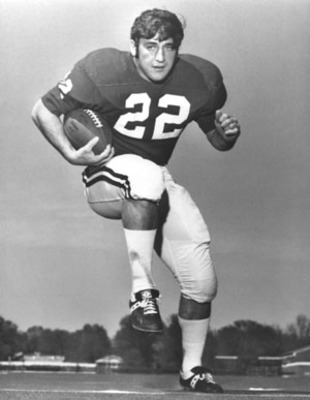 Crimson Tide 31, Tigers 7

When the Iron Bowl again got under way late November 1971, both teams were in the hunt for the SEC title and a national championship.
At 10-0, the Tide was ranked third in the nation, but the Auburn was right behind them, 9-0 and ranked fifth in the nation.
And Auburn also had the biggest star on the field, senior quarterback Pat Sullivan. The next month, Sullivan would become the first Tiger to win the Heisman Trophy.
But Sullivan (14-for-27, 121 yards, two interceptions) was upstaged by Alabama's Johnny Musso.
The senior running back who would later play for the Chicago Bears as well as in World League and the CFL, ran for 167 yards and two touchdowns on 33 carries, all on a bad toe.
Thanks to a 42 minutes to 18 minutes advantage in time of possession, the Tide won 31-7, to earn a their fourth SEC title under Bear Bryant and a spot in the Orange Bowl.
There they were crushed 38-6 by Johnny Rodgers and top ranked and eventual national champion Nebraska.
No. 3: Greg McIlroy, Alabama, 2009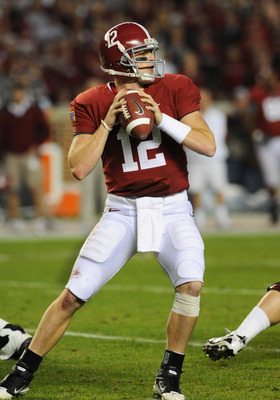 Al Messerschmidt/Getty Images
Crimson Tide 26, Tigers 21

After charging through the SEC in 2009, the Crimson Tide faced their toughest battle of the regular season (fittingly) against their rival Auburn.
Although just 7-4 and under a new head coach in Gene Chizik, the Tigers carried a 21-20 lead until less than nine minutes remained in the game.
Then, junior quarterback Greg McElroy led the Tide on an incredible 15-play, 79-yard drive that ate up more then seven minutes of clock. With 94 seconds remaining, McElroy's four-yard touchdown pass to Greg Upchurch gave the Tide a 26-21 comeback win.
McElroy's stats (18-for-24, 218, two touchdowns) weren't outstanding. But considering what he did in that drive, with a perfect season and a shot at an SEC and ultimately a BCS title on the line, it was one of the greatest performances in Iron Bowl history.
No. 2: Bo Jackson, Auburn, 1983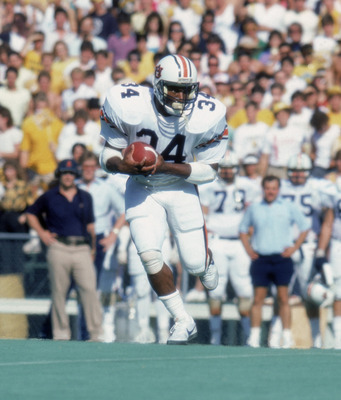 Scott Cunningham/Getty Images
Tigers 23, Crimson Tide 20

Having won the 1982 Iron Bowl via freshman Bo Jackson's last minute go-ahead touchdown, the Tigers hoped to make it two in a row in 1983.
At 9-1 (their only loss came against third-ranked Texas in mid September), third-rankeAuburn was in line for their first SEC title since 1957 and a major bowl appearance.
And although 1983 was the Tide's first season in over 30 years without Bear Bryant (Ray Perkins left the New York Giants to take over at his alma mater), Alabama, behind runners Ricky Moore and Kerry Goode, took a 20-16 lead in the second half.
Then sophomore Bo Jackson scored on a 71 yard touchdown run to take the lead. Jackson, who would finish the day with 20 carries for 256 yards, also had a 69 yard touchdown run earlier in the game.
The Tigers won the game 23-20, clinching an undefeated SEC season, and a spot in the Sugar Bowl, where they defeated Michigan, 9-7.
No. 1: David Langner, Auburn, 1972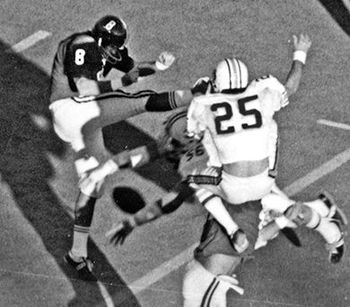 Tigers 17, Crimson Tide 16

1972 is generally regarded as the greatest installment of Iron Bowl ever.
The Tide were 10-0 coming into the annual game against Auburn. In fact, they had won 21 consecutive regular season games and, thanks to Johnny Musso, clobbered the Tigers a year earlier.
But Auburn was 8-1, only losing at LSU seven weeks earlier.
Still, the Tide boasted a 16-0 lead with 10 minutes to play.
Auburn quickly cut the lead to 13 points then forced a punt by Alabama on the ensuing possession. At the Tide's 24 yard line, Bill Newton, a 218-pound linebacker, blocked punter Greg Gantt's kick. David Langner, a 170 pound defensive back from nearby Birmingham, picked up the ball, and scored, pulling the Tigers seven points closer.
Not long after, the Auburn defense again forced an Alabama punt, this time from the Tide's 43 yard line. Again Newton blocked Gantt's kick and Langner returned it for a touchdown.
The Tide had one last chance to get in range for a field goal, but Langner intercepted Terry Davis pass at the 41. It was Langner's second pick of the day.
The 16-point underdog Tigers won the game 17-16 and earned a spot in the Gator Bowl against Colorado.
Keep Reading

Alabama Crimson Tide Football: Like this team?