Auburn-Alabama: 14 Players Who Will Determine the Iron Bowl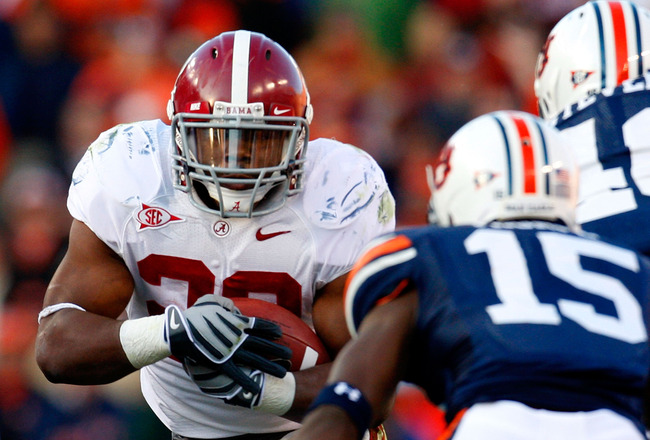 Marky Mark better bring his A game.
Kevin C. Cox/Getty Images
It's the duality of it all, isn't it?
Alabama-Auburn. Us-Them.
Good guys versus bad guys—no matter what side you're on.
That's the way it is with rivalry games. Passions, emotions, history, and then, from the mists of all those games, a new set of heroes emerges.
Or a new set of goats.
So it goes on, even in this, with the duality of it all.
Winners and losers.
In keeping with this idea, let's look at seven matchups, 14 players and coaches in all, who will determine who wins and who loses the 75th edition of this classic.
Kirby Smart vs. Gus Malzahn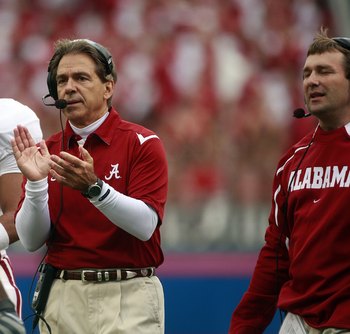 The Brain Trust
Dave Martin/Getty Images
The Irresistible Force vs. the Immovable Object. That pretty well summarizes the matchup between Auburn offensive coordinator Gus Malzahn and Alabama defensive coordinator Kirby Smart.
Smart's the reigning Broyles Award winner for best college assistant coach in leading the Tide defense to a national title last year.
Malzahn, for his part, has completely transformed Auburn into an offensive juggernaut with a hurry-up, no-huddle offense that leaves defenses gasping for air.
Coach Nick Saban recognizes the special challenges a Malzahn offense presents to his young Tide defense.
"They present [the offense] to the defense in various ways that requires a lot of adjustments that need to be made," Saban said.
Auburn's Gene Chizik returned the compliment, saying about Smart, "When you're the No.1 scoring defense in this league, you're doing a great job of coaching."
One of these two assistant coaches will emerge from this game with a win and with the bragging rights for the next 12 months. Both of them see the possibilities of lucrative head coaching opportunities in their near futures.
What happens when that Force comes up against that Object?
That's why they play the Iron Bowl.
Greg McElroy vs. Cameron Newton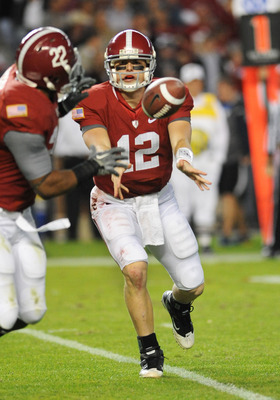 Dear Lord, let this be the only type of pass Greg tries all game. Amen.
Al Messerschmidt/Getty Images
Of course, everyone will yell that comparing Greg McElroy to Cam Newton is like comparing a Jeep to a Ferrari—it's useless to do so since each machine is used for different things.
Auburn fans would more likely compare the two signal-callers to a plow horse and a racehorse.
While it might make more sense to compare, say, 'Bama's defensive line to Cam Newton, when it comes down to it, the real rivalry here is between the two quarterbacks as to which one can direct his team to the end zone.
And in high-pressure games like this, McElroy has experience. Twice last year—in back-to-back games, in fact—Greg was unfavorably compared to all-star quarterbacks.
Ask Tim Tebow which quarterback played better in the SEC Championship Game last December. Ask Colt McCoy (or even Garrett Gilbert, the supposed wunderkind backup for Texas) which quarterback has a ring with "National Champions" engraved on it.
But for funsies, let's compare some passing statistics:
McElroy: 2,390 yards, 17 touchdowns, five interceptions. Newton: 2,038 yards, 21 touchdowns, six interceptions.
Sure, Newton rushes for far more yards, but McElroy has the track record of winning and managing the game well.
This will be Cam Newton's biggest stage so far. We know how McElroy does under this kind of pressure: He wins.
The question remains: How will Newton react?
Lee Ziemba and the Auburn O-Line vs. Marcel Dareus and 'Bama's D-Line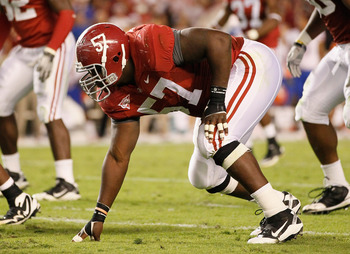 Dareus might give Cam Newton night terrors.
Kevin C. Cox/Getty Images
If Cameron Newton is to run amok at Bryant Denny come Saturday, his offensive line must gash huge holes in the 'Bama defensive front. Put Cam in the Alabama defensive backfield, and it'll be a long night for the boys in crimson.
The task, then, for Alabama, is for defensive lineman Marcel Dareus and his counterparts, nose guard Josh Chapman and defensive end Kerry Murphy, to fight off blocks, get a paw on Newton and the other Tiger rushers, and slow 'em down long enough for the linebackers to make the stops for minimal gains.
But that will be no easy task. Auburn features one of the most experienced offensive lines in the nation. Led by 6'8", 319-pound left tackle Lee Ziemba, the Tigers boast a front five that rivals any the Tide has faced all season.
Coach Nick Saban noted that the Tiger O-line "executes well. Their offensive line does a good job."
And Marcel Dareus himself realizes that facing Ziemba and the Tiger line will be daunting. "We really have to buckle down and play assignment football," Dareus said.
"If everybody does their assignment, there is nothing they can do. We have to do everything we can to play our assignments, play your man and contain them."
Auburn's Wes Byrum vs. 'Bama's Kicker-by-Committee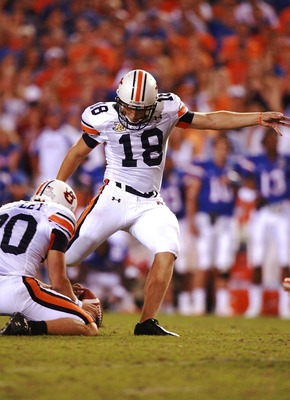 The kid's clutch.
Doug Benc/Getty Images
Last year, Alabama had a kicker with the self-proclaimed moniker of "Money." But Lee Tiffin graduated and took his record-setting leg with him.
In his place is an odd mix of a short field-goal kicker (sophomore Jeremy Shelley) and a long field-goal kicker (freshman Cade Foster). Together, the pair are 17 of 23 (.739) and coming off an 0-2 performance against Georgia State. At times, even extra points have been a struggle for the Tide kicking game.
Meanwhile, Auburn's Wes Byrum has quietly become the school's leading scorer and has the record for points in a season by a kicker. He's hitting nearly 80 percent of his kicks this year.
Besides, Byrum is responsible for two of Auburn's wins this season (he beat Clemson in OT with his leg and Kentucky with a FG as time expired). For his career, Byrum has five game-winning field goals.
When the game's on the line, who'd you rather turn to for three points and the win? A proven entity or a kicker-by-committee?
Nick Fairley and Auburn's D-Line vs. William Vlachos and 'Bama's O-Line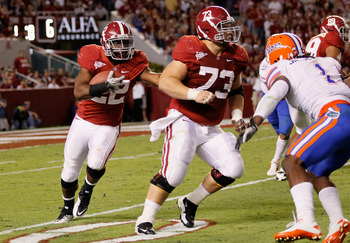 This looks like the beginning of a beautiful friendship.
Kevin C. Cox/Getty Images
"He's a very dominant player. He's very athletic and plays hard. He's very physical and plays with a lot of toughness. He's certainly a guy you have to handle on the inside–run and pass. He's probably as good an interior lineman, in terms of being a playmaker, as any guy we've played all year and probably in the country."
So said Alabama's Nick Saban when asked about Nick Fairley this week. He's enough to give the 'Bama coach some serious nightmares. He's among the national leaders in tackles for loss, as well.
Fairley heads an Auburn defensive squad that has shown consistent improvement throughout the year. After allowing 169.8 yards per game through the first 10 games last season, Auburn now ranks third in the SEC and 18th nationally this season against the run, allowing just over 114 yards per game.
That does not bode well for Alabama's rushing attack. And if Alabama hopes to win against the Tigers, they must establish the line of scrimmage and rush with authority.
That's because teams don't even come close to beating Auburn if they have to pass. Case in point: Clemson. Clemson's Tigers ran for just under 200 yards against Auburn and came within a whisker of beating them. In contrast, Arkansas threw for well over 400 yards—and lost by three touchdowns.
Vlachos, the undersized center of the Alabama line, plays much bigger than he is. He is often the one pulling out in front to lead the way for Ingram and Richardson and the 'Bama rushing attack (see above).
Whoever wins this battle, perhaps even more than the Bama D-line vs. Auburn O-line battle, will determine the game's outcome.
Auburn's Darvin Adams vs. Alabama's Julio Jones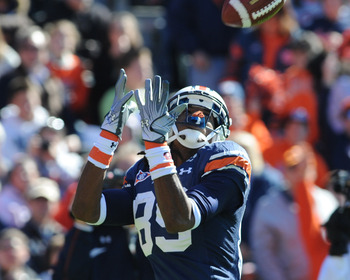 Davin's good; he's not Julio good; but he's good.
Al Messerschmidt/Getty Images
Auburn's Darvin Adams has caught 39 passes for 663 yards and five touchdowns. Yet, he doesn't get the respect and awe that Alabama's Julio Jones gets, despite sporting better averages than Julio.
Jones boasts a team-leading 885 yards on 65 catches with six touchdowns. Great numbers, surely, but Julio's targets are often short passes from McElroy, whereas Adams is on the receiving end of long throws by Cameron Newton.
And don't forget, Adams has a decent supporting cast of fellow receivers, including Terrell Zachery (34 receptions for 476 yards), Emory Blake (21 catches for 398 yards and five scores), and Mario Fannin out of the backfield (15 grabs for 151 yards).
But so, too, does Julio. Marquis Maze can point to a solid season so far, with 32 catches and 467 yards, as can Darius Hanks (27 for 417). Trent Richardson fits the Fannin role for 'Bama with 245 yards on 19 catches (and four of them touchdown catches).
So, which team has the better receiving corps?
It'll be the one with the victory come Saturday.
Gene Chizik Verses Nick Saban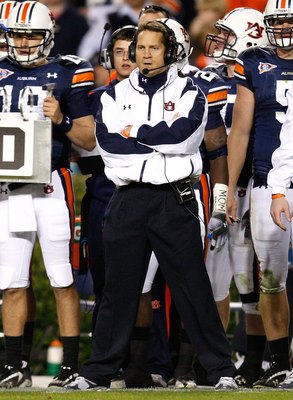 This is the big one for Gene-Oh.
Kevin C. Cox/Getty Images
Last year's Iron Bowl saw the undermanned and under dog Auburn Tiger team take the eventual national champs to the wire.
Only some McElroy magic on the final drive for 'Bama pulled it out in Jordan Hare Stadium.
The game was as close as it was because Gene Chizik is (admit it, 'Bama fans) a good coach who got his team incredibly well prepared for the game.
The Tigers threw everything at the Tide last year; reverses, trick plays, and even some good ol' smash mouth football.
But it was not enough.
This year, though, it's different. This year, it's Auburn who seems destined to play for a national title. And head coach Gene Chizik is in line for several coach of the year awards.
Will Chizik pull out the victory on the road to keep his team's dream of going to Glendale, or will Saban's experience in big games allow him to prepare his charges for the challenge of facing Auburn? Can Chizik get his guys ready for the Bryant Denny experience? It's really the young Auburn coach's first time in the spotlight as the higher ranked team.
And both coaches respect the man on the other sideline. Saban said, this week, "I don't think there's any question about it. They do a lot of things and do them very well. It's well-conceived what they do. They do a good job of executing."
Chizik answered, "They're very well-coached. There's no question about that."
Saturday will answer the question, at least for now: Which one is better? The wily, wizened veteran coach or the up and coming new blood?
Keep Reading

Alabama Crimson Tide Football: Like this team?