College Football and Thanksgiving: 15 Things To Be Thankful for in 2010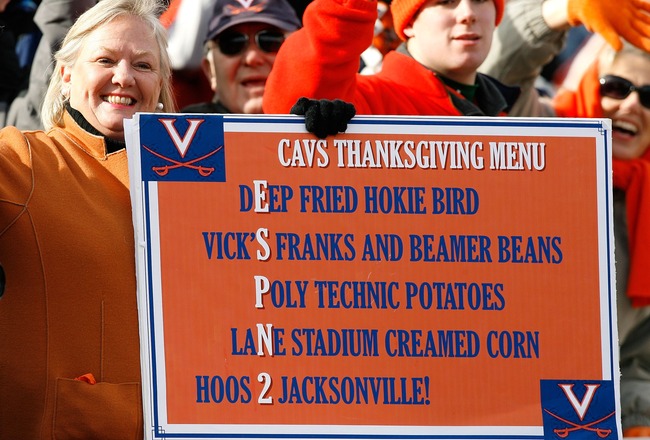 Kevin C. Cox/Getty Images
It's that time of year again.
As we all gather round the dinner table, it is time to give thanks for all the blessings in our lives.
No, I am not talking about your family, friends, job or your new cell phone.
I am talking about the glory of college football.
College football and Thanksgiving—well, that is a deadly combination.
So on this special occasion, let us take the time to recount what we are thankful for in college football this season.
Some of them are timeless, some of them are newfound developments and some of them are just plain ridiculous.
Feel free to add your own!
1. Offensive Fireworks of Oregon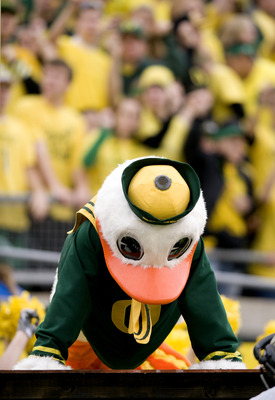 Steve Dykes/Getty Images
Football, when executed perfectly, is a thing of art.
Oregon plays offense the way we all wish our team could play. Not only do they score quickly but they do it effectively and tenaciously.
Oregon literally marches down the field and puts just about every other team on notice that they will have to put forth an amazing effort to keep up.
After all this talk about defense winning championships, we are thankful to see some entertaining football being played on the biggest stage.
The Ducks look poised to be a potent national championship contender and the offense remains the biggest reason why.
Plus, who doesn't enjoy watching the Duck do nearly 200 push-ups a game?
2. Les Miles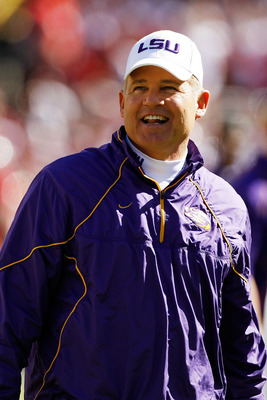 Chris Graythen/Getty Images
Oh yes, the Mad Hatter. Les Miles is funny man.
Sometimes we're laughing at him, sometimes he gets the last laugh.
Miles and his play-calling are so bizarre that LSU is really must-see TV.
Fake field goals, bad clock management and eating grass are all a part of a typical Tiger Saturday.
Miles is fun for the whole family and you can bet he will have more opportunities for craziness come bowl season.
3. Erin Andrews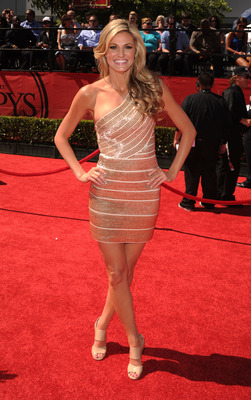 Jason Merritt/Getty Images
It takes a lot for young adult males to wake up early on a Saturday morning.
However, Erin Andrews is certainly worth the lack of sleep.
Andrews may be the best part of College GameDay on ESPN and by far the best sideline reporter in football.
Beauty may be in the eye of the beholder and fortunately, we should be beholding Andrews for years and years to come.
4. Cam Newton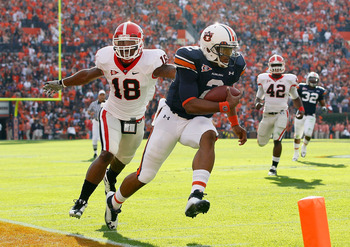 Kevin C. Cox/Getty Images
The most entertaining college football player on the field has provided plenty of headlines off the field as well.
Newton is must-see TV every week in college football and is a Heisman frontrunner, just two games away from a BCS Championship appearance.
Newton is a story to be thankful for either way you look at it.
Either he is a redemption story, coming from junior college after a bad start at Florida to become a college star or he is a manipulative, wheeling-and-dealing kingmaker who sold his services to the highest bidder.
Either way, aren't you thankful we get to see him play in the SEC?
5. Joe Paterno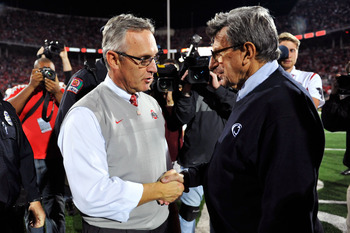 Jamie Sabau/Getty Images
Make fun of the man all you want but there is no denying that Penn State head coach Joe Paterno is a living legend.
How often can you say you got to see one of the greatest of all-time?
Coach Paterno has over 400 career victories, 24 bowl game wins, three Big Ten titles and two national championships. All of this has helped make Penn State a household name.
Sure, who knows how much he actually coaches the team to this point. He also scared us with that injury he received on the sidelines last season.
Nevertheless, I know I will be sad when the coach finally hangs them up.
However, after an affirmation that he will back in 2011, we might be thankful for another year.
6. Greatest Rivalry Games of the Year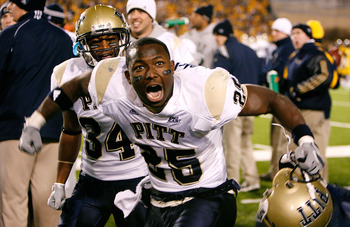 Kevin C. Cox/Getty Images
Any time you mix lots of food with football, it's a great idea.
When you add football as a distraction from annoying family members, life gets even better.
While some of these rivalry games may mean little on the national scene, you better believe they mean everything to the fan bases involved.
Pittsburgh and West Virginia provide some major hits in their Backyard Brawl.
Florida and Florida State have a game that may be far more competitive than in years past.
Michigan may be fighting for Rich Rodriguez's job against Ohio State.
Oh yeah, there's also the Iron Bowl, which not only features one of the greatest rivalries around but also has national championship implications.
That's definitely worth leaving the dinner table for a while.
7. Boise State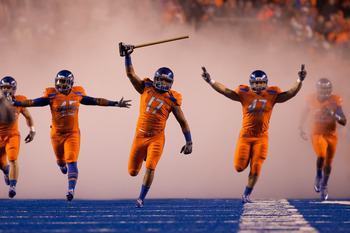 Otto Kitsinger III/Getty Images
Oh yes, the Broncos of Boise are something to be thankful for.
You probably heard the words from Ohio State's president earlier this week where he dismissed Boise State and TCU as unworthy of national championship consideration.
Well, whether you believe that or not, Boise State is a great thing for college football. It gains interest in the sport because people want to see if the Cinderella team can make it to the grand ball.
It is one of the most discussed topics in football this season and everyone should be thankful for the opportunity Boise State has to prove themselves later this year.
Now granted, if you're a Boise hater, maybe you should be thankful for James Madison. It was there humbling of Virginia Tech that may cost the Broncos their shot at glory.
Nevertheless, I am thankful for Boise State for one reason. If they can clear the hurdles and win the BCS title, it may force the powers that be to implement a playoff.
Who wouldn't be thankful for that?
8. Tailgating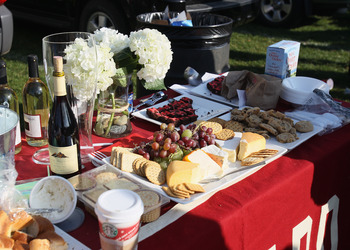 Elsa/Getty Images
By now, college football tailgating has become a fine art.
Whether you're in the deep South, the Midwest or showing some love in California, the tailgating sometimes steal the show for fans.
Good food, good drinks and good times are just the start to a perfect football Saturday.
When you think about how football and food go so well together, it only makes sense that the overload of sustenance known as Thanksgiving should go along with wall-to-wall football coverage.
It's just natural.
9. USC Song Girls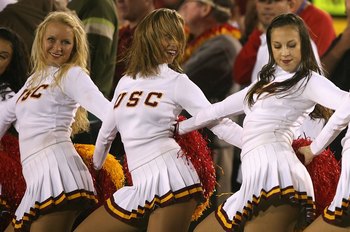 Christian Petersen/Getty Images
Some things are like a fine wine, they only get better with age.
Football has some wonderful cheerleaders, but the Trojans have the famous Song Girls.
No worries, despite all the NCAA violations imposed earlier this year, the Song Girls are just one of the many reasons why young teenage boys are going to take the leap to Southern California.
Since 1967, these lovely ladies have entertained the masses and become the standard of excellence for all universities.
Be thankful that when the Trojans are beating your favorite team down you have something good to look at it.
10. Syracuse Football Slowly Improving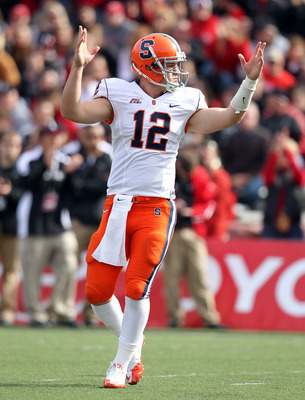 Andy Lyons/Getty Images
The Big East is awful.
Unfortunately, Syracuse has become used to awful.
Prior to this season, the Orange had not had a winning season since 2001. That's back when they were the Orangemen!
Is this really the program that gave us some of the best football players of all-time?
Say what you want about the Big Least, but the conference could get a needed shot of adrenaline if its storied program Syracuse started playing like the team of old and did not have to rely on former Duke basketball players to lead their team.
Fortunately, this year gave us reason for hope.
At 7-4, Syracuse is going bowling and are a part of the big log-jam known as the Big East standings.
The Orange look to be heading in the right direction under second-year head coach Doug Marrone, touting the second best total defense in the conference.
If Marrone can continue to bring in talent, he could have the Orange back where they should be. College football should be thankful for that.
11. Script Ohio
The Best Damn Band in All The Land, as Buckeye fans refer to them, know a thing or two about putting on a show.
I must say that I never really understood the hype around Script Ohio until I sat down and watched it. It really is something cool to behold and to think about some of the famous people that have dotted that I.
When Jack Nicklaus and Bob Hope are involved in a tradition, that's pretty cool.
As long as Ohio State continues to own the Big Ten, you better believe we will continue to see Script Ohio and it will continue to rev up the crowd towards another likely victory.
Marching bands need love too, boys and girls. Let's be thankful for that.
12. Michigan State's Intestinal Fortitude
We like risks in sports.
If you fail, you're an idiot but if you succeed, you're a genius.
Michigan State got on the national radar with the play of the year. Their fake field goal in overtime over Notre Dame sent the Fighting Irish into a downward spiral and set the Spartans up for a great season in 2010.
Even with the pressure of heightened expectations and a coach with heart complications, Michigan State has not lost that rolling of the dice mentality.
Trailing 17-7 at half against the Northwestern Wildcats, the Spartans attempted a fake punt that went for 21 yards and changed the complexion of the game.
Michigan State took some big risks this season and although their bid for a perfect season failed, you have to credit their courage.
13. Lee Corso's Head Gear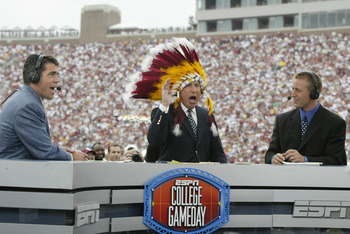 Craig Jones/Getty Images
I grant you that Lee Corso is a bit of a tool.
He is pretty corny but I genuinely love the last few minutes of College GameDay.
There is nothing funnier than seeing hundreds of people freaking out at the sight of a mascot's head atop a commentator.
Come on, don't you secretly love it when he picks up the home team's head gear only to throw it away and hear the cascade of boos that follow.
I wish I could inspire or frustrate that many people with a simple move.
Let's be honest, those 10 seconds are sometimes more entertaining than the games themselves.
I am still thankful for you, Lee Corso!
14. Nebraska's Move to the Big Ten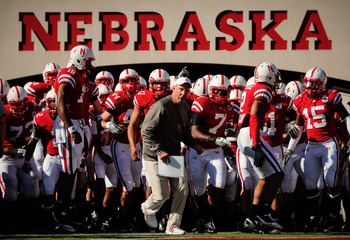 Eric Francis/Getty Images
Now on the one hand, Nebraska's move seems like a terrible loss of tradition.
Rivalry games against teams like Colorado and Oklahoma will be a thing of the past.
Nebraska seemed like it belonged in the Big 12, but this move will help both conferences.
First off, it gives the Big Ten what it desperately needs: A championship game.
We have all seen what happens to Ohio State after their long lay-off between the Michigan game and the championship game.
All too often, the schedule seems to have some weird quirk where a team like Michigan State does not have to play Ohio State.
This may not eliminate the lucky schedules, but it will certainly improve the overall depth and respectability of the Big Ten.
Meanwhile, the Big 12 have found a blessing in disguise.
The inequity between the Big 12 North and the Big 12 South has been laughable for years. While Texas has struggled and Nebraska and Missouri are playing well, the South may be one of the deepest divisions around.
If every Big 12 team plays each other, it will make for a much better season. It also helps us avoid some of the ugly conference championship games we have seen in past years.
Conference re-alignment may not have hit the doomsday scenarios we once predicted, but this is a move that both sides should be thankful about.
15. Four-Day Weekend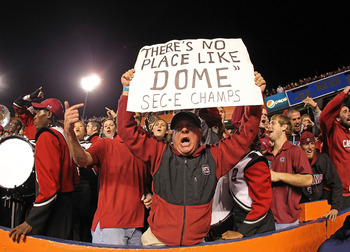 Mike Ehrmann/Getty Images
We can all be thankful for a national holiday that gives us the time to be with family, eat turkey and watch lots of football.
No matter how this weekend and the season has treated your team so far, that makes us all winners.
Keep Reading