Power Ranking Ohio State's Top 10 Fails In Anticipation Of Michigan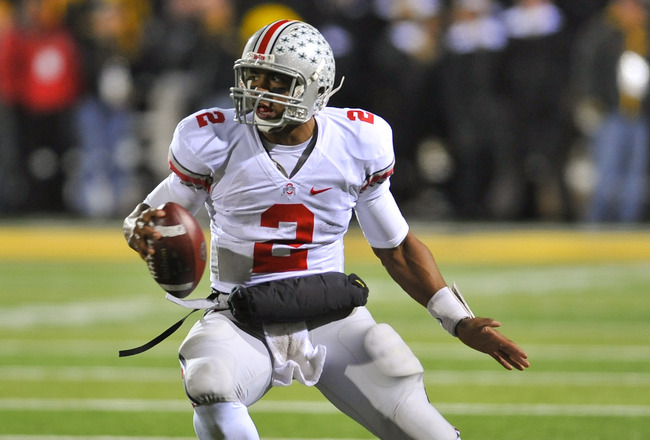 David Purdy/Getty Images
It's time to get your hate on folks.
In honor of Monday of Ohio State week, I present to you Ohio State's Top 10 fails. And as a bonus, there are 3 honorable mentions. In a rivalry filled with just as much hate as story, why not start it off with a few incendiary remarks?
Friendly Reminder:
Please keep Ann Arbor clean and leave your trash in Ohio.
That is all.
Honorable Mention: OSU's New Jerseys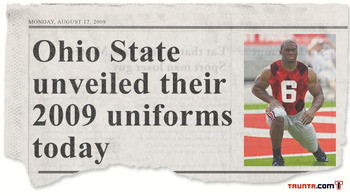 Apparently they've had to delay the new jerseys as I've yet to see this on the field. I hear the restriction of blood to the arms can really help with the passing game, which is presumably why Tressel opted for these [it's certainly not because they look like his sweatervest, if that's what you were thinking].
I presume they'll actually be debuting in 2010. Good news for Pryor -- his passing game needs some work, and, as he so eloquently stated, he'll be returning to Ohio State until he "breaks all the records."
It just goes to show you. Teamwork is a pee-wee league thing.
Honorable Mention: The Fanbase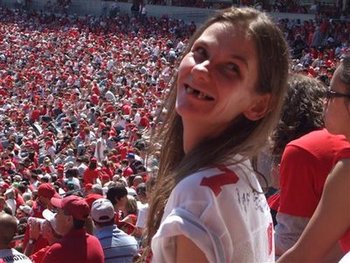 Pretty, ain't she?
Actually, I had no intentions of putting this anywhere near my slideshow. I happened to search something along the lines of "OSU spring game" or something like that because I wanted to know the attendance and what happened (guess what? OSU won... in case you were curious), and this gem of a picture popped up.
Since it was on the first page of the search engine, it's safe to assume that this 1 person is a representative sample of the entire fan base of Ohio State.
Honorable Mention: Body Paint Fail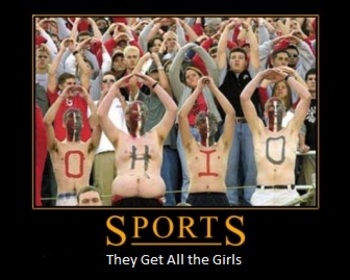 The Dungeons and Dragons club called. They're pissed that you skipped their meeting to go to the football game. Also, they wanted to remind you to bring your ceremonial robes to tonight's memorial to Gary Gygax.
#10: Football Is a Serious Thing in OIHO!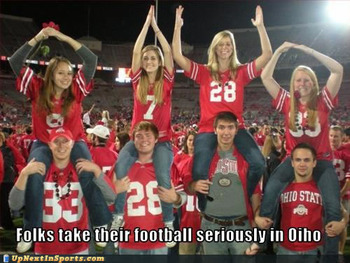 ... Perhaps they were drunk?
#9: Alright, They Take Basketball Pretty Darn Serious Too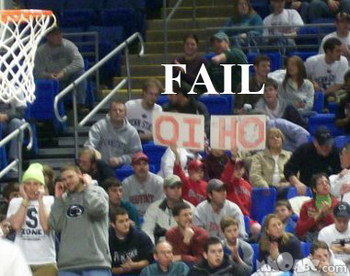 I know for a fact that alcohol was not permitted at this venue, and considering this was toward the end of the game and the security guards had already confiscated their flasks, intoxication is not an excuse for this one.
#8: The Stolen Script Ohio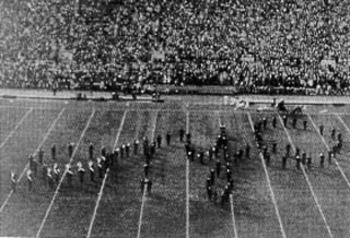 Ohio State took the "Script Ohio" tradition from... Michigan.
Excerpts from OSU vs. UM:
"Probably the most effective single formation was the word "OHIO" spelled out in script diagonally across the field in the double-deck Ohio stadium to the accompaniment of the O.S.U. marching song, "Fight the Team." Other Michigan band formations were "MICH," a block "O," and a block "M."
Ted Boehm, OSU marching band member in 1935 and 1936, and considered an "authority" on Script Ohio, wrote that indeed, Michigan had performed the first Ohio in script.
Alright, so, they kind of ripped it off from Michigan -- they did change things slightly and called it something their own, so whatever. I mean, it's not cheating if I take my friend's paper, change a couple sentences, put my name on it and turn it in as my own?
Oh. Wait.
We'll leave the cheating to the football players and coaches (see: Ohio State stealing Oregon's signs in the 2010 Rose Bowl).
Also, apprently when not stealing signs, the athletes at OSU are are getting preferential treatment from professors, filing false police reports to try and get $10,000, and taking thousands of dollars in gifts, and taking nude pictures of themselves*.
*The article does not actually contain any nude photos.
#7: LSU Hangover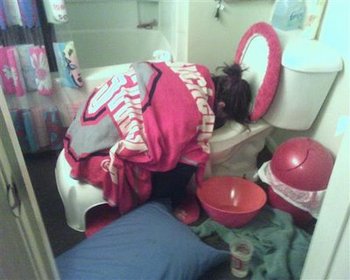 I guess she didn't feel too great after watching her team get thrashed 38-24 by the LSU Tigers the night before in the BCS National Championship game.
I'm thinking the team probably wasn't doing much better.
Or was it that she woke up one morning and got sick because she realized she's still in Columbus?
#6: 0-9 Vs. SEC Teams in Bowl Games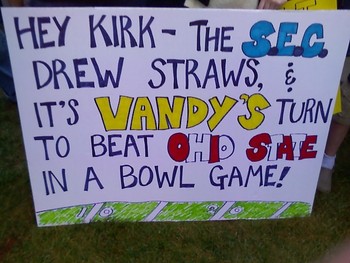 Ohio State's all-time record vs. the SEC goes something like this:
3-11-1
The more depressing statistic is that Ohio State has failed to beat an SEC team in any bowl, and boasts a 0-9 record.
It's a statistic most frequently used to display SEC dominance over the Big Ten, and Ohio State has failed numerous times to successfully carry the proverbial Big Ten flag.
Oh well, there's always this year, right?
#5: Pryor <3s Michael Vick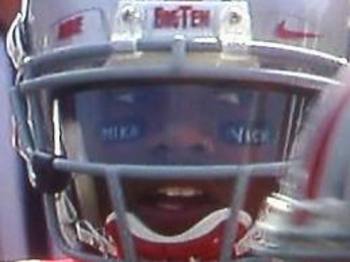 In retrospect, Vick probably should've gotten a different spokesperson.
"Not everybody's the perfect person in the world. I mean everyone kills people, murders people, steals from you, steals from me, whatever. I think that people need a second chance, and I've always looked up to Mike Vick, and I always will."
#4: The "Titanic" Disaster That Was The 2007 National Championship Game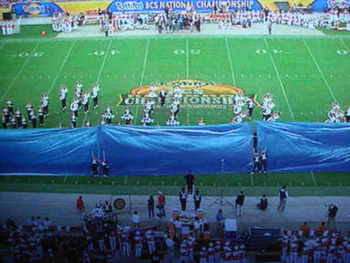 At halftime, the Ohio State marching band performed a song from "Titanic".
It took a few hours and a crushing 41-14 defeat to learn the irony of that halftime show.
Here, you had Ohio State (Titanic) ranked #1 and "unsinkable" in the college football world. They were heavy favorites over Florida (the Iceberg) to win the national championship. Well, somewhere in giving Florida 34 first half points, it appears that Ohio State had hit the iceberg.
And we all know how well that story ended.
Maybe Tressel will get a chance to re-visit the scene of the disaster and drop the necklace into the water just like the really old woman playing Rose did (read: Maybe he'll get a win there).
#3: Four Letter Words Are Still Difficult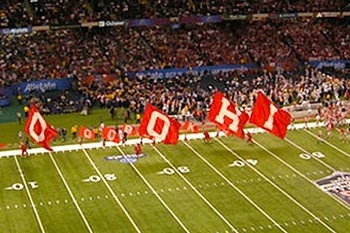 Hm, something looks a little out of place in this picture.
I'm really glad this wasn't in front of a national audience at a national championship game or anything like that.
Oh, wait..
#2: She's a "HO"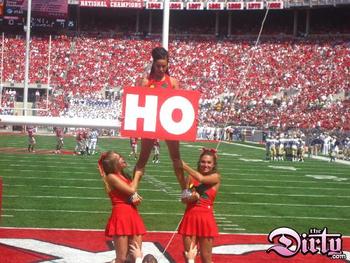 Yeah, we already knew that.
#1: OSU Fans Really "Use The Library"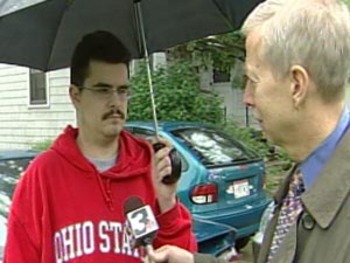 Watch the video. Do it.
This strapping man, who might represent the fan base more accurately than the toothless woman who fought hard for an honorable mention in this slideshow, was caught in a public library doing some not-so-public things.
I know what you're thinking, and, yes, there were children around.
Full story & video interview (think "To Catch a Predator") here.
Keep Reading

Michigan Wolverines Football: Like this team?