Taylor Martinez, Cam Newton and College Football's Biggest Controversies in 2010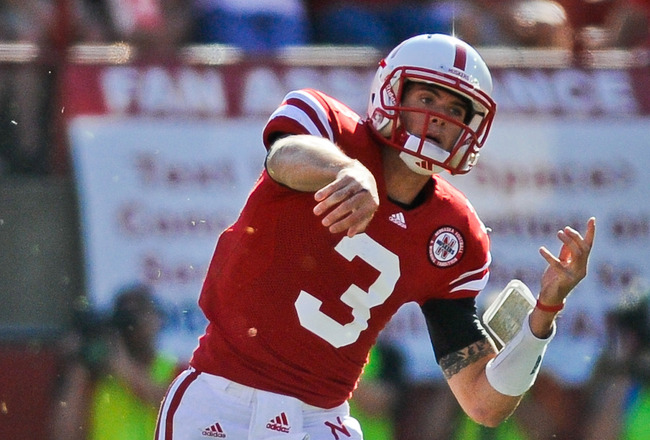 Eric Francis/Getty Images
You can't go a day it seems without more controversy emerging in college football.
Whether it's truth or just a rumor on a message board, something keeps popping up. The latest came this morning, centered around Nebraska quarterback Taylor Martinez supposedly quitting the team. Coach Bo Pelini denied the rumors, and told the Omaha World-Herald on Sunday that he's still on the team.
Those rumors aren't as shocking as some other news this season.
There have been stories of players and their involvement with agents, to arrests and shootings. What's the most controversial story? It really is a no-brainer.
But let's take a look at 20 of the biggest controversies that have happened so far:
20. Ashton and Demi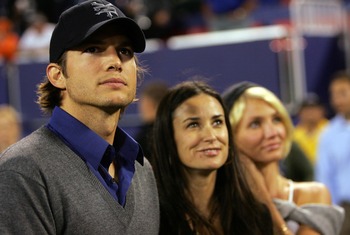 Nick Laham/Getty Images
It is pretty silly, but the University of Iowa athletic department did report itself to the NCAA after two basketball recruits met movie stars Ashton Kutcher and wife Demi Moore at a Iowa-Iowa State football game in September.
It constituted a recruiting violation.
19. Bo's Got a Temper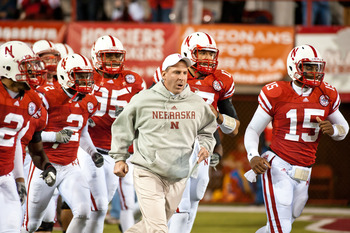 Eric Francis/Getty Images
You'll never get coaches to not be emotional, but Nebraska coach Bo Pelini's behavior over the weekend came under critcism from chancellor Harvey Perlman. He said he didn't like how it reflected on the school, and the two are scheduled to talk, along with athletic director Tom Osborne possibly.
18. Kansas AD Retires Early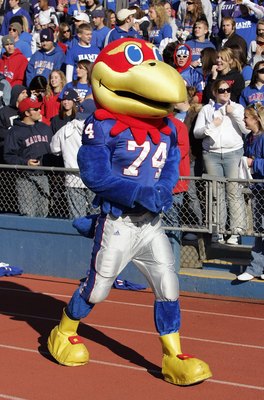 Brian Bahr/Getty Images
Kansas athletic director Lew Perkins announced his retirement a year earlier than expected, and left his position immediately in early September.
Kansas had been at the center of controversy, as five members of the athletic department along with a part-time consultant were implicated in a ticket scam. Staff members allegedly sold football and basketball tickets and kept the money, costing the school potentially as much as $3 million.
A federal investigation was launched into the incident.
17. Bowden Shares Feelings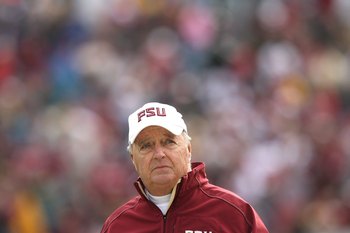 Doug Benc/Getty Images
Longtime Florida State coach Bobby Bowden has always been considered one of college football's most beloved and admired figures. Bowden retired after last season, but made sure everyone knew the truth about the situation.
Bowden began a book tour for his book "Called to Coach" in late August, and said he was "pushed out, no doubt about it."
"I didn't want them to spread the story that I voluntarily, happily resigned," Bowden told the Associated Press.
16. Blackmon Arrested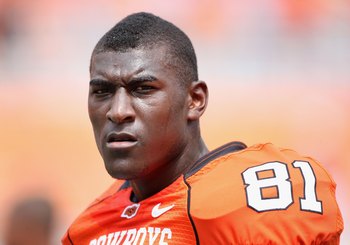 Christian Petersen/Getty Images
Oklahoma State wide receiver Justin Blackmon was arrested on a misdemeanor DUI complaint in late October. He was cited for DUI and speeding after being stopped for driving 92 mph in a 60 mph zone in a Dallas suburb.
Blackmon is considered among the top receivers in college football. He has caught 94 passes for 1,560 yards and 17 touchdowns.
15. Masoli Joins Ole Miss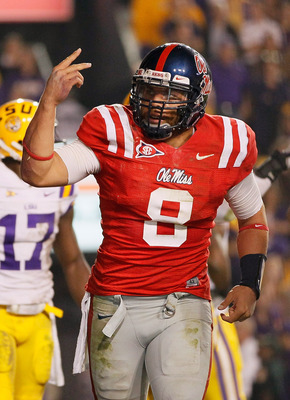 Kevin C. Cox/Getty Images
Ole Miss gained a star quarterback during the offseason, but it wasn't an extra recruit. Former Oregon quarterback Jeremiah Masoli enrolled at the school as a graduate student in August. The NCAA had initially ruled him ineligible, but ruling was overturned just before the season began.
Masoli had already graduated from Oregon, but had been kicked off the team after run-ins with the police. He pleaded guilty to second-degree burglary in March, but was kicked off the team in June after he was cited for misdemeanor marijuana possession.
14. Missouri Fans Arrested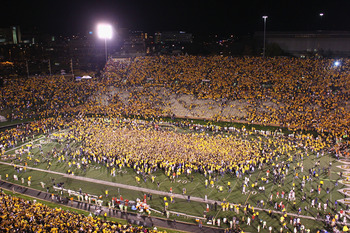 Dilip Vishwanat/Getty Images
It's commonplace for fans to rush the field after a big victory.
That happened this year after Missouri defeated then No.1 Oklahoma. But police arrested 30 Missouri fans who rushed the field and charged them with trespassing. The move was especially bizarre, considering that the school had been advertising photos of the fans storming the field, asking nearly $290 for some photos.
Days later those photos were removed.
13. Is He Gone, Or Still Here?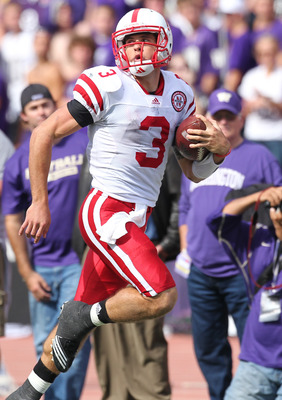 Otto Greule Jr/Getty Images
After a 9-6 loss to Texas A&M on Saturday, things got even more hectic for Nebraska, as rumors swirled that quarterback Taylor Martinez left the team. Nebraska coach Bo Pelini denied the rumors and said Martinez is still with the team.
Rumors began after it was discovered Martinez supposedly missed a team meeting.
12. OU Player Suspended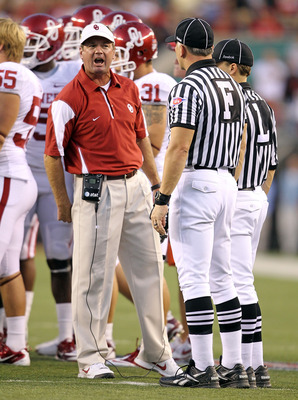 Andy Lyons/Getty Images
Oklahoma coach Bob Stoops wasted little time and suspended receiver Jaz Reynolds indefinitely after he posted inappropriate comments on Twitter which referenced the shootings at the University of Texas in late September.
Reynolds tweeted: "Hey everyone in Austin, tx...kill yourself #evillaugh." He followed that with the following post: "Everyone in austin, tx disregard that last tweet...y'all will mess around n do it lmao."
11. Kiper Named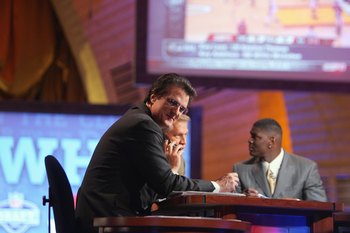 Chris McGrath/Getty Images
Sports Illustrated had an in-depth article last month about the sports agent industry, and part of it referenced ESPN draft analyst Mel Kiper and his relationship with agent Gary Wichard.
Kiper denied any inappropriate behavior, and ESPN said it would look into the matter.
10. Patterson Catches Heat
Ethan Miller/Getty Images
TCU coach Gary Patterson took some heat surrounding his exchange with a team physician on the sideline during the TCU-SMU game in September. Horned Frogs running back Ed Wesley left the game with a concussion, but TV cameras caught Patterson screaming at the physician, who refused to let Wesley back in the game.

A statement was released, and the physician said Patterson didn't know the full details about the incident, but the matter was resolved.
9. Dareus Suspended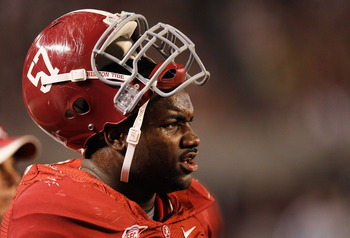 Kevin C. Cox/Getty Images
Alabama junior defensive end Marcell Dareus was declared ineligible for two games after receiving $2,000 during trips to Miami during the summer.
Dareus is a projected top-10 pick in next year's NFL draft. Last season, he finished with 33 tackles, nine tackles for a loss and a team-high 6.5 sacks.
8. AJ Green Suspended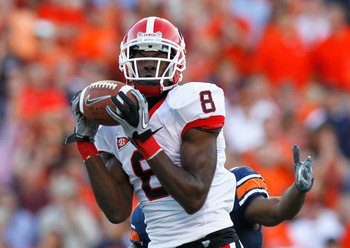 Kevin C. Cox/Getty Images
Georgia began the season without star receiver A.J. Green, who was suspended for four games after selling a bowl jersey to an agent for $1,000.
It's a violation of NCAA rules, which state student-athletes can't receive benefits from agents.
7. Player Accused of Sexual Assault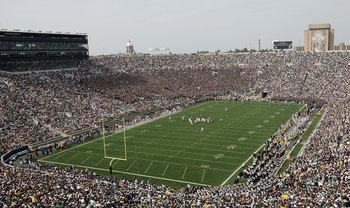 Chris Chambers/Getty Images
This week an unidentified Notre Dame football player was implicated in the sexual assault of a freshman at nearby St. Mary's College earlier in the school year. The freshman, 19-year-old Elizabeth Seeberg, who had battled depression, overdosed on prescription medicine in an apparent suicide on Sept. 10.
Her parents have hired Zachary Fardon, a former federal prosecutor, to look into the matter.
6. Player Shot By Police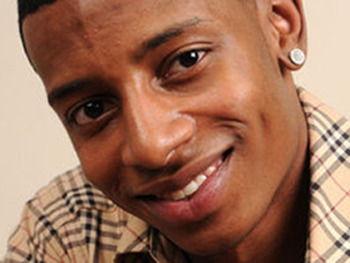 DJ Henry, a football player at Division II Pace University in upstate New York, was shot dead by police in October. A fight broke out at a local bar, and reports state that Henry allegedly got in his car and left the scene and hit three cops.
Henry was 20-years-old. A grand jury is investigating the incident, and the family is requesting a federal probe.
5. Southern Miss Players Injured
Three Southern Miss players were critically injured in a weekend shooting outside a nightclub this month.
Linebacker Martez Smith (pictured) was paralyzed from the waist down, while Tim Green remains unable to talk after being shot in the neck. Dedrick Jones, a defensive end, was also shot.
4. North Carolina Football Investigation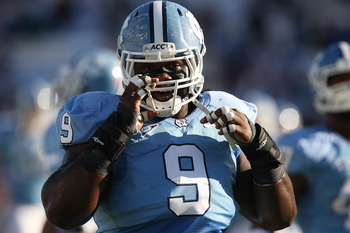 Streeter Lecka/Getty Images
North Carolina was without 12 players for its season opener against LSU, including star defensive lineman Marvin Austin.
The NCAA has been investigating the program for academic misconduct and players receiving benefits from agents. In September, assistant coach John Blake, who had been linked to agent Gary Wichard, resigned.
The school has said it won't self-impose any sanctions.
3. Notre Dame Tragedy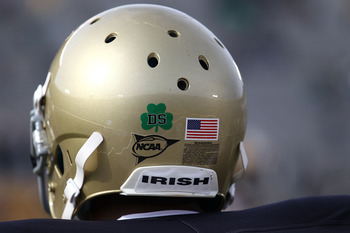 Jonathan Daniel/Getty Images
Tragedy struck Notre Dame's football team in late October when Declan Sullivan, a 20-year-old student, died after filming practice. The hydraulic scissor lift he was in fell over at the practice complex due to high winds which were nearly 50 mph.
2. Bush Returns Heisman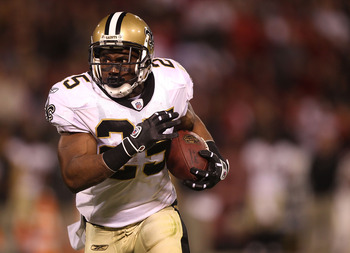 Jed Jacobsohn/Getty Images
Former USC running back Reggie Bush announced in September he was returning his Heisman Trophy. Bush received benefits while in college, which led to an investigation by the NCAA and sanctions that were imposed on the school.
1. Cam Newton
Kevin C. Cox/Getty Images
The investigation continues by the NCAA into allegations surrounding the Auburn quarterback about a pay-for-play scheme involving his father and two former football players at Mississippi State.
Keep Reading