Syracuse Orange Fall to Connecticut Huskies: Is 'Cuse Fooling Everyone?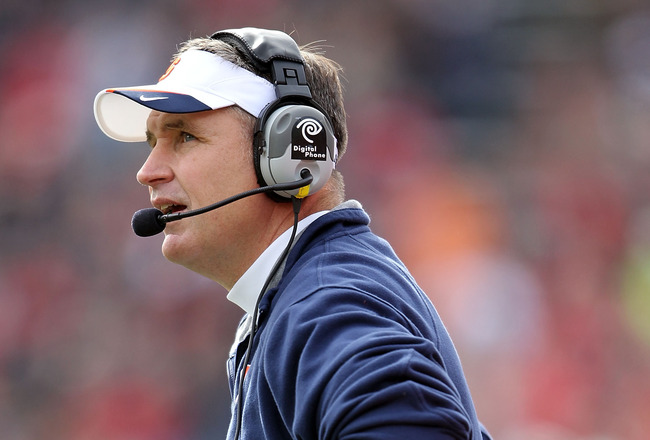 Andy Lyons/Getty Images
The Syracuse Orange football team dropped to 4-3 in the Big East and 7-4 overall after being soundly defeated by the Connecticut Huskies yesterday at the Carrier Dome.
The loss knocks Syracuse out of second place in the Big East, meaning it will likely finish fourth in the conference. But despite the loss, the Orange are still going bowling for the first time since 2004.
It's been a rejuvenating season for Doug Marrone's squad, which has already achieved more victories in two seasons than the team did in four seasons under former head coach Greg Robinson. Their 7-4 start is the best since 2001, when Syracuse finished 10-3 and earned a trip to the Insight Bowl.
But is their success actually a sign of change or just further evidence of how putrid the Big East conference is?
Let's take a look back at Syracuse's season and see if this actually a team on the way back to national recognition or just an average team in a crappy conference.
Syracuse Opens Season with 29-3 Win at Akron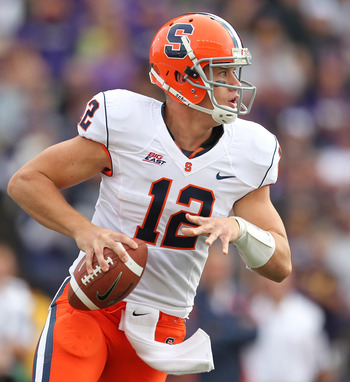 Otto Greule Jr/Getty Images
It was a resounding victory and a good start for a team that two years ago somehow lost to the Zips. But let's get serious here. It's Akron.
Not only is Akron in one of the worst football conferences in the nation, the MAC, but they are winless at 0-11. The closest the Zips have come to winning is a 37-30 overtime loss to a bad Ball State team.
The Zips are 115th in the country in scoring with 15.0 ppg, and 110th in defense at 37.0 ppg. What's surprising is not that Syracuse beat them, but that Syracuse didn't beat them by more.
Jake Locker Shows Off As Huskies Rip Apart Syracuse, 41-20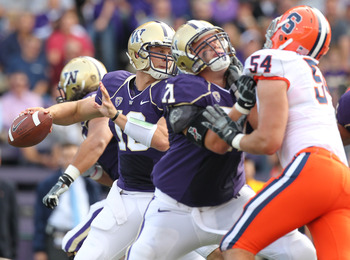 Otto Greule Jr/Getty Images
Washington is a good team, but not a great one. The Huskies are in sixth place in the always strong Pac-10 conference with decent wins over USC (32-31) and Oregon State (35-34). But after that, the Huskies' resume is a bit underwhelming.
They lost their opener to Brigham Young, 23-17. They got thrashed by Nebraska (56-21), Arizona State (24-14), Arizona (44-14) and Oregon (53-16). They were even shutout by an outstanding Stanford team, 41-0.
In fact, Washington's win over Syracuse was one of only four it has had all season. The game wasn't even close. What would've happened if the Orange had actually played one of the elite teams in the Pac-10? A 60-point margin? 70?
We'll find out next season when Syracuse faces off against USC.
Syracuse Takes Care of Maine, 38-14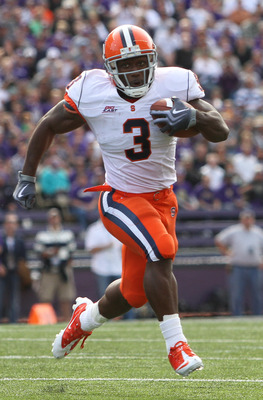 Otto Greule Jr/Getty Images
Maine isn't even a Division I-FCS school. The Black Bears are not even a good team in their conference, the Colonial Athletic Association.
Ryan Nassib threw a school-record five touchdowns in this game, but how did Syracuse ever give up two touchdowns to the Black Bears?
The Orange had only a 17-14 lead at halftime and trailed 7-0 until early in the second quarter. At home. That's embarrassing.
Syracuse Flosses Colgate, 42-7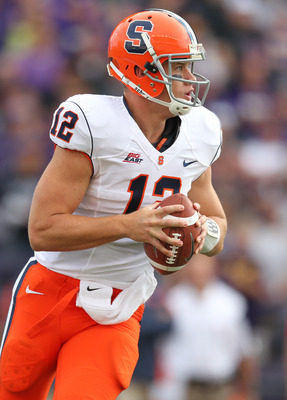 Otto Greule Jr/Getty Images
Colgate is at least a good Division I-FCS team. The Raiders finished 7-4 overall and tied for second in the Patriot League with a 3-2 conference record, with six double-digit wins on their resume.
However, this is still a game that should never be close, and it wasn't. Colgate didn't even score until the fourth quarter.
Kudos to the Orange for getting business done, but this win proves nothing.
Syracuse Starts Conference Play with Win over South Florida, 13-9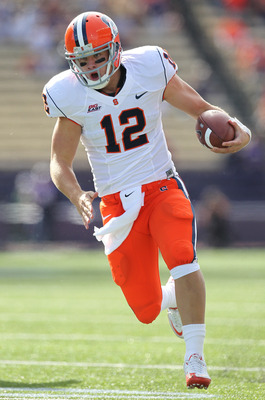 Otto Greule Jr/Getty Images
Wow, an actual Division I-FCS team. A win over South Florida is nothing to sneeze at, but are the Bulls actually a strong team?
They have three conference wins, over Cincinnati (38-30), Rutgers (28-27) and Louisville (24-21). They also have three convincing victories over the likes of Stony Brook, Western Kentucky and Florida Atlantic. But none of these teams have a chance at a bowl. Even the conference victories were over the three worst teams in the Big East.
Each time South Florida has played a good team, it has lost. They fell to Florida (38-14), West Virginia (20-6) and Pittsburgh (17-10). The Bulls' only other loss this season was to Syracuse.
Does that mean the Orange belong in the same company as the three aforementioned teams? We're not quite ready to make a judgment on that yet. Syracuse did need a fourth quarter touchdown to topple South Florida after trailing most of the game.
Syracuse Humbled By Loss To Pittsburgh, 45-14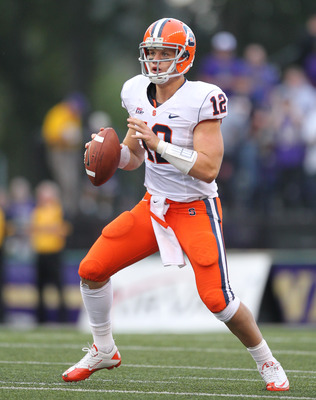 Otto Greule Jr/Getty Images
Well there's your answer.
The Orange are most definitely not on the same level as the Pittsburgh Panthers. But what level are the Panthers on?
Pittsburgh is first in the conference with a 4-1 record and a big game coming up against West Virginia. But besides wins over obviously inferior conference opponents and FCS opponents, Pittsburgh hasn't really done anything this season.
The Panthers opened their season with a disappointing 27-24 overtime loss to Utah. They lost 31-3 to a ranked Miami team. They even lost 23-17 to a Notre Dame team that only has six wins this season.
Yet against Syracuse the Panthers looked like one of the best teams in the nation. Well they're not. And the Orange are way behind them.
Syracuse Upsets Ranked West Virginia Team, 19-14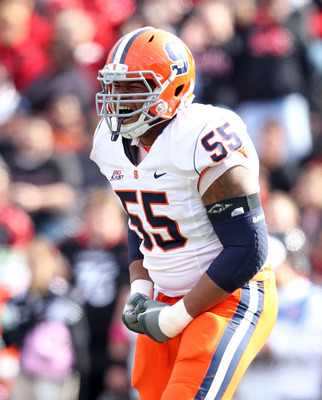 Andy Lyons/Getty Images
This was a statement game against a Mountaineers team that was ranked 20th in the country, and the Orange emerged victorious. But should West Virginia have been ranked in the first place?
The lone opponent they have faced that could be considered elite is LSU, to whom they lost 20-14. Outside of that West Virginia's only other loss this season was to UConn, 16-13 in overtime. Every other team, including Maryland, has been routinely dispatched by a defense that ranks fourth in the nation, surrendering only 12.9 points a game. Except Syracuse.
The Orange earned a halftime lead after three interceptions by Mountaineers quarterback Geno Smith, and then clung to it as neither team could figure out a way to score for the rest of the game.
It was an impressive road victory over a good team and perhaps the lone victory of merit for Syracuse all season.
Syracuse Trounces Cincinnati, 31-7
Otto Greule Jr/Getty Images
The Bearcats are the two-time defending Big East champions, but they are not a good team, currently sitting at sixth in the conference with a 2-3 record.
Cincinnati doesn't have a single respectable win this season, unless you want to count its 69-38 destruction of a Rutgers team that is dead last in the Big East. In fact, its most impressive performance this season is actually a loss—a narrow 31-29 defeat at the hands of the No. 8 Oklahoma Sooners.
But Cincinnati's other losses are not so flattering. Among them are a 28-14 loss to Fresno State, a 30-19 loss to North Carolina State and a 37-10 loss to West Virginia.
The Orange did well to win this game, but a 31-7 final score would have been far more impressive last season.
Syracuse Falls to Louisville, 28-20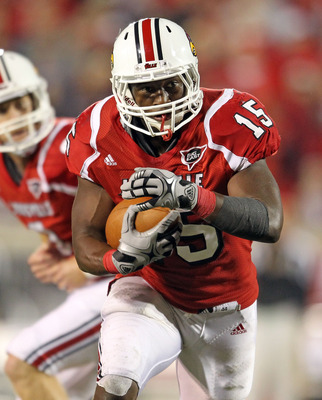 Andy Lyons/Getty Images
The Orange ended its streak of not losing to crappy teams by vomiting all over this one.
In a home game that could've guaranteed Syracuse a bowl berth, the Orange came out and played like Greg Robinson was still their coach. After leading 17-14 at halftime, the Orange only managed a single field goal the rest of the game.
This against a Cardinals team that lost to Kentucky (23-16), Oregon State (35-28) and everyone in the Big East except Connecticut and Rutgers (who they play next week). Louisville does have a decent win over Arkansas State (34-24), but that's about it.
Syracuse was the better team. The Orange just forgot to play like one.
Syracuse Nudges Past Rutgers, 13-10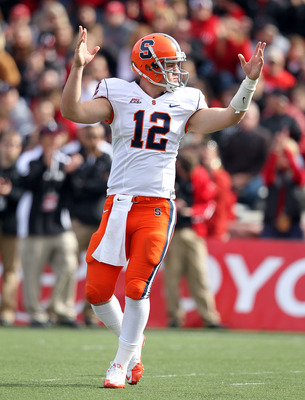 Andy Lyons/Getty Images
Yes, the win made Syracuse bowl eligible. Yes, it was Syracuse's fifth road victory of the season. But this is not a win that came easy, even when it really should have.
Rutgers took a 10-7 lead early in the third quarter and held on to it. The Orange offense attempted to fight back but could only get close enough for a 48-yard field goal that tied the game at 10. Then with just over a minute left, Syracuse kicker Ross Krautman hit a 24-yard field goal to seal the win.
Yet, how the Orange only scored 13 points against a Rutgers team that gave up 69 points at Cincinnati yesterday is beyond me. There's a reason the Scarlet Knights are in the Big East cellar. Doug Marrone just couldn't seem to figure out why.
Syracuse Loses Another at Home to Connecticut, 23-6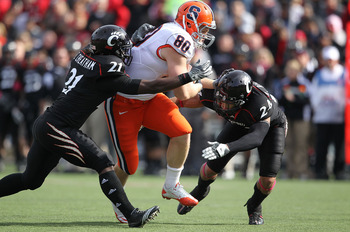 Andy Lyons/Getty Images
The closest the Orange got to winning this game was a 42-yard field goal at the end of the first quarter, which shrank the Huskies lead to 7-3. Syracuse never sniffed the end zone, thanks in large part to two turnovers and nine penalties.
It was a disappointing loss, but not necessarily one that Syracuse should be too upset about. Connecticut has beaten the top teams in the conference, first West Virginia (16-13) and then the next week Pittsburgh (30-28). Yet at the same time the Huskies have lost to the two worst teams in the conference: Rutgers (27-24) and Louisville (26-0).
Out of conference UConn has lost to Temple and Michigan, and defeated Texas Southern, Buffalo and Vanderbilt. No idea what to make of their team. Obviously, neither did Marrone.
Next Up: Boston College
Elsa/Getty Images
Syracuse concludes its regular season next week when the Eagles come to town.
BC has won four straight games against the four worst teams in the ACC, after losing five straight to the four best teams in the ACC (plus Notre Dame). So, logically, that makes them an average ACC team, which last time I checked is still better than an average Big East team.
Both Syracuse and Boston College are bowl-eligible and both are smack dab in the middle of their conference standings. A win for the Orange would help legitimize their other accomplishments this season; a loss would be further evidence that the Orange are just not that good.
This Syracuse season is already infinitely better than any in recent memory, but Orange fans shouldn't get too excited. This is a team that still has a long way to go if it wants a chance for a BCS bowl game, let alone a national championship.
Keep Reading

Syracuse Football: Like this team?