Iowa Hawkeyes Lose To Ohio State: Fourth Verse, Same As The First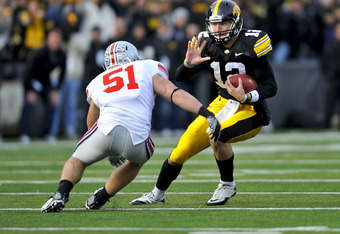 David Purdy/Getty Images
The middle of the fourth quarter and the Hawkeyes are up by one score. The offense has the ball. A score will all but win the game. A long, time-consuming drive (even without any points) will put the opposing team's back against the wall.
The offense takes a penalty or some sort of backwards play, puts themselves in a bad situation, and proceeds to go three and out. In effect, the Hawks punt.
The opposing offense has to drive the field against the vaunted Iowa defense; a vaunted and tired Iowa defense.
The opposing offense does just that, converting on multiple third downs, and occasionally getting out of seemingly impossible situations.
With less than two minutes to go, Iowa gets the ball back. The offense, replete with upper classmen and timeouts, falls flat on its face.
End of game.
If teams got points for consistency, then Iowa would have points like the state has corn, because the above scenario describes all four of the Hawks' losses this season to a tee.
The only deviations are that Iowa never had the lead against Arizona—they were tied—and they had a two-score lead against Northwestern.
Of course, none of these games were completely lost in the fourth quarter. In fact, if I were to describe each loss in one phrase, I would say the Arizona loss was a special teams meltdown.
The Wisconsin loss was due to some questionable coaching. The Northwestern loss can be blamed on poor execution. Finally, the OSU loss was due to the Buckeyes making plays when they needed to and Iowa failing to do so.
However, the fact is the final act in each of these games was more or less the exact same thing.
Perhaps, if the Hawkeyes had an inexperienced quarterback or receivers or coaching staff. Perhaps if they had a defense that did not have a reputation for generating pressure and finishing games.
But they do have all of these things. This is what is leaving Iowa fans shaking their heads, because coming out on the losing end of the exact same scenario points to a lack of adjustments on the part of the coaches.
Under Kirk Ferentz, Iowa fans have come to expect that the Hawks' performance in close games will be the difference between extremely successful seasons and also-ran seasons.
In both 2002 and 2003, Iowa was 1-0 in games decided by four points or less. In 2004, they were 3-0 in the same situation. Last season, they were 4-1 under those circumstances.
Conversely, in 2005-2007, they were 1-6. In 2008, they were 1-3. This season, they are 0-3.
2008 can be blamed, for the most part, on inexperience at quarterback. 2006 and 2007 were, in their way, rebuilding years.
We all know how Albert Einstein described insanity: Doing the same thing over and over again and expecting different results. We also all know that Kirk Ferentz is known for his conservatism and some might say inflexibility.
With this season almost fully in the books, I think we can safely lay an extremely disappointing season at the coach's feet.
I don't know exactly what ails this squad, but the similarity of the Hawks' four losses dictates that Ferentz and staff are either not finding—or worse, not seeking, solutions.
Hopefully, as Kirk Ferentz and his Hawkeyes move forward—and I still wouldn't want the Hawks moving forward with any other coach—they seek and find some answers.
This article is
What is the duplicate article?
Why is this article offensive?
Where is this article plagiarized from?
Why is this article poorly edited?

Iowa Hawkeyes Football: Like this team?