25 Fieriest Coaching Feuds in Sports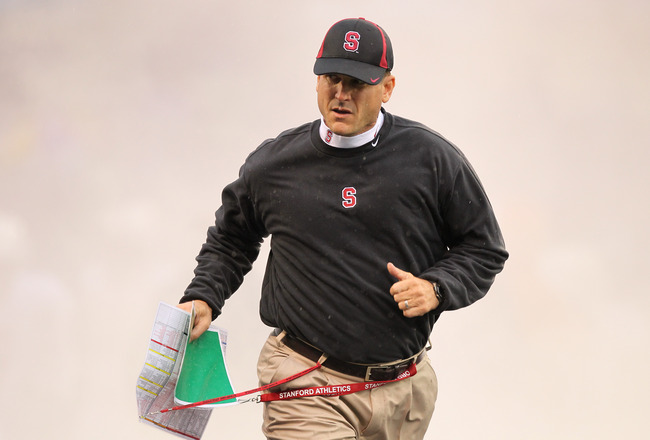 Otto Greule Jr/Getty Images
Sports cause heated feuds amongst the most understanding of people.
But nothing is better than a good old-fashioned coaching feud.
There have been some pretty heated coaching feuds in the sports world, but we are going to look at the top 25 in the history of sports.
Where do some of the all-time greats rank among the recent feuds?
Let's take a look.
25. Dusty Baker vs. Any Dodger Manager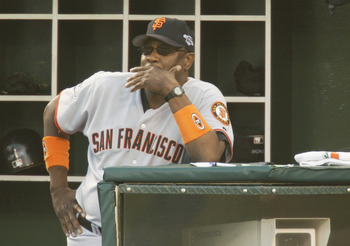 Brian Bahr/Getty Images
Dusty Baker is a former L.A. Dodger great who was hired by rival San Francisco Giants in 1993.
But there was always some bitterness on both the Dodger's part and Baker's when he wasn't hired to take over after Tommy Lasorda retired in 1996.
The Dodgers and Giants games between 1993 and 2002 (his year last in San Francisco) were always extremely heated.
24. Rick Neuheisel vs. Lane Kiffin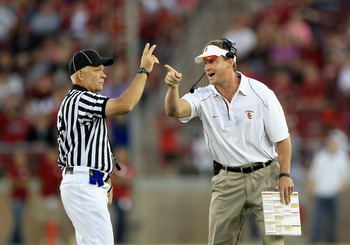 Ezra Shaw/Getty Images
Lane Kiffin and Rick Neuheisel: Two coaches who have a tendency to rub people the wrong way.
They appear to be perfect coaches to be rivals. This rivalry will really come to fruition this December when UCLA takes on USC.
23. Bobby Knight vs. John Calipari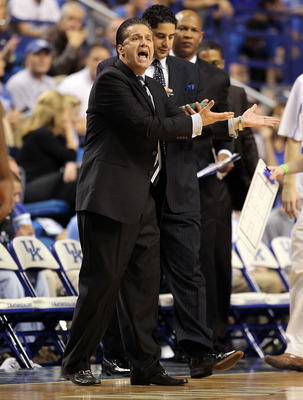 Andy Lyons/Getty Images
During an Indiana Basketball Hall of Fame fundraiser in 2009, former Hoosiers head coach Bobby Knight mentioned that he did not agree with the fact that Kentucky head coach John Calipari had a job.
"We've gotten into this situation where integrity is really lacking and that's why I'm glad I'm not coaching," Knight said. "You see we've got a coach at Kentucky who put two schools on probation and he's still coaching. I really don't understand that."
It's a real shame Knight isn't coaching right now, because a Knight/Calipari matchup would be "can't-miss" TV.
22. Todd Haley vs. Josh McDaniels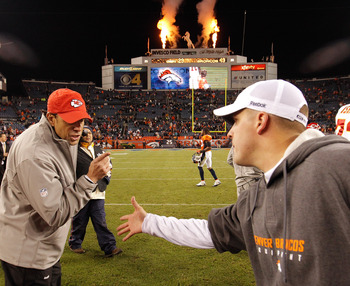 Justin Edmonds/Getty Images
Ladies and gentlemen, we have a budding feud!
Last Sunday after Josh McDaniels' Denver Broncos beat up on Todd Haley's Kansas City Chief, Haley refused to shake McDaniels' hand.
Yes, he apologized a day later for his antics, but as two of the younger head coaches in the NFL and two who play in the same division, I look forward to more of this in the future.
21. John Calipari vs. Rick Pitino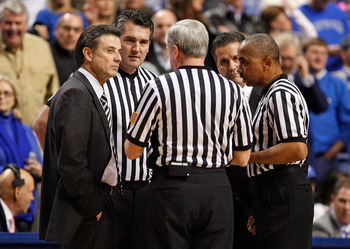 Andy Lyons/Getty Images
Supposedly Rick Pitino and John Calipari used to be friends. Pitino even helped Calipari get the head coaching gig at UMass.
However, that changed when they started playing against each other regularly.
Pitino thinks that Calipari cries for calls from refs and in fact was quoted as saying about Calipari, "When people start talking about officials, you know they have some psychological problems."
20. Mike Leach vs. Mike Sherman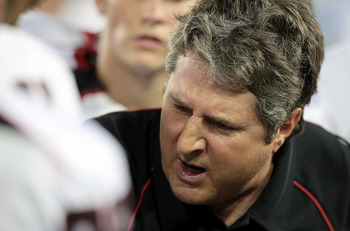 Thomas B. Shea/Getty Images
Mike Leach rubbed pretty much everyone the wrong way when he was the head guy at Texas Tech, but his real beef came against Texas A&M's Mike Sherman.
The feud started when Leach started talking about former A&M quarterback Stephen McGee. "I'm happy for Stephen McGee," Leach said. "The Dallas Cowboys like him more than his coaches at A&M did."
Sherman responded.
"I don't understand Coach Leach's comments about Stephen McGee," Sherman said. "He was named our starter until he got injured...Coach Leach is in no position to comment about my relationship with Stephen McGee."
The only shame is that with Leach's "departure" this feud won't continue.
19. Dean Smith vs. Rick Barnes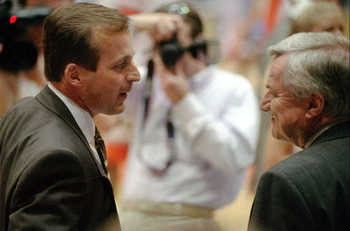 In 1995, current Texas head coach Rick Barnes was coaching in the ACC at Clemson. During a game against North Carolina, legendary head coach Dean Smith nearly fought with Barnes after he accused Smith of yelling at one of Clemson's players.
It got so bad between the two that the ACC commissioner invited both men to his house and told them they needed to stop calling each other names in the press.
Why would he rob us of that?
18. Les Miles vs. Nick Saban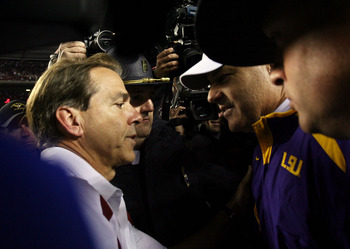 Doug Benc/Getty Images
This feud is really more between LSU fans and Nick Saban but there is some carry over because of the fact that Les Miles is the current coach in Saban's old stomping grounds.
Granted Saban isn't the friendliest character but he is a better football coach than the Mad Hatter Les Miles.
This feud is almost a like a fight between a big brother and little brother where Miles is just trying to get a reaction from Saban.
17. Mike Scioscia vs. Frank Robinson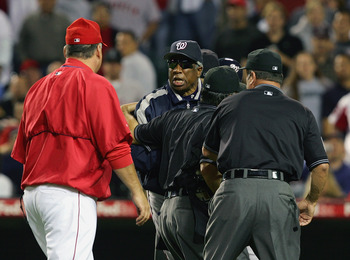 Lisa Blumenfeld/Getty Images
During an inter-league game between the Angels and Nationals in June 2005, former Angel Jose Guillen informed manager Frank Robinson that reliever Brendan Donnelly kept pine tar in his glove. The near brawl that ensued between Robinson and Angels skipper Mike Scioscia was legendary.
Robinson, who was a senior citizen at this point, needed to be restrained by three umpires.
A war of words ensued between the two in the media.
The only shame now is that Robinson is probably too old to remember the feud.
16. Rick Neuheisel vs. Pete Carroll

2009 UCLA vs. USC: salt in the wound

The biggest shame of Pete Carroll's departure to the NFL is that a little bit of the drama created by the end of the UCLA and USC game last year is gone.
After Rick Neuheisel took a time out when USC took a knee, Pete Carroll decided to throw one deep on the Bruins.
The near brawl that took place after the play really added fuel to the fire. This looked like the start to a great coaching feud, but Pete decided to run away to the Northwest and the NFL.
15. Mike Krzyzewski vs. Roy Williams
Kevin C. Cox/Getty Images
When you are the coaches of two heated rivals, it only seems natural that you don't get along.
However, the dislike for each other came to a head when Coach K was quoted as saying that Duke doesn't disclose their injuries to the media "unlike other schools."
The "other schools" Coach K was referring to was North Carolina.
Williams responded on his weekly radio show by telling an "unspecified person" to "coach his own damn team."
I'm pretty sure I don't have to tell you who the "unspecified person" was.
14. Lane Kiffin vs. Philip Fulmer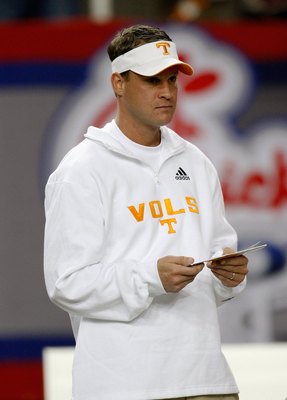 Mike Zarrilli/Getty Images
During Lane Kiffin's short tenure as the Tennessee Vols football coach, he didn't make many friends. Included among those he rubbed the wrong way was the guy who had Kiffin's job before him, Philip Fulmer.
During a national TV broadcast, Fulmer said that Kiffin's arrogant attitude turned people off at Tennessee. Obviously this was after Kiffin had taken the job at USC.
Kiffin responded by saying that if Fulmer had "gotten to know" him, maybe his opinion would be different.
13. Bill Belichick vs. Eric Mangini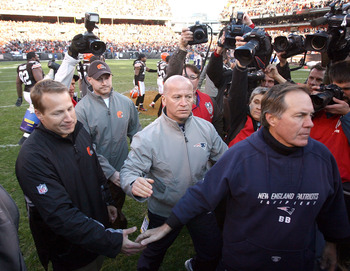 Matt Sullivan/Getty Images
This has turned into one of the all-time great feuds.
Eric Mangini was the former protege who spilled the secret of Bill Belichick's tendency to film the opponents sidelines and attempt to steal signals.
The allegations cost the Patriots a first-round draft pick and put a cloud over their Super Bowl win over the Rams.
Needless to say, the postgame hand shakes have been a little awkward ever since.
12. Jeff Van Gundy vs. Phil Jackson
Jonathan Daniel/Getty Images
Jeff Van Gundy isn't a shy guy. But when it comes to Phil Jackson he becomes even more outspoken. It could be that he is upset that he was never able to get past the Bulls when Phil was the coach in Chicago, but something about Phil gets Van Gundy's blood boiling.
"I don't even have to look at the calendar to know that it's spring coming on summer, with Phil complaining about the officiating," Van Gundy said. "It happens like a rite of passage every spring. And it's interesting. His team shoots more free throws (than the opponent) I'm going to guess probably 80 percent in his career. But it's those damn Lakers always getting screwed."
Strong words from someone who never won a championship.
11. Urban Meyer vs. Lane Kiffin

Kiffin calling out Urban

Urban Meyer became Lane Kiffin's favorite target when he was at Tennessee.
Not only was Kiffin wrong in saying that Meyer cheated, but he also never beat Florida in his one year in Knoxville.
One can only hope these two cross paths again.
10. Dean Smith vs. Mike Krzyzewski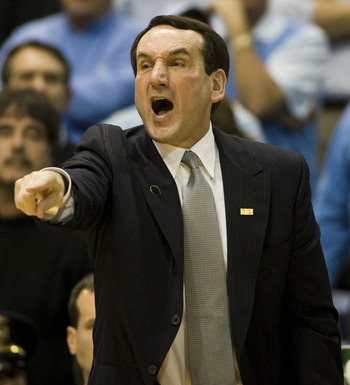 Chris Keane/Getty Images
Dean Smith is one of the few coaches to have success against Coach K. It could be that Smith was already established when Coach K started at Duke, but whatever the reason, it gave Coach K more reason to dislike Dean Smith.
Coach K even went so far as to say that ACC refs had a double standard when it came to calling Dean Smith's games.
9. Red Auerbach vs. Red Holzman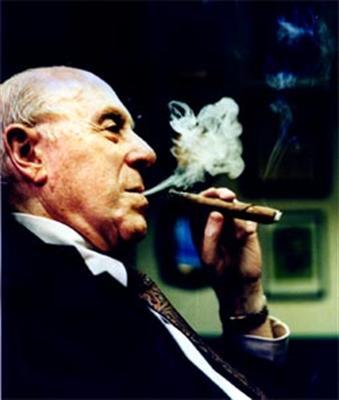 This feud is really over a nickname.
Red Auerbach and Red Holzman did have some memorable battles when Auerbach was the coach of the Celtics and Holzman was the coach of the Knicks.
But the real dislike between there two stemmed over the fact that they shared the nickname Red.
Just imagine if Holzman had started smoking cigars like Auerach too.
8. John Calipari vs. John Chaney

Cal vs Chaney

I think the video speaks for itself.
7. Red Auerbach vs. Phil Jackson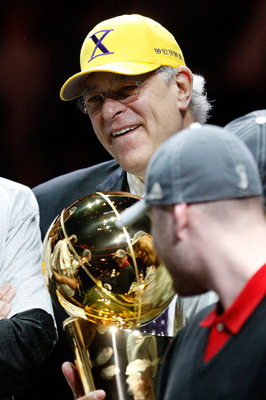 Ronald Martinez/Getty Images
This feud really stems from the fact that Phil Jackson's quest was to break Red Auebach's record for most Championship teams coached.
Auerbach retired with nine. Phil now has 11.
Jackson was also a disciple of Red Holzman, all the more reason for Auerbach to dislike Phil.
6. Urban Meyer vs. Mark Richt

Georgia Celebration

The feud between Mark Richt and Urban Meyer stemmed from Richt's desire to send a message to Florida that Georgia was ready to compete.
Urban's response was to win the game, but the battle between these two SEC coaches rages on.
5. Woodie Hayes vs. Bo Schembechler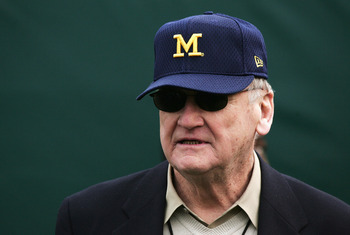 Jed Jacobsohn/Getty Images
Woodie Hayes and Bo Schembechler had some historical matchups over the years while they were at Ohio State and Michigan, respectively.
While their feud seems to have been more of a gentleman's feud than a fiery one, their rivalry will always live on in Ohio State vs. Michigan lore.
4. Steve Spurrier vs. Any SEC Coach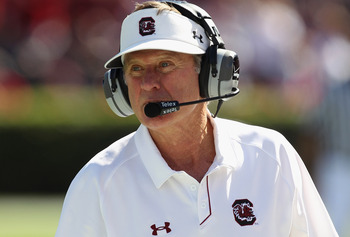 Streeter Lecka/Getty Images
Steve Spurrier isn't the easiest guy to get along with.
Just ask any SEC coach if they have had a run-in with the former Florida quarterback and the answer is probably yes.
While Spurrier has seemed to get out of the limelight in recent years, he is still a lightning rod for coaching feuds.
3. Mike Ditka vs. Forrest Gregg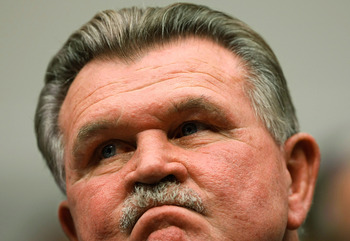 Win McNamee/Getty Images
The Bears and Packers have one of the longest running rivalries in sports history.
In the 1980's, Mike Ditka was the head coach of the Bears and his Packers counterpart was Forrest Gregg.
Ditka went so far as to call Gregg's team "a bunch of thugs."
2. Pat Summit vs. Geno Auriemma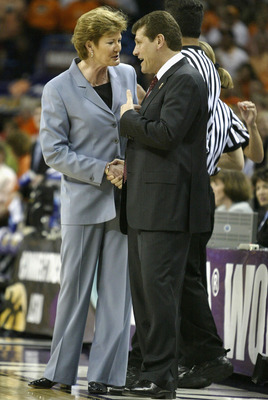 Elsa/Getty Images
It takes a special feud to get women's sports to matter.
Tennessee's Pat Summitt and UConn's Geno Auriemma have a special feud.
The two top coaches in woman's basketball history have had many recruiting battles and some memorable battles on the hardwood.
1. Pete Carroll vs. Jim Harbaugh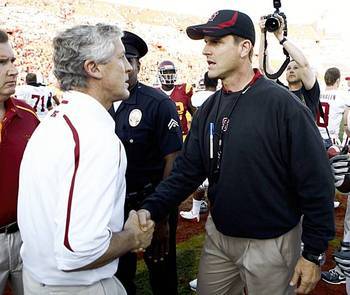 Last season Stanford had a game in hand against USC, but with 48 points on the scoreboard Jim Harbaugh decided to go for embarrassment. He went for two, trying to get 50 points against a Pete Carroll coached team.
During the postgame handshake, the two-point decision prompted Pete Carroll to reportedly ask Jim Harbaugh, "What's your deal?"
Hopefully when Harbaugh jumps to the NFL, we can see more of this matchup in the future.
Keep Reading