College Football: The Most Dominating Performances of the 2010 Season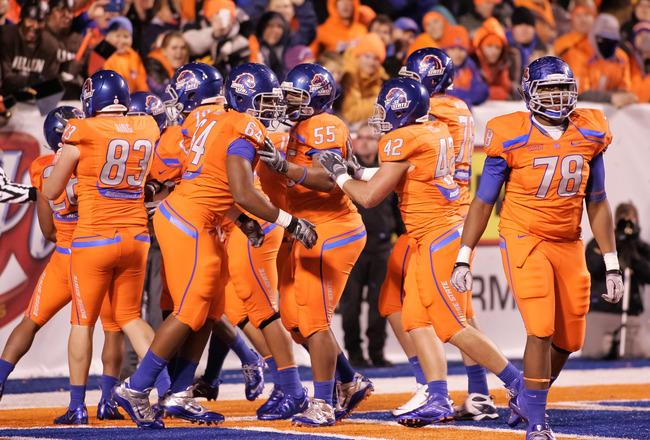 Otto Kitsinger III/Getty Images
Boise State's systematic destruction of Fresno State on Friday night was absolute and awe-inspiring.
This wasn't any Division II team the Broncos were playing. This was a talented Fresno State team, with a winning record (6-3), an impressive victory over Cincinnati (24-18 on September 4th), and a healthy scoring presence (31.2 points per game).
The Broncos out-gained the Bulldogs 516-125. Boise gained 391 yards through the air, another 125 on the ground, and misfired on only three third-down attempts. They gained 31 first downs (to Fresno's nine).
On defense, the Broncos D forced three turnovers, held QB Ryan Colburn to 3.2 yards per pass attempt, and stifled the running game to 49 yards on 27 carries. They also notched four sacks.
Keep in mind: The Bulldogs gained 42 of their 125 total yards on their final drive of the game when they already trailed 51-0.
Downright dominating.
But was it the most dominating of any performance by one Division I FCS team over another?
Let's examine and see if we can come to some sort of agreement.
The candidates please!
Alabama 48, San Jose State 3 (September 4)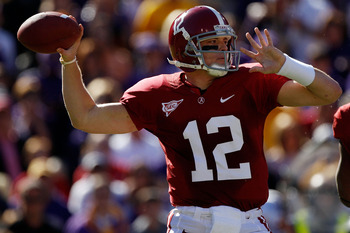 Chris Graythen/Getty Images
No Mark Ingram? No problem.
Alabama kicked off their season in dramatic style by handing San Jose State—a repeat offender on this list—a 45-point loss that wasn't even that close.
The Tide could do no wrong in this one, scoring on TD drives of 3:22, 2:24, 1:12, 0:33, 2:49 and 3:05.
Greg McElroy passed for 218 yards and a score to lead the offensive onslaught.
Their running game was spot-on too, gaining 257 yards on 41 carries. Starter Trent Richardson barely got any work in, racking up only 10 carries, on which he went for 66 yards and two scores.
In all, the Tide gained 30 first-downs (to SJSU's seven) and 591 yards (SJSU-175).
On defense, the Tide stymied the Spartans, holding them to only 1-for-13 on third-downs and 3.1 yards per carry.
The Spartans offense went nowhere—save their first drive that ended in a field-goal.
Their other drives ended like this (in order): interception, punt, punt, punt, field goal miss, punt, punt, punt, punt, punt, punt.
Iowa 45, Ball State 0 (September 25)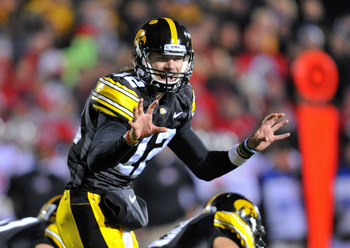 David Purdy/Getty Images
Early this season Iowa had no problem firing on all cylinders. They were one of the most dominant teams in college football, combining an efficient offense with a dominating defense.
Their September 25th tilt with Ball State was particularly ugly.
Iowa out-gained the Cardinals 562-112. They had the edge in first-downs 28-8, and held the ball for ten extra minutes.
Iowa QB Ricky Stanzi was terrific, misfiring on only six passes, racking up 288 yards and three scores. And running-back Adam Robinson scored two TDs and ran for 115 yards.
And his backups fared just as well, gaining 133 yards.
And on defense the Hawkeyes were great, holding Ball State to 56 yards on 31 carries. They didn't fare much better in the passing game, completing only eight passes for 56 yards.
The only thing that was able to slow the Hawkeyes down was their own recklessness as they racked up nine penalties for 86 yards.
Boise State 48, San Jose State 0 (October 16)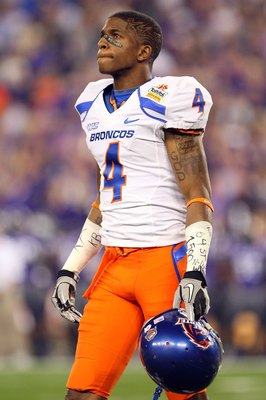 Christian Petersen/Getty Images
You knew this game was going to be ugly, you just didn't know how much.
The end result was a 48-point blowout, 322 yards passing, another 213 on the ground, and an interception return for a TD.
The Broncos also stifled the San Jose State offense, holding them to 80 total yards, including negative-12 yards on the ground.
Surprisingly, the Broncos only held the ball for three more minutes than the Spartans, but that can be attributed to the fact that the Broncos starters departed less than halfway through the third quarter, giving way to the backups that fumbled twice.
Boise's domination was so severe that the Broncos had the games two leading passers (Kellen Moore and Joe Southwick), top four leading rushers (Doug Martin, Matt Kaiserman, Joe Southwick and Titus Young), and the game's three leading receivers (Young, Martin and Austin Pettis).
Oklahoma 52, Iowa State 0 (October 16)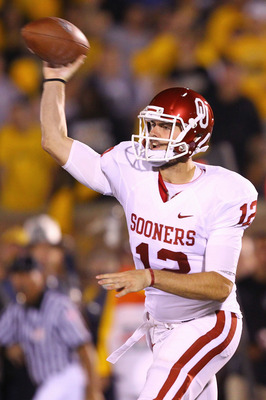 Dilip Vishwanat/Getty Images
It's hard to believe that this same Iowa State team that got shut out 52-0 is the same squad that took it to Texas.
This game was U-G-L-Y ugly!
OU out-gained the Cyclones 672-183, including a 325-59 edge on the ground. DeMarco Murray ran for 112 yards, and freshman Roy Finch ran for another 92 in mop-up duty.
Landry Jones was perfect through the air, tossing three scores and finishing with 334 yards passing, 182 of which ended up in the hands of Ryan Broyles, who also caught a TD.
As impressive as the Sooner offense was, the defense was just as good. They held Iowa State to 59 rushing yards on 33 attempts, and racked up only 124 yards through the air.
And they failed to score...go figure.
Ohio State 49, Purdue 0 (October 23)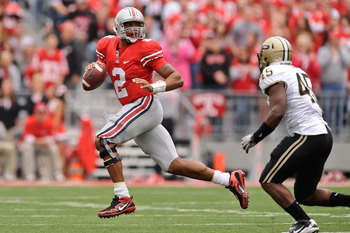 Jamie Sabau/Getty Images
You knew that the Buckeyes would put on an offensive (and defensive) show a week after their stunning defeat at the hands of Wisconsin, a loss that dropped them from the number one ranking.
Still, Ohio State's performance in this 49-0 win was very impressive.
This game was over by halftime as the Bucks built a 42-0 lead.
The Buckeyes racked up 489 yards of offense, 270 of which came from the arm of Terrelle Pryor, who also tossed three scores.
They were stout on defense as well, holding Purdue to 118 total yards, 88 of which came through the air.
Ohio State also forced three turnovers and held Purdue to 1.1 yards per carry on the day.
Despite their big-game struggles, Ohio State continues to be one of the best in the nation at rebounding from a loss.
Stanford 41, Washington 0 (October 30)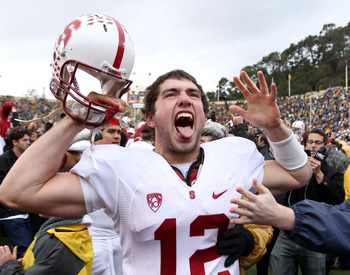 Ezra Shaw/Getty Images
Granted, it hasn't been the best season for Jake Locker and his Washington Huskies, but this game against Stanford was especially ugly.
Locker went 7-for-14 in the passing game for 64 yards and two picks. On the ground, he ran the ball eight times for a single-yard.
The Huskies only totaled 107 yards for the entire game.
Stanford, on the other hand, racked up 470 yards, 192 in the air, and 278 on the ground.
Cardinal QB Andrew Luck enhanced his Heisman prospects with 192 passing yards and another 92 on the ground, including a 51-yard TD scamper that put the Cardinal ahead for good.
Stanford's D held the Huskies to only seven first-downs, and a 2-for-11 showing on third-downs.
On top of all that, they forced two turnovers and held the ball for 15 more minutes than the Huskies did.
Maryland 62, Wake Forest 14 (October 30)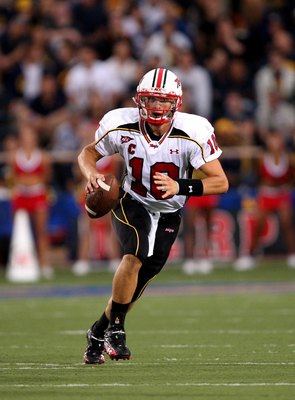 Ezra Shaw/Getty Images
Considering the break-neck pace at which Ralph Friedgen had his boys moving, it's amazing that Wake was even able to get on the board at all.
All cylinders were firing during the Terps 62-14 explosion.
On offense, the Terps gained 446 yards, 261 of which came on the ground.
Those yards, on 54 carries, helped the Terps eat up nearly 38 minutes of clock, leaving few opportunities for the Deacs.
But when Wake did have the ball, the Terps swarmed like gang-busters, holding them to negative-one rushing yards on 21 carries.
And while Wake was able to keep it close in the first quarter (10-7), the Terps exploded for 17 points in the second, and another 28 in the third, making it a 48-point game heading into the final quarter.
Nevada 63, Idaho 17 (November 6)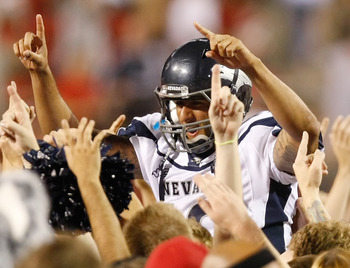 Ethan Miller/Getty Images
Nevada has had it's share of one-sided contests this year, and it's 63-17 destruction of Idaho was awe-inspiring.
844 total yards. 391 passing yards. And a staggering 453 yards on the ground.
Nevada had three 100-yard rushers. Colin Kaepernick passed for 320 yards and five TDs, leading the way despite running for a season-low 22 yards. It seemed almost like Nevada was trying to prove that it could do more than just run the ball.
So they passed. And then still ran for 453 yards.
They racked up an astonishing 38 first-downs. And they held the ball for nearly 40 minutes.
Nevada has been a well-oiled machine in 2010 and this game was their finest moment.
TCU 47, Utah 7 (November 6)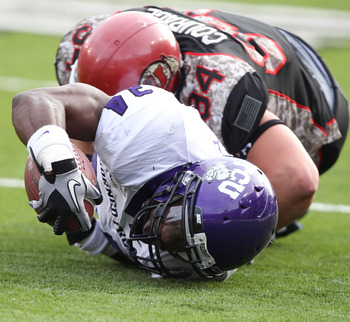 George Frey/Getty Images
In what was easily one of the most dominating performances of the 2010 season, TCU dismantled Utah 47-7 on their home turf.
Rumors had it that a Utah assistant coach waited outside the TCU locker room after the game to personally thank head coach Gary Patterson for not running up the score. Yikes!
The Horned Frogs dominated every aspect of this game.
On offense they out-gained the Utes by nearly 400 yards. They converted on 10-of-15 third-downs, good for a 66.7 percent success rate. Led by Andy Dalton, TCU passed for 381 yards, and misfired on only five passes, racking up 14.1 yards per passing attempt, scoring four times through the air.
On the ground they were punishing, racking up 177 yards on 45 carries and another two TDs.
It was on defense where TCU truly shined.
The Frogs held Utah to 199 total yards, only 148 through the air and 51 on the ground. Utah only managed to connect on three-of-13 third-downs, and turned the ball over four times.
TCU also controlled the clock, holding the ball for close to 40 minutes.
Florida 55, Vanderbilt 14 (November 6)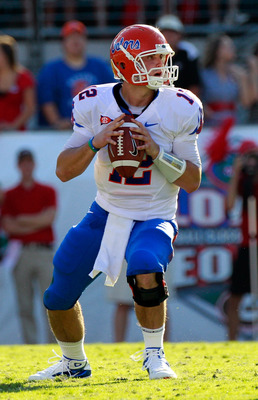 Sam Greenwood/Getty Images
Florida was downright untouchable in this contest, racking up 41 points and scoring four different ways (TD pass, TD run, fumble return, and blocked punt) en route to a 55-14 victory against Auburn in Nashville.
Florida's three-headed QB attack had a great day, combining for 277 yards passing, three TDs, 130 yards rushing and another score.
It was a genuine team effort too, with no Gator rushing for more than 84 yards or receiving for more than 75 yards.
On D, the Gators were suffocating. They held the Commodores to 2-for-16 on third-downs, and only 109 total yards. Their QBs combined to go 10-for-27 for only 63 yards and one interception.
On the ground, Vandy rushed 38 times for a grand-total of 46 yards. You think they would have stopped trying after their 37th, eh?
Their leading rusher had seven carries for 41 yards, while their leading receiver caught two balls for 14 yards.
Wyoming 44, Colorado State 0 (November 20)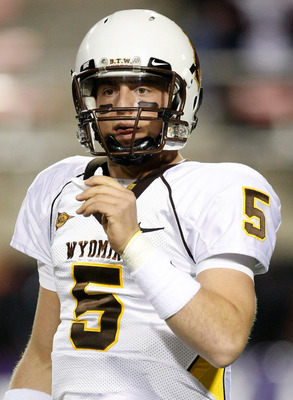 Ethan Miller/Getty Images
This one might not have featured any big names, but this game was one of the most one-sided games of the season.
Seven penalties were pretty much the only negative for the Cowboys.
On offense, they racked up 479 yards, 267 through the air and another 212 on the ground. They converted 50 percent of their third-downs, averaged 8.3 yards per passing attempt and 5.4 yards per carry.
Running back Alvester Alexander exploded for five touchdowns on the ground to go with his 147 yards. QB Austyn Carta-Samuels helped out with 267 passing yards, 46 more on the ground, and one score. And, five different receivers caught at least three passes.
On defense, the Cowboys put together their finest performance of the year. Aside from the shutout, they held the Rams to 162 total yards, 97 through the air and 65 on the ground.
They only average 2.9 yards per pass attempt and a paltry 2.0 yards per carry. They went 2-15 on third-downs and didn't help their cause with two turnovers and six sacks.
Looking at all the numbers, you kind of wonder how Wyoming didn't put more than 44 points on the board.
Keep Reading