BCS No.1 Oregon Ducks Football: Ducks' Bowl Options and Projections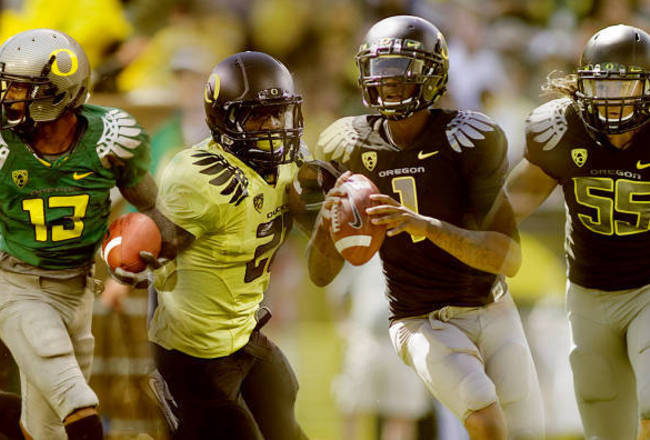 After 10 games, the Oregon Ducks find themselves at the top of the BCS and human polls. With only two games remaining, the options have begun to narrow on where Oregon will be bowling this year.
With a 10-0 record, Oregon has a bye week and then will face Arizona at home and head on the road to take on Oregon State in the Civil War. The first goal that Oregon can clinch is the Pac-10 title. With either one win or a Stanford loss, Oregon will repeat as Pac-10 champions.
With so few games remaining, let's take a look at how Oregon got to this point and the possible bowl matchups they may have.
How They Got Here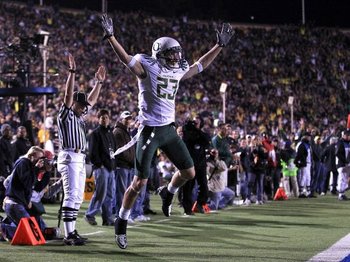 Ten games in and 10 wins later, the Ducks are undefeated with two very winnable games remaining. With stunning offense and opportunistic defense, the Ducks have put games out of reach early and often. Here is a look back at this season's results.
New Mexico 72-0 W (1-0)
@Tennessee 48-13 W (2-0)
Portland State 69-0 W (3-0)
@Arizona State 42-31 W (4-0, 1-0)
Stanford 52-31 W (5-0, 2-0)
@ Washington State 43-23 W (6-0, 3-0)
UCLA 60-13 W (7-0, 4-0)
@USC 53-32 W (8-0, 5-0)
Washington 53-16 W (9-0, 6-0)
@Cal 15-13 W (10-0, 7-0)
Biggest Win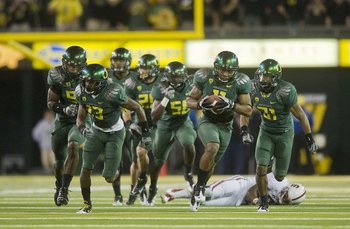 Through 10 games, the most impressive win so far for Oregon was their home victory over Stanford.
Early on, it did not look good for the Ducks as they feel behind 21-3. After the first quarter finally came to an end, the Ducks went on to outscore Stanford 49-10 and sent a message to the nation.
Biggest Test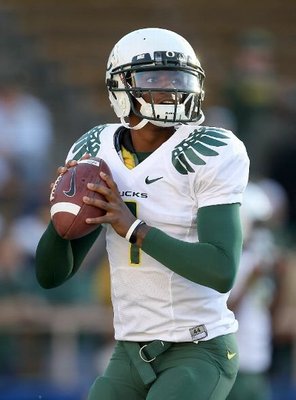 With all of the blowouts and big wins, Oregon has not been tested that many times this year. While things had come easy to the Ducks for most of the year, last week's game at Cal was the teams biggest test.
Cal was able to slow down the high-powered Ducks with their defensive penetration and ability to disrupt the Ducks' tempo, even through questionable methods.
Despite the test, Oregon put on the drive of the year, eating up 9:30 of the clock and going 18 plays to end the game.
Bowl Scenario 1: Oregon vs. Auburn National Championship Game
Scenario one would be the easiest to understand. Should the season end the way that it is now, the Ducks would head to the national title game. Joining them in Arizona would be Auburn, who would need to beat Alabama on the road as well as South Carolina in the SEC title game.
This would be a terrific game between two high-level offenses. The key to the game would simply be which defense could get more stops.
Scenario 2: Oregon vs.TCU National Championship Game
This is where things get interesting.
Oregon has two very winnable games remaining and their toughest test will be played at Autzen Stadium. On the other hand, Auburn has to go on the road to Alabama for the Iron Bowl and then has to take on South Carolina.
When laying out these two schedules, it is not a stretch to assume Auburn is going to drop one of these games. In doing so, I believe that if TCU finishes strong, they will jump up into the national title game and take on the Ducks.
Scenario 3: Oregon vs. Boise State National Championship Game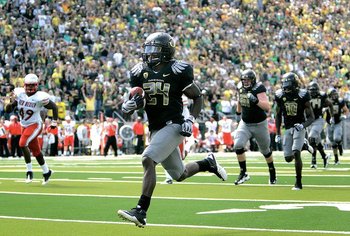 Going along with the last scenario, should Auburn fall, it opens the door for TCU but not far behind is Boise State.
Should TCU struggle in their remaining games, it could allow Boise State to jump up in the standings. Boise has already passed TCU in the human polls and it could only be a matter of time before they make the same move in the BCS rankings.
Scenario 4: Oregon vs. Wisconsin Rose Bowl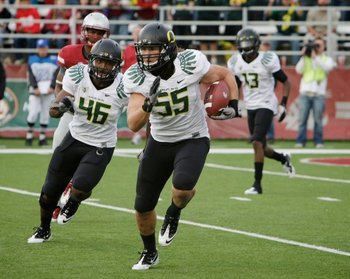 Time to take a look at the other side of the coin. With only Arizona and Oregon State left on their schedule, the Ducks seem to be on their way to their first undefeated season.
Should the Ducks lose one of their remaining games, they would fall to the Rose Bowl and would likely take on Wisconsin.
This would be the Ducks' second straight trip to the Rose Bowl.
Recap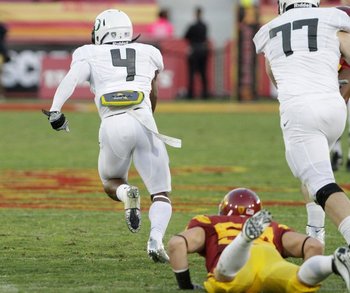 The Ducks will likely finish the year undefeated and be on their way to the national championship game. If they are able to get through their last two games, they will likely play either Auburn, TCU or Boise State.
Should the Ducks lose one of their remaining games, the Rose Bowl would be their destination. Oregon would face the champs of the Big Ten, which currently is still up in the air. Either Michigan State, Ohio State or Wisconsin would complete the Rose Bowl matchup.
Keep Reading

Oregon Ducks Football: Like this team?