Holy Masoli! Pat Peterson and The LSU Tigers Ranked #5 Vs. Ole Miss
November 17, 2010
Kevin C. Cox/Getty Images
Jeremiah Masoli and the Ole Miss Rebels head into Baton Rouge this Saturday to take on Pat Peterson and the red hot 9-1 LSU Tigers.
Red hot on defense, that is.
While the Rebels are coming off a poor performance at Tennessee, LSU defeated Louisiana-Monroe by 51 points and now find themselves ranked in the AP "top five."
The LSU defense, led by standout cornerback Pat Peterson, is among the best in the land and can easily be considered one of the top five units in college football. But there are two sides of the ball. The question is this: Is LSU the fifth best team in the country?
LSU is coming off a seemingly easy blowout last weekend, but the offense was hardly impressive. The Tigers went four-and-out on four occasions. Four times they started drives in UL-Monroe territory and failed to gain 20 yards. The offense finished the day with 276 total yards, and quarterbacks Jarrett Lee and Jordan Jefferson failed to pass for 100 yards combined.
LSU's defense was the dominant force, creating five turnovers that led to 31 points, including an interception return for a touchdown, an 85 yard interception return and a fumble recovery at the UL-Monroe 25 yard line.
To top it off, UL Monroe also fumbled a kickoff return and the ball was scooped up by LSU's Mike Brockers at the Monroe 25 yard line.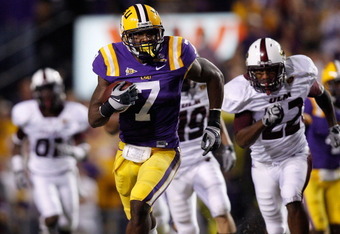 Chris Graythen/Getty Images
There's no question LSU's defense can play with just about any team. The question is how many times can this defense bail out the offense?
LSU started off the season with a win over UNC, but failed to score a touchdown in the second half on the UNC's second string defense. The Tar Heels had a chance to win the game, but failed to complete two pass attempts from the LSU six yard line on the final two plays of the game, as a pair of passes from quarterback T.J. Yates sailed through the hands of receiver Zach Pianalto.
After beating a terrible Vanderbilt team, they forced four turnovers out of Mississippi State and defeated the Bulldogs by 22 points, despite getting out gained by four yards. LSU finished with 264 yards of offense.
Once again, defense was the name of the game in a 20-14 home win over West Virginia, because LSU's offense gained just 230 yards and the unit scored one touchdown.
They followed up with a two point win at home against Tennessee, but needed a penalty from the Volunteers on the last play of the game to pull out the victory. Tennessee seemed to have stopped LSU on a botched play, but a quick substitution and snap left the Volunteers with too many men on the field. LSU got one more chance, and scored from a yard out with no time remaining.
Momentum turned for the better at Florida when the Tigers used a fake field goal, which was an inch away from being a dropped forward pass, to beat the Gators. After that win, the offense failed to get 300 yards at home against McNeese State, and failed to get 250 yards against Auburn's porous defense.
The Auburn game was LSU's big chance to show the country their great defense against a top team, but Auburn shredded the unit for 526 yards.
Their best game was the revenge game at home against Alabama. LSU felt like they were robbed last season when Pat Peterson seemingly intercepted a Greg McElroy pass and appeared to get both feet in bounds, but the referees gave the ball back to Alabama after a film review.
A top five team normally has a great offense and defense, but LSU's offense is ranked 95th in the country.
Ole Miss committed five turnovers at Tennessee while LSU was the recipient of five turnovers vs. UL-Monroe, and the Rebels find themselves about a 16 point underdog in "Death Valley."
So was Tennessee.
LSU has the prize winning defense, but their offense still has a lot to prove. Mississippi's Jeremiah Masoli has passed for more yards than Jarrett Jefferson and Jarrett Lee combined. Furthermore, Masoli will be eager to get back on track after such a poor performance at Tennessee.
It will be a tall task for Masoli and the Rebels offense to score a lot of points against Pat Peterson and this stellar defense, but LSU's offense will be the unit responsible for keeping this game close.
Considering LSU's games against Florida, Tennessee and North Carolina, it's fair to say the Tigers are three plays away from owning a 6-4 record.
LSU scored just one offensive touchdown against Ole Miss last season. Furthermore, Ole Miss is coming off a five turnover game while LSU was the polar opposite in forcing five turnovers.
Considering LSU is averaging 2.25 touchdowns against the eight BCS caliber teams they have played so far, this game might just end up like the Tennessee game, or at least a bit closer than folks are expecting.
For the sake of the Ole Miss Rebels, let's just hope they have 11 men on the field this time.
Take Ole Miss to cover 16 points