SEC Predictions: Every Conference Game of Week 12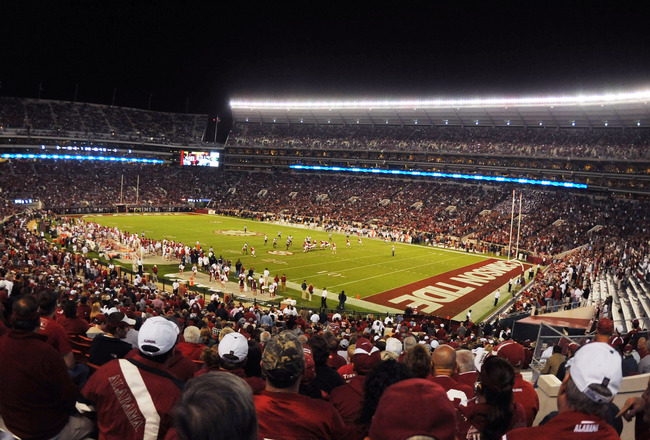 A rare sight at Alabama... something named after Paul Bryant.
Al Messerschmidt/Getty Images
Last week was pretty average for me. I accurately predicted a beatdown by Alabama, a stomping by Auburn and a Tennessee upset over Ole Miss. Vandy let me down, however, and like most people, I was way off on South Carolina's takeover of "The Swamp".
Without further adieu, Here are this week's predictions...
Auburn (11-0) Vs. The Media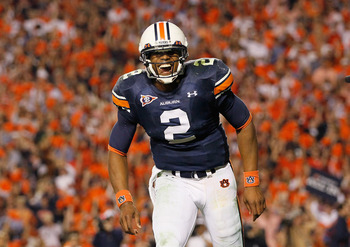 "... Cam's lyin' on a trophy case, wearin' nothin but a smile and an Auburn uniform..."
Kevin C. Cox/Getty Images
The media has gotten off to a hot start on Cam Newton and the Auburn Tigers, churning out allegations like newspapers (with Cam Newton on the cover).
While a lot of people have been steered to think that Auburn will be penalized, it states in the rulebooks that as long as no money changed hands, Cam is eligible. Many attorneys who are experts on the NCAA say the same and state that no player has ever been penalized for the solicitation of extra benefits.

Enjoy your big lead, Media, because it'll all come crashing down.
Auburn 1000, Media 3
Georgia State (6-4) at No. 11 Alabama Crimson Tide (8-2)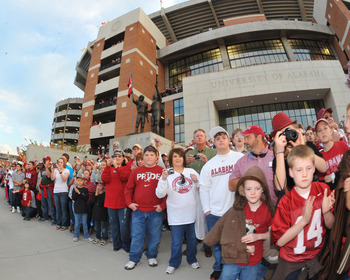 Bryant-Denny Stadium on a Thursday night.... They said it would never happen!
Al Messerschmidt/Getty Images
Georgia State, in their first year as a football program, has compiled a very impressive 6-4 record with former Crimson Tide coach Bill Curry.
Oh, listen to me, actually talking about them like they have a chance!
Alabama 65, Georgia State 3
Appalachian State Mountaineers (9-1) at Florida Gators (6-4)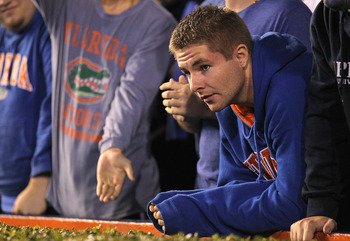 Amen brother...
Mike Ehrmann/Getty Images
Nothing like an FCS cupcake to get back on track, right?
Too bad this isn't the average cupcake. This is APPALACHIAN STATE. The one who beat No. 5 Michigan in 2007. The one that won three straight national championships. That Appalachian State.
Florida's season is basically a waste as it stands right now, as that is the first time under Urban Meyer that, at home, they were dominated for all four quarters. They were stomped 36-14 by South Carolina, and it could have been much worse.
Appalachian State is 9-1 and will hang with Florida, but the Gators will pull it out in front of the home crowd.
Florida 25, Appalachian State 16
Troy Trojans (5-4) at No. 17 South Carolina Gamecocks (7-3)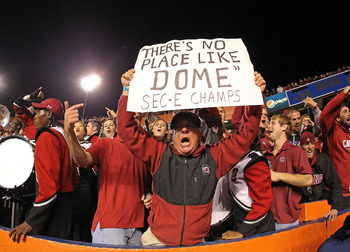 There truly is no place like Dome...
Mike Ehrmann/Getty Images
Generally, Troy is a school that gives powerhouses fits. But they never get the job done. They had countless fumbles in the 41-38 loss to Oklahoma State this year (Yes, OSU is No. 10 in the polls now). But they hit rock bottom in that 52-35 home loss to Florida International last week. They aren't the dominant force they have been in the Sun Belt.
South Carolina is the opposite. They've had 100 years of rock bottom. But this year, they were a dominant team in the SEC East, winning the division with a beatdown of Florida in the Swamp. It was a complete and total take-over by the Gamecocks.
It's close early but USC rolls eventually.
South Carolina 47, Troy 24
Tennessee Volunteers (4-6) at Vanderbilt Commodores (2-8)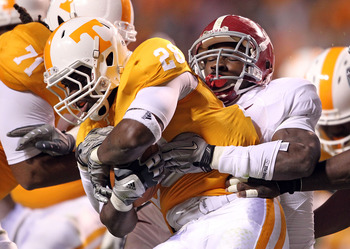 Andy Lyons/Getty Images
How do you know you're bad? When you're fighting to stay out of the cellar of the SEC East.
Tennessee has caught fire offensively recently, totaling 102 points in their last two outings, both blowout victories over teams that have fans in Memphis, Tennessee.
In a stadium half-full of Vol fans, Tennessee takes one more step to bowl eligibility.
Tennessee 34, Vanderbilt 17
Ole Miss Rebels (4-6) at No. 5 LSU Tigers (9-1)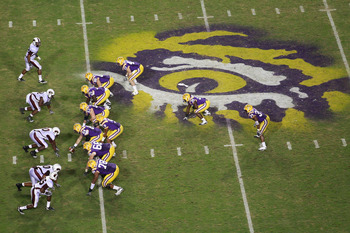 Chris Graythen/Getty Images
If not for a loss at Auburn, the Tigers would likely be sitting pretty atop the BCS standings. If South Carolina upsets Auburn—LSU might have a shot to still make the BCS Title Game.
In the way is pesky Ole Miss, who has won two straight Magnolia Bowls.
That will change in a big way this year. LSU takes Ole Miss to the house and there will be no bowling for the Rebels from Oxford this year.
LSU 31, Ole Miss 3
SEC GAME OF THE WEEK: No. 13 Arkansas (8-2) at No. 21 Mississippi State (7-3)
Vick Ballard is as graceful as it sounds.
Al Messerschmidt/Getty Images
In Starkville, Mississippi, the Hogs and Bulldogs throw down for better standing in the SEC West, which has already been won by Auburn University.
This game has all the makings of a shootout.
Here is my score-by-score prediction for this football game:
In the first quarter, Mississippi State gets the ball and moves down the field, and Chris Relf throws a touchdown pass to RB Vick Ballard. 7-0, Bulldogs!
Arkansas responds, but only with a field goal. 7-3 Mississippi State.
After a stretch of good defensive play, Mississippi State gets the scoring going again in the second quarter when Chris Relf runs it in from 34 yards away. 14-3 Mississippi State!
After intercepting a Ryan Mallett pass, MSU kicks a field goal. It's 17-3 Mississippi State.
Arkansas moves the ball down the field, but only to watch a field goal attempt bounce off the upright. MSU would then convert a huge pass play that sets up a one-yard TD run by Chris Relf. It's 24-3 Mississippi State!
But Arkansas finally gets some offense going as Ryan Mallett finds Greg DJ Williams in the end zone from 50 yards away to pull the Hogs within 24-10 with two minutes left in the half.
That 2:00 is all the Dawgs need to get in FG range and boom a field goal before halftime. 27-10 Mississippi State at the break!
The third quarter begins with a three-and-out by Arkansas resulting in MSU getting the ball back. The Dawgs can't punch it in, but they make a field goal to make it 30-10 in favor of Mississippi State.
Arkansas finally wakes up as Mallett throws a TD pass to DJ Williams from 24 yards out and it's 30-17 Mississippi State.
On the next drive, MSU throws the ball right into the hands of an Arkansas defender and they take over in Dawg territory. Knile Davis takes it in from two yards out to get Arkansas within 30-24 at the end of the third quarter.
Mississippi State blows a huge oppurtunity early in the fourth by missing a pretty easy field goal to keep Arkansas in it.
The Hogs capitalize when Mallett throws a 31-yard touchdown to Broderick Green to give Arkansas an unbelievable 31-30 lead.
But it wouldn't last too long. With 2:47 to go, Vick Ballard runs it in again to give the Dawgs a 36-31 lead! They go for two and don't get it.
2:47 on the clock. One timeout. Down five, and your QB is Ryan Mallett. This is intense.
Mallett leads the Hogs down the field and then throws a touchdown pass on a screen pass to Knile Davis! 37-36 Hogs! They go for two and also don't make it. The touchdown comes with just 14 seconds left in the game!

MSU runs out of time to find field goal range, and Arkansas pulls it out in Starkville!
Arkansas 37, Mississippi State 36
Keep Reading

Arkansas Razorbacks Football: Like this team?