The 50 Greatest Big-Game Coaches in College Football History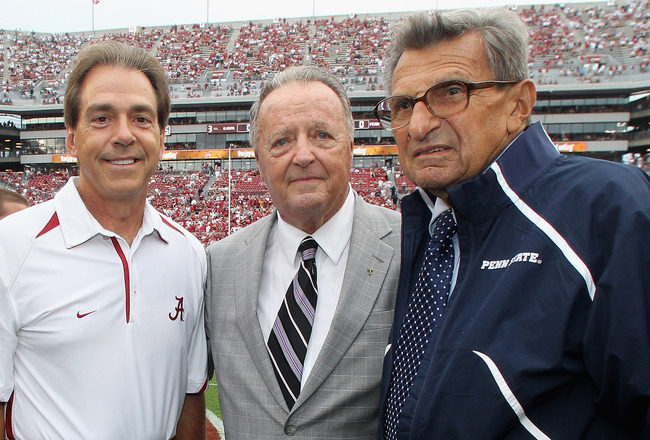 Handout/Getty Images
Coaching is arguably more important in college football than it is in any other sport.
Time after time, great coaches have found success where no one thought it could be found. Great coaches have turned plodding programs into powerhouses and steered the way for the innovation and evolution of the game.
Of course, as the game evolves the job of a coach becomes more demanding, but the goal is still the same: Win.
We'll take a look at the 50 greatest big-game coaches of all time, measuring the success of the best-of-the-best up against each other to find out who the real greatest college football coach of all time is.
50. Frank Beamer
Mike Zarrilli/Getty Images
Beamer is one of the longest-tenured current college football coaches, having been with Virginia Tech since 1987.
In those 24 years, Beamer has won six conference titles, had his team ranked in the postseason top 25 17 times and failed to reach at least eight wins only once since 1993. Beamer is still searching for his first national championship.
49. Howard Schnellenberger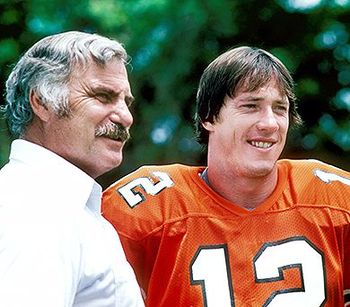 Schnellenberger started it all for the Miami Hurricanes, beginning a wave of success that would last for 20 years.
He took over a program that had never done much of anything. By his second year in 1980, the Hurricanes finished the season ranked 18th.
By 1983, Schnelly had turned the Hurricanes into national champions after defeating Nebraska in the 1984 Orange Bowl—one of the biggest upsets in college football history.
48. Chris Petersen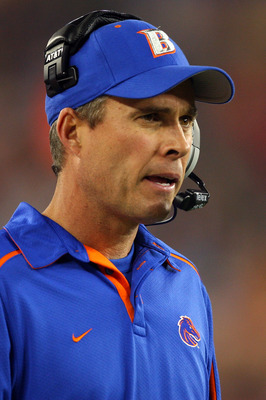 Christian Petersen/Getty Images
Petersen has only been at the helm for Boise State for four-and-a-half years. But in that short stretch he became the first and only two-time winner of the Paul "Bear" Bryant National Coach of the Year Award.
He has compiled a record of 58-4, with only one loss in the last three seasons. Boise is on its way to its third undefeated season in five years and another appearance in the Fiesta Bowl. Petersen will have the chance to make it three-for-three in Arizona.
.
47. Harold Raymond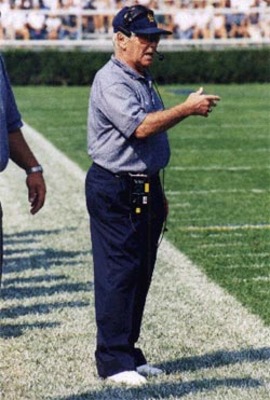 One of the winningest college football coaches of all time, "Tubby" Raymond coached Delaware for 36 years, compiling a record of 300-119-3 over that time.
Coaching in Division II and later in Division I-AA, Raymond won three national titles, 14 Lambert Cup trophies and made 23 trips to the postseason.
46. Butch Davis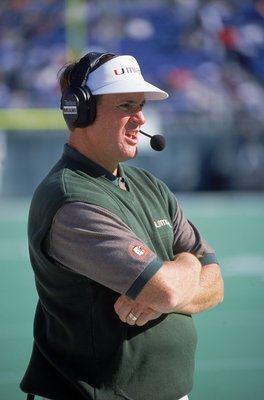 Doug Pensinger/Getty Images
Butch Davis never won a championship at Miami, but he was the driving force behind two of the school's most successful teams—the 2001 and 2002 squads.
Davis took over a Miami team that was far removed from its past glories and led the Hurricanes to three Big East championships in six years, including an 11-1 season in 2000 and a victory in the Sugar Bowl.
Had he stuck around for another year rather than head to the NFL, Davis would have been at the helm for Miami's 2001 national championship team—one of the greatest college football teams of all time.
45. Frank Howard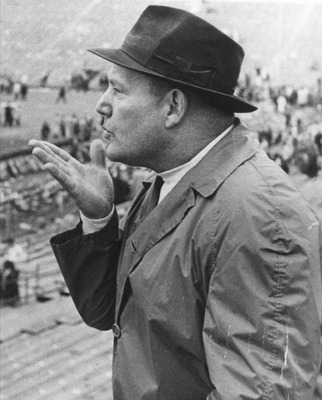 Frank Howard's presence at Clemson will never fade as long as Howard's Rock remains a treasured piece of school tradition.
In 30 years as the Tigers head coach, Howard became the 15th-winningest coach of all time by leading Clemson to eight conference championships and unbeaten seasons in 1948 and 1950. He never won a national championship, though, and only claimed one victory in a major bowl.
44. Wally Butts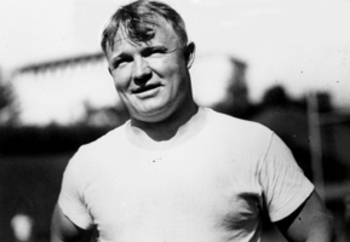 Butts served as the head coach at Georgia from 1939 to 1960, though most of his success came in an eight-year stretch from 1941 to 1948.
In the 12 years after that, Butts' teams failed to have a winning record seven times. From '41 to '48, Georgia won the Rose Bowl, the Sugar Bowl, the Orange Bowl and two national championships.
43. Dennis Erickson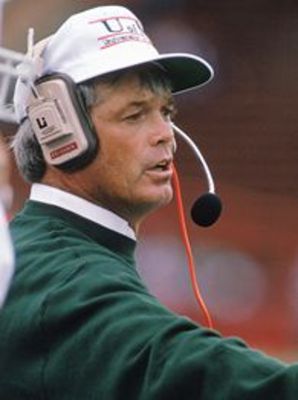 Dennis Erickson is best known for his six years with Miami from 1989 to 1994, but there's still the stigma that he rode Jimmy Johnson's talent to the finish line.
Erickson won two national championships in his first three seasons at the helm, with a record of 33-3 and wins in the Sugar Bowl, Cotton Bowl and Orange Bowl.
While he would lead the the Hurricanes to top-15 finishes the next three years and take Oregon State to a conference title, Erickson went 1-6 in bowl games after his hot start.
42. Frank Thomas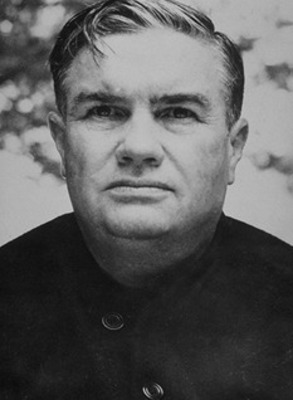 Thomas is second only to Bear Bryant for wins at Alabama. That should give you a pretty good idea where he ranks among the Crimson Tide greats.
In 16 years as Alabama's head coach, Thomas' teams compiled a record of 115-24-7, with five conference championships and two national championships. The 1941 claim is one of the most disputed of all time, as Alabama finished the season with an 8-2 record and was ranked 20th by the AP.
41. Frank Broyles
Broyles' run of dominance from 1959 to 1968 was the most successful in Arkansas football history.
While Broyles was at the helm for 19 years, it was the first half of his tenure that truly defined his legacy. It was then that Arkansas won six Southwest Conference championships in 10 years, was ranked in the top 10 seven times and claimed a share of the 1964 national championship.
40. Ralph Jordan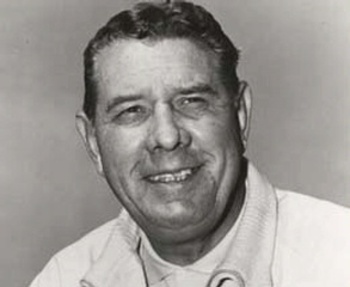 Ralph "Shug" Jordan was the head coach at Auburn from 1951 to 1975. With a record of 176-83-6, he is the winningest coach in Auburn history and he guided the Tigers to the 1957 national championship with a 10-0 record.
In Jordan's 25-year tenure with the team, Auburn compiled 19 winning seasons, finishing in the top 20 on 12 occasions. The biggest knock on him is that the Tigers only won the SEC once and never won a major bowl game under his guidance.
39. Wallace Wade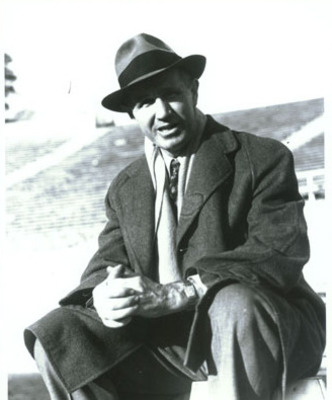 Wallace Wade was the first of a long line of great coaches at Alabama, but he's remembered just as much for what he did at Duke.
After leading Alabama to three national championships in eight years from 1923 to 1930, Wade went on to coach Duke for 16 seasons—though he experienced little success after WWII. Before the war, Duke finished six seasons ranked and won six conference championships.
38. John Robinson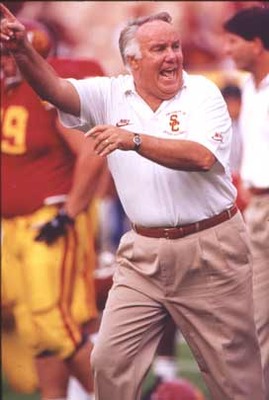 John Robinson is one of the few college football head coaches to have a non-consecutive tenure with the same school, coaching USC from 1976 to 1982 and then again from 1993 to 1997.
In his first run with the Trojans, Robinson's teams never finished outside of the top 15, won three conference titles, three Rose Bowls and a national championship.
After returning to USC in 1993, Robinson would win two more Pac-10 titles and the 1995 Rose Bowl.
37. Don James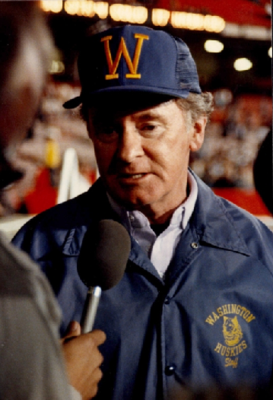 Best known for guiding Washington's Steve Emtman-led Huskies to a share of the 1991 national championship, Don James' 18 years as head coach were the most successful in school history.
James led Washington to six conference titles, eight finishes in the top 11, five victories in major bowl games, and one national championship. He retired with the most Pac-10 wins in conference history.
36. Dan Devine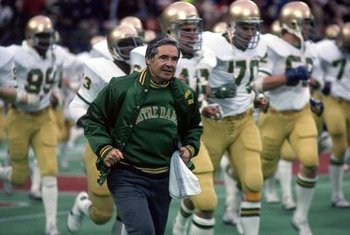 Dan Devine is best remembered for his time with Notre Dame, but don't be too quick to dismiss his years with Arizona State and Missouri, where he won three conference titles, finished 10 seasons ranked and won the Orange Bowl and Sugar Bowl.
It was at Notre Dame that Devine won his only national championship though, when in 1977 the Irish finished off an 11-1 season with a 38-10 win over Earl Campbell's Texas Longhorns in the Cotton Bowl.
Notre Dame finished the year outside of the top 25 only once under Devine's leadership.
35. Dana X. Bible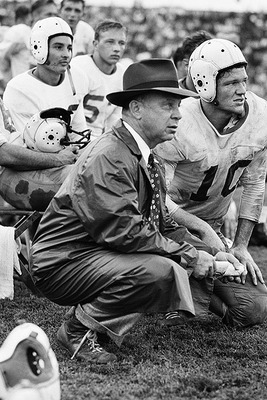 From 1917 to 1945, Dana Bible won 14 conference titles with Texas A&M, Nebraska and Texas.
The Aggies will forever remember him for his part in the tradition of the "12th Man." The Cornhuskers will remember him for six conference titles in eight years and the Longhorns will remember him for five top-15 finishes in six years.
34. Bob Stoops
Ronald Martinez/Getty Images
Bob Stoops took over as Oklahoma's head coach in 1999 and he hasn't looked back since.
In 11-plus seasons on the job, Stoops has guided the Sooners to a record of 125-31 with six conference championships and the 2000 national championship.
By far the biggest knock on Stoops is the fact that his teams have lost the national championship game three times since 2003.
33. Jimmy Johnson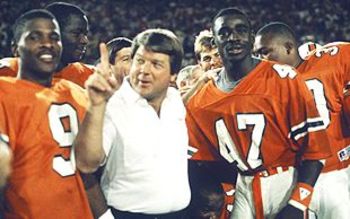 Jimmy Johnson followed Howard Schnellenberger as Miami's head coach and he was critical in developing "The Decade of Dominance" that went from the mid-1980s until the mid-1990s.
Johnson led Miami to a 44-4 record from 1985-1988, with the Hurricanes falling just short of national championships in 1986 and 1988. He did, however, bring the school its first undefeated season in 1987, as well as its second national championship.
32. Lou Holtz
Lou Holtz is one of the most recognizable and accomplished coaches of the last 50 years, as the journeyman has found success nearly everywhere he's gone.
With a combined 33 years on the job, Holtz had a career record of 249-132-7 with 12 wins in bowl games, including two Orange Bowls, two Cotton Bowls and the 1988 Fiesta Bowl with Notre Dame. That year he led the Irish to a 12-0 record and the national championship.
Holtz is the only coach to lead six different programs to bowl games and four different programs to top-20 postseason rankings.
31. Vince Dooley
In Dooley's 25 years at the helm of Georgia, the Bulldogs had only one losing season as he compiled a record of 201-77-10.
Under his leadership, the Bulldogs won six SEC championships, finished the year ranked in the top 20 on 14 different occasions and, of course, won the 1980 national championship with Herschel Walker in the backfield.
30. Terry Donahue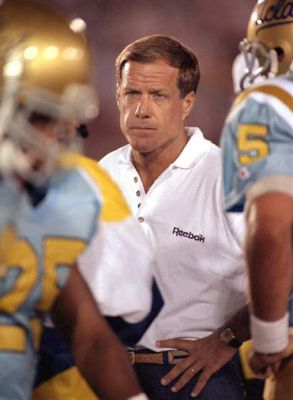 Arguably the greatest coach in UCLA history, Terry Donahue led the Bruins for 20 years, from 1976 to 1995, and became notorious for his postseason success.
Donahue is the only coach in history to win seven consecutive bowl games—a stretch from 1982 to 1987 that is considered the most successful in UCLA history.
Over that time, UCLA won the Pac-10 four times and claimed victory in the Rose Bowl three times, as well as victories in the Fiesta Bowl and Cotton Bowl.
29. Jim Tressel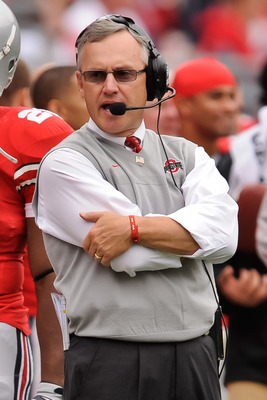 Jamie Sabau/Getty Images
Jim Tressel first made a name for himself by leading Youngstown State to four Division I-AA national championships over a seven-year stretch from 1991 to 1997, but he's become one of the all-time greats with the Buckeyes.
Tressel took over at Ohio State in 2001 and won the national championship in just his second season on the job, as the Buckeyes went 14-0 and defeated a heavily favored Miami team for the crown.
Tressel hasn't done worse than tie for the Big Ten championship since 2004.
28. Bernie Bierman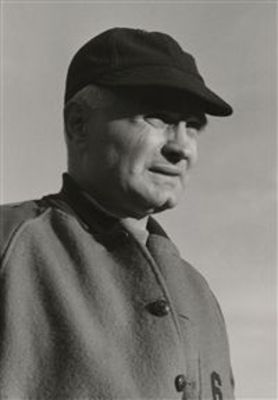 Bernie Bierman coached Minnesota during the Golden Gophers' "golden years," with the team winning five national championships in eight years from 1934 from 1941.
While Bierman would return to Minnesota after WWII, things just weren't the same, as the Gophers had a record of 30-23-1 in his last six years coaching. Still, few coaches have done more for a school than Bierman did for Minnesota in the 1930s.
27. Steve Spurrier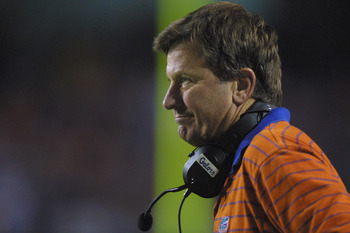 Scott Halleran/Getty Images
The legendary Gators quarterback returned to his alma mater as the head coach in 1990 and went on to immortalize his legacy.
In 12 years at Florida, Spurrier would lose no more than nine games in any given year, finish no worse than second place in the SEC East, claim six conference titles, rank no worse than 13th in any AP postseason poll and, of course, win the 1996 national championship.
Things haven't gone as smoothly at South Carolina, but the Gamecocks are off to one of their best seasons in 2010.
26. Nick Saban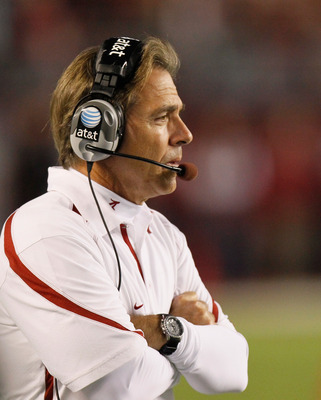 Kevin C. Cox/Getty Images
Saban has been one of the most successful coaches of the 21st century, with national championships at LSU and Alabama in 2003 and 2009, respectively.
Though successful at Michigan State as well, its his tenure with the Tigers and the Tide that makes him great. In his last nine seasons, Saban has led his team to a postseason top-25 finish seven times, with two bowl victories and, of course, the win in the 2010 BCS National Championship Game.
25. Darrell Royal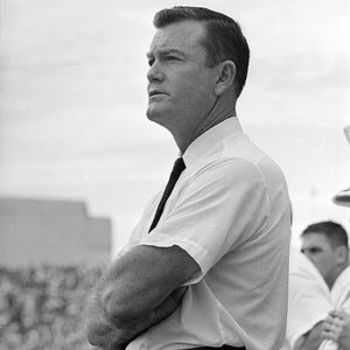 The Longhorns' Darrell K. Royal-Texas Memorial Stadium bears his name with good reason. Royal coached Texas for 20 years after stints with Mississippi State and Washington.
Over that stretch, he compiled a record of 167-45-5, bringing Texas three national championship and 11 Southwest Conference titles. Royal is the winningest coach in Longhorns history.
24. Urban Meyer
Sam Greenwood/Getty Images
After leading Utah to two straight MWC titles and a record of 22-2, Urban Meyer became the head coach at Florida in 2005. Shortly thereafter, a dynasty was born.
Meyer's teams would compile a 48-7 record from 2006 to 2009, winning two national championships as well as the Sugar Bowl in 2009, after a loss to Alabama in the SEC Championship Game ended all title hopes.
23. John Gagliardi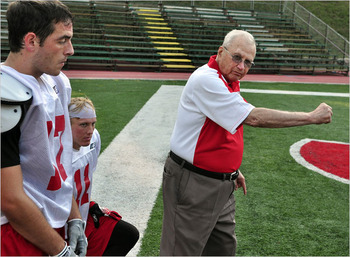 Gagliardi has been a Division III college football coach for over 60 years, having coached St. John's since 1953. With 478 wins, he is the winningest college football coach in history.
He's led St. John's to four Division III national championships and 27 conference championships, numbers that almost certainly will never be duplicated.
22. Bo Schembechler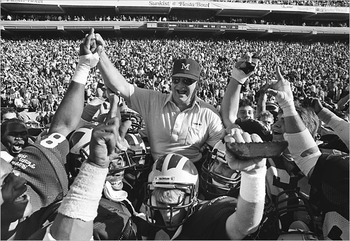 Schembechler died in 2006, having never lived down the fact that, despite all his success on the field, he never led Michigan to a national championship. For one of the top coaches in school history, it's a disheartening tale.
Schembechler led Michigan to a 194-48-5 record over his 21 years as head coach, winning 13 conference titles, appearing in the postseason top 25 in all but one season and finishing 16 seasons ranked in the top 10.
21. Earl Blaik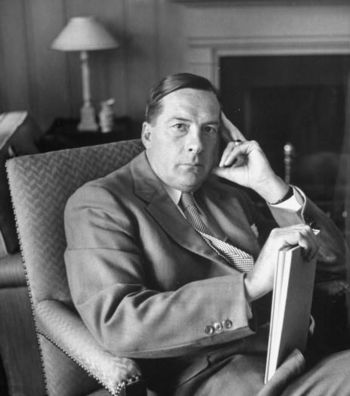 "Red" Blaik served as the head coach at Army for 18 years, from 1941 to 1958, winning consecutive national championships in 1944 and 1945, with the '45 squad considered one of the all-time greats.
Under his guidance, Army was ranked in the postseason top 20 on 13 occasions, suffering only one losing season throughout his entire tenure.
20. Robert Neyland
Robert Neyland was one of the greatest coaching minds of the first half of the 20th century, leading Tennessee to its most successful run in school history.
He had three different tenures with the team (1924-34, 1936-40, 1946-52) and remains the winningest coach in Tennessee Volunteers history. Considered the finest defensive coach of all time, Neyland had six undefeated seasons, seven conference championships and four national championships.
19. Fielding H. Yost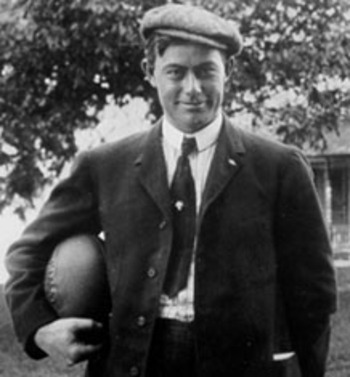 Fielding H. Yost coached Michigan for 25 seasons, winning six national championships and 10 Big Ten titles.
He is legendary for his famous "Point-a-Minute" squads from 1901 to 1905. Those teams compiled a record of 55-1-1 and outscored their opponents 2,821 to 42. Michigan would claim national titles four straight years, from 1901 to 1904.
After a decade of struggles, Yost would return Michigan to dominance, winning his fifth and sixth national championships in 1918 and 1923.
18. Woody Hayes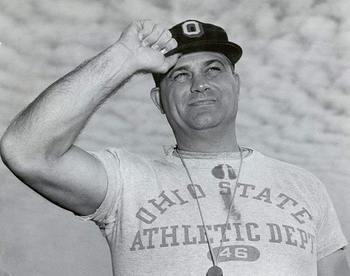 Remembered for the fierce rivalry between Hayes' Buckeyes and Bo Schembechler's Wolverines, it is Hayes who gets the last laugh in this one.
Not only did he take home 13 conference titles, amass 21 seasons ranked in the top 20 and win five major bowls, Hayes took home the national title three times compared to zero for his counterpart in Ann Arbor.
17. John Heisman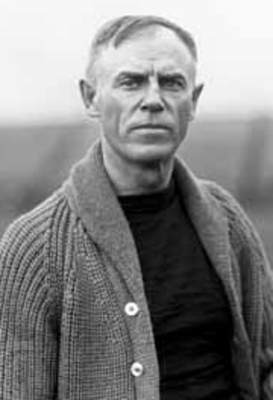 Considered the first great college football coach, John Heisman was an innovator who played a pivotal role in the evolution of the sport. He was a driving force behind the forward pass and the use of helmets.
A do-it-all man, Heisman had his best days at Georgia Tech, where he coached for 18 years. Not only did Heisman coach the football team for the Engineers, he was the head coach of the baseball and basketball teams as well, and later the track and field team on top of that.
Heisman put together 16 consecutive non-losing seasons including three undefeated campaigns, claimed the 1917 national championship and, maybe most famously, led a 220-0 win over Cumberland in 1916.
16. Glenn "Pop" Warner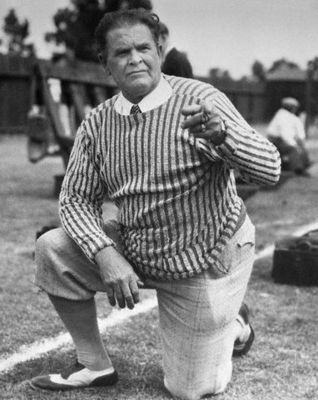 "Pop" Warner coached at Georgia, Cornell, Carlisle, Pittsburgh, Stanford and Temple from 1897 to 1938, compiling a record of 319-106-32.
Like John Heisman, Warner was pivotal in turning the game into what it is today. He dominated at Carlisle, won three national championships in four years at Pitt and guided Stanford to its only national championship in 1926.
15. Ara Parseghian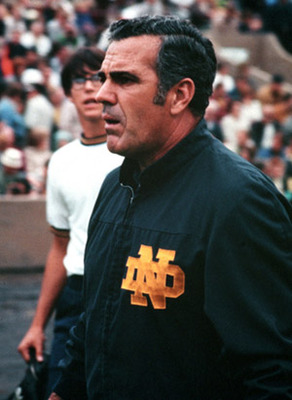 Parseghian rebounded from limited success with Northwestern to become one in a great line of Notre Dame coaches.
After taking over prior to the 1964 season, Parseghian led the Irish to a 95-17-4 record, winning the Cotton Bowl, Sugar Bowl and Orange Bowl and placing in the postseason top 15 every single year from 1964 to 1974.
He would cap his tenure with two national championships.
14. Alonzo Stagg
Stagg is credited for playing a major role in pioneering both football and basketball. He invented the man in motion and the lateral pass, and he developed basketball as a five-player sport.
Best known for his years with Chicago (1892-1932) and Pacific (1933-46), Stagg won 314 career games, 12 conference titles and two national championships.
13. John McKay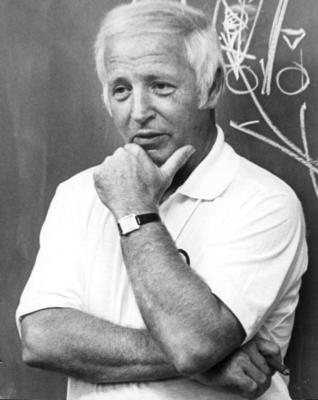 Known for popularizing the I-formation, McKay is responsible for turning USC into what it is now. After struggling his first two years on the job, McKay would reel off 14 consecutive winning seasons, eight conference titles, five Rose Bowl victories and four national championships.
His 1972 team is considered one of the greatest of all time, defeating five teams ranked in the top 18 by an average of 22 points on it's way to an undefeated season and national championship. The '72 Trojans never trailed in the second half of a game.
12. Walter Camp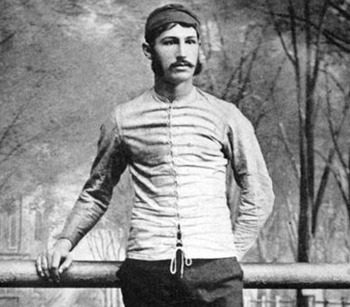 "The Father of American Football," Walter Camp was at the forefront of the invention of the sport, playing at Yale from 1876 to 1882 and later coaching Yale from 1888 to 1892 before moving to Stanford until 1895.
Camp won three national championships in five years at Yale, posting a record of 67-2 at the helm, though he wasn't able to find quite as much success at Stanford.
His contribution to the game simply cannot ever be forgotten.
11. Eddie Robinson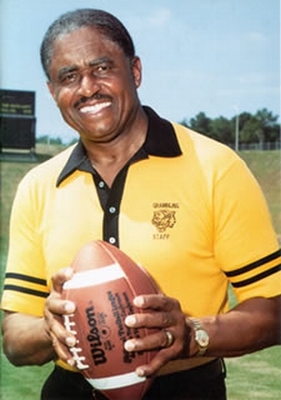 Eddie Robinson was so much more than a coach in his 55 years at Grambling University. Sure, his 408 wins are the second-highest total of all time—with 45 winning seasons to boot—but it was what he did off the field that was most impressive.
Robinson did everything he could for his players, not just as athletes, but as scholars as well. The amount of success he was able to have in the difficult situation he was in is really something special.
10. Frank Leahy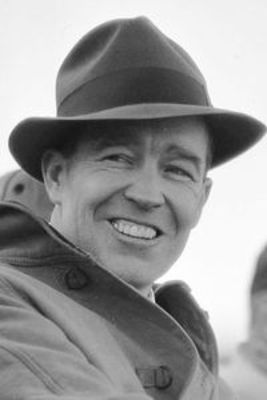 Frank Leahy is best known for his tenure with Notre Dame, but many forget he was the head coach of Boston College's 1940 "Team of Destiny" that went undefeated.
But his days with Notre Dame have become the thing of legend. After winning the 1943 national championship with the Irish, Leahy returned to Notre Dame in 1946 after serving in the Navy during WWII. He won national championships in 1946, 1947 and 1949, with a 9-0-1 record in 1948.
Today, Leahy's dynasty is considered the greatest in Notre Dame history.
9. Bob Devaney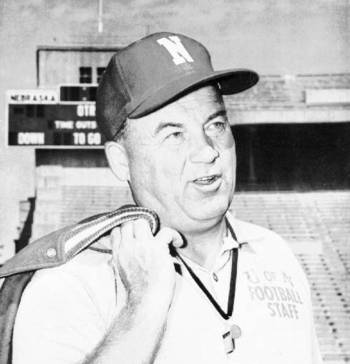 Bob Devaney's years at Nebraska have come to be defined by the 1971 team, considered by many to be the finest college football team of all time.
But Devaney's success with the Cornhuskers went well beyond his undefeated champions of '73. He led Nebraska to four straight Big Eight titles on two separate occasions, and he took home four Orange Bowl victories in 10 years—including national championships in 1970 and 1971.
8. Barry Switzer
Stephen Dunn/Getty Images
Barry Switzer and Jimmy Johnson are the only head coaches to ever win both a national championship and a Super Bowl. While his tenure at Oklahoma ended on a sour note, he's one of the most successful and accomplished coaches in history.
Switzer guided the Sooners to 12 Big Eight Conference titles in 16 years, losing no more than two games in any of those seasons.
He won six Orange Bowls as well as one Fiesta Bowl, and he was pivotal in bringing Oklahoma national championships in 1974, 1975 and 1985.
7. Pete Carroll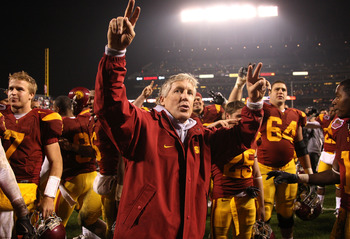 Jed Jacobsohn/Getty Images
Pete Carroll's dominating run with USC was marred by the Reggie Bush fiasco, but retroactive changes to the record books don't change what actually happened on the field.
From 2002 to 2008, Carroll led the Trojans to an 82-9 record, seven straight Pac-10 championships, back-to-back national championships in 2003 and 2004, four Rose Bowl victories and two Orange Bowl victories.
If it wasn't for a last-minute Vince Young touchdown in the 2006 Rose Bowl, Carroll's Trojans would likely be considered the greatest dynasty of all time.
6. Bud Wilkinson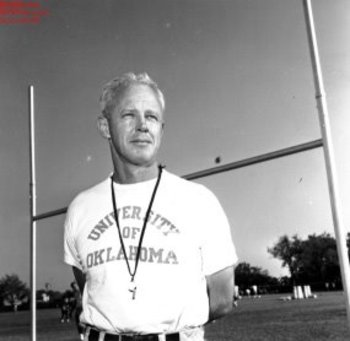 Under the control of Bud Wilkinson, from 1947 to 1959 Oklahoma owned the Big Six/Big Seven/Big Eight Conference, suffering one conference loss in 13 years and claiming 13 straight conference titles.
Wilkinson's Sooners would rank in the postseason top 16 every season throughout this unparalleled run of success that delivered three national championships, four Orange Bowl victories and two Sugar Bowl victories.
5. Bobby Bowden
Doug Benc/Getty Images
One of the most decorated coaches in college football history, Bobby Bowden is second only to Joe Paterno in all-time victories for Division I-A coaches.
In Bowden's 44 years as a head coach, he failed to produced a winning season only four times, won 21 bowl games, led FSU to 14 straight seasons without losing more than two games from 1987 to 2000, claimed 12 conference titles and won the national championship in 1993 and 1999.
4. Knute Rockne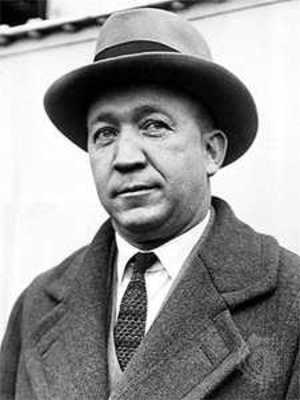 Credited with popularizing the forward pass, Knute Rockne was the first of several legends to coach at Notre Dame.
From 1918 to 1930, Rockne lost only 12 games, bringing five national championships to Notre Dame and never having a losing season. Rockne tragically died in a plane crash in 1931 at the age of 43.
3. Joe Paterno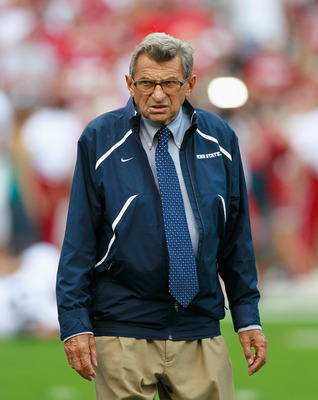 Kevin C. Cox/Getty Images
Joe Paterno is simply a living legend that has roamed the sidelines at Penn State since 1966. He is the winningest Division I-A coach of all-time, with 400 career wins.
"JoePa" turned Penn State into what it is today. With five undefeated seasons under his belt, two national championships, 14 wins in major bowl games, and only five losing seasons in 45 years, Paterno is undoubtedly one of the all-time greats.
2. Paul "Bear" Bryant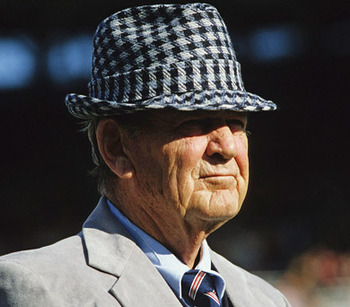 Arguably the most revered coach of all time, Paul "Bear" Bryant was notorious for his brutal practices and ability to adapt to a changing game.
He is the winningest coach in Alabama school history with 232 career wins for the Tide, six national championships, 13 SEC championships and 22 postseason appearances in the top 25.
Add in his 11-1 season in 1950 with Kentucky that was retroactively awarded a national championship, as well as his 1956 season with Texas A&M—in which Bryant led the Aggies to a top-five finish—and there's little doubt he's the cream of the crop of his time.
1. Tom Osborne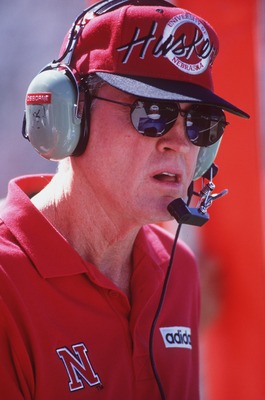 Jonathan Daniel/Getty Images
Tom Osborne's level of success at Nebraska is simply staggering. In 25 years at the helm, Osborne never failed to lead his team to a postseason top 25 ranking, and won at least nine games every single year for a quarter-century.
He took home 13 conference titles, three undefeated national championships, nine wins in major bowls, and an overall record of 255-49-3.
Keep Reading