College Football Bowl Projections: BCS Rankings Week 12 Edition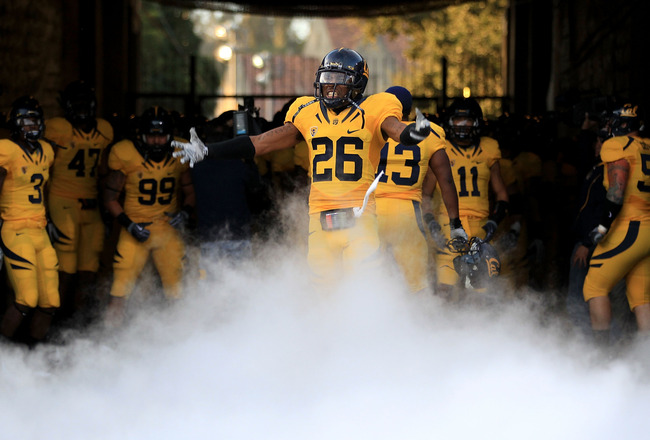 Ezra Shaw/Getty Images
College football has reached Week 12, and it's time to start looking at the projections for the BCS bowl games. Teams like Wisconsin, TCU, Boise State, Oregon and Auburn are all looking to cement their positions and play in one of the most prestigious bowl games in the country.
While the Music City Bowl and the New Orleans Bowl are noteworthy games in their own right for their participants, teams like Virginia Tech, Alabama and Pitt are all looking to be a part of a bowl game that won't be played in 2010.
As the standings continue to shake out, let's take a look at projections for all five BCS bowl games.
Rose Bowl: No. 7 Wisconsin Badgers vs. No. 6 Stanford Cardinal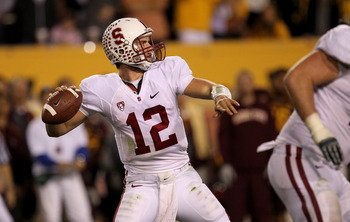 Stephen Dunn/Getty Images
Wisconsin is the highest-ranked Big Ten team, and I expect them to be invited to Pasadena to play in the Rose Bowl.
This year's edition should see John Clay and the physical Badgers take on the current Cardinal quarterback and future Buffalo Bills quarterback Andrew Luck.
I expect both squads to win out and see each other at the Rose Parade.
Fiesta Bowl: No. 10 Oklahoma State vs. Pitt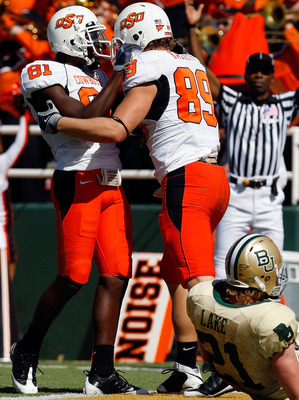 Ronald Martinez/Getty Images
I see the Cowboys from Oklahoma State winning the Big 12 Championship Game and being gifted Pitt as an opponent in the Fiesta Bowl.
The Fiesta Bowl is tied to the Big 12 champion, but the other slot is an at-large. The Big East needs at least one participant in the BCS games, despite the fact that Pitt isn't even ranked in the BCS standings.
Justin Blackmon will continue to catch everything in sight and the Cowboys will win out. Depending on how the other bowls shake out, they may end the year in the top five.
Orange Bowl: No. 16 Virginia Tech vs. No. 9 Ohio State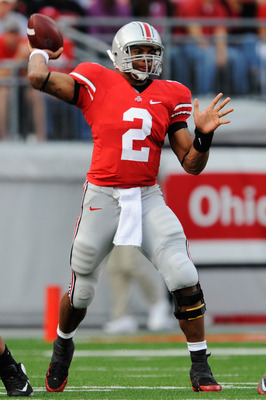 Jamie Sabau/Getty Images
Tyrod Taylor and Virginia Tech will win the ACC and be automatically tied into the Orange Bowl. That leaves an at-large spot for the bowl to fill.
I expect them to take Ohio State. The Buckeyes should end up with a share of the Big Ten title, though they'll miss out on the Rose Bowl.
With Terrelle Pryor's name recognition and the fact that Buckeye fans travel extremely well, it will be an easy choice to put them in the Orange Bowl.
Sugar Bowl: No. 2 Auburn vs. No. 4 Boise State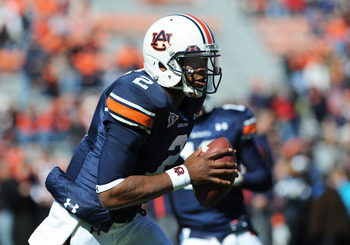 Al Messerschmidt/Getty Images
Auburn won't go undefeated this year. They have a game at Alabama as well as a likely spot in the SEC Championship Game. I see them losing at Alabama this week and winning the title game, garnering them a spot in the Sugar Bowl.
Boise State is already behind TCU in the BCS standings, and I don't see how the Broncos could pass them at this point. Both will go undefeated, and Boise will be left to play in New Orleans.
Cam Newton and Kellen Moore will get to go head to head in a clash between two of the best signal-callers in the nation. It's not the title game, but it will sure be entertaining.
BCS National Championship Game: No. 1 Oregon vs. No. 3 TCU
Ezra Shaw/Getty Images
Sure, there will be plenty of complainers who will say that TCU doesn't deserve a shot at the title, but this matchup looks great on paper: one of the most powerful offenses in the country in Oregon facing one of the stingiest defenses in the land in TCU.
TCU could really put themselves on the map with a win in this game, though I feel that will be a difficult task.
Oregon's offense is simply unstoppable, and TCU proved their mortality against San Diego State. The Horned Frogs may have won the game, but they allowed 35 points.
If all goes as I expect, this will be the matchup you see on January 10, 2011, in Glendale, Arizona.
Mike Osterberg is a student at Penn State University and a writing intern at BleacherReport.com. Follow him on twitter @Mike_Osterberg.


Keep Reading