College Football: 10 Teams That Need To Join the Big East Now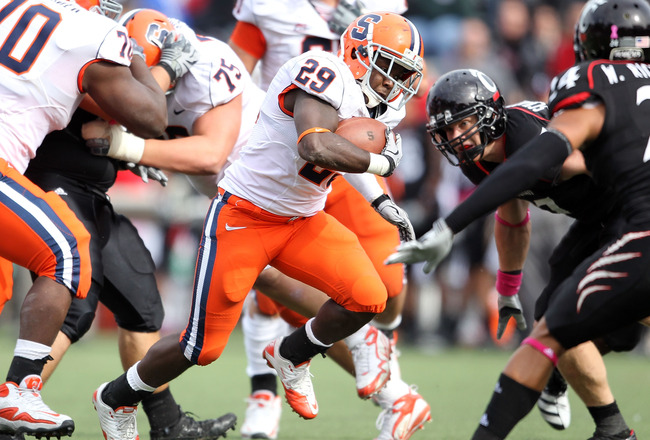 Andy Lyons/Getty Images
With Pittsburgh's loss to Connecticut tonight, the Big East still finds itself without a bowl eligible team. Yes, we're into November. Yes, this is actually considered a major conference.
The Big East has been the laughing stock of college football for the better half of this decade and rightfully so. It only has eight teams and continuously struggles against teams from other major conferences. Not to mention, it has had virtually no presence inside the BCS top ten--save for last year's Cincinnati team, and we now know that was a mistake.
Regardless, the Big East is following the current trend and trying its luck at expansion. Typically, expansion is reserved for conferences that teams actually want to join, like the Big Ten, not afterthoughts, which means the Big East will likely need to settle for a non-Big Six school.
Among others, TCU has been considered a strong candidate for the opening, particularly so it could gain a spot in an automatic BCS qualifying conference. Let's take a look at the ten teams who should accept a Big East invitation.
TCU Horned Frogs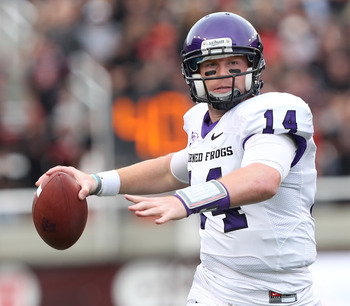 George Frey/Getty Images
Logistically, this makes absolutely no sense. TCU would join as a football only member and have to travel halfway across the country for its conference away games.
But this is the Big East, the same conference that includes basketball members from Chicago and Milwaukee, so maybe it's not as crazy as it seems.
Right now, TCU's current conference, the Mountain West, is probably a better conference than the Big East, but in a few years, that may not be the case. The MWC is losing Utah to the Pac-10 and BYU is leaving to become an independent, meaning only Boise State will be left in future years.
Although the Big East isn't a strong conference, TCU would have a much better strength of schedule than in the new MWC, which could help for a BCS at-large bid.
However, the most important reason for TCU to leave for the Big East is an automatic BCS bid. The Horned Frogs would have easily won the conference the past two years and received that ever elusive BCS bid. It's a much safer bet than relying on pollsters year in and year out.
Boise State Broncos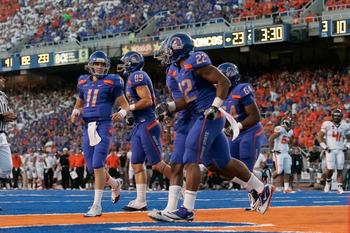 Otto Kitsinger III/Getty Images
Logistically, Boise State is like TCU except for the fact that it makes even less sense geographically. But for the Broncos, the travel expenses and hassles could be worthwhile.
Although TCU has had trouble with the BCS, no team has done more whining about the system than Boise State. Every year, the Broncos play one or two good teams, win those games, then coast through an easy schedule.
BSU is always highly ranked at the beginning of the year, but tapers off as it enters WAC season.
Joining the Big East would give Boise a way to finally receive a guaranteed BCS bid if it wins its conference. Also, the Broncos could quiet the critics who claim they only win due to an easy schedule, even though coasting through a Big East schedule unscathed isn't much to be proud of these days.
Due to logistics it probably will never happen, but if Boise State receives a Big East invite, it should jump on the opportunity right away in order to gain access to that elusive automatic qualifier bid.
Temple Owls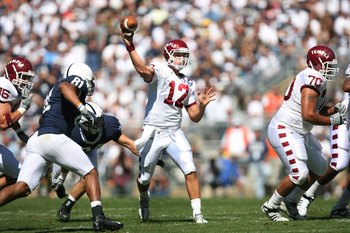 Hunter Martin/Getty Images
Unlike Boise State and TCU, Temple makes plenty of sense geographically. Located in Philadelphia, it's right in the heart of Big East country and already knows the teams in the conference quite well.
Another plus, the Owls are on an upward swing and could compete with any team currently in the conference. Coach Al Golden has done a tremendous job in his five years at Temple, as he has led his team to a 9-4 season in 2009 and a 7-2 mark so far this year.
Unlike other options, Temple is already an FBS program, which wouldn't make the Big East look like a complete failure having to dig for FCS teams.
All in all, if the Big East isn't able to hit a home run, Temple would be an excellent expansion choice, and the Owls would likely jump on the opportunity.
UCF Knights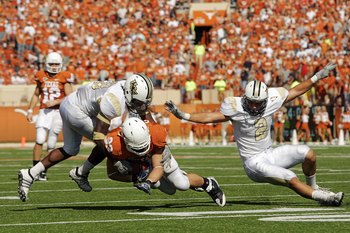 Brian Bahr/Getty Images
Plenty of names have circulated involving Big East expansion, but Central Florida has rarely been suggested on any lists.
The Big East already has a team in Florida (USF) and another up-and-coming team might not be a bad risk for the conference to take.
The Knights won the Conference USA championship in 2007 and have been to three bowl games since 2005. They also entered the top 25 polls this week, debuting at No. 25 in the AP poll and No. 23 in the coaches poll.
UCF isn't a home run like TCU, Boise State, or even Temple, but it's still a solid team that could end up enhancing the national perception of the conference.
Villanova Wildcats
Jim Rogash/Getty Images
Like Temple, Villanova makes perfect sense from a geography standpoint. It's located in Philadelphia--the heart of Big East country--and already plays basketball in the Big East.
However, Villanova's greatest downfall is that it is an FCS team for football.
Allowing an FCS team to join would greatly diminish the Big East's national perception, but honestly, the conference may not have a choice.
Villanova is still a decent team. It consistently ranks among the top FCS teams and could improve anymore when able to recruit FBS-caliber players.
Taking Nova would be a huge risk for the Big East, but right now, it looks like it may end up having to be an option.
Houston Cougars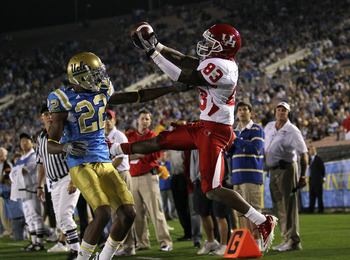 Stephen Dunn/Getty Images
Like Central Florida, Houston is a member of Conference USA and is always near the top of the league. The Cougars, led by outstanding quarterback Case Keenum, would bring an exciting, high-powered offense to the Big East, which could certainly allow them to compete for a conference title.
Houston has been known for competing with upper level teams and even took down Oklahoma State last season.
Of course, Houston is far away from the other Big East teams, like TCU, and would be a tough sell logistically. But nevertheless, it would be an upstanding member of the conference and would contend for the Big East title every year.
Boston College Golden Eagles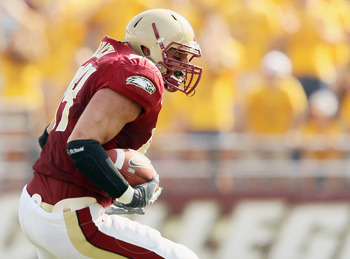 Elsa/Getty Images
I know, I know. There's no way that Boston College is going to go back after the ACC's raid on the Big East. The Golden Eagles have made a name for themselves in their new conference and have little reason to want to return to their old one.
The Big East, however, would gladly welcome a return.
The pros for Boston College would be the rekindling of old rivalries, as new ones haven't caught on that well in the ACC, and the fact that the ACC itself isn't very good.
By returning to the Big East, Boston College would be an annual title contender--it would no longer have to worry about Virginia Tech--and could received bids to more BCS bowls.
Realistically, however, there is little chance that Boston College returns to the Big East. But for the fragile conference, it is always worth a shot.
Appalachian State Mountaineers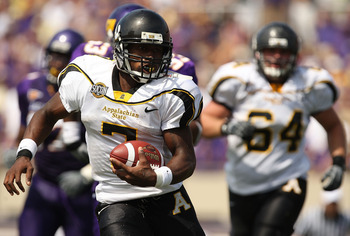 Streeter Lecka/Getty Images
We all remember Appalachian State. The Davids who beat Goliath. The conquerers of the Big House. No college football fan will every forget that day in 2007 when the Mountaineers took down mighty Michigan (wow, that's weird to say these days) in the Big House.
The Appalachian State program has tapered off a bit since that win, but the Mountaineers still typically field very good football teams. They won three straight FCS championships earlier in the decade and have proven they can compete with top FBS teams.
Geographically, App State, which is located in Boone, NC, makes perfect sense. The FCS label might be an issue, but it shouldn't have a tough time shedding that label thanks to the win against Michigan.
For a few years, Appalachian State would likely finish toward the bottom of the conference. But after it gets settled, West Virginia may end up being the second best "Mountaineers" in the Big East.
East Carolina Pirates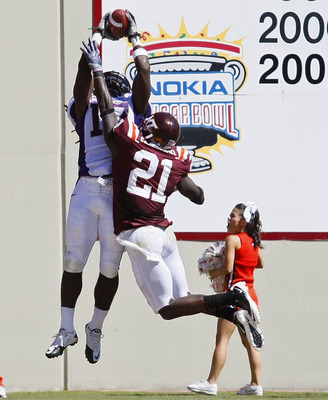 Geoff Burke/Getty Images
Another Conference USA school, East Carolina has shown its ability to compete with the big boys in recent years. It knocked off Virginia Tech in 2008 and has kept it close to the Hokies during the past two years.
The Pirates have won the Conference USA championship two years in a row and produced a rarity in 2007, beating Boise State in the Hawaii Bowl.
ECU would fit well in the Big East and could be competitive with the current teams. A move to the Big East would also give the Pirates a chance to catch up with former coach Skip Holtz, who left ECU for South Florida at the end of last season.
Memphis Tigers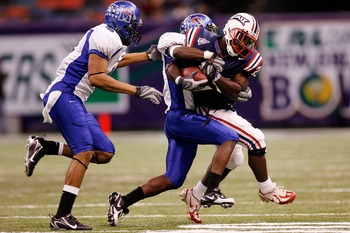 Chris Graythen/Getty Images
Memphis is really a last resort in Big East expansion. If it comes to this, the Big East should just ban all of its members from playing football.
The Memphis football program has been utterly terrible in recent years and is fresh off a drubbing at the hands of awful Tennessee last week. So why even consider the Tigers?
Basketball.
It's a strange thing for our football-crazed nation, but basketball is all that matters in the Big East. By adding Memphis, the Big East could add a typically strong basketball program, one that went to a national championship two years ago, and bring its total members to a whopping 17 basketball teams.
If the Big East only expands for football, Memphis would be an awful choice. But if it plans to allow the new team to join the conference for other sports, the Tigers could end up being a very good addition.
Keep Reading