Nail in the Coffin? How the Joe Schad Article Might Bury Someone Else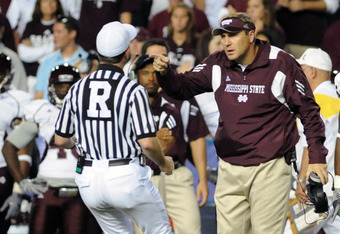 Al Messerschmidt/Getty Images
Late Tuesday night, ESPN Reporter Joe Schad published a report directly implicating both Auburn QB Cameron Newton and his father, Cecil Newton, in pay-for-play allegations.
Immediately, this report is hailed by the anti-Auburn partisans as the smoking gun that would bring down the Auburn Tigers.
But with further examinations of the article, as well as more, albeit minor, developments to the story, it would appear that the article, if indeed legitimate in its reporting, would bring down not the Auburn University Football Program, but the MSU Football Program.
Upon closer reading, you may notice that while the sources used in the report remained anonymous, they are described as persons "who recruit for Mississippi State." With existing NCAA regulations in mind, it is obvious that the anonymous sources are coaches and/or staffs of the MSU Football Program. This, however, has created an unexpected dilemma for the Bulldogs.
On Wednesday, when asked about the most recent exposé, SEC spokesman Charles Bloom replied that there was no mention of the reported conversations in either of MSU's reports to the league.
This revelation directly contradicts what was claimed in the Schad report by various anonymous sources, and implicates the Bulldogs in possible NCAA violations by withholding evidences.
There are several scenarios of what might come out of the Schad report and the subsequent developments:
With the most recent revelations, which party is hurt the most by Joe Schad's article?
1. The Best Case Scenario: The SEC spokesperson made a mistake, or that MSU bypassed the SEC and relayed the purported conversations directly to NCAA. In this case, MSU would be indeed in the clear. The only person in trouble would be Joe Schad, who made a partially false report on a major news network.
2. The sources were lying: The sources, for whatever intentions, were lying regarding this matter, or were not the direct parties on these alleged phone conversations. While MSU will not be in any violations of NCAA regulations, these individuals could very well lose their jobs, for putting their entire program at danger of a possible sanction. Also, any journalists from now on would have second thoughts about quoting anonymous sources from MSU.
3. The Worst Case Scenario: These "recruiters" are not MSU staffs, but common boosters, and their allegations are known within the MSU insiders. In this case, heads will roll at Mississippi.
Not only MSU used non-coach/staff for recruiting efforts, but they decided to withhold critical information when the purported conversations took place. It would bring down a fledgling MSU Bulldog that had a fairly successful season so far in the toughest conference.
There would also be more investigations into the recruiting methods of MSU, which would provide unwanted media attentions as well as distractions to the team.
Oh, and in this case, there WILL be a letter of inquiry from NCAA.
Therefore, it is in the best interest of MSU, that the entire Schad article are fabrications of individuals with no ties to MSU, because otherwise, it could get ugly for the Bulldogs and ruin what might otherwise be a decent season.
This article is
What is the duplicate article?
Why is this article offensive?
Where is this article plagiarized from?
Why is this article poorly edited?

Mississippi State Football: Like this team?