Longhorn Alumni: Ranking The Top Ten Horns in The NFL in 2010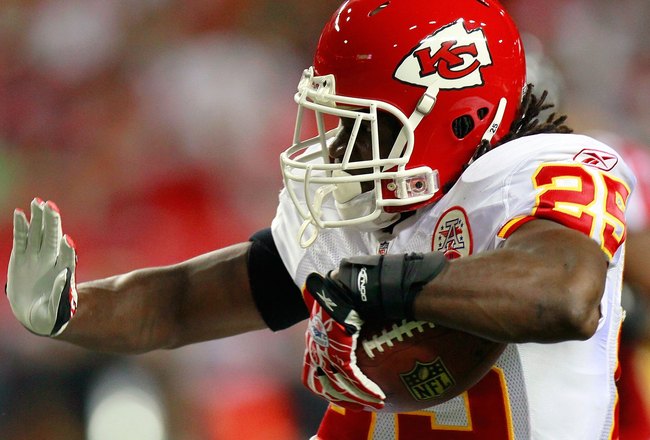 Kevin C. Cox/Getty Images
Although the 2010 season has proven to be a nightmare for the Texas Longhorns, the program still remains one of the top pro-factories in the country. Despite this year's shortcomings, the Horns have a strong foundation of elite performers at the highest level.
Texas boasts an NFL-best 42 active players in the league, a tribute to the job that Mack Brown and his predecessors have done to increase visibility for the program and sustain a high level of performance for such a long stretch of time.
Sprinkled around the league, the Longhorns alumni have continued the good name of Texas football on the next level with 23 different clubs.
Their production has fluctuated throughout the season, but here is a look at the top 10 former Longhorns in the NFL in 2010.
Colt McCoy, Cleveland Browns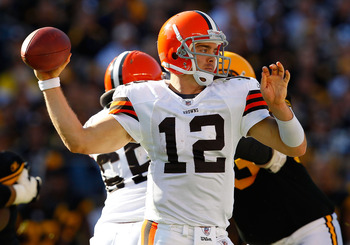 Jared Wickerham/Getty Images
The Browns rookie quarterback has surpassed expectations this season. When he was drafted in the third round, it had already been decided that McCoy's first year would be spent on the bench, soaking up insight via veterans Jake Delhomme and Seneca Wallace.
After both of them fell to injury, it was McCoy's turn to take the reins, and he has responded with composure and poise. The result: a 2-2 record against Pittsburgh, New Orleans, Baltimore and the New York Jets, arguably four of the NFL's best teams this season, especially on the defensive side of the ball.
It is unusual for a first-year player to command such respect from his teammates, but all McCoy did at Texas was win—setting the NCAA record for career victories—and he has the Browns buying into his leadership.
Stats: 64/99, 734 yards, 2 TDs, 2 INTs, 85.2 QB Rating
As of November 15, 2010
Ricky Williams, Miami Dolphins
Jamie Squire/Getty Images
Easily the oldest in this group of Texas alum, Ricky Williams is by no means having a bad year, but his production is down from last season—a result of fewer Wildcat offensive schemes and Ronnie Brown simply having the better year.
The former Heisman Trophy winner is still very much part of the offense in Miami, but at 33 years old, he is well past the mythical 30-years-old plateau.
However, with Brown shouldering 113 carries, Williams still gets plenty of looks to balance his old age. It was about this point in the season last year when his production took off. In the final seven games in 2009, Williams accounted for 563 yards on the ground.
He will have to push for an extra yard here and there if he wants to eclipse 1,000 yards on the year.
Stats: 89 car, 400 yards, 1 TD, 8 rec, 52 yards, 1 TD
As of November 15, 2010
Jordan Shipley, Cincinnati Bengals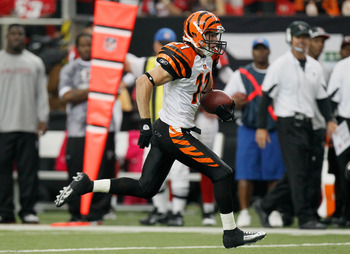 Kevin C. Cox/Getty Images
Another rookie making a solid impact this season is Jordan Shipley. With the depth at receiver in Cincinnati, it was questionable to predict that Shipley could have the success he has had. But he has responded well, taking command of the third-string wideout spot, behind stars Terrell Owens and Chad Ochocinco.
Shipley's possession mentality and quickness in the slot is proving great worth to himself and the Bengals offense, as both Owens and Ochocinco have benefited from the rookie's presence in the middle of the field.
Stats: 30 rec, 409 yards, 1 TD
As of November 15, 2010
Roy Williams, Dallas Cowboys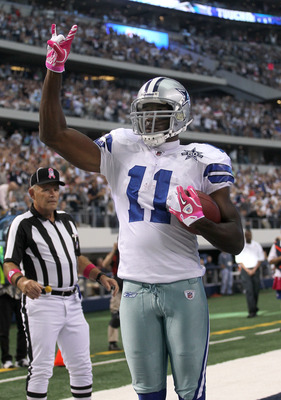 Stephen Dunn/Getty Images
Roy Williams was once one of the best prospects to come out of Austin, though his four-and-a-half years in Detroit hardly made a case.
Now in his second full year with the Cowboys, Williams is showing off his athleticism in the red zone and the strength that he so effortlessly displayed while at Texas. But the quick start that he had is coming to an alarming halt, and the injury to Tony Romo has hardly helped matters.
Nevertheless, Williams is putting the pieces together, but rookie Dez Bryant is showing signs of better promise in the Cowboys' offense.
Stats: 25 rec, 366 yards, 5 TDs
As of November 15, 2010
Cedric Benson, Cincinnati Bengals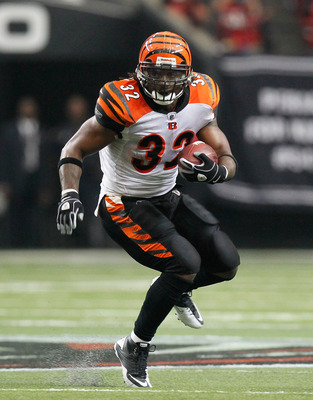 Kevin C. Cox/Getty Images
Cedric Benson's comfort zone in Cincinnati is paying off. After a few substandard years for the punishing tailback, Benson is having a solid season for the Bengals despite his low yards per carry.
With the threats in the passing game, it is no surprise that Benson's load has appeared to have lessened, but the six-year veteran is producing well in a limited role.
He carried the ball 301 times in 13 games last year. He is on track to do the same this season.
Stats: 175 carries, 623 yards, 3 TDs, 16 receptions, 104 yards, 1 TD
As of November 15, 2010
Vince Young, Tennessee Titans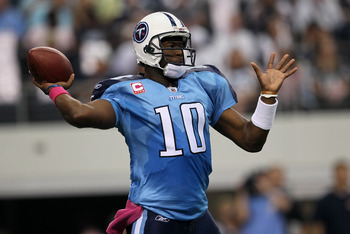 Stephen Dunn/Getty Images
A knee injury has stalled Vince Young's promising start to the season, but his development has never been questioned. Having a Pro Bowl tailback in Chris Johnson surely makes Young's job much easier, but he is making the throws that many analysts doubted.
Kenny Britt's emergence has been a welcomed one, but an injury to the second-year receiver lessens the number of dependable hands in the field. The addition of Randy Moss, however, demands extra attention, which could lead to some good production heading into the second half of the season.
Stats: 81/140, 1090 yards, 10 TDs, 3 INTs, 97.6 QB Rating
As of November 15, 2010
Earl Thomas, Seattle Seahawks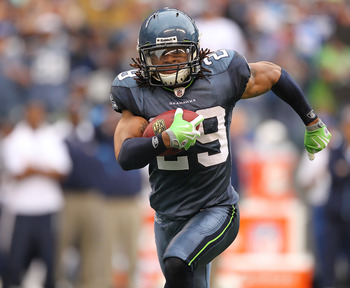 Otto Greule Jr/Getty Images
The ball-hawking safety has been continuing his duty at the highest level, and the Seahawks have not looked back on their selection.
Thomas is tied for fifth in the league with four interceptions and looks to be a foundation for Seattle's secondary for some years to come. The Texas standout is also tied for third on the team in tackles.
Reproducing his efforts in the second half of the season could see the rookie safety into the Pro Bowl.
Stats: 47 tackles, 4 INTs
As of November 15, 2010
Michael Griffin, Tennessee Titans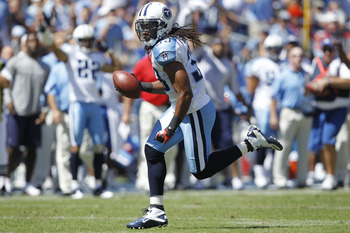 Joe Robbins/Getty Images
Thomas' fellow safety, four years his senior, is having an equally commendable season. Griffin has picked off four passes to date and has maintained a high level throughout the year, providing run support from deep as well as sure-tackling skills sideline-to-sideline.
An injury-plagued season last year is a thing of the past as Griffin is poised for his second Pro Bowl selection. He is part of a Titans defense ranked 11th in the league against the run and tied for fourth in takeaways with 20.
He leads Tennessee in interceptions and is second on the team in tackles.
Stats: 60 tackles, 1 FF, 4 INTs
As of November 15, 2010
Brian Orakpo, Washington Redskins
Win McNamee/Getty Images
Coming off a fantastic rookie season, Brian Orakpo is off to another great year in Washington, racking up 7.5 sacks to date, good for a share of seventh place in the league. Orakpo had 11 sacks last year.
Despite the Albert Haynesworth distractions, the former Nagurski Award winner has done nothing but produce. He has 5.5 more sacks than anyone else on the team.
Orakpo is slowly becoming a dominating presence as a pass rusher, accounting for numerous holding penalties against him. His ability to switch from a true 4-3 defensive end to a 3-4 outside linebacker has proven invaluable for his career.
He earned himself a Pro Bowl appearance last season and he could well be on his way back.
Stats: 33 tackles, 1 FF, 7.5 sacks
As of November 15, 2010
Jamaal Charles, Kansas City Chiefs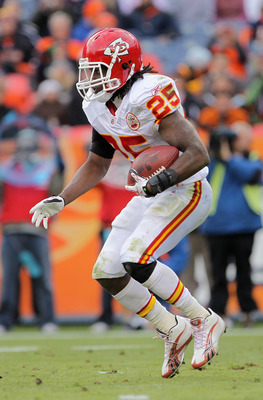 Doug Pensinger/Getty Images
The top Longhorn in the NFL so far this season is, without a doubt, Jamaal Charles. The fourth-year veteran leads the league in yards per carry (6.0) and is a great explosive complement to seasoned journeyman Thomas Jones.
Charles' dual-threat ability as a runner and pass catcher are paying huge dividends for a Chiefs offense that is finally turning the corner. Though he has just a single 100-yard performance, the 5'11" speedster is well on his way to his second straight 1,000 yard season.
Stats: 127 carries, 760 yards, 2 TDs, 26 receptions, 318 yards, 1 TD
As of November 15, 2010
Keep Reading

Texas Longhorns Football: Like this team?