College Football Rankings: Who Got Screwed in Week 10 Coaches' and AP Polls?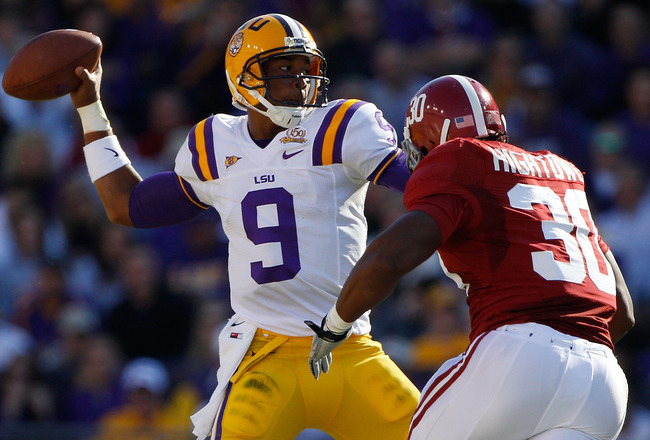 Chris Graythen/Getty Images
In college football, this season has been mostly defined by three key words: upheaval, upsets and unpredictability. The national balance of power has shifted from week to week, and even now as the season's tenth week is over there continue to be big changes from week to week in the national rankings.
One of the few unbeaten top 10 teams lost, a one-loss powerhouse suffered their second defeat of the year, and three other one-loss contenders also fell in Week 10 action. As a result, the polls released in advance of Week 11 have some new faces in impressive and sometimes surprising positions.
But in every week's polls, there are some teams that were slighted by the voters. You can argue a case for many teams deserving a different ranking, but here we'll go over 10 that have a case for complaining about their positioning nationally. As always, be sure to weigh in with other schools that you think deserve to be ranked higher, and feel free to speculate on how things might shake out as the college football season enters its final weeks.
LSU Tigers (No. 5 AP, No. 6 Coaches' Poll)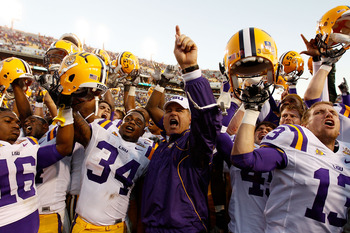 Chris Graythen/Getty Images
Given the fact that they knocked off Alabama, a team that was still hanging around the BCS Championship game picture and the reigning national champions, I expected LSU to be the consensus No. 5 team in both polls this week. Instead they are on the outside of the top five in the all-important USA Today Coaches' Poll, the only of the two polls used in the BCS standings calculation.
Utah's first loss meant a new No. 5 team, and LSU has proved the most of the other one-loss teams below them, with their wins against Mississippi State, West Virginia, Florida and now Alabama.
Yet they are still behind a good Wisconsin team in the Coaches' Poll, which seems like an injustice when considering their accomplishments. They have three winnable games left, although their meeting with Arkansas on Thanksgiving weekend will be a tough one. However I expect LSU to jump into the top five after a few more wins.
Stanford Cardinal (No. 7 AP, No. 9 Coaches' Poll)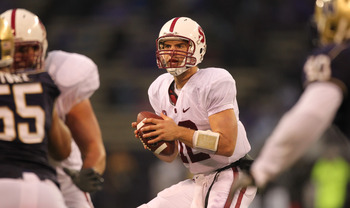 Otto Greule Jr/Getty Images
Stanford has impressively run through a stretch of four straight wins against Pac-10 conference rivals, continuing their overwhelming offensive assault behind stand out quarterback Andrew Luck. The Cardinal's last win was their most emphatic, a resounding drubbing of then-15th Arizona, establishing Stanford as the clear No. 2 team in the Pac-10 behind still-undefeated No. 1 team in the land, Oregon.
Yet Stanford is still being short-changed by the pollsters. The Coaches' Poll has them behind Nebraska and Ohio State, yet the Cardinal's only loss has been to the best team in the nation. Nebraska and Ohio State are both no doubt top 10 teams, but Stanford has a strong case for being above both of those, nestled just outside the top 10. They have been one of the most impressive offensive teams in the country, and deserve to be no lower than their No. 7 ranking as listed by the AP.
Michigan State Spartans (No. 10 AP and Coaches' Polls)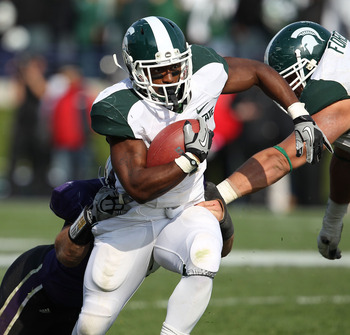 Jonathan Daniel/Getty Images
Of the top 25, they're one of only three teams with nine wins, obviously a bit of a loaded accomplishment given that not every team has played more than nine or 10 games. Still, the Spartans' only loss has been on the road against Iowa, a very tough assignment within the Big Ten. They boast impressive wins against Wisconsin (the Badgers' only loss of the season), at Michigan (then-ranked) and Illinois in consecutive weeks, a tough stretch of in-conference games.
They don't play fellow Big Ten powerhouse Ohio State, but I think by virtue of knocking off Wisconsin, Michigan State should be pegged above the Badgers in both polls. Wisconsin is still ranked a bit high in both polls, as I think they should trail LSU, Stanford and Michigan State.
Iowa Hawkeyes (No. 13 AP and Coaches' Polls)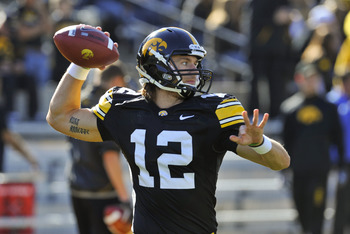 David Purdy/Getty Images
Iowa currently looks like the best of the nation's two-loss teams, especially fresh off Alabama's loss to Auburn. As a result they should be ranked above the Crimson Tide, even in spite of the fact that they had to survive a tough road game against the Indiana Hoosiers. The margin of victory was unimpressive but road games in the Big Ten are no given.
Iowa's only losses were one non-conference game early in the season at Arizona, a team that's been in the upper half of the top 25 throughout the season, along with a one-point thriller against the Wisconsin Badgers. Wisconsin is another highly-rated team this year, and the losses for Iowa closely mirror the games that Alabama has dropped.
Losing at LSU and South Carolina pushed Alabama down to the 11-12 range, but I think Iowa's performance in wins against Michigan State, Michigan and Penn State, as well as their near-win against Wisconsin, should push them above the Tide.
Utah Utes (No. 15 AP and Coaches' Polls)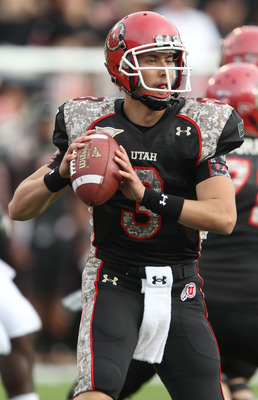 George Frey/Getty Images
I understand the drop that Utah felt in the polls this week, especially given the way they were handily dispatched by the TCU Horned Frogs on Saturday. However, I think they deserve to be a bit higher than their landing spot at 15, specifically one slot higher, and above the Arkansas Razorbacks. It's a tough sell to argue for a Mountain West team to be above an SEC team, but I see both Utah and Arkansas as similar. In Arkansas' biggest tests against high-ranked opponents, they were beaten. Utah's played two ranked teams and squeaked by one in overtime (a Pitt team that then fell off a cliff), and were smoked by the other.
Arkansas just barely lost to Alabama, but then were beaten handily by Auburn. They have a potentially more impressive win over a ranked team in beating South Carolina in Week 10, but otherwise they've been mostly dominant over lesser teams both in and out of the SEC.
Utah deserved to drop big, but I think they rate one spot higher, and specifically should be above the Razorbacks.
Oklahoma State Cowboys (No. 12 AP, No. 11 Coaches' Poll)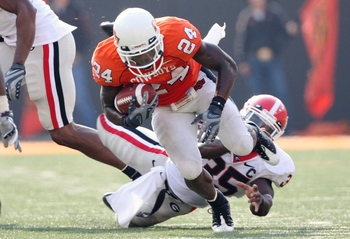 Christian Petersen/Getty Images
Oklahoma State is mostly being shafted by the AP voters, who still have them below Alabama in their rankings, despite Oklahoma State being one of the most impressive teams in the Big 12 this year, a conference that is seemingly suffering from not having one elite team, choosing depth over top-heaviness.
Oklahoma State's only loss was to Nebraska, a fellow top 25 one-loss team, and I don't argue that OSU should be above the Cornhuskers. But a two-loss squad, even one with as tough a schedule as Alabama, should be penalized directly after a tough loss, and likewise Oklahoma State should be rewarded a bit more generously for an impressive win over a quality Baylor team. No. 11 in both polls was in order for the Cowboys, but they may have to post one more impressive win next week against Texas in Austin in order to leapfrog the defending national champions.
Mississippi State Bulldogs (No. 17 AP, No. 18 Coaches' Poll)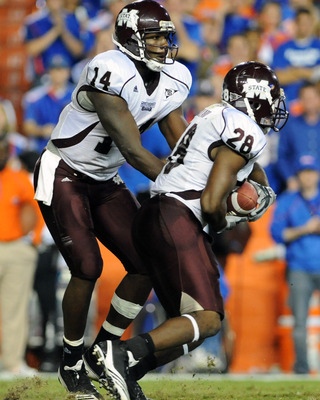 Al Messerschmidt/Getty Images
The Bulldogs' only two losses this year came against two teams that are now towards the top of the national standings in Auburn and LSU. Both games were early in the season, and the Mississippi State defense flustered the high-powered Auburn offense and ultimately lost a nail-biter 17-14. Since losing at LSU, they've reeled off six straight wins, including wins against then-ranked Florida on the road in The Swamp, as well as at home against a talented yet underachieving Georgia team.
Meanwhile MSU is still looking up at Virginia Tech, a team on a big winning streak of their own, but in my view one that is less impressive than Mississippi State's. Virginia Tech's losses have also been a bit more damaging, as they were turned back by Boise State in Week 1 but then shocked by minnow James Madison.
To me, losing to James Madison should keep working against Virginia Tech until they pull of a highly-impressive win of their own. Beating one ranked team during their winning streak doesn't justify the Hokies being above the Bulldogs here after Week 10.
Nevada Wolf Pack (No. 21 AP and Coaches' Polls)
Ethan Miller/Getty Images
Nevada keeps on rolling, as they've steam rolled through the WAC conference, dropping only their toughest conference road game across the Pacific against the Hawaii Warriors. Even their loss to Hawaii was a hard-fought game, but it seems as though the WAC is working against Nevada in keeping them below a team like Missouri that's on a current two-game losing streak.
The Big 12 is undoubtedly a tougher conference than the WAC, but Nevada has looked dominant in many of their games this season and deserves a bit of a bump in the standings. I would argue that given Missouri's recent performance, and how easily Arizona was handled by Stanford, both those teams should be looking up at the Wolf Pack in the standings.
It would be a boon to a relatively small conference in the WAC, but it's also justified given the recent performances of the three teams in question.
Texas A&M Aggies (No. 23 AP, No. 25 Coaches' Poll)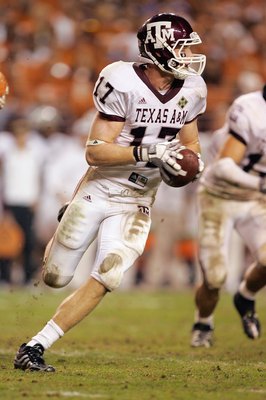 Brian Bahr/Getty Images
Three game losing streaks are often poison for teams looking to be considered by national pollsters. However, a three game skid against Oklahoma State on the road, then Arkansas and Missouri is not your average three-game losing streak. Such was the fate of the Texas A&M Aggies, but since their loss to Missouri they've staged a nice run, beating Kansas and then knocking off a tough Texas Tech team. Their biggest moment, though, was beating Oklahoma at home in Week 10, and convincingly to the tune of 33-19.
That type of win should have A&M ranked above two SEC teams in Florida and South Carolina, but also certainly the UCF squad that's broken into the top 25.
Baylor Bears (Unranked In Both AP And Coaches' Polls)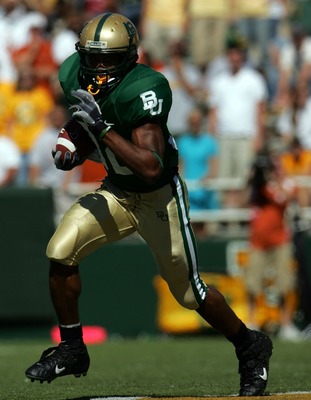 Ronald Martinez/Getty Images
It may seem like a lot of griping on behalf of the Big 12, but Baylor deserves to be ranked ahead of a non-major school like UCF. Baylor's three losses are tough when arguing to keep them in the top 25, but they've been at the hands of TCU, Texas Tech and Oklahoma State, three solid football teams.
UCF breaks the top 25 at Baylor's expense fresh on the heels of the Bears' loss to Oklahoma State is understandable, yet not justified considering the quality of opposition Baylor has faced this year. Their performance in running up a 7-3 record in the balanced Big 12 deserves to remain in the top 25, even after dropping their most recent game.
Keep Reading

LSU Football: Like this team?