College Football Bowl Projections for Week 10: TCU Makes Its Move for the Title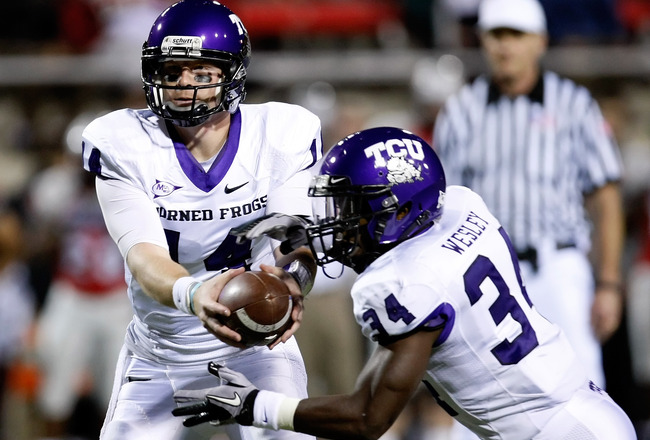 Ethan Miller/Getty Images
Welcome to the 10th installment of the weekly Bleacher Report Bowl Projection series.
In the wake of TCU destroying undefeated fifth-ranked Utah in Salt Lake City, the iron begins to turn in the BCS rankings fire.
Nowhere was the Horned Frog impact felt more than in Boise, Idaho where the Broncos are left sitting on the sidelines watching their championship dreams go by.
The seat cannot be very comfortable in Eugene, Oregon either. The Ducks watched as their season-ending opponents Arizona and Oregon State each laid an egg on Saturday. This can only hinder Oregon in their attempt to remain the BCS Title picture as the season draws to a close.
Even mighty Auburn may need to remind voters they are the only team to defeat powerful LSU this season. However, the Tigers do have an advantage over Oregon and Boise State due to the strength of the remaining schedule.
In the following pages, readers will find a projection of participants in all 35 postseason bowl games.
Summary and analysis is presented for each event, detailing how the teams will be chosen and who are currently the most likely contenders for the contests.
Street Talk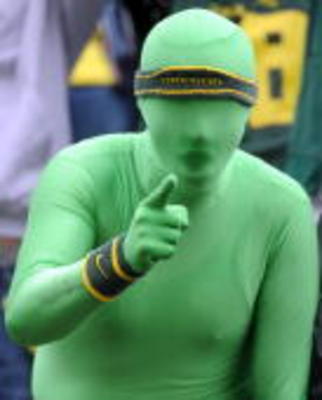 The choices presented in this Bleacher Report series are updated on a weekly basis. They include the outcome of past games as well as the upcoming schedule.
The order of bowl presentation in this article reflects the amount of money paid to schools for playing in the event. This will prevent any false emphasis on a contest due to simply what day the game is played.
For example, the Rose Bowl is not devalued in comparison to the Kraft Bowl simply because the Pasadena extravaganza is played several days earlier. Money talks in the Bowl hierarchy.
Reader participation is strongly encouraged each-and-every week.
Please feel free to leave comments regarding your impression of the matchups and how the participants projected may change before the invitations to the bowl games are extended.
Final analysis and predictions will be a combination of the readers' suggestions and the writer's personal opinion.
Information concerning conference affiliations to specific bowl games is part of each breakdown. In order to project a specific team for a bowl game, simply follow the conference tie-ins for the postseason contest.
The 10 Bowl Games Paying $750,000 Or Less to Particpants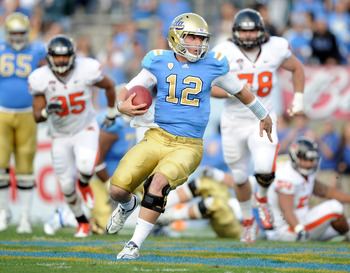 Harry How/Getty Images
We begin the process by turning to the 10 lowest-paying bowls.
Because some conferences will not produce enough teams to be available for selection, several tie-ins may need to be filled with qualifying schools from other leagues.
An example would be the New Mexico Bowl where the WAC is not likely to produce a candidate but may fill the void with a six-win Iowa State who could be ignored in the Big 12 selection process.
The Texas Bowl in Houston could be in a similar situation. Counting on the Big Ten to deliver a qualifier in Purdue or Indiana seems risky at best. This may lead to a call being sent out for the qualified Miners of Texas-El Paso to travel across the state to fill in.
The Armed Forces Bowl is slated to have a Mountain West Conference representative as well. The word may go out to send in a qualified squad from West Point to face the local Mustangs of SMU.
Bowl Name Date Venue Payout Conf. Tie-Ins Projected Matchup
No.35: New Orleans Dec. 18 New Orleans $325,000 Sun Belt, CUSA Troy vs. Houston
No.34: Texas Dec. 29 Houston $612,500 Big Ten, Big 12 UTEP* vs. Texas Tech
No.33: New Mexico Dec. 18 Albuquerque $750,000 MWC, WAC BYU vs. Iowa St.**
No.32: Armed Forces Dec. 30 Dallas $750,000 CUSA, MWC SMU vs. Army***
No.31: Hawaii Dec. 24 Honolulu $750,000 CUSA, WAC Tulsa vs. Hawaii
No.30: Poinsettia Dec. 23 San Diego $750,000 MWC, Navy San Diego St. vs. Navy
No.29: Kraft Jan. 9 San Fran. $750,000 WAC, Pac-10 Nevada vs. UCLA
No.28: GoDaddy.Com Jan. 6 Mobile $750,000 MAC, Sun Belt Temple vs. Ark. State
No.27: Humanitarian Dec. 18 Boise $750,000 WAC, MAC Fresno St.. vs. Ohio U.
No.26: Little Caesars Dec. 26 Detroit $750,000 MAC, Big Ten N. Ill. vs. Northwestern
Conference USA should be able to support the openings against Sun Belt Conference champion Troy and has a powerful unit in Tulsa to send to the Hawaii Bowl to face the Warriors of the WAC.
The Poinsettia appears set with San Diego State and Navy while Texas Tech and BYU fill out their conference tie in responsibilities.
The selection process is more clear in the Kraft Bowl where Nevada of the WAC is anxious to travel over to San Francisco to face a PAC-10 foe. With a late upswing in performance, the UCLA Bruins may be in position to provide the competition.
The Humanitarian should extend an invitation to Fresno State to represent the WAC as they are very familiar with the circumstances in Boise, making the journey to face the hometown Broncos every other season.
The MAC selection for the Humanitarian appears to be a contest between Ohio U. and the Rockets of Toledo. Let's go with Coach Frank Solich's Bobcats.
The Little Caesar's Bowl invites the MAC champion, and that should be Northern Illinois. The apparent Big Ten opponent appears to be Northwestern according to the conference selection order.
The GoDaddy.Com (old GMAC bowl) needs Sun Belt-entry Arkansas State to continue to win in order to qualify, but it seems a good possibility.
The Temple Owls will head to the GoDaddy.Com if they do not end up in the Little Caesar's Bowl.
No.25: The BBVA Compass Bowl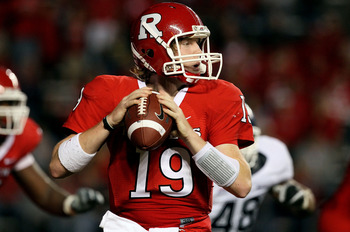 Jim McIsaac/Getty Images
Date: January 8, 2011
Place: Birmingham, Alabama
Payout: $900,000
Conference Tie-Ins: *SEC No. 8 vs. Big East No. 7
NOTE: Banking giant BBVA Compass announced on November 4, 2010 it will become the title sponsor of the Birmingham Bowl.
Projected Matchup: *Middle Tennessee State vs. Rutgers
The good news for the Bowl is they have a new sponsor as of this past week.
The bad news is no SEC team is likely to be available.
Ole Miss and Tennessee are possibilities, but it would require upsets by each squad, so at this time, we should move on and find an adequate replacement.
The Sun Belt is the backup conference for this bowl, and they will be extended to the limit to provide a replacement.
The possibility exists that Middle Tennessee can win three games to qualify before the season ends as they will be favored in each case.
If so, the BBVA Compass will have its "regional team" and can rejoice.
Rutgers will be selected due to conference pecking order to represent the Big East.
No.24: The Beef 'O' Brady Bowl

Date: December 21, 2010
Place: St. Petersburg, Florida
Payout: $1 Million
Conference Tie-Ins: Big East No. 6 vs. Conference USA No. 4
Projected Matchup: South Florida vs. East Carolina
Too good to pass on.
Former East Carolina coach Skip Holtz is now head man at South Florida.
Due to the circumstances of travel, bowl availability and selection position inside the two conferences, this one has a real possibility of happening.
No.23: The Military Bowl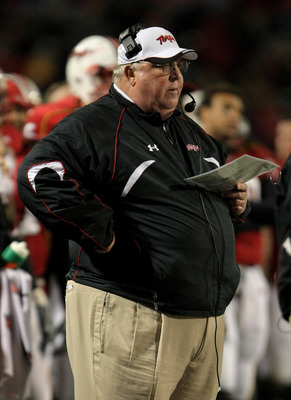 Doug Pensinger/Getty Images
Date: December 29, 2010
Place: Washington, D.C.
Payout: $1 Million
Conference Tie-Ins: ACC No. 8 vs. CUSA No. 6
Projected Matchup: Maryland vs. Southern Mississippi
The Terrapins are on the come back trail this year and are expecting to receive an invitation to a bowl game.
From what may be available, a decision to stay near home may be a wise one, allowing Maryland to play in Washington, D.C.
With Terp fans providing the support in the stands, a well respected CUSA outfit from the far away Magnolia State could be invited to provide a rugged opponent and a close game.
If Maryland and Southern Mississippi get the opportunity to tangle based upon conference selection preferences, it will be one of the more competitive contests of the postseason.
No.22: The Meineke Bowl
Andy Lyons/Getty Images
Date: December 31, 2010
Place: Charlotte, North Carolina
Payout: $1 Million
Conference Tie-Ins: Big East No. 3 vs. ACC No. 5
Projected Matchup: Louisville vs. Clemson
A long whispered rumor in ACC country concerns this Charlotte Bowl and Clemson.
Only 125 miles away, it has been suggested the Meineke Bowl came about so city officials could invite Clemson on a regular basis. The traveling hordes of orange paws know how to spend money when they go bowling.
Problem is, Clemson has been qualifying for other bowl games and has yet to visit the "Queen City of the South" for a postseason event.
Expect that to be corrected this time around.
Louisville, likewise, travels well, and the Cardinals have something to celebrate in this comeback season.
This looks like the most logical matchup for the Meineke.
No.21: The MAACO Bowl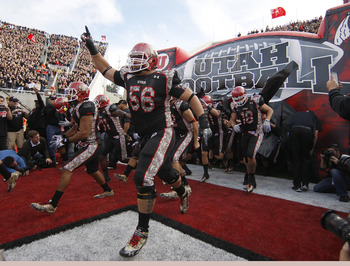 George Frey/Getty Images
Date: December 22, 2010
Place: Las Vegas, Nevada
Payout: $1 Million
Conference Tie-Ins: Mountain West No. 1 vs. PAC-10 No. 5
Projected Matchup: Utah vs. California
Utah has the opportunity to finish the season strong and qualify for the top bowl destination available to the Mountain West—The MAACO Bowl.
The middle of the road PAC-10 opponent would appear to be California based upon current tracking order.
No.20: The Independence Bowl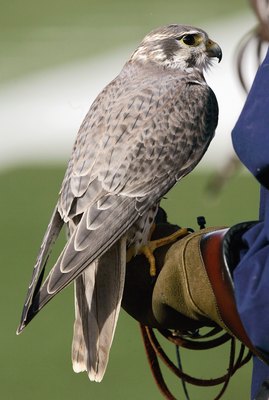 Brian Bahr/Getty Images
Date: December 27, 2010
Place: Shreveport, Louisiana
Payout: $1.1 Million
Conference Tie-Ins: Mountain West No. 3 vs. ACC No. 7
Projected Matchup: Air Force vs. Georgia Tech
The defending ACC champion Rambling Wreck will finish out of the money in the conference this season.
With an exciting offense, they are still capable of providing thrills and spills in a bowl destination.
Air Force has suffered setbacks only to top of the line opponents this season and seem ready for a battle featuring two of the finest rushing attacks in the land.
Since the ACC and Mountain West have a new contract with the Independence Bowl, they each want to present well known and exciting teams.
This seems to be a good offering for the folks in Shreveport.
No.19 Ticket City Bowl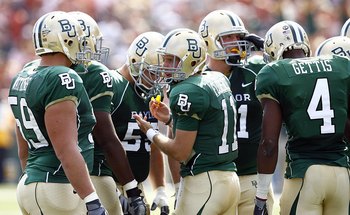 Tom Pennington/Getty Images
Date: January 1, 2011
Place: Dallas, Texas
Payout: $1.2 Million
Conference Tie-Ins: Big Ten No. 7 vs. Big 12 No. 8
Projected Matchup: Illinois vs. Baylor
In this inaugural Dallas Football Classic, played at the site of the Cotton Bowl Stadium, fans would welcome these two schools as the projected contestants.
The Fighting Illini offer an exciting team that is not going to finish in the upper echelon of the Big Ten.
Baylor has come back this season to prove they still play rugged football in Waco.
These two teams fit in the first ever Ticket City Bowl.
No.18: The Music City Bowl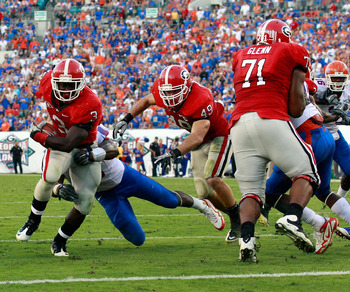 Sam Greenwood/Getty Images
Date: December 30, 2010
Place: Nashville, Tennessee
Payout: $1.6 Million
Conference Tie-Ins: SEC No. 7 vs. ACC No. 6
Projected Matchup: Georgia vs. UNC
The Bulldogs of Athens have an opportunity to secure a position in the Music City Bowl, but they must win at least one of their final two contests.
With Auburn and Ga. Tech remaining on the schedule, Georgia needs total dedication to the assignment at hand in order to qualify for a trip to see the Grand Old Opry.
In an incredibly down year for the ACC, UNC looks to be as good as any of the mid-tier candidates to serve up as a willing victim for the SEC.
No.17: The Liberty Bowl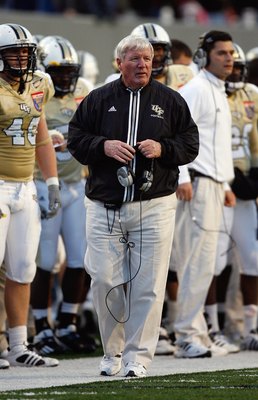 Joe Murphy/Getty Images
Date: December 31, 2010
Place: Memphis, Tennessee
Payout: $1.7 Million
Conference Tie-Ins: Conference USA No. 1 vs. SEC No. 8
Projected Matchup: Central Florida vs. Kentucky
The Wildcats from Kentucky have an opportunity to secure a position in the legendary Liberty Bowl opposite the Conference USA Champion.
Central Florida looks to be the class of the CUSA in 2010 and will make for quite an entertaining afternoon against the SEC representative.
No.16: The Sun Bowl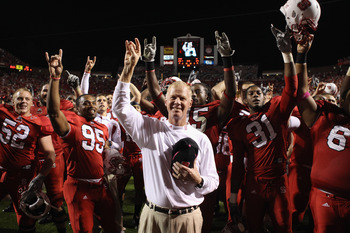 Streeter Lecka/Getty Images
Date: December 31, 2010
Place: El Paso, Texas
Payout: $1.9 Million
Conference Tie-Ins: ACC No. 4 vs. PAC10 No. 4
Projected Matchup: N.C. State vs. Oregon State
The new contract between the ACC and the Sun Bowl gives N.C. State the opportunity to take its traveling fireworks show to El Paso.
For over 75 years, the venerable old Sun Bowl has been providing unforgettable entertainment for players, coaches and fans alike.
If Oregon State can heal their wounded before New Year's Eve, they appear to be the best possibility for El Paso officials.
With two of the top four teams in each conference available, the Sun Bowl could easily make this match.
No. 15: The Pinstripe Bowl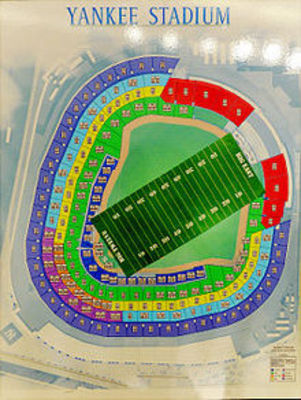 Date: December 30, 2010
Place: New York City, New York
Payout: $2 Million
Conference Tie-Ins: Big East No. 4 vs. Big 12 No. 7
Projected Matchup: Syracuse vs. Texas A&M
In the inaugural Yankee Stadium Bowl game, football fans throughout the Big Apple called for Notre Dame to be invited.
The Irish could come as a Big East representative or as the backup team for the Big 12.
But, Notre Dame is performing so poorly they do not appear likely to win enough games to qualify for a postseason event.
Readers should understand that events in New York City do not require out of town travelers to fill stadium seats; there are millions and millions of customers in the city.
What New Yorkers require is great entertainment, and they will sell out Yankee Stadium if the show is of top quality.
Syracuse and Texas A&M are names that look good even off-Broadway, in the Bronx.
No.14: The Champs Sports Bowl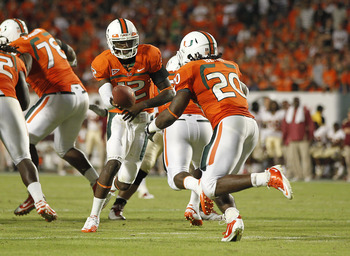 Joel Auerbach/Getty Images
Date: December 28, 2010
Place: Orlando, Florida
Payout: $2,130,000
Conference Tie-Ins: Big East No. 2 vs. ACC No. 3
Projected Matchup: West Virginia vs. Miami
This encounter renews an old rivalry from the Big East Conference days of the Hurricanes.
West Virginia is in the right position to make a run toward the top of the Big East.
Why? Beacuse their coach, Bill Stewart, is under fire and you can expect the Mountaineer players to protect him by winning games.
Miami suffers from a lack of seriousness on the field, seeming to "play" at playing football.
Because of these circumstances, you may find these two teams out of the BCS loop and doing the tango in the "runner-up" bowl.
No.13: The Holiday Bowl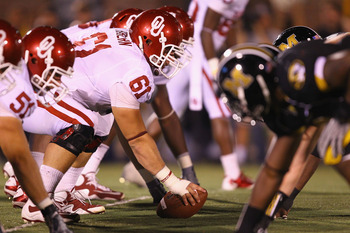 Dilip Vishwanat/Getty Images
Date: December 30, 2010
Place: San Diego, California
Payout: $2.2 Million
Conference Tie-Ins: PAC-10 No. 3 vs. Big 12 No. 5
Projected Matchup: Arizona vs. Oklahoma
Battle of the Stoops brothers, everyone will have to watch it.
Arizona was a legitimate threat to win the PAC-10, but a series of injuries have left the Wildcats resembling a MASH unit. Wildcat coach Mike Stoops will need good fortune to even make it to San Diego.
Oklahoma is very young, but there is no excuse for poor tackling, a type of malady that causes teams to lose the will to play with intensity.
At this point, the Sooners look unable to stop Oklahoma State and would finish out of the running for the Big 12 conference title.
A trip to the Holiday Bowl appears to be the correct destination for these two schools.
At any rate, the fans will turn out, and the TV sets will turn on to watch this fascinating clash.
No.12: The Alamo Bowl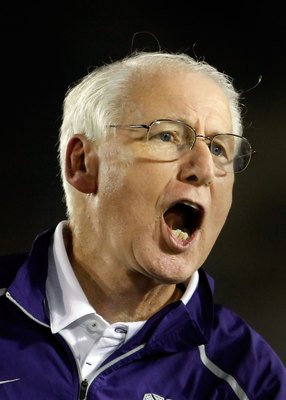 Jeff Gross/Getty Images
Date: December 29, 2010
Place: San Antonio, Texas
Payout: $2,225,000
Conference Tie-Ins: Big 12 No. 3 vs. PAC-10 No. 2
Projected Matchup: Stanford vs. Kansas State
The new Alamo contract calls for the PAC-10 to send their No. 2 team to San Antonio.
The Cardinal have a possibility of receiving a BCS invitation. If not forthcoming, then a visit to the city of San Antonio is a wonderful alternative.
Awaiting the Cardinal should be Kansas State. Superb veteran coach Bill Snyder (see pictured) has led the Wildcats back into the championship picture and should be available for selection at this point.
No.11 The Gator Bowl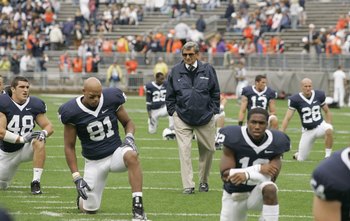 Chris Gardner/Getty Images
Date: January 1, 2011
Place: Jacksonville, Florida
Payout: $2,750,000
Conference Tie-Ins: SEC No. 6 vs. Big Ten No. 4
Projected Matchup: South Carolina vs. Penn State
The Gator Bowl has a new tie-in with the SEC and Big Ten, so there is no reason audiences cannot be treated to the coaching spectacle of Steve Spurrier and Joe Paterno.
This clash will sell out the Gator Bowl and attract national attention.
It was the Gator Bowl where coach Paterno took his first postseason squad in 1967.
The moniker "Super Gator" was given to Steve Spurrier during his halcyon Heisman Trophy winning days as a Florida Gator.
Using the conference selection order as our guide, there is no reason this match cannot be made.
No.10 The Chick-Fil-A Bowl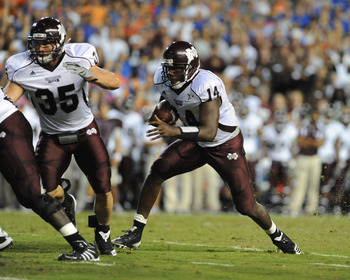 Al Messerschmidt/Getty Images
Date: December 31, 2010
Place: Atlanta, Georgia
Payout: $3.25 Million to ACC, $2.4 Million to SEC
Conference Tie-Ins: ACC No. 2 vs. SEC No. 5
Projected Matchup: Florida State vs. Mississippi State
The Seminoles do not appear ready to take their seat at the championship table but will be available for an invitation to Atlanta.
Mississippi State is capable of finishing high enough to earn a SEC-invite to the Cotton Bowl. Until the other dominoes begin to fall, let's place this fine squad in the always entertaining Chick-Fil-A.
No.9: The Outback Bowl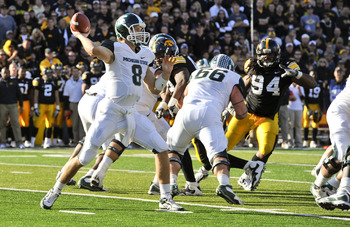 David Purdy/Getty Images
Date: January 1, 2011
Place: Tampa, Florida
Payout: $3,100,000
Conference Tie-Ins: SEC No. 4 vs. Big Ten No.3
Projected Matchup: Florida vs. Michigan State
At some point, the SEC officials have to take the Outback and Gator representatives aside and tell them to make a deal with the winner and loser of the Florida-South Carolina game, a battle for the SEC eastern division title.
Who goes where is a matter of preference.
Michigan State is likely to lose their final game at Penn State and end up as a 10-2 team available for a trip to Tampa.
No.8: The Insight Bowl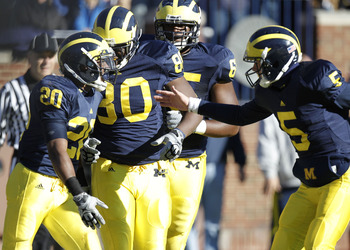 Gregory Shamus/Getty Images
Date: December 28, 2010
Place: Tempe, Arizona
Payout: $3,325,000
Conference Tie-Ins: Big Ten No. 4 vs. Big 12 No.4
Projected Matchup: Michigan vs. Missouri
There is big money to be made in the desert with the new bankroll ESPN gave the Insight Bowl.
Chasing the big bucks in the sand will be two exciting teams—Michigan and Missouri. Chosen because neither is going to win their conference, yet both will bring a large media interest.
No.7: The Cotton Bowl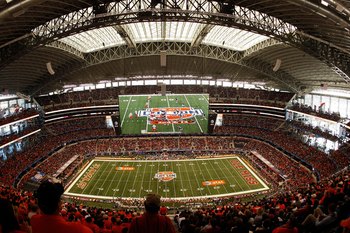 Ronald Martinez/Getty Images
Date: January 7, 2011
Place: Arlington, Texas
Payout: $ 3,575,000
Conference Tie-Ins: SEC No. 3 vs. Big 12 No. 2
Projected Matchup: Arkansas vs. Oklahoma State
Oklahoma State has already lost at home by 10 points to Nebraska this year so the Cowboys are not likely to advance past the Cornhuskers in the Big 12 title game.
Still, the Pokes appear too strong for anyone in the Big 12 South to keep them out of the Cotton Bowl.
Arkansas has a high octane offense, one that can stand up to the scoring machine out of Stillwater.
The great Cotton Bowl will be played on the first Friday night of 2011 and is the only college football game played on that date.
No.6: The Capital One Bowl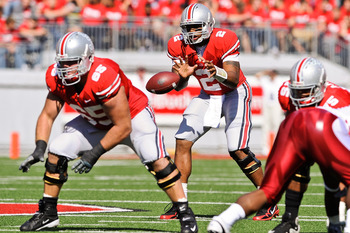 Jamie Sabau/Getty Images
Date: January 1, 2011
Place: Orlando, Florida
Payout: $4.25 Million
Conference Tie-Ins: SEC No. 2 vs. Big Ten No. 2
Projected Matchup: Alabama vs. Ohio State
The possibility is there.
Ohio State may tumble at Iowa leaving the Buckeyes with two losses and without a BCS invitation.
Alabama has already lost twice and still has to face top-ranked Auburn along with top 20 foe Mississippi State.
This one looks made to order for Orlando officials.
No.5: The Fiesta Bowl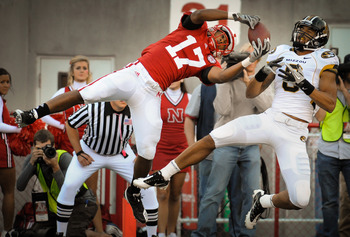 Eric Francis/Getty Images
Date: January 1,2011
Place: Glendale, Arizona
Payout: $17 Million
Conference Tie-In: Big 12 No.1 vs. BCS At-Large Selection
Projected Matchup: Nebraska vs. Boise State
Nebraska handed Oklahoma State, Missouri and Kansas State their first losses this season.
The powerful Cornhuskers are every bit the BCS Title contender they were perceived to be prior to an unexplainable home loss to hapless Texas.
The problem for the Big Red is youth. Despite their great talent and balance, the men of corn lack the week-to-week intensity of more experienced teams. This leads to curious performances every so often.
Regardless, Nebraska should be able to take the Big 12 title in their final year of conference membership and head off for the Fiesta Bowl.
Now, this is where the politics of the BCS begins.
If anyone believes someone in authority is not going to advise (instruct) the Fiesta Bowl they have to offer a bid to Boise State instead of Stanford please step forward.
Your bridge in Brooklyn is waiting for you.
It is actually just righting a wrong before it can happen as Boise State has been ranked higher than the Cardinal all season and is worthy and deserving of a BCS bid over one-loss Stanford.
There are consequences to being blown out in your most important game of the year. Just ask Utah.
No.4: The Orange Bowl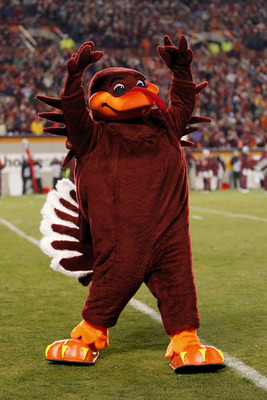 Geoff Burke/Getty Images
Date: January 3, 2011
Place: Miami, Florida
Payout: $17 Million
Conference Tie-Ins: ACC No.1 vs. BCS At-Large Selection
Projected Matchup: Virginia Tech vs. Pittsburgh
If Va. Tech runs the table and wins the ACC they will automatically receive an invitation to the Orange Bowl due to the conference tie-in.
The Orange will then be left with the option of taking the Big East champion (likely Pitt), Boise State or Stanford. Since Va. Tech and Boise State have already played this season—a rematch is unlikely.
Stanford provides little in the way of national exposure or following. The fact the Cardinal is a continent away does not work in their favor.
As winner of the Big East Conference, the Pittsburgh will be left to provide a solid if unspectacular opponent in the Orange Bowl.
The fact they are "the only girl left in town to take to the dance" should motivate the strong defense of the Panthers, thus creating a low-scoring contest.
No.3 The Sugar Bowl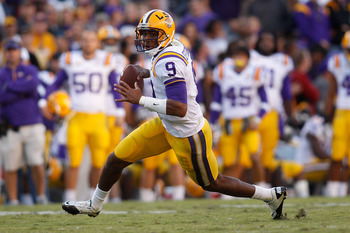 Chris Graythen/Getty Images
Date: January 4, 2011
Place: New Orleans, Louisiana
Payout: $17 Million
Conference Tie-Ins: SEC No. 1 vs. BCS At-Large Selection
Projected Matchup: LSU vs. Iowa
LSU should be the choice as an at-large entry for the Sugar Bowl, provided Auburn is selected for the BCS Title game. The Sugar will take the Tigers to replace their SEC tie-in champion.
The picking order will allow for an at-large selection of the Big Ten co-champion.
The Iowa Hawkeyes.
With Ohio State coming to Iowa City, the Hawkeyes are in a perfect position to knock off the Buckeyes and be in a position to meet the requirements for an at-large bid.
A most attractive candidate for the Sugar Bowl, a well-coached team with a fantastic traveling fan base.
The Crescent City would be fortunate to lock up this championship-caliber contest.
No.2: The Rose Bowl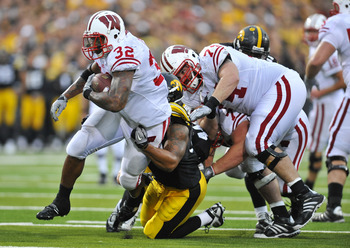 David Purdy/Getty Images
Date: January 1, 2011
Place: Pasadena, California
Payout: $17 Million
Conference Tie-Ins: Big 10 No. 1 vs. PAC-10 No. 1 (see note below)
Projected Matchup: Wisconsin vs. TCU
A new rule concerning the Rose Bowl allows the Pasadena committee to select a high-ranking team from a non-BCS conference provided it meets certain poll criteria.
The rule may come into play this season as TCU and Boise State are highly ranked teams who can meet the Rose Bowl requirements.
With Oregon as the likely PAC-10 champion, if the Ducks are plucked for the BCS Title contest, there is the opportunity for history to be made in Rose Bowl.
Choosing a "non-automatic qualifier" at-large team such as TCU to play against a quality Big Ten opponent will demonstrate the "Grandaddy of them all" can adapt and prosper in the 21st century.
With Wisconsin having already beaten Ohio State and Iowa, the Badgers seem to be the front runner for the Big Ten invitation.
No.1: The BCS Title Game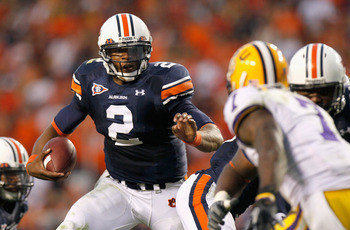 Kevin C. Cox/Getty Images
Date: January 10, 2011
Place: Glendale, Arizona
Payout: $17 Million
Conference Tie-Ins: None-BCS Final Regular Season Poll No. 1 vs.No. 2
Projected Matchup: Auburn vs. Oregon
With these two squads currently sitting in the top two positions in the BCS poll, they should be currently projected as the teams who will be invited to play for the national title.
Oregon faces the injury-riddled remains of Arizona and Oregon State to finish the season. The Ducks know they are sitting pretty, but one slip, and TCU moves into the title clash against Auburn.
The Tigers have to deal with the challenges of season-ending SEC contests against two rival schools along with an SEC championship game.
Although Auburn versus TCU or Boise State would provide a matchup of the best all around teams in the nation, the offense of the Ducks should allow them to advance into the BCS championship game.
It remains to be seen if Oregon is being served up as just the latest willing victim of SEC juggernauts in the BCS Title contests.
The Cool Down Lap: The Readers Take Over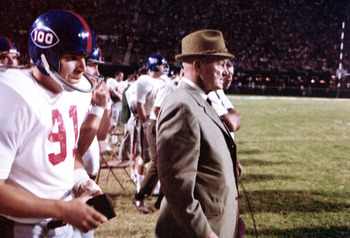 Many thanks to Carl Stine, Tim Croley, Dan Boone, Brandon Hamblen, Kevin McGrady, David Hedlind, Zodiac and so many others for taking the time to provide winners in specific bowl games.
Because of input from the readers, the Bleacher Report weekly projection series has become a source of information and entertainment for sports fans.
As we do each week, a tally of the "Big Seven" bowl games is in order. The comments of readers from last week's article reveals a consensus of the following:
BCS National Championship: Oregon vs. TCU
Rose Bowl: Michigan State vs. Stanford
Sugar Bowl: Auburn vs. Ohio State
Orange Bowl: Florida State vs. Alabama
Fiesta Bowl: Nebraska vs. Pittsburgh
Capital One Bowl: Arkansas vs. Iowa
Cotton Bowl: LSU vs. Oklahoma
Those projections look good for even the current week, provided the Orange Bowl is modified.
Replace Alabama with LSU and possibly take FSU out as well in the grand old Miami event.
Please note the support for Boise State appears to be dropping among B/R readers.
Concerning the issue of both Boise State and TCU going to BCS Bowl games, the regulations specify the following:
If two or more teams from non-automatic qualifier (non-BCS) conferences satisfy the provisions for an automatic berth, then the team with the highest finish in the final BCS Standings will receive the automatic berth, and the remaining team will be considered for at-large selection if it meets the criteria.
As of this week, TCU would be guaranteed a BCS invitation, but Boise State will scramble against other at-large schools.
So let's give a tip of the hat to one of the greatest Horned Frog players (see picture) who became of the most successful SEC coaches of all-time.
How many can name him?
Keep Reading

TCU Football: Like this team?