SWOT Analysis: Nebraska Cornhuskers Versus Iowa State Cyclones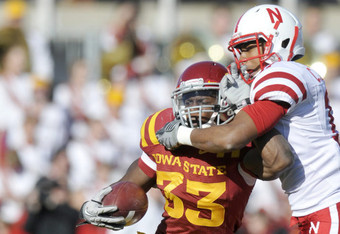 Nebraska had their arms full in Ames.

Okie dokie. Now that Nebraska has defeated Missouri, the Cornhuskers can casually make their way through the rest of the soft schedule and coast on in to the Big 12 Championship Game.
Plane reservation? Check.
Game tickets? Check.
Hotel room? Check.
Now to sit back and enjoy the rest of the season until—WHAT THE HELL?!?
The same team that beat undefeated and ranked teams the past two weeks limped into Jack Trice Stadium in Ames, Iowa; played sluggishly, then took control, then gave the game away, then pulled out a win in a most improbable way.
Nebraska—a 19 point favorite—was the lucky recipient of a poorly executed fake two-point conversion in OT to beat the Clones.

Placeholder Daniel Kuehl's weak loft pass to a wide open Collin Franklin in the end zone gave the speedy Eric Hagg enough time to run parallel down the goal line and make a diving interception to end the game. Had Kuehl put just the slightest bit of mustard on the ball the Cyclones would be celebrating their first win over a top ten opponent since beating eighth ranked Iowa in 2005.
I knew this was going to be a weird game when the weather at kick-off was in the mid-50s and sunny. In Ames. In November.
Husker fans, let's count our blessings and move on to the SWOT...
Strengths
Medicus Rex
With about 23 offensive players out due to injuries—ok, just starting freshman QB Taylor Martinez and backup senior Zac Lee—sophomore running back Rex Burkhead operated as the signal caller in the wildcat formation for a good chunk of the first half and was spectacular. As I've stated before, this kid is an MVP on the team—running for 129 yards at an average of 6.4 yards a carry.
With Cody Green again largely ineffective at QB and Martinez and Lee hurt, Burkhead was the medicine needed to provide a spark to an ailing offense. His leadership was every bit as important as his yardage.
Pickin' and Grinnin'
Nebraska had three more interceptions, all of which were game-changing. Junior safety Austin Cassidy's pick six seemed to turn the tide of the game in the Husker's favor in the third quarter. Hagg's second interception, as mentioned above, ended the game.
Sure, the Cyclones had some success with the pass against the Blackshirts as we'll discuss later, but considering Nebraska was without star cornerback Alfonzo Dennard the secondary played fairly well.
Weaknesses
A-Paul-ling Play Part II
Good old Niles Paul. He continues to dash your hopes after putting together a few good performances. After taking a hesitant double step in the end zone on a kick-off reception in the fourth quarter, Paul charged up field and promptly fumbled the ball to give the surging Cyclones excellent field position for a game-tying touchdown drive.
The senior is doing everything he can to make sure Husker fans don't miss him next year.
My Kingdom for a Backup Quarterback
Stop me if I've written this before: the position with the least depth on offense for Nebraska is quarterback. During the week, head coach Bo Pelini stated that he was very comfortable with the depth and experience at quarterback.
The coaches must be waiting for the right time to break out Latravis Washington—the senior linebacker-turned-quarterback that hasn't taken a snap since um, geez, I don't know. With Martinez and Lee hurting and Cody Green putting in his usual mundane performance, the best option was running back Burkhead.
Which is why I'm so perplexed by the next weakness...
It's Elementary, My Dear Watson
Iowa State is ranked 99th in the nation in rush defense. Nebraska is ranked sixth in rush offense. The Huskers' offensive line is gelling into a formidable unit that absolutely manhandled former top-10 Missouri last week.
But, oddly enough, offensive coordinator Shawn Watson still relied on Green—a mediocre passer at best—to complete some important third and short conversions by passing from the pocket. Even though the offensive line was pushing the Iowa State defensive line back.

There were times when Nebraska running back Roy Helu, Jr, the record-breaking rushing star of last week's game, would run into the backs of his linemen and still pick up four yards simply by pushing forward.
And, as mentioned earlier, Iowa State had a hard time stopping the Husker wildcat with Burkhead taking the snaps. But, equally odd, Nebraska went away from the formation in the second half.
Sometimes it feels like Watson overthinks his offensive schemes.
Austen, We Have a Problem
At best, Austen Arnaud is an ok quarterback. But the Blackshirts made the Iowa State signal caller look like the second coming of Tim Tebow (don't laugh, you know Tebow is going to somehow be involved in a second coming).
Austen went 21-32 for 203 yards and added another 63 yards on the ground. Those may not be eye-popping statistics but he did an excellent job of managing the offense against a Nebraska defense that, once again, had some difficulties tackling.

Opportunities
Rest in Pieces
The Cornhuskers came into Ames pretty banged up. The top two quarterbacks Martinez and Lee, and a star cornerback, junior Alfonzo Dennard, were out with injuries. Fortunately Nebraska was able to pull out a victory without the services of these key players—allowing them all to get a two-week rest before the stretch run in the final three games of the season.
Which leads to another positive development...
Youth Is Served
Nebraska has been given a lot of underclassmen valuable playing time in pressure situations with the game on the line. At Iowa State we saw sophomores Cameron Meredith (DE), Baker Steinkuler (DT), Courtney Osborne (S) and freshman Ciante Evans (CB) start on defense. Sophomores Ben Cotton (TE) and Rex Burkhead (RB) and freshman Jeremiah Sirles (LT) starred on offense.
Several other underclassmen played significant roles in today's game. So, the cupboard will definitely not be bare the rest of the year and into next year.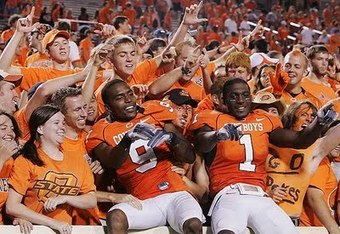 Tech-tacular!
Once again, Missouri begins another slide downward after a tough Nebraska loss. Texas Tech took down the Tigers 24-17 to give Nebraska some breathing room in the Big 12 North Division. After today's game, I think we can all be thankful for that.

Threats
Not Proud to be an Okie
At the same time, my dream of meeting Oklahoma in the conference championship game for Nebraska's final Big 12 game took a severe hit with their loss to Texas A&M. And my fear of meeting Oklahoma State again solidified with the Cowboy's resounding victory over a solid Baylor Bears team.
Like I said last week, I'm not eager to face the Cowboy's for a second time to determine the conference championship.
In the end, maybe this is another learning experience in which the Huskers played at or below the level of their competition but still managed to eek out a victory—much like the the South Dakota State game back in September.
At this point, I don't particularly care how they win, so long as the Huskers have the opportunity to take the Big 12 Championship on their way out the door to the Big Ten. In the words of that great football orator Al Davis: "Just win, baby."
This article is
What is the duplicate article?
Why is this article offensive?
Where is this article plagiarized from?
Why is this article poorly edited?

Nebraska Huskers Football: Like this team?