Power Ranking Big Ten Football in Week 10: Iowa Soars As Michigan Sinks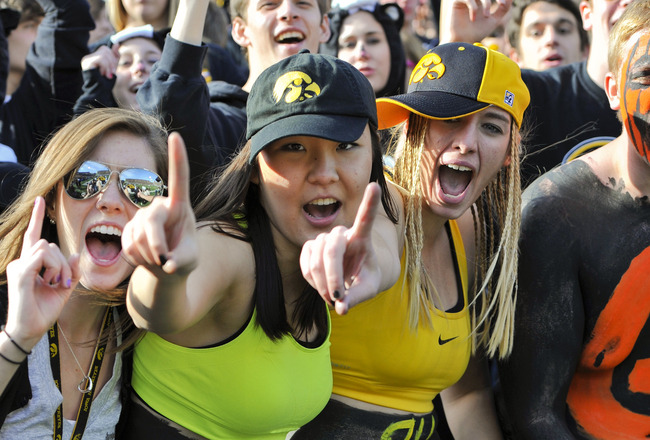 David Purdy/Getty Images

The Iowa Hawkeyes struck a huge blow last weekend reminding the rest of the Big Ten that all bets are off until the last play of the season. This Iowa team is not going down without a fight.
The race for first place in the Big Ten heats up as each top-four team has suffered one conference loss.

Michigan State controls their own destiny with games remaining at home against Minnesota and Purdue and a final road trip to Penn State.
Wisconsin also has the luxury of having the toughest part of their schedule behind them. The Badgers look to entertain Indiana and Northwestern at home while traveling to Purdue this weekend and to Michigan in Week 12.

Iowa and Ohio State should be careful to avoid the pitfall of treading water until they face each other in Week 11. It is dangerous to overlook any team in the Big Ten. Both coaching staffs will hammer home the importance of focus.
Iowa has three road trips in their final four games–– at Indiana, Northwestern, and Minnesota. The Hawkeyes' one remaining home game pits them against Ohio State.

Ohio State, on the other hand, has a bye this weekend then welcomes Penn State and Michigan to Columbus with the road trip to Iowa City sandwiched in between. Unfortunately for all other Big Ten teams, Ohio State does not face Michigan State in 2010. A real shame, especially for Iowa and Wisconsin.

The Power Rankings are based primarily on the most recent results plus the total body of work.
1. Iowa Hawkeyes (6-2, 3-1 Big Ten)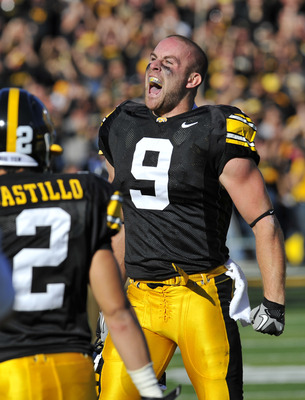 David Purdy/Getty Images
Iowa Hawkeyes (6-2, 3-1 Big Ten):
As Iowa readies themselves to head to Indiana this coming weekend, the Hawkeyes realize that every game remaining represents a critical win.
When undefeated Michigan State rolled into Iowa City last weekend, the Spartans were ranked No. 5 by the BCS.
The Hawkeyes had suffered an unforgivable one-point loss at the the hands of Wisconsin within the confines of Kinnick Stadium in Iowa City the previous Saturday.
The loss devastated Iowa's high hopes for postseason play.
To say that Iowa did their utmost to right the ship against Michigan State is a bit of an understatement.
Iowa eviscerated the Spartan game plan as all three Iowa units (offense, defense and special teams) rose in unison to cling to a piece of the Big Ten title.
It was a definitive statement by Iowa Coach Kirk Ferentz and the Iowa Hawkeyes as they defeated a top five-ranked team 37-6, after leading the Spartans 30-0 at halftime.
Such a win over a highly ranked team shoots the Hawkeyes to the top in this week's power rankings.
2. Ohio State (8-1, 4-1, Big Ten)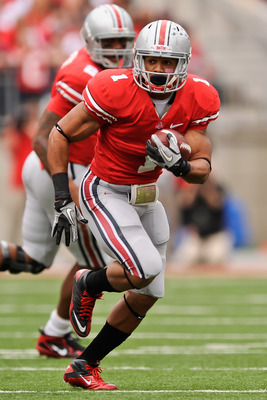 Jamie Sabau/Getty Images
Ohio State (8-1, 4-1, Big Ten):
The Buckeyes also won big in Week 9, defeating the Minnesota Gophers 52-10––but the Buckeyes opponent Minnesota offered very little resistance.
It was sort of like shooting ducks in a barrel for the powerful Buckeye squad.
At this point in the season, Ohio State, who was knocked out of their No. 1 spot after losing to Wisconsin, have more than just the Big Ten Championship on their minds.
There is still room, they figure, for a legitimate shot at the BCS title game by winning out and impressing the pollsters.
Of course, it would take a little luck but the Buckeyes always aim for the stars and not just Pasadena.
They are off this weekend so they can sit back and ponder the ultimate trip to Glendale.


3. Wisconsin (7-1, 3-1 Big Ten)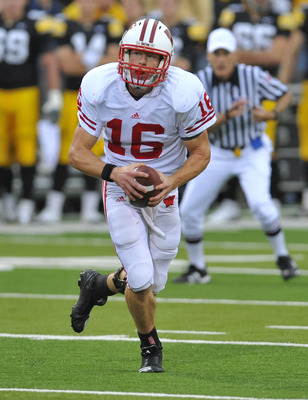 David Purdy/Getty Images
Wisconsin (7-1, 3-1 Big Ten):
After doing so much damage in the Conference, Wisconsin remained idle in Week 9.
The Badgers needed time to rest up, relishing their one-point theft inside Kinnick Stadium in Week 8.
Wisconsin's 31-30 victory over Iowa assured them of a piece of the Big Ten Championship.
That is, unless they shot themselves in the foot on the road in Ann Arbor facing Michigan or at home against Indiana or Northwestern.
It seems all the Badgers need to do now is play smart, consistent football against teams with more flaws than the Badgers possess.
Wisconsin has the edge.
All they must do now is hang onto the ball until the end.
Fittingly, this week, Wisconsin travels to Purdue to begin putting the icing on the cake.


4. Michigan State (8-1, 4-1 Big Ten)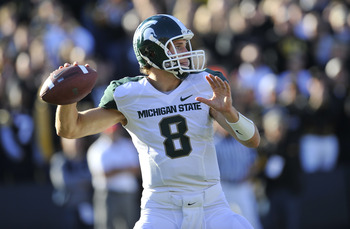 David Purdy/Getty Images
Michigan State (8-1, 4-1 Big Ten):
You just knew it was going to happen.
Still, the loss to Iowa on the road during Week 9 was a bitter blow to a Spartan team that had climbed to the No. 5 spot in the BCS rankings while remaining undefeated until last Saturday afternoon.
The Michigan State team never developed any offensive rhythm thanks to the rigorous Iowa defense that harassed receivers and plagued quarterback Kirk Cousins into several miscues.
It was a convincing win for the Hawkeyes and a definite wake-up call to the Spartans.
Michigan State still has the edge for a share of the Big Ten title and hope to make it into a BCS Bowl at the end of the season.
This week they play host to a sorry Minnesota team.
5.Penn State (5-3, 2-2 Big Ten)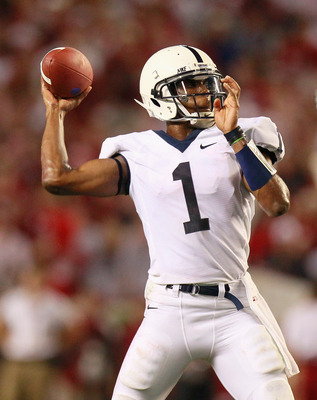 Kevin C. Cox/Getty Images
Penn State (5-3, 2-2 Big Ten):
Rising from the ashes in Happy Valley:
The game between Penn State and Michigan last weekend was the most exciting of the Big Ten contests.
Penn State fans dream that it marks a dramatic turn around of the Lion's fortunes for the remainder of the season.
Penn State is one game away from being bowl eligible and hope that this week's contest against Northwestern at home will give them their last needed notch.
The rest of the Lion's schedule doesn't look too promising for a possible win––except perhaps when Penn State travels to face the Hoosiers in Week 12.
Otherwise the Nittany Lions must travel to powerful Ohio State and end the season hosting frosty Michigan State.
Miles to go before they sleep.
Still the win over Michigan definitely stopped the bleeding and the grumbling as Penn State defeated the Wolverines 41-31 while the Michigan offense surged back in the second half.


6.Illinois (5-3, 3-2 Big Ten)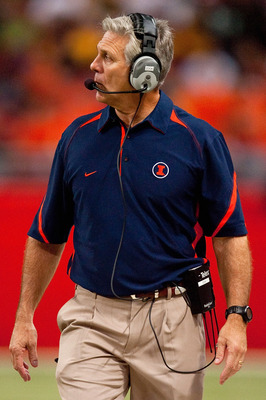 Dilip Vishwanat/Getty Images
Illinois (5-3, 3-2 Big Ten):
Behind the leadership of freshman quarterback Nathan Scheelhaase, Illinois pounded the wounded Boilermakers to the tune of 44-10.
Scheelhaase, another multi-purpose QB, rushed for 118 yards and threw for 195 yards.
Simply put, the Illini dominated Purdue who have run out of weapons to throw at the opposition as their ranks limp to the sidelines.
Illinois, who continues to be a huge surprise, seems to get better each and every week.
They play at Michigan this week in a must-win game for the Wolverines.
Should Illinois win this game, then Ron Zook's Illini would become Bowl eligible.
Quite a feat for a team pronounced dead at the start of the season.
7. Northwestern (6-2, 2-2 Big Ten)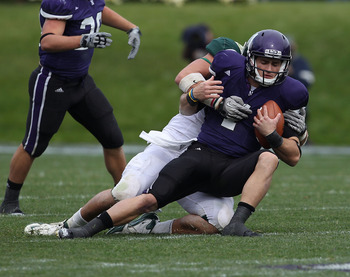 Jonathan Daniel/Getty Images
Northwestern (6-2, 2-2 Big Ten):
Northwestern once again hung on to defeat the Indiana Hoosiers who were trying to celebrate homecoming in Bloomington.
It proved to be another harrowing game for Indiana whose descent seems never ending.
Northwestern makes a living winning these cliff-hangers on the road.
In the process the Wildcats have made themselves bowl eligible.
This week they travel to Penn State and you have to wonder if another heroic effort will give the Cats win number seven.
Northwestern QB Dan Persa may have suffered a concussion leaving in the fourth quarter of the Cat's game against Indiana.
Without that human dynamo, Northwestern will have a tougher time securing a win in Happy Valley.
8. Michigan (5-3, 1-3 Big Ten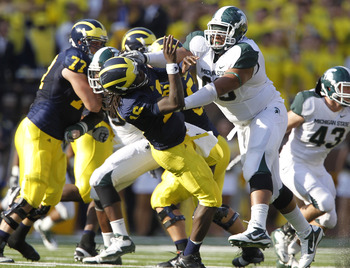 Leon Halip/Getty Images
Michigan (5-3, 1-3 Big Ten):
It is really no big surprise.
Michigan fails because their defense cannot keep the opposing team from scoring more points than the Wolverine vaunted offense can put on the board.
Even when Penn State's starting quarterback Rob Bolden was held out for possible complications due to a head injury, the Nittany Lion's offense seemed to move down the field without restraint.
Michigan will not be a successful football team until their defense stiffens and stops the opposition.
It is as simple as that because the Michigan offense has powerful and productive players.
This means that Coach Rodriquez will have people screaming for his scalp again this week if they do not bring home a win against Illinois in Ann Arbor.
Is it too late to turn this team around?
It does look not good for Michigan having to end the season playing Wisconsin and Ohio State.


9. Purdue (4-4, 2-2 Big Ten)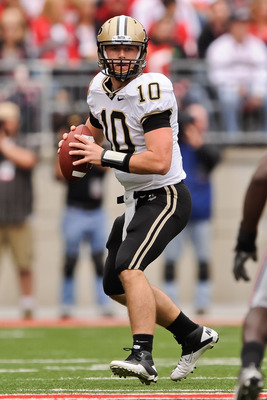 Jamie Sabau/Getty Images
Purdue (4-4, 2-2 Big Ten):
Never––it seems––has a team had so much bad luck.
The Purdue Boilermakers could not keep up with a feisty and aggressive Illinois team, losing 44-10 last Saturday in Champaign.
Nothing seemed to go Purdue's way on a windy and somewhat chilly afternoon.
Purdue needs two more wins to become bowl eligible but their remaining schedule is not conducive for easy wins.
The Boilers must face Wisconsin at home, Michigan at home, Michigan State on the road and Indiana at home.
Needing to dig up two more wins––looks like a tough row to hoe as key starters continue to be sidelined.


10. Indiana (4-4, 0-4 Big Ten)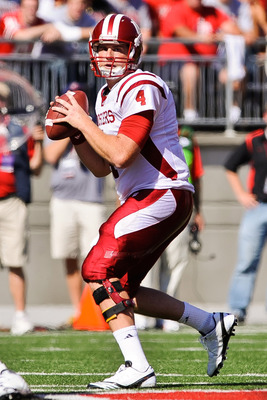 Jamie Sabau/Getty Images
Indiana (4-4, 0-4 Big Ten):
Indiana hoped that homecoming with Northwestern coming to town would give the Hoosiers a much-needed first win in the Big Ten Conference.
Indiana prayed that their senior quarterback Ben Chappell could out gain and outscore the Cat's QB Dan Persa.
But this was a day when Chappell could not quite find the mark when he needed it.
This weekend, Indiana hosts Iowa and the Hoosiers will still be looking for that first Big Ten win.
With only four games to go, Indiana had better get that first win fast.
But hoping and praying will not bring the desired results––only hanging onto the ball and eliminating turnovers can do that.
11. Minnesota (1-8, 0-5 Big Ten)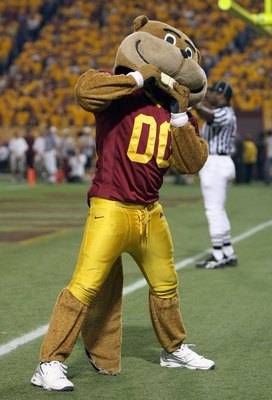 Doug Pensinger/Getty Images
Minnesota (1-8, 0-5 Big Ten):
This is not the Year of the Gopher:
Lucky Minnesota travels to Michigan State to face some angry Spartans after Michigan State lost their first game of the season in Iowa City.
The mood in East Lansing will probably be a little ugly and mean.
For the Gophers, unfortunately, the season is pretty much over.
Too bad for seniors who have dedicated themselves to playing quality football.
Minnesota ends with games at Illinois and at home to Iowa after this week's contest in East Lansing.
By the end of the season, the Gophers will have hired another new coach to, once again, turn this program around.
What else?



Keep Reading

Iowa Hawkeyes Football: Like this team?