San Diego State Aztecs in the NFL: Where Are They Now?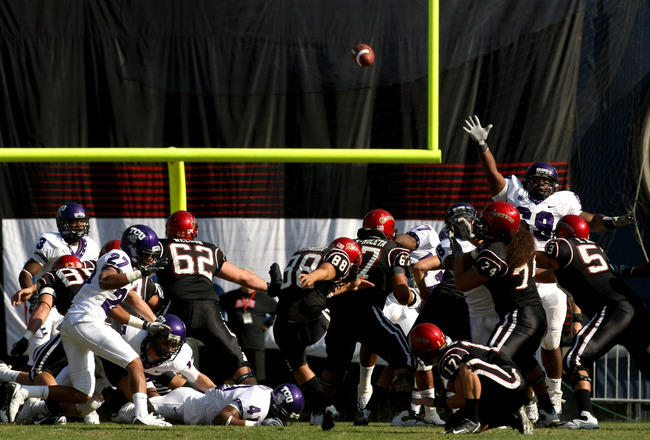 Stephen Dunn/Getty Images
The Aztecs may not be well known in the College Football world today, but there once was a time where Marshal Faulk ran wild. Let's take a stroll down Aztec alumni lane, and really see the talent that has graced the sunny city of San Diego.
As we breakdown our top 10, surprises will be revealed, and heroes will be young once more.
10. Dan McGwire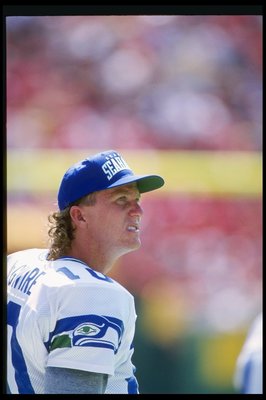 Earl Richardson/Getty Images
Perhaps most noted for being Mark McGwire's brother, Dan had a promising start in the NFL.
Drafted No. 16 overall by the Seattle Seahawks in 1991, McGwire was a hot ticket: Dan racked up over 3,500 yards in '89 and '90 at SDSU.
McGwire would go on to play until 1995, and other then his overall draft spot, can be considered an NFL bust.
9. J.R Tolver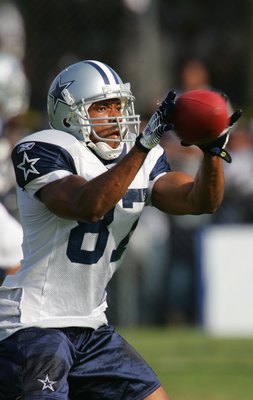 Stephen Dunn/Getty Images
J.R had an amazing year alongside Kassim Osgood in 2002.
As a senior, Tolver had 28 catches for 1725 yards and 12 TD's.
Both Osgood and Tolver were unanimous first-team Mountain West Conference players of the year.
Tolver's NFL career was a bit shaky. He was a 5th round pick by the Miami Dolphins in 2003, and spent a couple years battling a right knee injury which would eventually end his NFL career.
He was part of the Dallas Cowboys practice squad in 2006, and recently signed a deal with the Los Angeles Avengers of the Arena Football League in 2008.
8. Kassim Osgood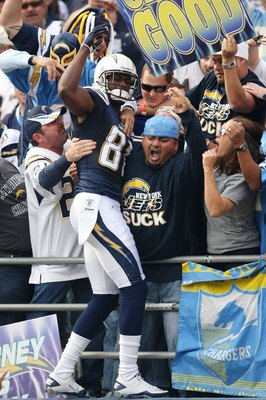 Stephen Dunn/Getty Images
Kassim started his NFL career in 2003, playing with the San Diego Chargers until 2009. He now plays for the Jacksonville Jaguars.
He has racked up 647 yards and 4 TD's in his career to date.
Osgood wore No. 1 when he played for SDSU, and in 2002, sat at second in the nation with 108 receptions for 1500 yards. He, and WR J.R Tolver, set an NCAA record for most yards by a tandem, with 3,337 yards.
7. Kevin O'Connell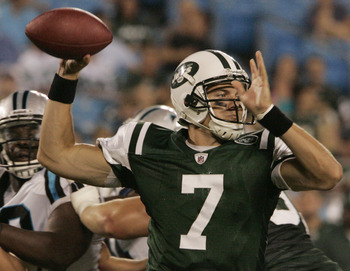 Mary Ann Chastain/Getty Images
The latest of the NFL Aztecs, O'Connell was taken by New England with the 94th overall selection.
He spent 1 year in New England, and now serves as a back-up for the NY Jets.
O'Connell racked up serious stats as an Aztec: As a running QB, O'Connell holds the team record for rushing yards as a quarterback.
6. Will Demps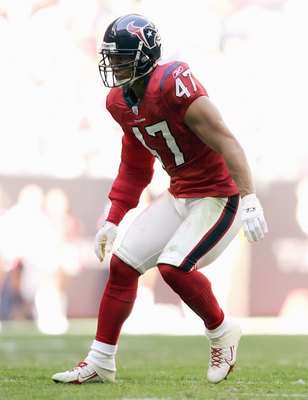 Brian Bahr/Getty Images
Demps played for the Ravens, Giants, and Texans from 2002-2008.
He racked up 6 interceptions in his career, and played in a total of 96 games.
At SDSU, Demps recorded 229 tackles, 15 tackles for a loss, and 5 interceptions. He was also a 2 time mountain west all conference defensive back.
5. Kirk Morrison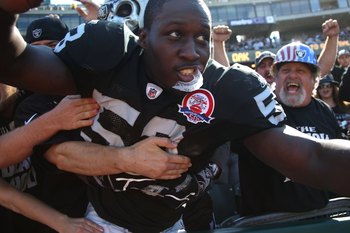 Jed Jacobsohn/Getty Images
78th overall pick, Kirk Morrison was the starting middle linebacker for a lack-luster Oakland team from 2005-2009. He found bright spots, and was a crowd favorite in Oakland.
He now plays for the Jaguars.
4. Isaac Curtis
Isaac Curtis was a 15th overall draft choice in 1973 for the Cincinatti Bengals. Curtis was elected to 4 pro bowls during his career, which spanned from '73-'84.
Curtis accumulated 416 catches for a staggering 7101 yards, tacking on 53 touchdowns.
3. Robert Griffith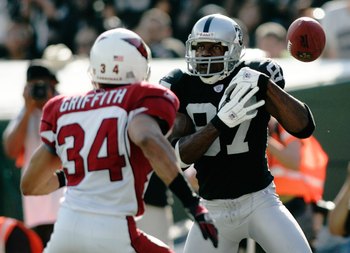 Jonathan Ferrey/Getty Images
Griffith played from 1994-2006, starting for the Vikings, and then moving on to the Browns, and eventually the Cardinals.
He's made the Pro Bowl, and more impressively, has 27 interceptions and 230 return yards in his career. Throw in 8.5 sacks as well.
Griffith resides in Rancho Santa Fe, CA, and teaches Tae-Kwan-Do.
2. Brian Sipe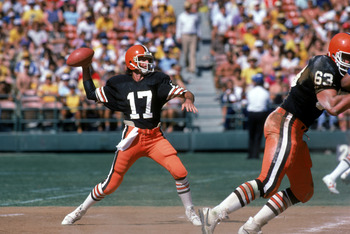 George Rose/Getty Images
Brian Sipe, most famous for his help in giving the nickname "The Kardiac Kids" to a 1979 and 1980 Browns team that was come back savvy.
Sipe was the NFL MVP in 1980, throwing for 4,132 yards and 30 TD's. He's also earned several first team honor mentions in his illustrious career.
He now coaches high school football in Solana beach, and lives in San Diego, CA.
Brian Sipe's career NFL Stats: 23,713 yards, 154 TD's, and 149 interceptions.
1. Marshall Faulk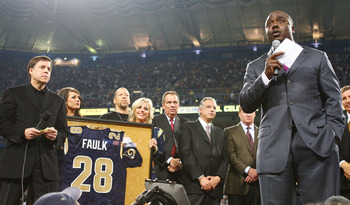 Elsa/Getty Images
Marshall has done it all.
He's a super bowl champ, a 7-time Pro Bowler, 2000 AL MVP, and was rookie of the year in 1994.
He ran a 4.24 40-yard dash at his pro day, and never lost a step.
His jersey was retired in St. Louis in remembrance of his career achievements.
Faulk both ran, and received for over a thousand yards in his first season with the Rams in 1999.
Marshall currently is an analyst for the NFL network, where he breaks down games and gives his expert advice.
Long live the greatest San Diego State Aztec football player, Marshall Faulk.
Honroable Mention: Chaz Schilens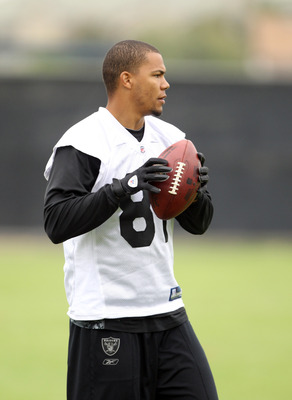 Ezra Shaw/Getty Images
Chaz plays for the Raiders, and has been riddled by minor injuries. When healthy, he will be worked into the raiders passing game for the 2010 season.
Schilens has caught 44 balls for 591 yards and 4 TD's in his career to date.
Keep Reading