Heisman Race: Is This Trophy Still Reserved For NCAA's Best Player?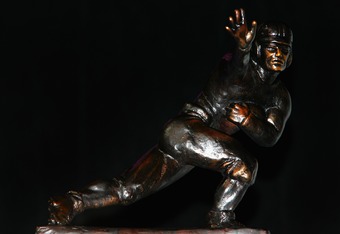 The Heisman no longer goes to the most outstanding player, but to the best player on the best team.
Chris Trotman/Getty Images
Here is a list of the Heisman winners of the past decade:
| | | | |
| --- | --- | --- | --- |
| Year | Player | Team | BCS Ranking |
| 2009 | Mark Ingram | Alabama | #1 |
| 2008 | Sam Bradford | Oklahoma | #1 |
| 2007 | Tim Tebow | Florida | #12 |
| 2006 | Troy Smith | Ohio State | #1 |
| 2005 | Reggie Bush | USC | #1 |
| 2004 | Matt Leinart | USC | #1 |
| 2003 | Jason White | Oklahoma | #1 |
| 2002 | Carson Palmer | USC | #4 |
| 2001 | Eric Crouch | Nebraska | #2 |
| 2000 | Chris Weinke | Florida St. | #1 |
As you can see, only one Heisman Trophy winner has come from a team ranked outside of the top four in the BCS standings (Tebow, 2007). Eight out of the last 10 winners have come from a team playing in the BCS National Championship Game. This year's Heisman race is no exception. Here are the top three candidates according the ESPN.com's Heisman Watch:
| | | | |
| --- | --- | --- | --- |
| Rank | Player | Team | BCS Rank |
| #1 | Cameron Newton | Auburn | #1 |
| #2 | LaMichael James | Oregon | #2 |
| #3 | Kellen Moore | Boise St. | #4 |
The top two players on this list come from the top two teams in the nation at this point in the season. If the season were to end now, these two teams would play for the National Championship, and either Newton or James would win the Heisman.
Kellen Moore (third ranked candidate) players for Boise State, the team many believe has the best chance to make it to the National Championship game should Oregon and/or Auburn suffer a loss.
Bo Jackson (1985) was the last player to win the Heisman while playing on an unranked team. It should be noted that Jackson won narrowly ahead of Chuck Long in one of the closest Heisman races in history.
Winning the Heisman has become less about your individual output, and more about the team success. Not to mention, defensive players must dabble on offense and return kicks, or else they can kiss their Heisman chances goodbye (ie. Ndamukong Suh, 2009).
So the Heisman no longer goes to the best college football player, now it goes to the best offensive player on a team competing for a National Championship. In fact, many of the winners this past decade have been severely outperformed by some of their peers, but they won the Heisman anyway because they were on a better team.
2009 - Ndamukong Suh was widely regarded as the most dominant player in college football, but finished fourth in the Heisman because he was a defensive player.
2006 - Steve Slaton had an almost identical numbers as Mark Ingram did in 2009, but lost to Troy Smith in one of the most lopsided races of all time. Smith was also outperformed by fellow QB Colt Brennan, who had more twice as many passing yards (5,549 to 2,542) and accounted for twice as many TDs (63-32).
2004 - Matt Leinart won, despite Adrian Peterson rushing for almost 2,000 yards, and Alex Smith accounting for more overall yards and TDs than Leinart.
2003 - Jason White won ahead of Larry Fitzgerald, who had 92 catches, more than 1,600 yards receiving, 22 TDs and set the NCAA record with 18 straight games with a TD catch.
The Heisman Trophy is no longer an award for college football's most outstanding player. Each year, voters take team success into account more and more, making it nearly impossible for players from outside the top five to have a chance at winning the Heisman. Should Oregon or Auburn lose, Cam Newton or LaMichael James will likely see their Heisman dreams lost as well.
Voters need to rely less on team records and rankings, and look more at the individual performances by the players.
This article is
What is the duplicate article?
Why is this article offensive?
Where is this article plagiarized from?
Why is this article poorly edited?

Auburn Football: Like this team?